15 Biblical Affirmations for Sleep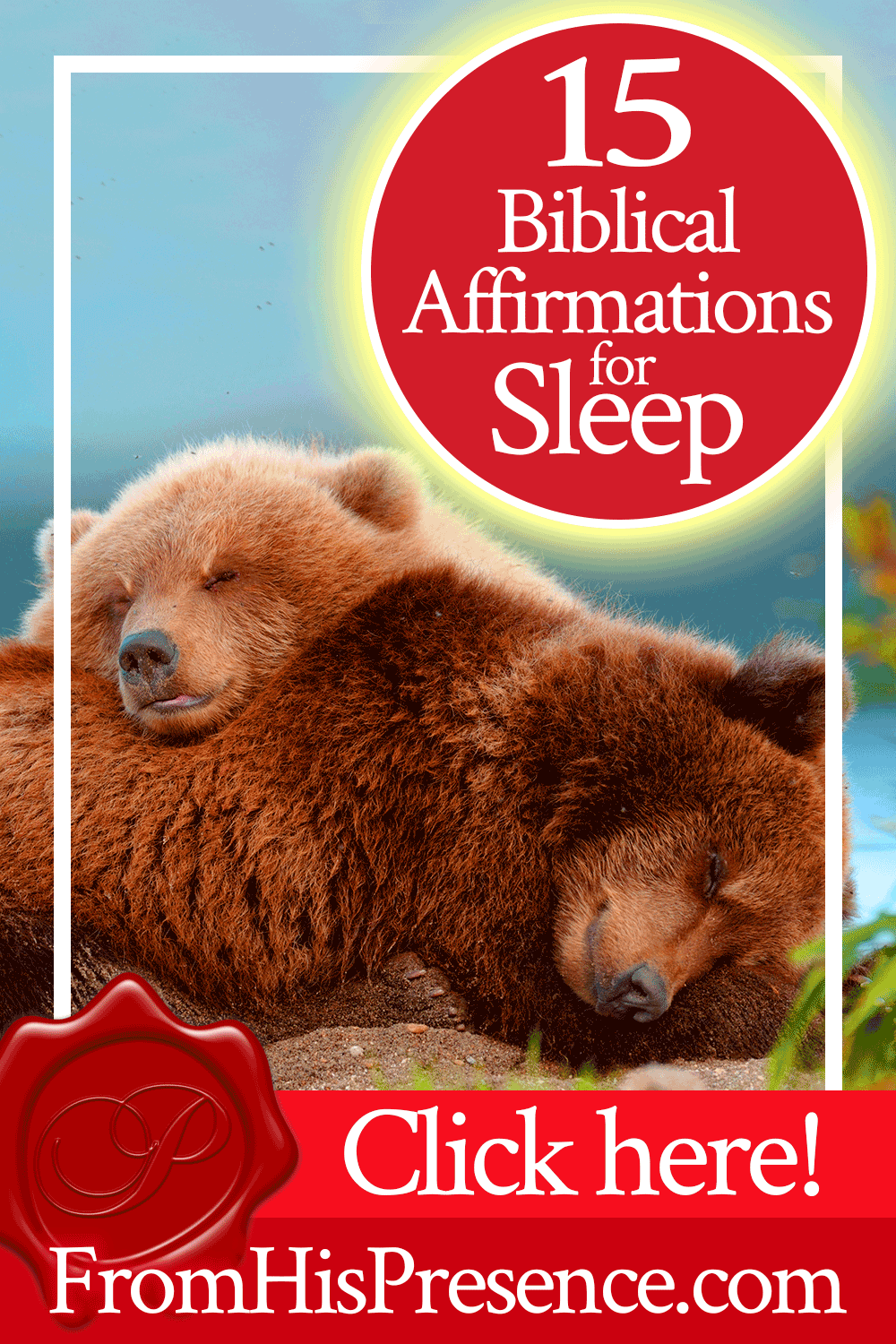 Are you desperate for sleep? If so, in addition to good sleep hygiene habits, it will help you sleep if you speak the Word of God about sleeping out of your mouth verbally. To help you do that, I wrote 15 Biblical affirmations for sleep for you!
Remember that God's Word never returns to Him void.
That's why we advocate speaking the Word out loud. Isaiah 55:10-11 says:
"For as the rain comes down, and the snow from heaven, and do not return there, but water the earth, and make it bring forth and bud, that it may give seed to the sower and bread to the eater,

So shall My word be that goes forth from My mouth; it shall not return to Me void, but it shall accomplish what I please, and it shall prosper in the thing for which I sent it" (Isaiah 55:10-11 NKJV).
God's Word always brings results–and His Word coming out of your mouth is just as powerful as it originally was when it came out of His mouth!
Speaking the Word of God over yourself creates your reality, even when you need sleep. 🙂
Remember Proverbs 18:21:
"Death and life are in the power of the tongue, and those who love it will eat its fruit" (Proverbs 18:21 NKJV).
And also remember that Deuteronomy 8:3 tells us man does not live by bread alone, but by every word that proceeds from the mouth of the Lord:
"So He humbled you, allowed you to hunger, and fed you with manna which you did not know nor did your fathers know, that He might make you know that man shall not live by bread alone; but man lives by every word that proceeds from the mouth of the Lord" (Deuteronomy 8:3 NKJV).
My friend, speaking the Word of God just WORKS.
But as you speak these Biblical affirmations for sleep, you will also need to exercise wisdom and practice good sleep hygiene.
If you're looking at your phone, computer, or TV for hours before bedtime …
If you're eating sugars or carbs that will keep you up at night, or wake you up early because your blood sugar has crashed …
If you're staying up late instead of balancing your duties with your need to sleep …
If you're living a sedentary lifestyle and never bother to exercise or get your blood pumping at all …
Then you're in disobedience to the Lord, because you're not exercising wisdom. God always wants us to exercise wisdom.
As it says in Proverbs 4:7:
"Wisdom is the principal thing; therefore get wisdom. And in all your getting, get understanding" (Proverbs 4:7 NKJV).
So if you need sleep, please: Exercise wisdom.
Speak the Word about sleep and exercise wisdom at the same time. Both are God's commands for you! Speaking the Word over yourself about sleep, praying this prayer for sleep, and exercising wisdom and good sleep hygiene will make all the difference!
Here are the 15 Biblical affirmations for sleep that you can start speaking out loud over yourself today:
(And I wrote them in the first person so that you can just read them out loud as written.)
It is vain for me to rise up early, to stay up late, to worry and suffer, for I am the Lord's beloved and He gives me blessings while I sleep. (See Psalm 127:2.)
I keep sound wisdom and discretion and do not let them depart from my eyes. Therefore, when I lie down, I am not afraid. I lie down and my sleep is sweet. (See Proverbs 3:21-24.)
My sleep is sweet no matter what I eat, for I work hard during the day. (See Ecclesiastes 5:12.)
My sleep is sweet to me, for I hear God and am comforted by Him even while I sleep. (See Jeremiah 31:26.)
I lay myself down to sleep every night, and I awake again; for the Lord sustains me. (See Psalm 3:5.)
The Lord causes a deep sleep to fall on me every night, and I sleep peacefully so that He can do His surgery on my heart and life while I rest. (See Genesis 2:21.)
I dream dreams from the Lord every time I sleep, and the Lord tells me things to come. (See Genesis 41.)
Jesus Christ Himself and His angels touch me and minister to me every night while I sleep. (See 1 Kings 19:5-8.)
I do not sin; I meditate within my heart upon my bed, and I am still. (See Psalm 4:4.)
The Lord has "put gladness in my heart" (see Psalm 4:7); "I will both lie down in peace, and sleep; for You alone, O Lord, make me dwell in safety" (Psalm 4:8).
I sleep well every night, for the Lord who keeps me neither slumbers nor sleeps. He is always keeping watch over me, and I rest in His arms. (See Psalm 121:4.)
I will dwell safely and sleep no matter what season of life I am in, for God Himself defends me and is going to war on my behalf right now. I receive showers of blessing from Him every day, whether I am awake or asleep. (See Ezekiel 34:20-26.)
I come to Jesus every day, and He gives me rest. I take His yoke upon me and learn from Him, for He is gentle and humble in heart, and He gives me rest for my soul. His yoke is easy and His burden is light. (See Matthew 11:28-30.)
I never let the sun go down on my anger. If I am angry or upset, I forgive and cast my burden on the Lord, discussing it with the people who hurt me if need be, before I go to bed. That way, I do not spoil my sleep by being upset–and I am sure to sleep in peace.
The Lord my Shepherd provides all my needs. He makes me lie down in green pastures; He brings me all I need while I rest in Him and dwell in peace.
Beloved, God wants you to sleep. Speaking these Biblical affirmations for sleep will help you!
Our Father gives blessings to His beloved in sleep, and you are His beloved. He wants you to feel well-rested after a good night's sleep every single night.
So speak the Word of God over your sleep every day, starting today. Pray for sleep using these prayer directives here. Practice good sleep hygiene and wisdom when it comes to your sleeping habits. And watch what Father does to give you the rest you need!
If you're desperate for sleep, do you commit today to begin speaking these affirmations for sleep out of your mouth? Leave a comment below; then, print these affirmations using the print-friendly button above, and keep them with you to speak over yourself often!