Prayer for Good News When You're Sad
Beloved, do you need good news today? Do you need something good to happen after a week of disappointment and disillusionment? If so, pray this prayer for good news and believe the Lord to show you a sign for good.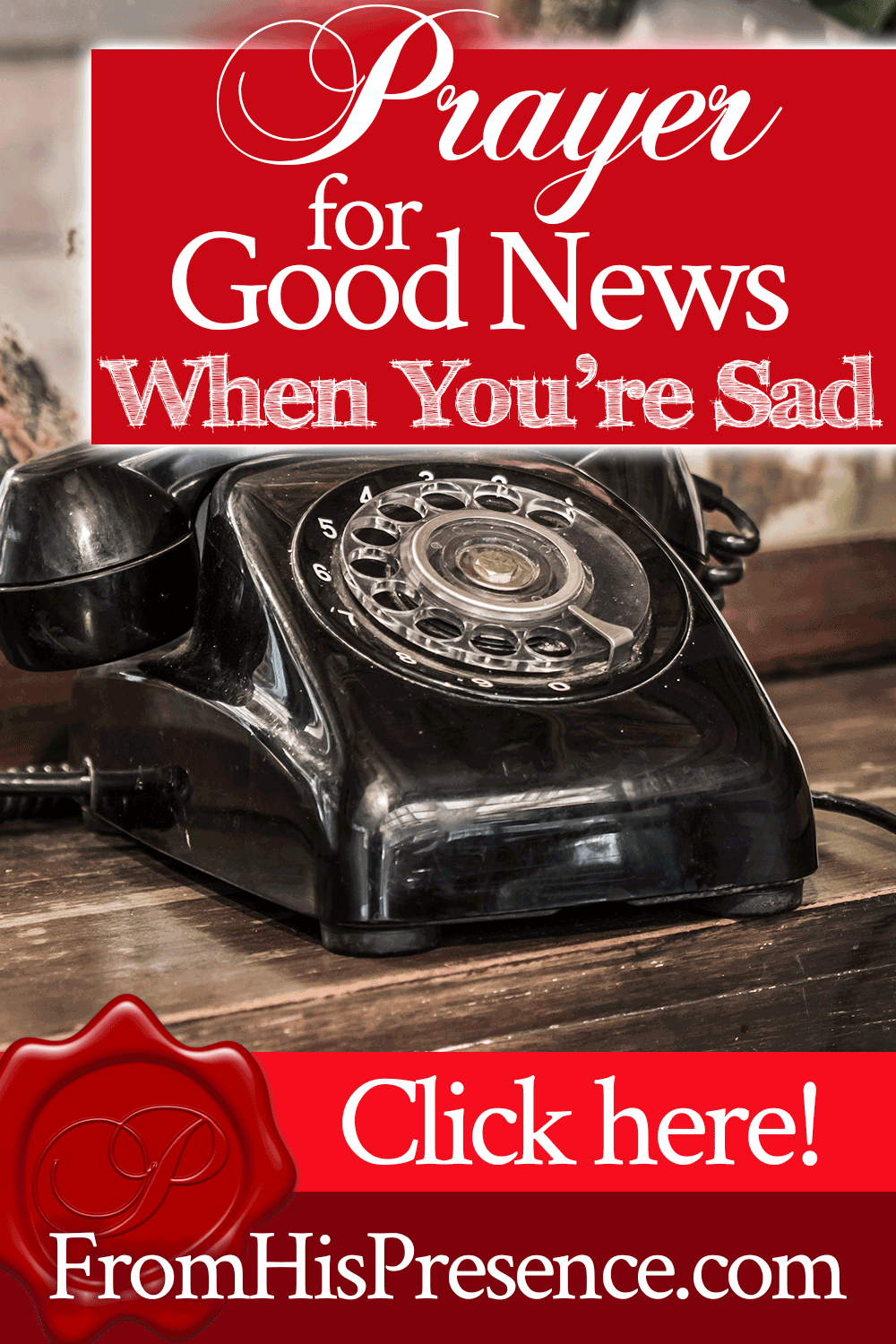 To be transparent, you are not alone if you need good news today.
My life is not easy, and I've had a particularly difficult week–and, to be real, a difficult time for quite a while. I'm a "feeler," too, so when things are hard it takes me a lot of time in the presence of God, in prayer, and in the Word in order to maintain any semblance of emotional stability.
But I was reading Psalm 119 this morning, and I came across a verse that really spoke to me. It was Psalm 119:41, which says:
"Let Your mercies come also to me, O Lord—Your salvation according to Your word" (Psalm 119:41 NKJV).
One of the things that really encourages me when I'm sad is to receive good news.
When life is tough, but you get that phone call that says something good just happened …
Or when a burden suddenly gets taken away …
When unspeakable stress suddenly resolves …
When something you've been praying for suddenly breaks through …
Those "suddenlies of God" make all the difference in the world when you're having a hard week, month, or year, you know?
So I was praying this morning about all that concerns me, and I prayed for good news to come today.
This is a perfectly legitimate prayer. It is a prayer we can pray with confidence! After all, even David–a man after God's own heart–prayed this prayer in Psalm 86:16-17:
"Oh, turn to me, and have mercy on me! Give Your strength to Your servant, and save the son of Your maidservant. Show me a sign for good, that those who hate me may see it and be ashamed, because You, Lord, have helped me and comforted me" (Psalm 86:16-17).
You don't even have to be dealing with spiritual warfare in order to pray this prayer.
Remember that without Jesus we can do nothing; we have nothing in the flesh. We have no strength of our own; we cannot even keep ourselves alive. Jesus Christ Himself upholds all things by the word of His power, and in Him all things consist.
As it says in Hebrews 1:1-4:
"God, who at various times and in various ways spoke in time past to the fathers by the prophets, has in these last days spoken to us by His Son,

whom He has appointed heir of all things, through whom also He made the worlds; who being the brightness of His glory and the express image of His person, and upholding all things by the word of His power, 

when He had by Himself purged our sins, sat down at the right hand of the Majesty on high, having become so much better than the angels, as He has by inheritance obtained a more excellent name than they" (Hebrews 1:1-4 NKJV, emphasis mine).
And as the Bible also teaches us in Colossians 1:16-17:
"For by Him all things were created that are in heaven and that are on earth, visible and invisible, whether thrones or dominions or principalities or powers.

All things were created through Him and for Him. And He is before all things, and in Him all things consist" (Colossians 1:16-17 NKJV, emphasis mine).
"In Him all things consist" means that He personally holds all things together.
Friend, we cannot even hold the atoms, protons, neutrons, electrons, and cells of our bodies together. Jesus does that for us; we literally have no existence outside of Him. Therefore, is it any wonder that we need His help?
God is mindful that we are but dust. As Holy Spirit teaches us in Psalm 103:14:
"For He knows our frame; He remembers that we are dust" (Psalm 103:14 NKJV).
It's clear, my friend, that it is perfectly reasonable and legitimate to pray for good news.
If we cannot give ourselves life; if we cannot even hold our own cells together; if we cannot care for ourselves and we are made of dust, completely dependent on God's mercy and care to sustain us and to let us see another breath …
Then isn't it reasonable to ask our good, kind, gracious Heavenly Father to send us the encouragement we need?
Isn't it reasonable to ask Him to bless us? To cry out to Him for His mercy, which holds us up and sustains us each and every day?
Or course it is.
I love the simple prayer for mercy and help that Jabez prayed.
First Chronicles 4:9-10 records this man's prayer:
"Now Jabez was more honorable than his brothers, and his mother called his name Jabez, saying, "Because I bore him in pain." And Jabez called on the God of Israel saying,

"Oh, that You would bless me indeed, and enlarge my territory, that Your hand would be with me, and that You would keep me from evil, that I may not cause pain!" So God granted him what he requested" (1 Chronicles 4:9-10 NKJV).
The prayer of Jabez was a cry for mercy.
It was a cry for help and blessing. It was the utterly dependent cry of a man who knew he had nothing and no one outside of God.
Even Jabez' mother had cursed him, naming him "sorrowful" or "borne in pain!" Jabez appears to have had no one on his side; no one in his corner; no one advocating for him.
Sometimes you and me might feel that way too. But beloved, even if you do feel utterly bereft and alone today …
Discouraged and sad …
Fighting for emotional stability …
Keep your eyes on Jesus. Hide yourself in Him, and ask Him to send you the help, blessing, and encouragement that you need.
Pray this prayer for good news with me today:
"Dear Heavenly Father, I come to You in Jesus' name.
Father God, thank You for hearing me pray today. Thank You that Jesus is alive, and that He ever lives to make intercession for me. Thank You for saving me, and for sending Your Holy Spirit to live inside me. Thank You that You are my Glory and the Lifter of my head. I praise You for who You are, Lord.
Father God, You know that I've been fighting despair, disillusionment, and hopelessness lately. I've spent time with You in Your Word and prayer, asking You to help me set my mind and keep it set on Jesus. You are helping me, Father, and You're sustaining me moment by moment. Thank You.
But Father, I'm going to be transparent with You as I should be, for You already know everything about me.
Father, I long for blessing in a new and greater way. Today, even today, I need Your encouragement desperately.
I don't want to lift my soul to an idol and let my joy or peace be dependent on outward circumstances; that would not please You. That would be idolatry; that would place things and circumstances above You in my life, and I cannot do that. I choose to abide in Jesus, and You will maintain my peace, Father; for You ARE my Peace.
But Father, I need hope, help, and encouragement today. I need good news; I am ready for something good to happen today, after days and weeks and months and years of HARD.
I know Jesus said that in this world we will have tribulations, but to be of good cheer, for He has overcome the world. I am trying to be of good cheer (but please help me).
But even amidst all my trying, Father, I am crying out for mercy.
Please, Abba, in the name of Jesus, I ask:
Let the miracles I have been praying for manifest today.
Let the breakthroughs for which I have been fasting and contending happen today.
Send me good news today, I pray, in Jesus' name!
Show me a sign for good TODAY.
Instead of letting me be like the windshield for the bugs of life, please rise up and defend me and push back the enemy on my behalf, showing me to be the victor and the more than a conqueror that Your Word says I am.
Abba Father, I am truly desperate.
These things are not a surprise to You, Lord. Please, relieve the stress and agony I have been under–and do it today:
Let miracles, signs, and wonders break out on my behalf today.
Send me my helpers today.
Let Your angels minister to me and strengthen me.
Fill me with Your dunamis power, and show me a sign for good.
Let Your mercy come to me today, Holy Abba Father.
Send me good news on every side, and help me to rejoice always, to pray without ceasing, and to stand firm in faith as I wait on You.
Strengthen my heart today with Your good news, I ask, in Jesus' name. Thank You for hearing my prayer of simple childlike faith. I give You all the glory, honor, and praise.
In Jesus' name I pray, amen."
Beloved, did you pray this prayer for good news today? If so, leave a comment below and verbalize your agreement and faith in God who does all things well.