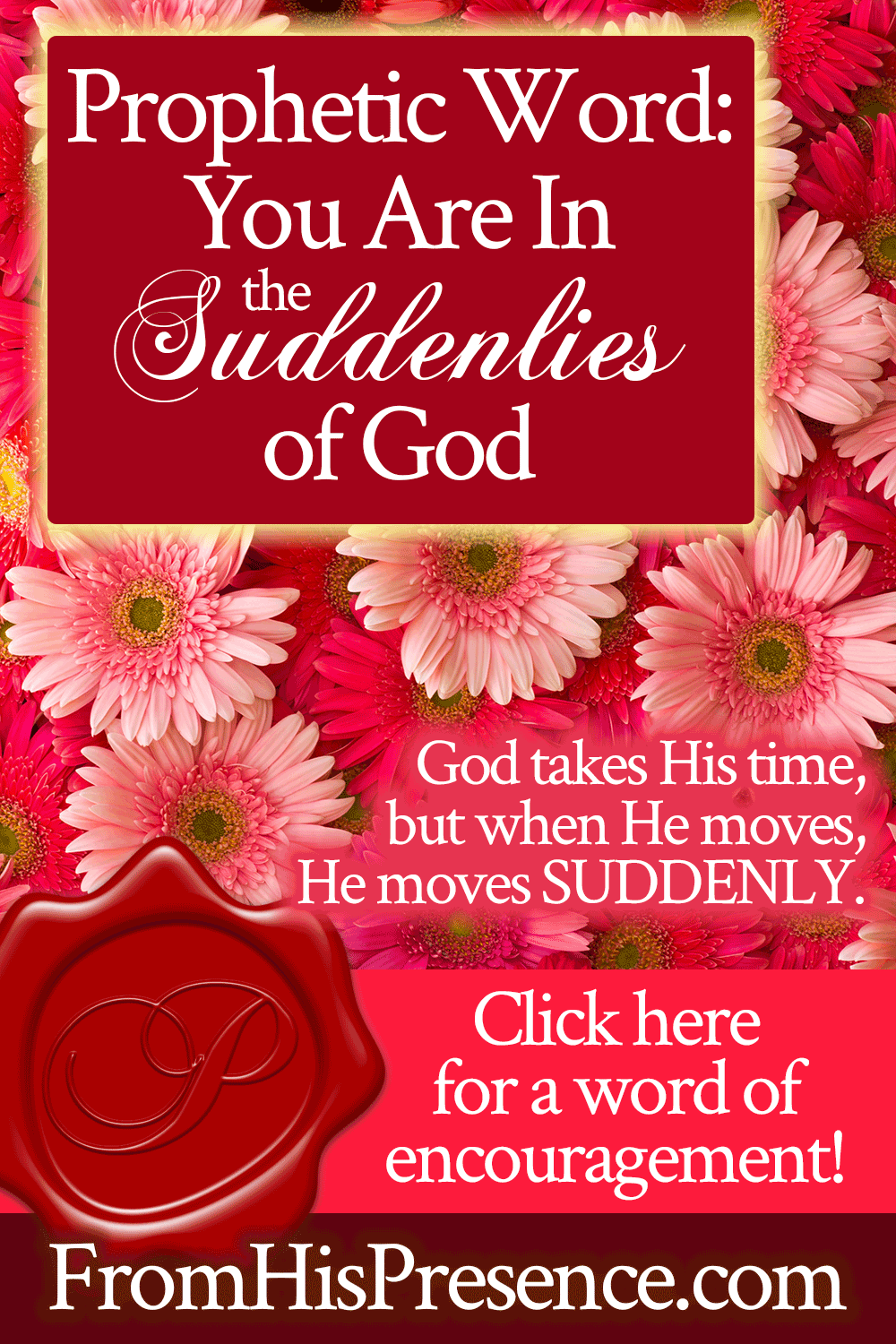 Beloved, if you've been waiting for some things, it's time to look up. The Lord told me to tell you that you are in the suddenlies of God!
Related: When God Comes Suddenly
Isaiah 48:3 says:
"I have declared the former things from the beginning; they went forth from My mouth, and I caused them to hear it. Suddenly I did the, and they came to pass" (Isaiah 48:3).
You are in a season of suddenlies.
In this season, you will experience the suddenlies of God. Things will happen quickly, quickly, quickly. What this will look like:
The Lord Himself will build up your old ruins.
Strangers will come to you and help you. Some of these will be people of influence. You will also find yourself acknowledged in your ministry where you were not acknowledged before.
A cloak of double honor shall be on you.
This is the honor that Father God has always seen you with, for you are His precious child. In this season, He will cause the honor He has given you to become visible to all.
Confusion shall leave your sons and daughters.
Speak God's Word over them so it can take root. Be especially diligent to speak God's Word over your children in this season.
Your children will be blessed twice as much as they were before. They shall inherit a great salvation and shall come back to the Father's embrace. I say it again, prodigals are coming home!
Get your mouth in gear and give Papa God something to work with.
His Word is the seed that makes these things grow in your life. Verbally confess Papa's promises to you, as loudly as you need to. SEED THE ATMOSPHERE. Confess those promises back to Father God and pray them back to Him daily. Give Him something to work with!
Now is the time for more Kingdom aggression than ever before.
Go through, go through the gates! Prepare the way for the people! You are a forerunner, called to bring breakthrough. But breakthrough MUST begin in your own life first.
Now is the time of breakthrough.
Put your head between your knees and birth the manifestation of the promises as you worship your Maker. His name is Yah, and He rides upon the clouds to come to you. He is working on your behalf. Get His Word in your mouth, and again I say, give Him something to work with!
Amen and amen!
Does this word resonate in your spirit with what the Lord is already telling you? If so, please leave a comment below! I'd love to hear what Father is saying to you!