Prophetic Strategy: How To Get Caught Up in God's Whirlwind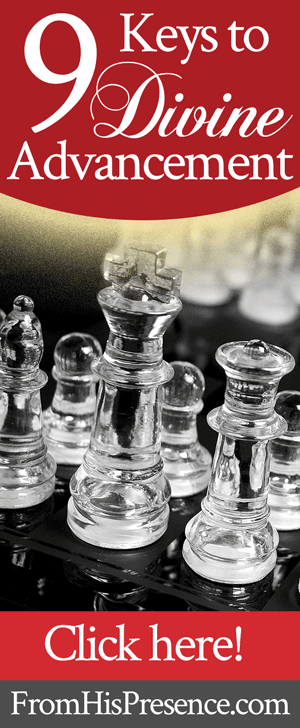 If you're facing a new season of life, believe it or not, the Lord wants to give you a prophetic strategy. His strategy will help you escape the wiles of the enemy and arrive, cloaked in God's glory, in your Promised Land.
Interested? Read on.
Scripture is filled with the Lord's promises to guide us and instruct us.
Here are a few of my favorite promises that I claim in prayer all the time:
I will instruct you and teach you in the way you should go; I will guide you with My eye" (Psalm 32:8).

"If any of you lacks wisdom, let him ask of God, who gives to all liberally and without reproach, and it will be given to him. But let him ask in faith, with no doubting, for he who doubts is like a wave of the sea driven and tossed by the wind.

For let not that man suppose that he will receive anything from the Lord; he is a double-minded man, unstable in all his ways" (James 1:5-8).

"Trust in the Lord with all your heart, and lean not on your own understanding; in all your ways acknowledge Him, and He shall direct your paths" (Proverbs 3:5-6).

"For unto us a Child is born, unto us a Son is given; and the government will be upon His shoulder. And His name will be called Wonderful, Counselor, Mighty God, Everlasting Father, Prince of Peace" (Isaiah 9:6). (I pray this promise and ask Jesus to counsel me, since His name is Counselor.)

"However, when He, the Spirit of truth, has come, He will guide you into all truth; for He will not speak on His own authority, but whatever He hears He will speak; and He will tell you things to come" (John 16:13).

"Surely the Lord God does nothing, unless He reveals His secret to His servants the prophets" (Amos 3:7).
Papa promises to show us what to do and when to do it. And His advice is not just generic advice. It is actually very timely.
Related: Radical Prayer #4: The Anointing of the Sons of Issachar
If you ask Him and believe that He'll answer, He will tell you things that will blow you away.
For example:
He'll tell you how to protect your home from possible dangers, long before you realized such a danger existed.
He'll warn you about gaps in your finances that you didn't know were happening.
He'll show you how to prepare your business for a future opportunity before you even begin dreaming of said opportunity.
He'll give you strategies for defeating the enemy when you didn't even know you needed a strategy.
Related: The Sevenfold Holy Spirit: The Spirit of Counsel
God is the God of Inside Information, and He'll give you that information if you'd like to have it.
After all, He tells His friends His secrets. And didn't Jesus say:
You are My friends if you do whatever I command you. No longer do I call you servants, for a servant does not know what his master is doing; but I have called you friends, for all things that I heard from My Father I have made known to you" (John 15:14-15).
That's right. You are Jesus' friend if you follow His commandments. And He tells His friends His secrets. 🙂
That's pretty exciting, right there.
I call God's inside information "prophetic strategy." And prophetic strategy is essential for divine advancement.
Have you ever noticed the difference between barging ahead and doing something on your own strength, versus listening for the Lord's prophetic strategy when you try to get something done?
I have. Being a Type A, in-charge kind of person, I've tried to do any number of things in my own strength. But after I gave my life to Jesus and began seeking His strength instead of my own, I began trying to listen to Him more than to myself.
When I did, I discovered: Jesus' way works.
Mine, usually, does not.
When I listen for Holy Spirit to tell me His secrets, and do what He says, I get positioned for radical blessing.
Think about it this way:
What if the Lord tells you to update your résumé this afternoon … and, instead of shaking it off, you do it? You might have no idea why, but you get excited because surely Papa God has something up His sleeve.
Then, you meet someone in the restaurant where you're eating dinner. That person tells you about a fantastic job opening that you would have loved–but the listing closed today, and the candidates will be chosen for interviews tomorrow.
In this theoretical story, your friend who tells you about the job then says to you, "Well, technically, I have until midnight tonight to accept applications. If you'd like to send me your résumé this evening, I can include you with the other applicants."
If you hadn't listened to the Lord and updated your résumé, how would you respond?
Is it even possible that you would blow it off, saying, "Well, I'm not prepared. If it was meant to be, it would not have caught me by surprise. I'll pass this one up."
I would imagine this could be possible.
Or is it possible that you would already have pressing obligations the same evening that prevent you from getting your friend your information? And that you would be kicking yourself for years for missing the opportunity?
Sure. Also possible.
But what if you had already gotten on board with God's prophetic whirlwind?
What if you had listened to Him when He whispered in your ear that you needed to update your résumé? What if you were already prepared? What if–gasp–you knew Him so well, and trusted that He wanted to do something …
… that you actually had copies of your résumé with you at that restaurant?
Whoa.
It seems like a simple thing. All you did was update your résumé. But God was trying to insert you into a whirlwind of opportunity. He was trying to give you prophetic strategy. And if you obeyed, that whirlwind can carry you high, far, and fast.
It's all about prophetic strategy. All about hearing the right-now voice of God telling you what to do now …
… so you can be blessed.
He'll give you prophetic strategy for anything you need.
I have been asking the Lord for a certain financial blessing. When I began praying for that blessing, and sowing into it, He gave me a strategy.
Honestly, I didn't expect to receive a strategy. I expected He would just somehow make the blessing I needed show up. But no, He gave me a strategy instead. He told me what to do in order to get and receive the answer to my prayer.
Yes, He told me to go out and get it. And He told me how.
So I've been working on what He told me to do. It's been a tedious process, since I just had my baby and my life got turned topsy-turvy overnight. But I'm working on it, and I believe that the strategy He gave me will result in far more blessing than He could have given me if He had just dumped something on my doorstep.
What is God giving you prophetic strategy about today?
Do you want to get married, and the Lord has been dealing with you about joining your local church's singles group?
Do you need a new job, and the Lord has been telling you to write a nice résumé, like in the example above?
(By the way, you know how I got my corporate job, years ago? I was having lunch with a friend. Someone my friend knew walked by our table, and my friend introduced me to her. My friend bragged on me to that lady for a minute, and then that lady handed me a business card and told me to send her my résumé. That encounter landed me a job in the Fortune 500–in a company where I stayed for nearly 15 years.)
Do you want to start a business, and the Lord has been prompting you to pick the brain of somebody who's already in the type of business you want to start?
Has the thought of a certain class that you want to take been nagging at your brain?
Whatever the Lord tells you about prophetic strategy, DO IT.
He's trying to set you up when He tells you things. He's working on aligning the pieces of your blessing. He's trying to position you for the next part of your life.
If you'll cooperate, then you'll be golden.
That's why Psalm 32:8-11 says:
I will instruct you and teach you in the way you should go; I will guide you with My eye.

Do not be like the horse or like the mule, which have no understanding, which must be harnessed with bit and bridle, else they will not come near you.

Many sorrows shall be to the wicked; but he who trusts in the Lord, mercy shall surround him.

Be glad in the Lord and rejoice, you righteous; and shout for joy, all you upright in heart!"
If you read this passage in light of the fact that God is talking about instructing you and teaching you, then …
You can see that He wants you to come with Him, without balking, kicking, screaming, procrastinating, or otherwise delaying.
You can see that if you trust in the Lord–and in His guidance and instruction–then you'll be surrounded by mercy!
You can see that God wants to kiss your life if you'll trust Him and follow Him! (The word "mercy" is the Hebrew chêsêd, and I translate it "the kiss of God on your life. See my 21 Kisses teaching series for a life-transforming prophetic word about that.)
You can see that His guidance and instruction is a reason for rejoicing! It's a reason for shouting!
In other words, Papa's got something up His sleeve! But will you be part of it?
Related: God Wants To Kiss Your Life with Mercy
Being part of God's prophetic whirlwind means you gotta get on board with His train.
With His instruction. With His whispers. With His hints, nudges, and surprises.
What has He been nudging you to do? And how will you respond? Please leave a comment below!