Prophetic Declaration Over Your Finances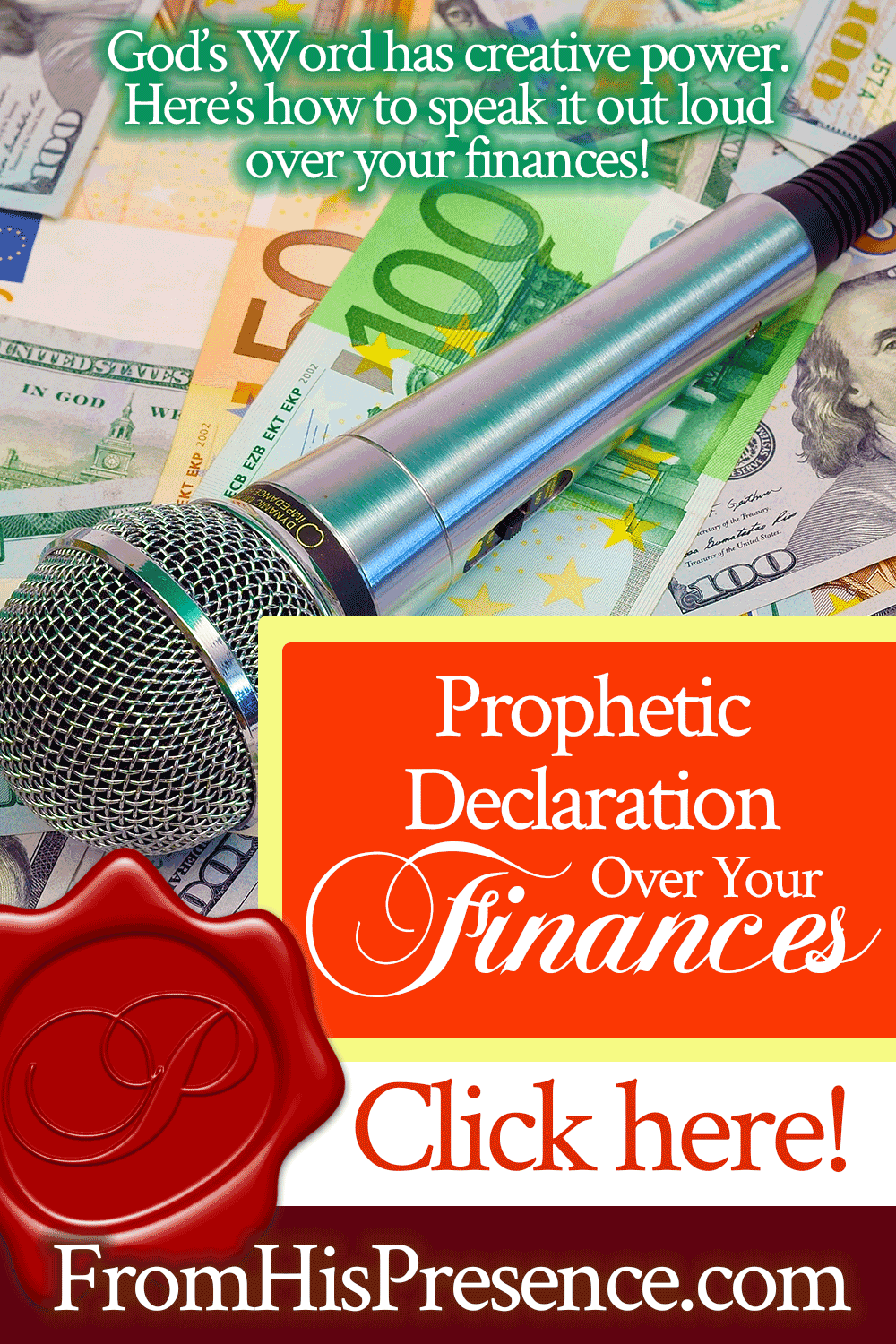 Beloved, do you regularly speak God's Word out loud over your finances? If not, then I pray that this powerful prophetic declaration over your finances will inspire you to start!
This article is an excerpt from Jamie's book Speak Life Volume 1: Chart Your Course With Your Words. Find the ebook version here and the paperback version here.
Words carry creative power. God's words create God-things, and negative/evil words create evil things.
If you want the will of God to manifest in your finances, you need to unleash His power into said finances by releasing His Word over your finances.
The Greek word used in the New Testament for "faith," transliterated "/pistis/," actually means that in order to have faith, a person must BOTH believe a thing deeply PLUS speak it out loud at the same time.
In other words, Biblically speaking, there is no such thing as faith without verbal confession.
So do you want to unleash the Word of God over your finances today?
If so, speak the prophetic declaration over your finances out loud! You might even want to print this off, keep it in your Bible or with your checkbook, and say it daily! Make a habit of speaking the Word out loud over your finances, and you will see results!
Here's the prophetic declaration over your finances:
"With my tithe and offering, and with my words today, I take the harvest that belongs to me. The Lord is personally opening the windows of Heaven for me right now; He is pouring me out so much blessing that His provision overflows my need.
The Lord is rebuking the devourer for me and my family right now so that the devourer will not destroy the fruit of my ground, and my vine shall not fail to bear fruit for me.
Every seed I plant and invest bears fruit for me.
The Lord Himself protects my harvest. All nations call me blessed and I have GREAT favor everywhere I go and in everything I do.
I am a giver. And as I give this tithe and offering today:
Money and everything I need AND DESIRE come back to me, good measure, pressed down, shaken together, and running over.

Everything I put my hand to is blessed.

The blessings of the Lord overtake me, my family, my finances, my business, my ministry, and everything that pertains to me today.
The devil has to take his hands off my finances in Jesus' name.
Ministering spirits MUST bring me my harvest now, causing all the money and blessings I need, AND MORE, to come.
I now TAKE the money I need from the Lord and more.
Everything you see was created by the spoken word.
So if you have nothing except the ability to speak, you can still create anything you want. You can be like God and speak those things that are not as if they already were (Romans 4:17)!
To help you, Jamie wrote a book of hundreds of Biblical confessions for you—especially in the area of your finances. It called Speak Life Volume 1: Chart Your Course With Your Words, and it's our most popular book ever! Get your copy today and begin speaking LIFE over those things that concern you!
I take the wealth the Lord wants me to leave to my children's children. I take all of God's covenant promises of blessings AND the manifestations thereof to myself, for I walk in obedience and diligently obey the voice of the Lord my God, being watchful to do ALL that He commands me this day.
I ACTIVATE the Lord's covenant—the covenant of El Shaddai, who provides for me from His goodness—on my behalf right now, and on behalf of everything that pertains to me and my family. And I declare and decree that the harvest of these words I speak today shall come forth in manifold and manifest blessings.
I receive so much money from the Lord today that I have to LOOK for places to give it away and invest it; it shall be this way and no other.
In JESUS' mighty and precious name, I establish it on the earth as it is in Heaven with the seed of my words. So let it be written in the record books of Heaven and earth right now, and let it be unto me according to GOD's mighty and holy Word.
In Jesus' name, amen!"
Beloved, does this prophetic declaration over your finances light up in your spirit? If so, mark this page or print it off, and speak it out of your mouth every day!
Please leave a comment below if you could sense the power of God and His Word moving in your life, spirit, and finances even as you spoke this prophetic declaration over your finances out loud over yourself today!
You can also listen to me speaking the 250 confessions from my book Speak Life Volume 1: Chart Your Course with Your Words over you (confessions altered to be in the second person) in the YouTube video below.
Listen to 250 Biblical Confessions Over Your Finances.
These confessions are found in the book Speak Life Volume 1.