5 Reasons to Escape a Spirit of Control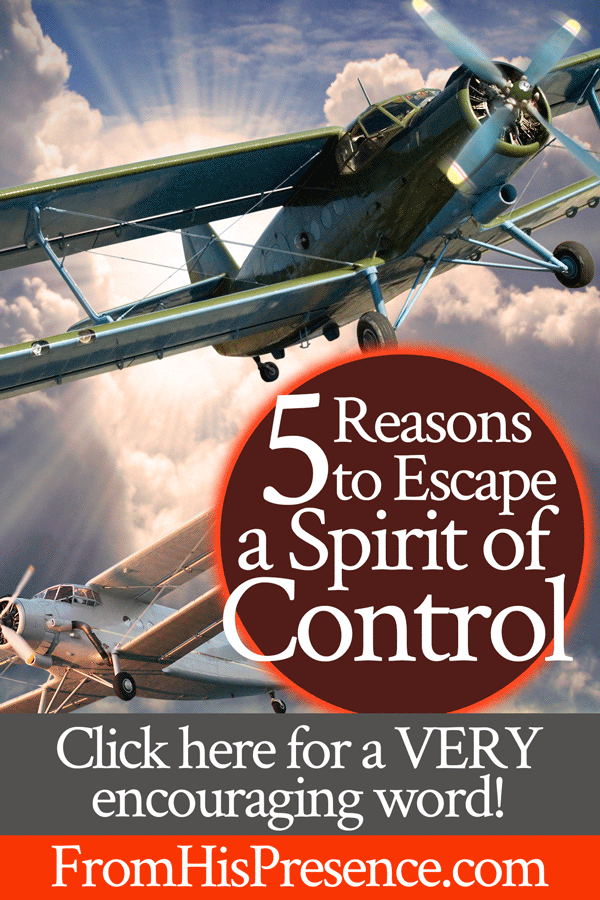 Beloved, are you currently trapped in a situation under someone who is operating in a spirit of control? If so, I felt like the Lord wanted me to share several things today to encourage you to escape that spirit of control.
Note: Invariably, when I discuss this topic, people ask questions about what to do if the person who is controlling you is your spouse.

This article isn't about controlling spouses; it's about controlling church situations, job situations, and friendships. If the person controlling you is your spouse, I recommend that you both preserve the sanctity of your marriage AND muzzle the spirit of control at the same time. Click here to read how to muzzle the Jezebel spirit/spirit of control by releasing the Spirit of Christ.
Without further ado, here are five things that tend to happen when you get out from under a spirit of control.
I'm focusing on the positive here, so these are all GREAT reasons to escape a spirit of control so you can be more blessed. 🙂 There are lots of other reasons than these five, though. 🙂
In no particular order …
1. You begin to breathe deeply again–or for the first time.
When you escape a spirit of control, you will find physical symptoms of control going away–symptoms you might not have known you were even experiencing in the first place.
Years ago, I was in a place where the leadership was pervaded with a spirit of control. When I finally left that place–the very INSTANT I severed the tie–I began to feel a strange sensation:
I felt like I had been DROWNING for years, and that suddenly I was coming up above water and breathing in for the first time. I literally felt in my spirit, soul, and body like I was taking big gasps of air with my head above water after having been drowning in an ocean of control.
When that happened, I suddenly realized how deeply depraved "control" is.
I had never realized that being submitted to controlling leadership had that effect on me–and I hadn't realized that I had not been able to breathe for all the years before.
Nevertheless, when I escaped, the feeling of having been physically and spiritually drowning–and then the feeling of being able to breathe for the first time–was real.
Related: Read here about another type of deliverance if you don't feel like you're drowning, but you do feel like you can't breathe.
2. You begin to prosper more than you have ever prospered before.
When you're under a spirit of control, your opportunities, creativity, and even receiving-pipeline-from-God are limited.
It's like the enemy puts this lid over you; and no matter how hot-on-fire for God you are, letting yourself align with that demon hinders a lot of the blessings God wants to send you.
I know that may sound harsh to say "letting yourself align with that demon." However, if you're aligned with a spirit of control, it's unfortunately true.
Control is never from the Lord, and it's our responsibility as believers to discern the holy from the profane. When we see something that doesn't line up with the Word, we are duty-bound to flee from it if we claim the name of Christ.
As it says in Isaiah 8:20:
"To the law and to the testimony! If they do not speak according to this word, it is because there is no light in them" (Isaiah 8:20).
I know that many of us don't necessarily flee from things that don't line up with the Word; it's definitely a hard thing to do sometimes. Nevertheless, it's the truth that we are duty-bound to do so if we want to obey God.
It's worth the effort, though. When we abandon that controlling place and align ourselves wholly with the Lord, blessings and prosperity begin to flow.
3. You find yourself; you find out who you were meant to be.
When you subject yourself to a spirit of control, it's very hard to find yourself. It's very difficult to grow, expand, and look at Heavenly horizons–because that spirit of control doesn't want anything to happen in your life that they don't have control over.
That automatically excludes miracles, many opportunities, adventurous ventures, many personal ministries, and more.
However, when you escape the spirit of control, you are able to look fully at the Lord, and thus fully at yourself–for you were created in His image.
Only then are you truly able to see God's plans for you. Why is this true? Because:
And you can't see those things, dream those things, pray those things, or even imagine those things with a demonic lid of control over your life.
4. Your prayer life and faith life explode, because you have no more limitations and barriers.
When you escape that spirit of control, you can suddenly begin to see beyond the walls of that controlling workplace, church, or relationship. Not only that, but you also begin to BELIEVE that you HAVE NO MORE LIMITATIONS!
Why? Because it took spine for you to escape that spirit of control! You had to study the Word about it, discern the truth about your situation, and decide to stand up and do what's right and Biblical–even if people hate you for it!
When you make a big decision like that–something that takes GUTS and a real backbone–you open up your own horizons.
You had to get a revelation about freedom in order to even break out of control. So then, after you leave that controlling environment, that revelation doesn't leave you. Instead, that revelation catapults you forward into:
bigger dreams;
bigger prayers;
bigger faith;
bigger accomplishments;
bigger blessings; and
bigger favor than you ever had before!
5. You receive deep, abiding joy.
The Bible tells us that "in the presence of God is fullness of joy." Psalm 16:11 says:
"You will show me the path of life; in Your presence is fullness of joy; at Your right hand are pleasures forevermore" (Psalm 16:11).
But you really can't experience the fullness of God's presence when you also entertain demons, beloved. Even if you don't mean to entertain demons, submitting yourself to things that are not in line with the Word IS submitting yourself to evil.
However, when you take yourself away from a controlling environment, submitting yourself PURELY to the Lord, then you can experience the fullness of His joy!
When there's nothing in your life that stands in agreement with devils, then the enhanced purity on your life makes you capable of carrying increased levels of God's glory and manifest presence …
… which manifest as greater JOY in your life.
Related: Weeping May Endure for a Night, but Joy Comes In the Morning
Beloved, aligning yourself with a spirit of control is NOT God's will for you.
If you're married to the controlling person, I don't recommend divorce. Instead, I recommend counseling from a qualified Christian counselor, even if you have to attend counseling alone.
But if you're in ANY other environment that's controlling, I strongly encourage you to seek the Lord for yourself about your situation:
Search the Scriptures for the truth about your situation, for Jesus said that you would know the truth–and the TRUTH will set you free.
Believe what you read in the Scriptures.
Trust your discernment, as long as it lines up with the Scriptures and is based on actual fact that you have verified for yourself (not suspicion or a mere sensation of "I feel a check in my spirit").
Don't give in to culture when culture tells you to remain under the controlling spirit. (E.g. In a church situation where people always say, "Submit to authority and don't lift up your voice against the man of God," but the man of God is clearly doing things counter to the Scriptures.)
And finally, I will leave you with one more cautionary note:
Some people say, "But I'm called to pray for that ungodly leader."
And they use that as an excuse not to rock the boat; an excuse not to leave the ungodly situation.
It's fine to be called to pray for a person, even an ungodly leader. Thank God for intercessors; your prayers might be able to turn the situation around!
HOWEVER …
And this is a big "however" …
Being called to pray for a controlling leader does NOT mean you have to stay under their authority.
An intercessory assignment doesn't require aligning yourself with anyone who practices evil. There is no distance in the Kingdom; prayers work the same way whether you're praying from afar or whether you're standing right next to a person.
Therefore, if you're called to pray for someone, then pray.
However, don't equate that to remaining submitted to ungodly leadership that operates in a demonic spirit of control. Pray from afar and get thee hence away from the demons. 🙂
Beloved, FREEDOM is God's will for your life.
Whom the Son sets free is free indeed. And if you're under:
a controlling boss,
a controlling pastor,
a controlling friend,
or any other ungodly situation resulting from a spirit of control …
Then I pray you'll make the decision today to earnestly examine these things in light of the Scriptures. Your future spiritual health, relationship with God, blessings, prosperity, opportunities, joy, and more all depend on it.
Did this word speak to your heart today? If so, leave a comment below!