7 Prophetic Words for Jewish Year 5780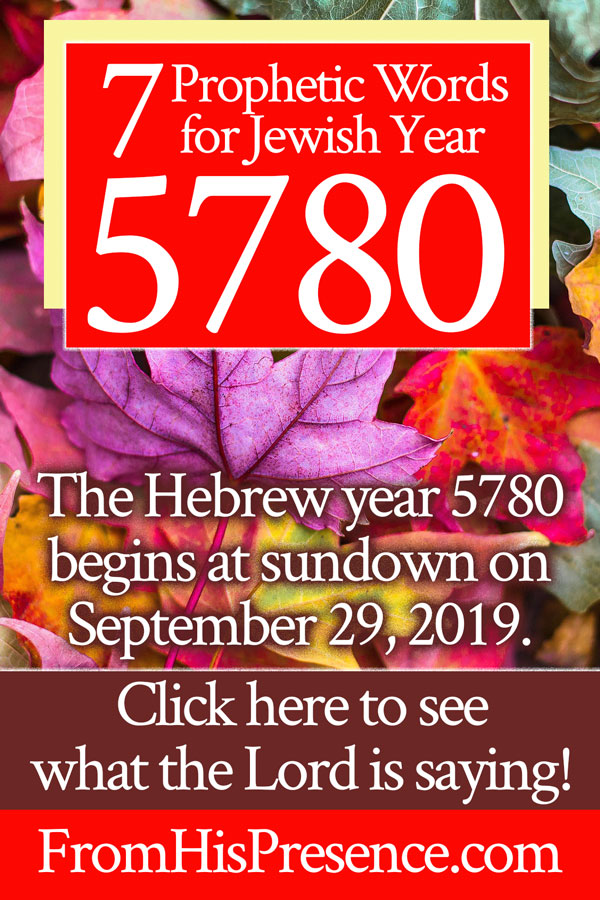 The Jewish year 5780 begins on Rosh Hashanah, at sundown on Sunday, September 29, 2019. This date marks the New Year on God's calendar, and it's a significant day on which the spiritual season changes every year.
The Lord gave me seven prophetic words for Jewish year 5780 that I want to share with you today. In no particular order, here they are:
1. The Jewish year 5780 will be a year of new inheritances.
This is not something to celebrate, but rather something to take very seriously because the Lord showed me that this has to do with the abortion tragedy around the world.
The Lord will be handing out new inheritances in 5780 because the people who were originally intended to carry these inheritances have been removed from the earth through abortion. This leaves more responsibility for those of us who remain, and the Lord will be handing out new and additional Kingdom assignments in 5780 accordingly.
Again, remember that these new inheritances are really not things to rejoice over (due to the tragic reason for these additions to our destinies). Rather, each new inheritance is something to be taken very seriously. As you are assigned additional responsibilities from the Lord, keep these things in mind:
The Lord is weeping over the need for these new inheritances.
It is our job to carry His heart for the earth in these new things.
Know that time is short, and the only reason we remain on this earth is because the task of preaching the Gospel over the whole earth has still not carried out.
As the Lord hands out these new inheritances, assume your additional roles in the Kingdom with great gravity.
These new roles are essential to the Kingdom, and they are not to be taken lightly. In these new roles, you are Plan B–God's backup plan because His first plan was destroyed by the enemy. But these tasks must be done, and do them you must.
Remember that you are only a servant, and you must do as your Lord requests of you. Kingdom responsibility is about serving the King, not about the adrenaline rush we receive when we get promoted. These roles are not about promotion, but are instead about absolute surrender.
2. 5780 is a year of reckoning.
I heard the Lord say, "It will be a somber year." I am not predicting doom in 5780, but rather a seriousness that is coming upon the Body of Christ. "It is high time," the Lord says, "for My people to stand up in who they are, refuse to back down, and demand a settling of accounts."
Then I heard the Lord say: "The scales of justice are full to overflowing with the cries of My people, but they have been held up by the prince of the power of the air (the enemy). In 5780, I need My people to demand and insist upon a reckoning of accounts in their favor–and not to cease praying until they get what they're asking for."
3. The Lord also said: "In 5780, great joy will come upon My people as they ask and receive more than they have ever asked and received before."
I believe the Lord has poured out widespread revelation in 5779 about the grandeur of His power. He has spent the year convicting the saints, educating them, and unleashing greater faith in His people than ever before.
Now, the soldiers who have received and submitted to the Lord's training in 5779 are online and ready for deployment. If you are one of them, the Lord says to you:
"You have completed your training course in miracle faith. Now I am making you a 'faith sniper.' You will see and experience what you are believing for while it is still a long way off. Even from your watch-station on the porch, you will see it. Then suddenly, your faith will pull it into the 'here' and into the 'now.'"
4. I heard the Lord say, "The pirates of the Caribbean will be annihilated in 5780."
I asked Him what this meant, and this is what He told me:
"The Caribbean represents a place of rest to many. However, the enemy has been stealing the rest of My people. The enemy has been hindering My people's rest in Me, but NO MORE.
In 5780, the generation will be fulfilled and My people will enter My rest. The thieves, liars, and fornicators that interfere with the purity of My rest in My people's lives shall be exposed, expelled, and expunged."
5. You will see a significant movement and re-alignment in the hidden generation.
The "hidden generation" consists of God's people who are currently in their 30s and 40s. This generation has been largely forgotten by the church, but it has not been forgotten by God.
Starting in 5780, this generation will be considered complete and you will see a mass release of Christian leaders from this generation into the public spotlight.
6. I believe the head of the year will release significant breakthroughs in many problems that have been hounding you IF …
And I saw that word "IF" in the Spirit in bright, capital letters …
… IF we will dedicate ourselves to winning souls.
Second Corinthians 6:2 says:
"For He says: 'In an acceptable time I have heard you, and in the day of salvation I have helped you.' Behold, now is the accepted time; behold, now is the day of salvation."
Breakthrough is one type of salvation for you: salvation from your problem. But you know what the world needs? Real salvation from sin. And what you make happen for others, God will make happen for you. Breakthrough and soul-winning are connected.
But here's what you need to know:
Many Christians do not win souls because they feel awkward trying to do so. They see people who are called to the five-fold ministry office of evangelist–people who win souls everywhere they go and in a very specific way–and they don't think they can do that. That gift doesn't fit on them.
So, knowing they are not called to the five-fold ministry office of evangelist, they feel helpless, out of place, and out of their element when they try to evangelize.
This feeling of helplessness and inadequacy is not from the Lord. However, the expectation that every person will win souls the same way is not from the Lord either.
We all win souls differently.
In order to truly become soul-winners, we need to learn to win souls using our own gifts. Active, participatory soul-winners will not be released in the Church until we understand that we should each win souls with everything we have (not trying to be something we aren't) and using our OWN gifts. Trying to copy/utilize other people's gifts–gifts that we don't have–is a recipe for failure.
So, in 5780, ask the Lord to make you a soul-winner using YOUR gifts and operating in who YOU are.
Set a soul goal and ask the Lord to help you win that many souls or more in 5780 … using your own gifts!
7. In 5780, the Lord is restoring the joy of the psalmists.
For the past five years, the psalmists in the Church have been under oppression. One thing after another has come against them: slander, lies, witchcraft, financial difficulties, fatigue, burnout, exhaustion, injuries, health crises, discouragement, hopelessness, depression, and more.
Through it all, however, the psalmists have persevered–but without enduring joy.
For five years, many psalmists have had joy by faith, but not by feeling.
As Charles Spurgeon said, "The strong are not always vigorous, the wise not always ready, the brave not always courageous, and the joyous not always happy." Throughout this LONG season, the psalmist have moved ahead by faith. God has used this time to do the work He describes in Deuteronomy 8:
"So He humbled you, allowed you to hunger, and fed you with manna which you did not know nor did your fathers know, that He might make you know that man shall not live by bread alone; but man lives by every word that proceeds from the mouth of the Lord" (Deuteronomy 8:3).
During this time, you forgot how to cry–but that's not necessarily a good thing.
Psalmists, your life went flat in many ways, but you forged ahead. You determined to life by faith, not by feelings. You have honored the voice and Word of the Lord and remained steadfast in trials.
Psalmists, the Lord is rewarding you in 5780.
I heard the Lord say to the psalmists, "Suddenly I will restore your joy. Suddenly I will refill your heart with the overflowing, spontaneous song of your love for Me. Suddenly I will give you the tools to finish what you started, and suddenly I will reward you."
Hallelujah!
Like any year, 5780 will contain its share of joys and somberness. But, ask the Lord to let you carry His heart through it all. As you manifest His heart on the earth, you will find yourself in a new place of influence, manifested maturity, and reward.
Do these prophetic words for 5780 resonate with you? If so, leave a comment below! I love to hear what the Lord is saying to you!