When It Hurts So Bad You're Afraid You'll Die
Are you hurting so badly that you're afraid you'll die? Do you have pain that is tearing you up so badly, you're not sure you're going to make it through?
I understand. And if that's you, I have an encouraging word for you today.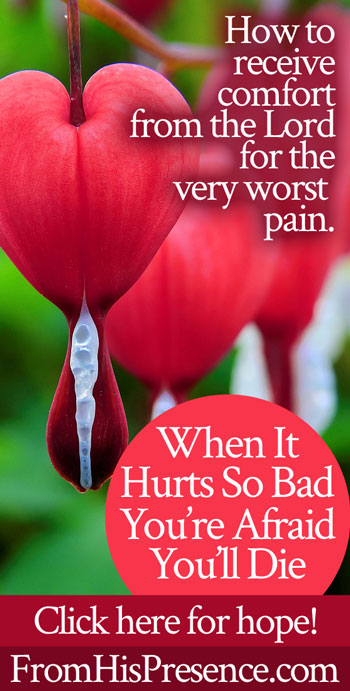 I was driving down the road, not sure if I was even going to make it home. My chest felt hollow, like the place where my heart should have been beating strongly was empty. Except you'd think that an emptiness like that would leave zero feeling behind …
… and it didn't.
This emptiness left nothing but pain behind.
If it can even be called pain.
Agony, is more like it. It felt like a death blow.
I truly wasn't sure I was going to make it. Can you die from a broken heart?
Emotional pain can be as bad as physical pain, I think.
And sometimes when you're in that kind of pain, it's not a matter of asking God to fix the situation. Sometimes, the most pressing need you feel is just God, make it stop hurting.
Help me, Lord. Help. Please help me. Keep my heart beating another minute. Help me take one more breath.
And please, God, make it stop hurting.
The only thing I knew to do was to call on the name of Jesus. To cry out.
I was trying to hang on to my next breath, not sure if I could take the breath after that by myself, I kept breathing the same prayer:
God, help me. Please, help me.
I turned on my John Paul Jackson I Am CD (see YouTube video below), and the beautiful tones of strings and drums and the heartbeat of God filled my car.
Along with the beautiful sound of His names:
I Am God who comforts you.
I Am God who is near to those who have a broken heart.
I Am your Peace and Calm.
I Am God. Nothing is too hard for Me.
I Am Jehovah Rapha, your Healer.
I Am the Bright Cloud that comes to you.
I Am the Living Water of life.
I Am the Balm of Gilead.
I Am the Altar of peace for your fear.
I Am God who restores your soul.
I Am He who weeps with those who weep.
I Am, I Am, I Am.
In that moment, I didn't have the strength to cling to promises.
All I could do was cling to His Person. To cling to my Daddy's neck and beg Him to help me.
But as I listened to the sonorous tones of His names rolling over my soul and spirit, His Person became enough. Because Who He Is is enough.
And remembering Who He Is comforted my heart.
That day, as I drove down the road and looked at Him and who He is, the pain dulled. He comforted me–not with a change of circumstances or a prophetic word, but simply by virtue of Who He Is.
Related: Encouraging Word: You're Going to Bloom, Not Drown
Are you hurting so badly that you're afraid you'll die?
I don't have a word about fixing your situation today, although I believe God can and will fix your situation if you will pray. In Romans 8:28, He promised to work all things out for your good if you love Him and are called according to His purpose (which you are).
But I do have a word for you about stopping the pain. No matter what you are going through, Father God can stop the pain when you look at Him.
When you magnify Him. When you look at Him bigger.
When you look at Him so big that He takes up your entire horizon.
When you do that, there's no room in your field of vision to look at your pain. And making God bigger in your view–thus squeezing out your pain–helps make that terrible hurt stop.
Do you hurt so badly you're afraid you'll die?
Listen to this CD (see YouTube video below) by the late John Paul Jackson. Let it play over and over if you can. And look at Him bigger.
Because His name is Comfort. It's who He is, and as you ask Him to be who He already IS in your life, you'll find healing and encouragement for your heart.
Does this message bring hope to your heart today? If so, please leave a comment below. I want to hear from you. And if you are hurting so badly today that you're afraid you'll die, know that I am praying for you.
Related: Music Review of John Paul Jackson's I AM: 365 Names of God CD
Would you help me with my work of reaching people for Jesus as a domestic missionary? This blog, and all of my mission work in person, are made possible through your partnerships, donations, and product purchases.
If you'd like to help me, please check out the partnership details and products available for sale here. And, thank you in advance for helping make this blog and everything we do together for the Kingdom possible!