Letters to Singles: Men, Here's How to Find a Godly Wife
Are you a single man who is waiting for God to send you Miss Right? If so, today's letter about how to find a godly wife is going to help you.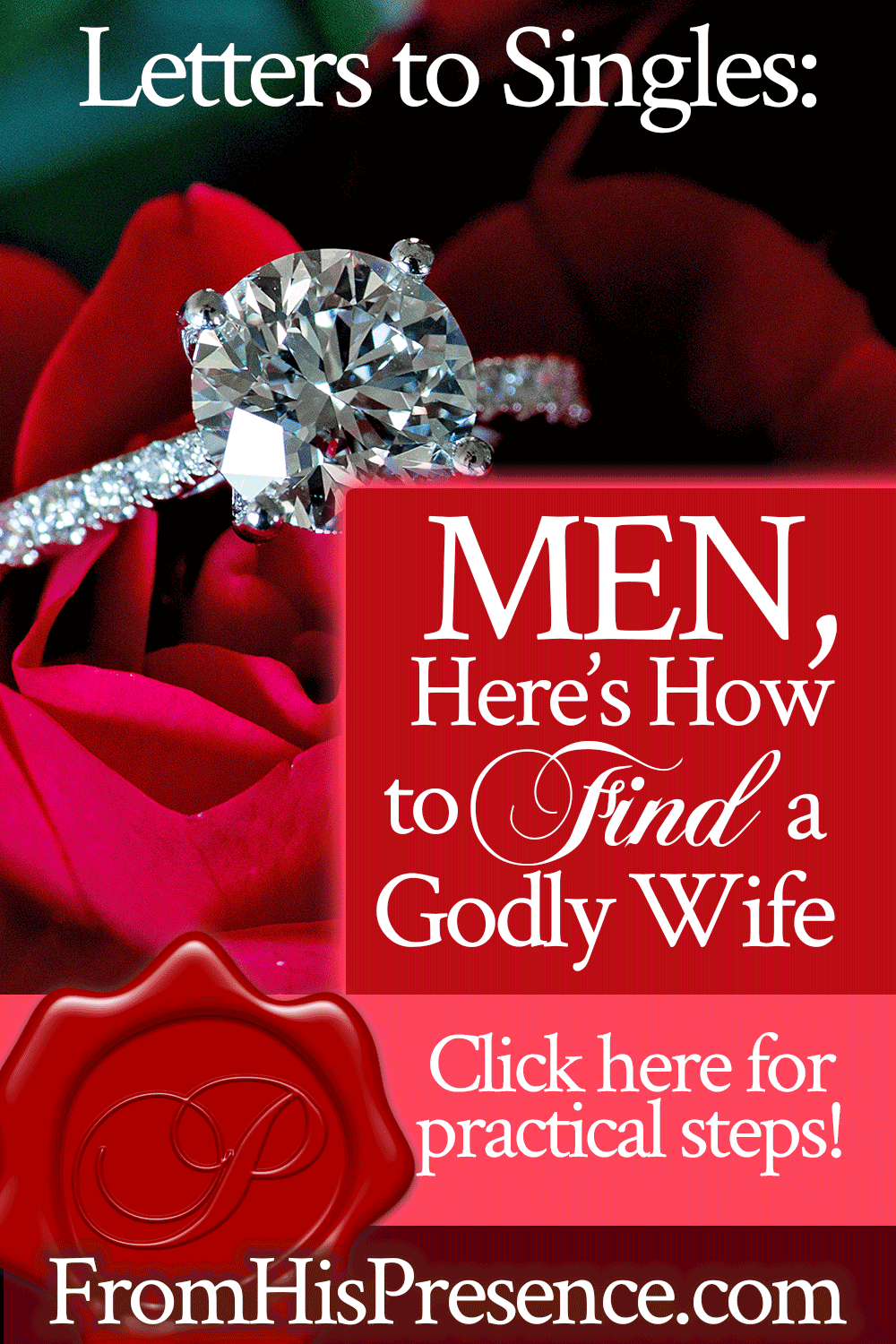 In my Letters to Singles part 1 and part 2, I wrote to all the single people who are waiting for a spouse. I encourage you to read those letters if you haven't already.
But today's Letter to Singles isn't for everybody; it's just for the men. If you're a brother, read on!
Brothers, I have a word for you today if you're waiting for your queen to show up.
That word is this: You may be wondering how to find a godly wife, but you don't have to wonder anymore. God made you to find her; He pre-programmed you to do so. All you have to do is trust God and then go get her.
In other words …
Stop waiting, and start seeking her out.
Let's be real:
It is so tiring to keep hearing from men that they want to get married, when all the power to pursue is in a man's hands.
Women were not made to pursue. (And let's face it, men don't like the catty ones that think they were.) Men were born to hunt; women were made to be wooed and won.
And every time I hear a guy talk about how he just wishes God would send The One, I think: "Well, go get her."
Because she's out there.
And gentlemen, she is ready to be wooed and won.
By you.
Now, it's true that you'll need to be suave. You'll need to be powerful, strong, but also sweet and debonair. You won't want to be fawning or clingy; you'll need to be confident and a servant. But, you can be all those things; you are all those things! God made you that way! Have confidence …
… And then put your confidence on like a suit coat and go chase, nicely and sweetly and suavely and debonair-ly, your queen.
So here's how to find a godly wife: You go after her. You have to chase what you want.
The time to be afraid of rejection is over. And want to know an inside secret or two? Here are some inside secrets:
1. That woman wants to be courted. She is waiting for you to ask her out! Step up!
2. If you woo that lady using her love language before you ever ask her out for the first time, then your odds of being accepted are even higher. She'll already be predisposed to favor you.
Note on the love languages: Woo her pre-first-date with only the first four love languages: words of affirmation, gifts, quality time, acts of service … but leave physical touch alone for now, lest she think you're a creep. 🙂
3. If you have confidence in yourself, that lady will have confidence in you too. Get rid of the "oh, I don't think I have much to offer; I just need a woman to complete me" kind of WIMPY, PATHETIC attitude if you've got that attitude.
Remember the scenes in the old movie Cool Runnings, when Yul Brenner kept trying to teach Junior to have a little confidence? When Junior finally got it, he really did become a "bad" dude. He became a hero.
Well, brother, you know what? Your lady wants a hero too.
And you already are one; God made you that way. You just have to decide to be what you are.
Long story short, brothers: God will send you a wife–but you'll have to go get her.
The question is, are you willing to step up right now and ask the lady out that you think you might be interested in? Because you aren't going to get a wife unless you do.
It's all up to you. And if you're ready and willing to step out and step up, I'll bet God will send you your queen–and it won't even take Him that long.
Here's a word of caution as you're working through how to find a godly wife:
I don't care what culture says and I don't care what your flesh says. I don't even care what your girlfriend/fiancée says. GOD'S WORD SAYS "NO SEX before/outside of marriage." And if you want a queen who loves God and knows God, you're going to have to be the prophet, priest, and king of the relationship from the first date–and you're going to have to live pure and holy before the Lord.
That means, among other things:
NO SEX UNTIL YOU'VE MARRIED HER. Put an engagement ring on her finger, then put a wedding ring on that finger. Be a real man. Real men live holy.
It also means don't live with her before marriage. Never. Not one day.
And here's another word of caution:
Don't think you have to have a "perfect woman." No woman is perfect, but–NEWS FLASH!!–no man is perfect either. You are not perfect. Therefore, what you need is not the perfect woman; you need the perfect woman for you.
There's a big difference.
The "perfect woman" may have the perfect measurements, zero annoying habits, look like a supermodel, and hang on your arm listening to everything you say with rapt attention.
But, you know what? After you marry her, when the initial lust wears off, you might no longer be happy with her vapid mind, her weight gain, and all the annoying habits that your lust precluded you from seeing previously.
Related: If Your Dating Relationship Isn't Working Out
But "the perfect woman for you"? Now that's another story.
The perfect woman for you will be physically attractive to you, yes. Of course God wants you to be attracted to your spouse. But more than that, "the perfect woman for you" will be perfect because God made her heart and character to complement yours. That means:
She'll have staying power.
She'll be smart and have worthwhile things to say, so you can have interesting conversations for the next 75 years of marriage.
She will love God first and foremost.
She'll be positive and respectful without being a doormat.
She'll respect your boundaries.
She'll have boundaries too, and she'll insist on enforcing them. (But you shouldn't try to get her to violate her boundaries, obviously.)
A woman who makes a good wife is a woman who knows who she is and what she's about. She's a woman who loves God first and foremost, and who will love you second.
But you know what? You won't be a good husband unless you also love God first and foremost and then love your wife second.
So this works out very well. 🙂
Long story short, brothers: If you are single and want to get married, it's time to go after it.
So here's how to find a godly wife if you're not sure how to get started:
Start spending time in places where godly women are. In other words, be in church every single week. Be in Sunday School or small group. And don't waste your time, ever, hanging out in places where godly women are NOT, such as bars.
After you have identified a lady in whom you are interested, first learn a bit about her. Yes, before you ever ask her out. Strike up some conversations with her. Say nice things to her. Sincere compliments go a long way! Serve her in some way. Don't be fawning or clingy; that's off-putting. Just be yourself–a confident, kind servant. Initiate a friendship with the lady in whom you are interested.
After you've had a few conversations and have initiated somewhat of an acquaintance, if you're still interested, ask her out.
Ask her to do something with you where you can actually have a conversation. A dinner and a walk are a great idea. A dinner and a movie are not a great idea; be more original than that. You can't get to know one another while simultaneously watching a movie screen. Take her for a walk, or to play mini golf, or to play tennis, or to make pottery. Take her somewhere where you can converse, make a memory, and build a relationship!
Be the gentleman! Bring her flowers or a small gift on your first date and every date. (And do that the rest of your life.) Open doors for her, even her car door. (YES! OPEN THE CAR DOOR FOR YOUR QUEEN!) Listen to her when she speaks–and for pity's sake, let her get a word in edgewise. Ask her about herself but give her a chance to ask you about yourself too. (It should go both ways.)
Regarding physical touch: It's perfectly acceptable and not creepy to touch her (unless she shies away) while being the gentleman–for example, offering her your arm as you walk, or helping her up the stairs, or extending your hand to her to help her out of the car after you open her car door for her (from standing OUTSIDE the car). Try it and see how she reacts. Things like this are a better way to get into her good graces than trying to hold her hand, kiss her, etc. before you have the relationship to support that.
Be respectful! Not only physically, but also of her time. Assume she has a life and make plans in advance. It's rude to call one day and ask for a date the same night, and if she's savvy she won't fall for that. If you want a date for Friday night or Saturday night, ask by or before Wednesday.
Pick her up at her house or wherever she lets you pick her up, and PAY FOR EVERYTHING! Men, if you can't pay for the date, either do something free or don't ask her out. Don't ever ask a woman to pay or even let her pay for a romantic date. If you need her to pay, then you need a second job–and don't date until you can pay. Women pay when they're the CEOs or managers, taking their employees out for a work event. And that's IT. Women should not ever pay for a date. Sorry, guys. (And women, if you're sneaking in to read this, please have some self-respect on this and if a guy asks you to pay, don't date him again ever.)
Gentlemen, you can go after your queen. It's high time to go get your wife if you desire to be married.
Go find her in the places where godly women are. Treat her like a queen and expect her to be one. She'll be a normal person, but she can be the perfect woman for you.
This is the key for how to find a godly wife: Go after her. You were made to hunt and chase, brothers. Go get her. Go get your queen.
You'll be glad you did.
Blessings,
Jamie
Men, are you willing to go after your queen? Leave a comment below! And ladies, are you in agreement with my advice today? If so, leave a comment (even an anonymous one) and encourage the brothers below!