Prayer to Embrace the Pain of Change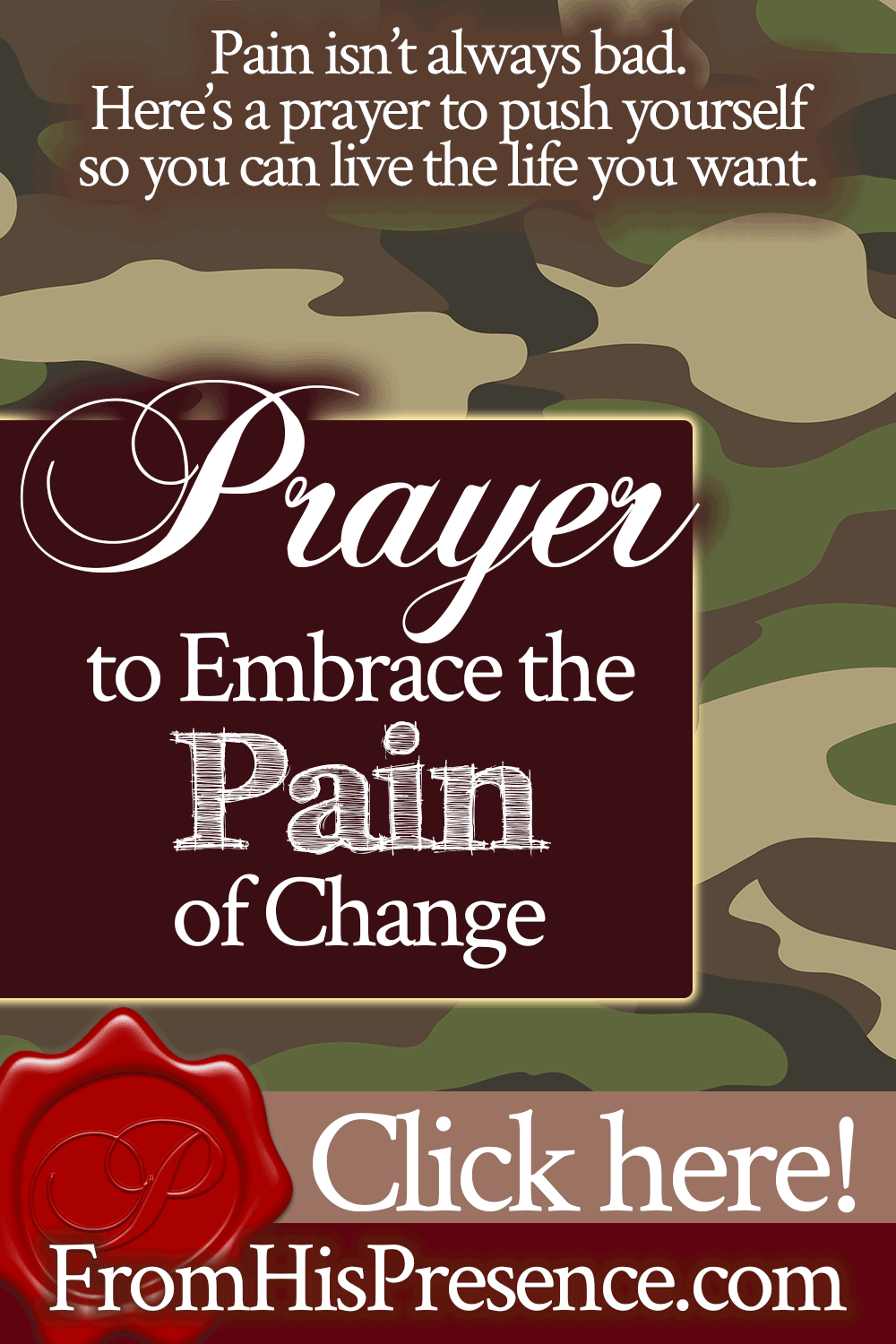 Do you want to move up in life? If so, then you're going to have to develop enough mental toughness to embrace the pain of change.
Few things in this life are easy. Everything worth doing takes effort:
Giving your life to Jesus requires you to die to yourself.
Building muscles requires you to lift weights and endure pain as your muscles tear down and then rebuild.
Eating healthy requires you to say "no" to eating comfort foods, desserts, too many carbs, and many other things.
Building physical endurance requires you to exercise–a lot.
Building a business requires late nights, early mornings, long hours, and sacrifice.
Having a good marriage requires you to die to yourself just about every day.
Growing in God requires you to get up early and read your Bible, pray, and worship when you'd rather be sleeping.
I could go on, but you get the idea. In order to have what you want, you have to sacrifice. And sacrifice always hurts.
Change is painful because it requires sacrifice. However, the pain of change is a pain worth enduring.
The Word of God discusses the pain of change many times. For example, in 1 Corinthians 9, the apostle Paul said:
"Do you not know that those who run in a race all run, but one receives the prize? Run in such a way that you may obtain it. And everyone who competes for the prize is temperate in all things. Now they do it to obtain a perishable crown, but we for an imperishable crown.

Therefore I run thus: not with uncertainty. Thus I fight: not as one who beats the air. But I discipline my body and bring it into subjection, lest, when I have preached to others, I myself should become disqualified" (1 Corinthians 9:24-27).
And Philippians 3:7-14 says:
"But what things were gain to me, these I have counted loss for Christ. Yet indeed I also count all things loss for the excellence of the knowledge of Christ Jesus my Lord, for whom I have suffered the loss of all things, and count them as rubbish,

that I may gain Christ and be found in Him, not having my own righteousness, which is from the law, but that which is through faith in Christ, the righteousness which is from God by faith;

that I may know Him and the power of His resurrection, and the fellowship of His sufferings, being conformed to His death, if, by any means, I may attain to the resurrection from the dead.

Not that I have already attained, or am already perfected; but I press on, that I may lay hold of that for which Christ Jesus has also laid hold of me.

Brethren, I do not count myself to have apprehended; but one thing I do, forgetting those things which are behind and reaching forward to those things which are ahead, I press toward the goal for the prize of the upward call of God in Christ Jesus" (Philippians 3:7-14).
Change is difficult. The pain of change, like any other pain, hurts. But what would happen if we changed our mindset and stopped dreading the pain of change–and began embracing it instead?
What would happen if we actually began seeking the pain of change?
For example:
What would happen if we began thinking, "I'm not bone-tired going to bed tonight. I must not have worked hard enough or gotten enough steps in today"?
What would happen if we thought, "My arms and legs don't hurt today. I should be lifting weights every day so that my muscles are getting stronger! I will start lifting weights now so that my muscles are sore from growth every day!"?
How would our lives be different if we thought, "I'm really hungry from fasting breakfast every day for a month, but MAN I love the miracles I'm seeing"?
What if we ran toward the good kind of pain–the pain of change–instead of avoiding it at all costs?
What kind of fruit would this one little change in mindset produce in our lives?
I think changing our mindset in this area could make all the difference in the world. Our natural flesh always seeks its own comfort; its own repose; its own convenience. But the natural man cannot receive the things of the Spirit. As it says in 1 Corinthians 2:14:
"But the natural man does not receive the things of the Spirit of God, for they are foolishness to him; nor can he know them, because they are spiritually discerned" (1 Corinthians 2:14).
If we continually focus on our flesh–and on our natural tendency to avoid pain–then we're not going to be very attentive to God's Holy Spirit. And yet, Holy Spirit is trying to get things to us. He's trying to bless you and me and help us right now.
But God's things are spiritually discerned.
That means we have to think and sense and decide spiritually, with spiritual thoughts that are from God, in order to perceive and receive what He has for us. We have to think like He thinks.
And God does not think that all pain is bad.
If you have any doubts about this, look at Jesus. Isaiah 53:10-12 tells us that it actually pleased the Father to crush Jesus and put Him through pain. Read this passage:
"Yet it pleased the Lord to bruise Him; He has put Him to grief. When You make His soul an offering for sin, He shall see His seed, He shall prolong His days, and the pleasure of the Lord shall prosper in His hand.

He shall see the labor of His soul, and be satisfied. By His knowledge My righteous Servant shall justify many, for He shall bear their iniquities.

Therefore I will divide Him a portion with the great, and He shall divide the spoil with the strong, because He poured out His soul unto death, and He was numbered with the transgressors, and He bore the sin of many, and made intercession for the transgressors" (Isaiah 53:10-12).
It pleased the Lord to crush Him. It pleased the Father to crush His Son Jesus; to put Him through pain. Why?
Because of what it says in John 3:16-17:
"For God so loved the world that He gave His only begotten Son, that whoever believes in Him should not perish but have everlasting life. For God did not send His Son into the world to condemn the world, but that the world through Him might be saved" (John 3:16-17).
He did it for love.
Jesus hung on the cross for LOVE–for love of you; for love of me. And Father God sent Him to do it, and would not excuse Him from the task even though Jesus begged to be excused–for love.
Do we love God enough to endure the pain of change for Him?
Do you love Him enough to change for Him? Do I?
That's a hard question.
And I will tell you, for myself personally, that in some areas my answer has been a heartfelt yes. But in other areas …
… Areas where the pain becomes more pronounced …
… My answer (albeit subconsciously) has been an intimidated, hesitant "not very much" or "maybe later" or "I'll try, but not very hard; and I probably won't stick with it."
Ouch.
I'm just being real here.
What about you?
Perhaps we all need to embrace the pain of change.
Perhaps we need to reframe our understanding of pain to acknowledge that there's good pain and bad pain. The bad pain (like physical sickness or injury, emotional wounds, unforgiveness, etc.) is not from the Lord; we should avoid bad pain for sure–and seek to heal it if we're already in bad pain.
But the good pain–the pain of growth, of change, of forming new habits, the pain of self-discipline and self-control–is pain that simply indicates we are becoming whom God called us to be.
Perhaps we should seek and pursue the kind of activities and habits that produce good pain.
And I believe we need to ask the Lord to help us with this. Without His help, none of us would ever have the self-control necessary to grow. Self-control is a fruit of the Spirit; it is something only Holy Spirit can produce in our lives.
Would you pray with me today, asking the Lord to help you embrace the pain of change?
Here is a sample prayer to embrace the pain of change that you can use as a starting-off point for your prayer:
"Dear Heavenly Father, I come to You in Jesus' name.
Lord God, thank You for hearing me pray today. Thank You for moving in my heart right now. Thank You for bringing me conviction and guidance, wisdom and direction today. Thank You for confirming Your Word to me which You have already spoken into my spirit.
Father God, I love You so much. I want to be like You, and I want to do and experience everything good that You have for me. But Lord, I know I cannot experience all Your goodness and all the good things You have for me without fully submitting my body, my habits, and my thought processes to You.
I need Your help with this, Father.
Abba Father, please help me embrace the pain of change.
Today and every day going forward, I ask You to help me embrace self-denial. I pray that You would bless me with so much revelation about the good kind of pain that I actually seek it out.
Lord, in Jesus' name, please help me to literally seek out growth–including the pain that comes from growth. Like the apostle Paul, help me to buffet my body and bring it under subjection, that I may not become disqualified.
Father God, I don't want to be like Esau, who gave up his inheritance for one morsel of food. I don't want to be lazy in my body, mind, soul, or spirit. Instead, I want to be like Jesus, who did whatever it took to fully perform Your will in every area of His life.
Holy Father, I pray right now that Holy Spirit would bear His fruit in me.
Please let the fruit of the Spirit of love, joy, peace, longsuffering, kindness, goodness, faithfulness, gentleness, and self-control fill my life (Galatians 5:22-23). Take me to new levels of surrender to You, and help me to set my mind and keep it set on things above, where Christ is, seated at the right hand of God.
Father God, I pray that You would fill me with Your perfect love, which casts out fear and intimidation.
Intimidation is only fear with a situation on, Father God, and I reject both fear and intimidation right now in the mighty name of Jesus Christ of Nazareth. I decree and declare that You have not given me a spirit of fear, but of POWER, LOVE, and a sound mind, Lord. So therefore, I walk in Your perfect love today and I will not be afraid nor intimidated by the process of change nor of the need for change.
Father God, please fill me with joy at even the thought of change, hard work, and the good kind of pain.
Help me to not be conformed to this world, but to be transformed by the renewing of my mind–that I may prove what is Your good and most excellent and perfect will for me and my life. Teach me to think like You think about pain and change, Father.
Lord God, I ask in Jesus' name that You would help me to thoroughly embrace the pain of change.
I pray that You would help me to seek it out in every holy way. Help me to enjoy growing in every way, and to appreciate the pain that comes with growth–valuing that pain as a sign that I am growing and advancing.
Fill me also with the motivation, inspiration, and physical energy that it takes to change, Lord. Help me wake up every morning filled with Your power and inspiration and motivation, and let them stay with me all day–even when I'm tired.
In Jesus' name, I ask that You would help me to build the habits You desire me to build, Father. Help me to easily discard bad habits and wrong ways of thinking, and to adopt good habits and right ways of thinking (thoughts that are in accordance with Your Word) as easily as possible. Let even the pain of growth be easy for me, Father, due to the joy of obedience that You have set before me.
I ask in Jesus' name that You would help me do all these things for the right reasons, Father: that I would do them for love.
Help me to love You like You deserve to be loved. Let my love for You burn so hot in my heart that my love for You compels me and drives me to change, grow, and obey You moment by moment. Thank You, Abba Father.
And Father, I pray that You would help me see the results of my labors, efforts, and changes sooner rather than later.
As I obey You and change my habits, thought patterns, and ways, I pray that You would bring rapid results. Convict me every day and help me to obey You with no hesitation or delays. Help me cleave and cling to You, Father, for You give more grace.
Thank You, Abba Father.
Please make Your grace sufficient for me, for Your strength is made perfect in my weakness. Thank You for living inside me in Christ Jesus. Thank You that the same Holy Spirit who raised Jesus from the dead dwells in me. And thank You that Your resurrection power is flowing through me right now to bring me into this new season of change, transformation, and obedience.
I love You, Abba Father. Thank You for hearing and answering my prayer. In Jesus' name I pray, amen and AMEN!"
Beloved friend, do you need to embrace the pain of change today? Did you pray this prayer and mean it? If so, leave a comment below! I love to hear from you!