21 Prayer Points for Sweetness and Healing In Your Marriage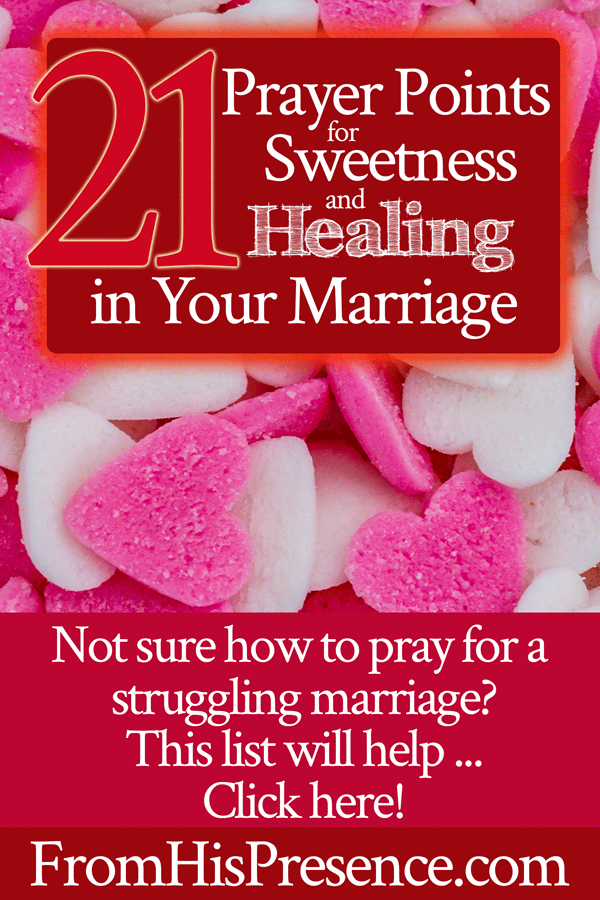 I receive many emails from precious readers who are struggling in their marriage. It's a particularly painful place to be, and I always pray for you if that's you. And also, if that's you, I would like to encourage you today AND.provide a prayer list that will help as you pray for sweetness and healing in your marriage.
First, know that no marriage is beyond God's ability to change.
He is the Resurrection God. He can raise anything from the dead, even if it looks like it's beyond hope to the rest of the world. God can heal your marriage, and your spouse is not too far gone to restore.
Secondly, know that Papa God hears you and feels your pain.
No matter what you are enduring right now, Papa hears you. He sees you. You are NOT forgotten.
And thirdly, know that He will renew your willingness to pray for your spouse and your marriage if you will ask Him to.
I know that sometimes people get tired. You may be feeling tired right now–tired of praying, tired of fighting, tired of believing Him. But you know what? He can and will fire you up again to contend for your marriage–as soon as you ask Him to.
Below are 21 prayer points that you can use to pray for sweetness in your marriage. If you want to pray them all every day, you can; or, you could pick one point to pray each day for 21 days. Either way, watch for God to answer when you pray these prayers back to Him! Expect miracles!
Finally, every day when you begin to pray, ask Holy Spirit to help you and intercede for you as you pray.
Romans 8:26-27 says this:
"Likewise the Spirit also helps in our weaknesses. For we do not know what we should pray for as we ought, but the Spirit Himself makes intercession for us with groanings which cannot be uttered. Now He who searches the hearts knows what the mind of the Spirit is, because He makes intercession for the saints according to the will of God."
I ask Holy Spirit to pray through me and for me EVERY SINGLE TIME I sit down to pray.
Why? Because I can't stay on track if I don't, and I can't pray powerful prayers if I don't. BUT …
If I ask Father God for Holy Spirit to pray through me …
If I ask Him for Holy Spirit to pray for me …
And if I confess to Him that, without the Spirit's help, I don't know how to pray as I ought or how to offer it worthily as I ought …
And when I confess my faith that I do believe Holy Spirit will help me pray …
… Then Holy Spirit always helps me pray, and I can tell a marked difference at both the DEPTH of my prayer and the POWER of my prayers. It's all Him, you see! (Something about "'Not by might, nor by power, but by My Spirit,' says the Lord" comes to mind ….) 🙂
To read more about that, read my article about how to enter into deep prayer here and also the one about how to get your prayers answered 100% of the time here.
Also, for inspiration and encouragement–and to strengthen your faith–I HIGHLY recommend watching the movie War Room, with leading actress Priscilla Shirer. Not only is the story amazing, but the acting is excellent also. The whole movie will move your spirit and encourage you to pray. 🙂
That said, here are 21 ways to pray for sweetness and healing in your marriage:
Help us both to seek Your face in one-on-one time with You, in prayer, worship, and studying Your Word, every day.
Lord, let us both prefer one another as better than ourselves. Help us to serve one another wholeheartedly, as to the Lord and not as to men.
Heal both of us completely—spirit, soul, body, mind, emotions, and everything else—so that we can be whole people in you and not look to the other person to fix us. Help us to receive all our healing directly from You.
Help us to fall madly in love with one another again.
Help each of us care about the other person as a person, not just as roommates or teammates. Help us to exhibit care and concern for one another's thoughts, feelings, emotions, health, spiritual life, concerns, and every other thing.
Let us defend and protect each other always.
Help us to have fun together. Help us become best friends.
Let our words be sweet and full of honey at all times.
Keep us pure. Let us have eyes only for each other. Let the husband always be satisfied with his wife, and let the wife always be satisfied with her husband.
Teach us how to seek Your face together and pray together. Give us a passion and a burden for prayer.
Help us to hide Your Word in our hearts, that we might not sin against You.
Teach us how to minister to one another's hearts by speaking and serving in the other person's love language. Help us to speak encouraging words to one another that build each other up. Help us both to touch one another in love, and only in love. Teach us how to give beautiful gifts to one another. Help us to spend the right amount of quality time together, and let that time be sweet. Help us do practical acts of service to show one another that we care.
Take our indifference and turn it into loving passion.
Help us both to become good stewards of all the material possessions you've entrusted to us. Convict us both where we are not yet good stewards, and change our hearts.
Help us to be in one accord with Your Spirit when it comes to how we handle giving, saving, investing, and spending Your money.
Teach us how to communicate. Help us to communicate clearly, effectively, and in love.
Open up our hearts to one another. Give us both Your heart of love, compassion, and hope for the other person. Help us to believe in each other, and in Your plans for one another.
Help (the husband) to love (the wife) and be willing to give himself for her. Help (the wife) to love (the husband) and submit to Him as to Christ.
Help us to get and keep on getting the wise counsel that you desire us to receive. Counsel us Yourself, Jesus, while You're at it; You ARE the Wonderful Counselor!
Instruct us and teach us in the way we should go at all times. Guide us with Your eye upon us, and help us to humbly, quickly, and easily follow You and submit to You.
I pray that this prayer list will be a blessing to you!
If you'd like to go deeper in praying for sweetness in your marriage, here are my additional, free blog posts with prayers for healing a struggling marriage:
If you need new fire in intercession for your marriage, I also encourage you to watch the movie War Room today. It is amazing, and the Lord will use it to minister deeply to your heart.
Beloved, if you're hurting in your marriage, I am praying for you.
I pray that Jesus would wrap His arms of love around you, and that you would sense His presence and affection–and sense that you are safe and secure in His arms. I pray that God would take everything that's angry or difficult or even abusive in your marriage and turn it into sweetness. (And if you're being abused, find a place of safety while you get counseling and/or work toward reconciliation, my friend. Don't become a lethal statistic.)
I pray that the Lord would take the darkness out of your marriage and fill you both–and your relationship–with His marvelous light. I pray the Lord would take everything that's hard and stony and turn it into soft, plowed-up ground with His Spirit and wisdom, which is first pure, then peaceable, willing to yield, and full of mercy and good fruit.
And last of all, I pray that the Lord would make all things new in your marriage:
That He would save, heal, and restore;
That He would bring you greater holy and loving intimacy than you and your spouse have ever experienced before; and
That He would use your marriage testimony to lift up His own name over the whole earth and bring glory to Himself.
And I believe that, as you pray, the Lord will heal your marriage day by day … and you will see the results.
Does this prayer list help you as you pray? If so, leave a comment below!