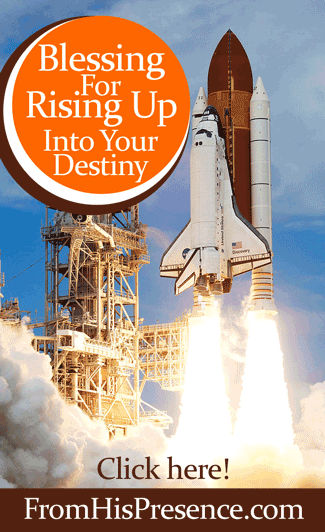 Do you want to fulfill God's purposes for your life? If so, then the rocket fuel you'll need is called the Word of God. Speak God's Word over yourself often, and you will see miracles in your life.
Today, I wanted to share a blessing for rising up into your destiny. This is a blessing for you to speak over yourself. Every part of it is in accordance with the Word of God. Are you ready?
Speak this blessing for rising up into your destiny over yourself:
In the name of Jesus, I decree that I seek first the Kingdom of God and His righteousness, and everything else I need is added unto me. 
I decree that I am the head and not the tail. I am above only and not beneath.
I declare I dwell in the secret place of the Most High God, and I remain stable and fixed under the shadow of the Almighty. No evil shall befall me, nor shall any plague come near my dwelling.
A thousand may fall at my side, and ten thousand at my right hand, but it shall not come near me. I am protected by God and by His angels at all times and in every way. 
In the name of Jesus, I pluck out every arrow the enemy has sown into me. I throw those arrows to the ground, broken and of no effect in Jesus' name. I plead the blood of Jesus over every wound in my body; in my soul (my mind, will, and emotions); and in my spirit.
I loose healing into my body, soul, and spirit in Jesus' name. All old wounds are bound up and healed by the blood and stripes of Jesus Christ, the healing Balm of Gilead, right now. My healing is so complete that I will not even be scarred.  [Read more…] about Blessing For Rising Up Into Your Destiny