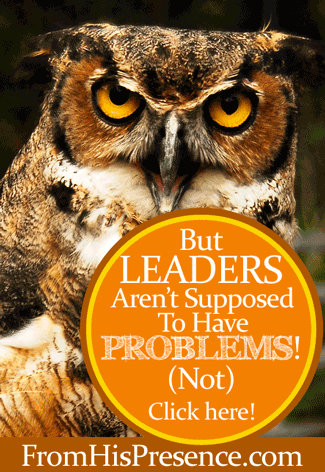 If you're a Christian leader, you're not allowed to have problems. At least, that's what some people will tell you.
Have you ever noticed that? We Christians seem to have certain expectations of leaders. Whether you're a leader of:
a volunteer group…
a Sunday School class…
a church ministry…
or even an entire church…
… there is a stigma that people who are in leadership, or have reached any level of spiritual maturity at all, are not supposed to have problems. Or, if they do, we seem to believe that their battles should be against big things of organizational, community, or nationwide importance.
This stigma says leaders shouldn't struggle with personal battles like doubt, or discouragement, or fear. It says that that leaders shouldn't feel disheartened or want to walk away.
And if you're a leader who's struggling, it can feel like there's no help for you.
You might feel like there's no way out.
You might feel like you have no one to talk to.
The enemy may even be plaguing you with a fear mindset that says: "If I admit I'm struggling, people will think I'm unspiritual."
You might feel you will lose favor or influence. You might even be concerned you will be removed from leadership. And if you're in full-time vocational ministry, you might even be concerned you could lose your job–your livelihood, your ability to provide for your family–if you admit you are anything less than perfect.  [Read more…]