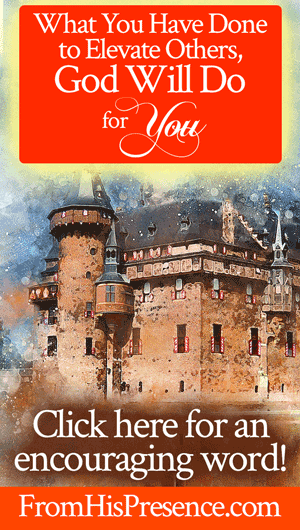 Have you been serving and serving and serving other people, doing your best to elevate and promote them? If so, I have good news for you today:
What you have done to elevate others, God will do for you.
This is what the Lord showed me:
You have been loyal and faithful to Him, and you have been a willing vessel for His heart. As a carrier of His heart, you have seen the gold in others.
You have taken people under your wing, sheltered them, provided for them, and have done your best to raise them up in the nurture and admonition of the Lord. You have been a true spiritual father or mother.
Related: Read the other encouraging words the Lord has given me from the book of Esther recently: The Lord is Dethroning Queen Vashti and 7 Days of Abundance, but Participation is Not Compulsory.
Despite that, things have not always worked out the way you planned.
[Read more…] about What You Have Done to Elevate Others, God Will Do for You