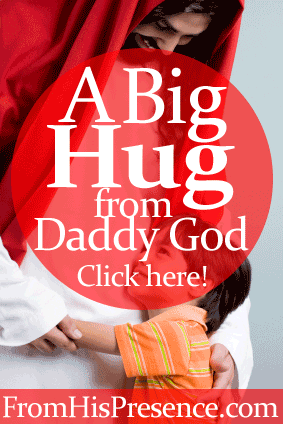 Do you need a big hug from your Daddy God today?
Maybe you're sad. Maybe you're lonely. Maybe you're discouraged or depressed or struggling with rejection. Whatever the reason, you need a big, fat HUG.
You can have one. Yes, you, right now. How?
Because if you have made Jesus Christ the Boss of your life, your Abba Father lives inside you. It's not just the Holy Spirit inside you. It's actually Jesus AND the Holy Spirit AND the Father.
Yes, it's true. I've heard people say that the Holy Spirit lives inside you, but Jesus and the Father do not. Fortunately for us, however, that is not Biblical. 🙂 How do I know?
Because in John 17, Jesus was praying for His disciples and for all those who would believe in Him in the future. In this passage, He actually stated outright that He lives in us. Check it out:
I do not pray for these alone, but also for those who will believe in Me through their word; that they all may be one, as You, Father, are in Me, and I in You; that they also may be one in Us, that the world may believe that You sent Me.

And the glory which You gave Me I have given them, that they may be one just as We are one: I in them, and You in Me; that they may be made perfect in one, and that the world may know that You have sent Me, and have loved them as You have loved Me" (John 17:20-23, emphasis mine).
Jesus said He is in us, and the Father is in Him. That means if He is in us, the Father lives in us too.
Well! That puts a whole new perspective on things, doesn't it? It's not like our Father is simply seated on the throne in Heaven and is nowhere else. It's not like Jesus is standing before the Father in Heaven and is nowhere else. No, they are both right here.
Your Abba Father, your Daddy God, your loving Papa, is in you right now.
He adores you. And no matter how badly you are hurting, He wants to make it better.
So do this to get your hug: [Read more…]