7 Ways to Intercede with Power and WIN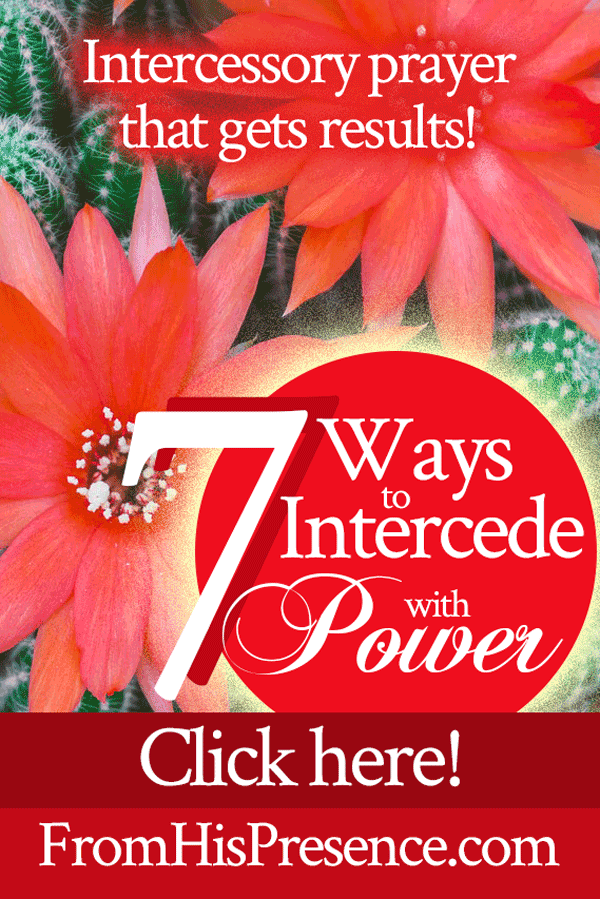 Do you feel burdened for someone you love–or for a situation that you want to see change? Whether the situation is yours or someone else's, if the burden you feel drives you to your knees, that desire to pray RIGHT NOW is from God.
But if you are going to pray, pray powerful prayers that win.
Weak prayers accomplish nothing; God only answers the prayer of faith. So, do you want to know how to intercede with POWER? With faith that moves mountains?
If so, I want to talk to you today about how to intercede with power–specifically, seven ways to get real answers to your prayers from a very real God.
Because prayer works. You just have to know how to work IT.
The mere act of talking to God is not what gets answers. God hears you, but He answers certain things. So if you're going to pray with power and get results, you have to meet Him on His terms. You have to honor the things that He says in His Word He will do–and what moves Him.
So without further ado, let's talk about how to meet God on HIS turf. Here are seven ways to intercede with power:
1. Speak God's Word over the situation.
God actually places more weight on His Word than He does His name. Psalm 138:2 says:
"I will worship toward Your holy temple, and praise Your name for Your lovingkindness and Your truth; for You have magnified Your word above all Your name" (Psalm 138:2).
God loves His Word. It is somehow a verbal essence of HIM–of who He is. It is a part of Him. Therefore, since "who He is" is TRUE, God's Word is true. It is 100% correct, 100% dependable, 100% powerful, and 100% effective–100% of the time. 🙂 God's Word never returns to Him void (without having done what He sent it to do).
Isaiah 55:10-11 says:
"For as the rain comes down, and the snow from heaven, and do not return there, but water the earth, and make it bring forth and bud, that it may give seed to the sower and bread to the eater,

so shall My word be that goes forth from My mouth; it shall not return to Me void, but it shall accomplish what I please, and it shall prosper in the thing for which I sent it" (Isaiah 55:10-11).
What does this mean for you?
God's Word has creative power. When His Word goes forth, it actually creates the thing it speaks of. This is true whether the Word is being originally spoken out of God's mouth OR whether it is being repeated out of YOUR mouth.
So, are you ready to intercede? Do you want something to change? If so, do this:
Figure out what God's will is for the situation. This part isn't hard; His will is clearly written in Scripture.
Find several Scriptures that clearly state what His will is.
Then, speak those Scriptures out loud in the "me" or "our" or "(insert name)" form.
For example, if you want your cousin Jane to be saved, you could turn Ephesians 5:14 and Romans 10:9 into declarations to speak out loud over her life. (Don't do this when she can hear you, obviously; there are no people skills in that. Just speak God's Word over her when you're alone.)
Here's what these verses say in their raw form, as written in the Bible:
"Therefore He says: 'Awake, you who sleep, arise from the dead, and Christ will give you light" (Ephesians 5:14).

and Romans 10:9: "that if you confess with your mouth the Lord Jesus and believe in your heart that God has raised Him from the dead, you will be saved."
So turning these Scriptures into a declaration over your cousin Jane's life would sound like this:
"I decree in the name of Jesus that Jane awakes; she is not asleep. She arises from the dead, and Christ gives her light. Jane confesses with her mouth the Lord Jesus, and she believes in her heart that God has raised Him from the dead, and she is saved."
And you would simply continue to follow this pattern, inserting people's names and changing the pronouns as needed to speak Scriptures out over people and situations!
2. Pray in the Spirit.
When I or other people say "pray in the Spirit," I mean "pray in tongues." This is, of course, if you have received your prayer language from Holy Spirit. (If you haven't received your prayer language yet, you can. Read here for more about how.)
The Bible tells us that, when we pray in the Spirit, we speak mysteries back to God. These mysteries are things our natural flesh couldn't know. Yet, when you sit down to pray, Holy Spirit speaks directly into your spirit and tells you things you couldn't otherwise know. First Corinthians 14:2 tells us:
"For he who speaks in a tongue does not speak to men but to God, for no one understands him; however, in the spirit he speaks mysteries."
When you pray in your prayer language, you are saying things from God.
Your prayers in the Spirit are from Him and back to Him. This is HUGE! What an incredible way to agree with God and unleash His plans on the earth! Ponder this awhile, because it's important. Let's look at that flowchart again. It looks like this:
God wants to accomplish something on the earth;
He puts whatever He needs you to pray directly into your spirit;
You pray it back to Him in your prayer language (also called "speaking in tongues" or "praying in the Spirit"); and
He gets to do things on the earth in answer to your prayer–a prayer you never knew you even needed to pray.
Cool, huh? That's why praying in the Spirit is a HUGE way to pray and intercede with power. Holy Spirit will tell you what the key prayer points are about any situation, and He'll start answering as soon as you start agreeing with Him in prayer.
3. Worship God over the situation.
The Bible is full of stories about:
people who didn't know what to do;
people who needed help;
people in danger;
people who needed breakthrough …
(the list goes on) …
… who worshiped their way out of it.
When you worship God over your situation, you intercede by making Him bigger in your thoughts.
You build your own faith when you take your eyes off the waves–off the storm–and you look at Jesus instead. That's why David wrote in Psalm 34:3-4:
"Oh, magnify the Lord with me, and let us exalt His name together. I sought the Lord, and He heard me, and delivered me from all my fears."
When you worship God over your situation, you come to Him and say:
"Father God, You see this thing that's happening to me. But Lord, You are bigger. You are Sovereign. You are over all of creation. You are high and lifted up, and this little problem is easy for you to take care of.
Your Word says You will perfect that which concerns me, and so ask You to do that right now–and I thank You for it. And in the meantime, Father, while I wait, I magnify You. I exalt You. I glorify You. You are great, and You are holy. You are marvelous, and worthy to be praised. Hosanna in the highest! Blessed is He who comes in the name of the Lord!
You are worthy to be worshipped, Lord Jesus, Heavenly Father, and Precious Holy Spirit! I love You and praise You!"
That's what worship looks like.
And when you worship God over your situation, you present that situation to Him, make your petitions and thanksgivings, and leave it in His hands. Then, YOU just focus on HIM. You just glorify Him, lift Him up, and extol His greatness … and you do it with a sincere heart, knowing that You can trust Him to take care of it.
As the apostle Paul wrote to Timothy:
"For this reason I also suffer these things; nevertheless I am not ashamed, for I know whom I have believed and am persuaded that He is able to keep what I have committed to Him until that Day" (2 Timothy 1:12).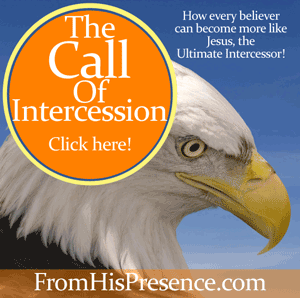 4. Plead the blood of Jesus over the situation.
The blood of Jesus is your legal evidence that you are, in the Spirit, legally entitled to every victory, every provision, every abundance, every good and perfect gift in Father's Kingdom. Jesus Christ purchased every victory for you on the cross. He came to destroy ALL the works of the devil.
As it says in 1 John 3:8:
"He who sins is of the devil, for the devil has sinned from the beginning. For this purpose the Son of God was manifested, that He might destroy the works of the devil" (1 John 3:8).
But it took blood to do it.
The wages of sin is death. When sin entered the earth through Adam, it reigned until Jesus broke sin's hold on you and on me.
How did He do it? By paying the price of death on your (and my) behalf. Only the perfect life of Jesus, offered as a blood sacrifice on the cross, paid the price owed to God–the terrible consequences of sin.
By paying the price for your sin, Jesus purchased VICTORY for you.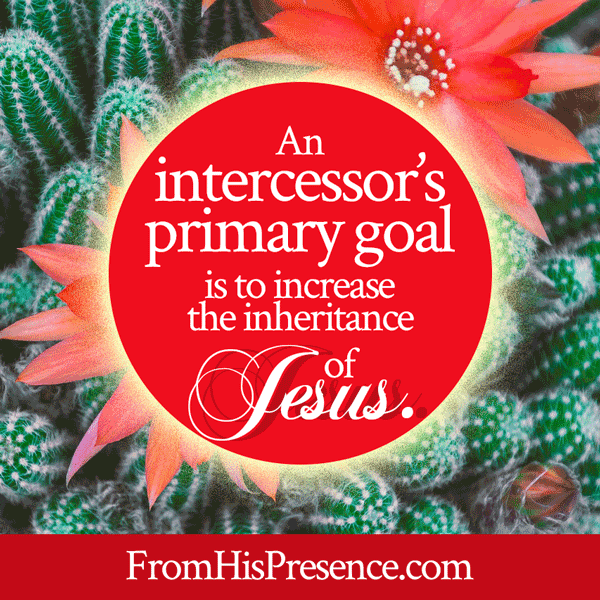 Now that Jesus has died, if you have made Him the Boss and Savior of your life and have received forgiveness of sins from Him, then sin has no more grip on you. You can walk in complete and total VICTORY in Him–and His Kingdom can come on the earth.
It just takes an intercessor to pray it in.
That's why Jesus taught us to pray, "Our Father who art in Heaven, hallowed be Your name. Your Kingdom: COME! Your will: BE DONE on earth as it is in Heaven!" The price of God's will has been paid; God's Kingdom can come now.
Sin has no legal standing on the earth beyond what you and I give it (which, I hope, is zero standing at all).
So when we refuse to give sin, death, and the works of the devil any place in our lives …
… When we pray for God's will to be done, lifting up the blood and the name of Jesus to Father God as our legal evidence that HE CAN MOVE on the earth, for He has legal authority to do so …
… When we insist in prayer that Father God deliver every victory to us that Jesus purchased for us on the cross …
… My beloved, that's when heaven and earth start to move.
Present the blood of Jesus back to God in prayer. Plead the blood of Jesus over your situation.
Here's a brief example of how to plead the blood of Jesus:
(This sample prayer below is regarding your finances, since that's generally a need every person has. But, you would use similar principles to plead the blood of Jesus over anything where His will needs to be manifested.)
"Father God, I come to you in Jesus' name. Thank You for loving me and hearing my prayer. Thank You for saving me and forgiving my sins. Thank You for giving me the free gift of new life in Christ Jesus.
Father God, Your Word says that Jesus destroyed the works of the devil. Your Word also says that poverty is a curse; Your blessing always brings wealth. Your Word says that it is Your will to bless me when I come in; to bless me when I go out; to bless me in the city, in the field, and in all the works of my hands. Your Word says that it is Your will for me to lend to many nations and never borrow.
So Father God, in Jesus' name, I lift up my financial situation to You right now. I lift up Jesus' sacrifice on the cross as well, Abba Father. And I plead the blood of Jesus over my financial situation:
… for Jesus took the curse of poverty upon Himself when He died for me;
… for Jesus took all lack upon Himself when He died for me; and
… He purchased complete and total victory for me on the cross.
So Father God, because Jesus paid the blood-price for Your will to be done on the earth, and since Your Word says it is Your will to bless me indeed …
… Then I plead the blood and the sacrifice of Jesus over my finances.
I ask, insist, decree, demand, and declare right now that You would manifest every victory in my life that Jesus paid the price for me to have:
I plead the blood of Jesus over my debts, and I decree and declare that they are all paid in full.
I plead the blood of Jesus over my bank accounts, and I decree and declare that they are full of money.
I plead the blood of Jesus over my bills, and I decree that they are all paid EASILY and ON TIME.
I plead the blood of Jesus over my income, and I decree that it increases and is SKY-HIGH right now in Jesus' name.
I decree that money comes to me from the north, south, east, and west every day.
I decree that everything I put my hand to is blessed; and that I will do the works of God and speak the words of God.
Father, bless me indeed. Prosper me.
Teach me to be a good steward along the way. I plead the blood of Jesus over my stewardship, and I ask that Your perfect will would come forth in the way that I handle all the blessings You have entrusted to me.
Thank You, Father God. Thank You, Lord Jesus, for dying on the cross for me and paying the price I could not pay. Thank You for bringing me total victory by Your blood.
Please help me to obey You in all things. Glorify Your own name in me, and let Jesus be magnified and lifted up in my life. In Jesus' name, amen."
5. Present God's Word back to Him and claim His promises in prayer.
This is related to point #1–"Speak God's Word over the situation." However, in this point, I am specifically referring to praying God's Word back to Him.
For example, if you are praying for a lost person, instead of saying "Cousin Jane loves the Lord her God with all her heart, with all her soul, and with all her strength; and she loves her neighbor as herself"–which is a DECLARATION, not a prayer–you would PRAY something like this:
"Father God, it is not Your will that any should perish, but that all should come to repentance (2 Peter 3:9). And no man can come to Jesus except You draw them (John 6:44). Therefore, Father God, do Your will. Draw Cousin Jane to Yourself, and save her."
These things are both based on the principle that God's Word WORKS.
Nevertheless, speaking the Word over a situation versus praying it back to God over the situation are still two very different practices. Both are important; both are necessary. Do both, and don't neglect either one.
These two habits work hand-in-hand and will help you get results when you pray.
6. Intercessory fasting with prayer.
When you fast and pray for someone else, you unleash a special spiritual power. It is the power of demonstrating Christlikeness, for Jesus Himself laid down His life for others.
God takes it very seriously when you are willing to give of yourself–sacrificing something you love, like food–all for love of another. When you do that, fasting and praying for His Kingdom to come and His will to be done in someone else's life, HE MOVES. And He moves quickly.
For more about this, read my blog post On Intercessory Fasting here. You may also enjoy reading my post here about 12 Victories You Can Gain Through Fasting.
7. Holy-Spirit-led travailing prayer.
"Travailing prayer" is what people call it when Holy Spirit sits down on you with so much power that the only prayer you can utter comes out like a deep, gutteral groan from your gut. "Travailing prayer" both feels and sounds very much like the natural process of giving birth to an actual baby. There is a squeezing, a crying out, a moaning.
Travailing prayer is what God refers to in Romans 8:26-27:
"Likewise the Spirit also helps in our weaknesses. For we do not know what we should pray for as we ought, but the Spirit Himself makes intercession for us with groanings which cannot be uttered.

Now He who searches the hearts knows what the mind of the Spirit is, because He makes intercession for the saints according to the will of God" (Romans 8:26-27).
Travailing prayer can be for yourself, but it can also be for someone else. Regardless of who it's for, travailing prayer is ALWAYS Holy Spirit-induced and Holy Spirit-led.
Travailing prayer is never something that you conjure up.
In other words, you can't say, "Hmm, I'd like to travail today. I had fun travailing last time, and I think I'll do it again. Hmmm, let me groan awhile. Ohhhh God. MMMM God. Ahhhhh God."
No. You can and should offer yourself to God, for Him to use you as an intercessor–by whatever means He chooses to do so. But notice the Scriptures above: it is HOLY SPIRIT who makes intercession for us with groanings which cannot be uttered.
Holy Spirit.
Not you.
And not me.
That's really important, so please remember it. We can and should pray:
"Lord, please use me as an intercessor for Your Kingdom. Use me to pray right now however You want me to pray. I pray that Holy Spirit would pray through me and for me with moanings and groanings that cannot be uttered, and You who search the mind of the Spirit will know exactly what to do. Thank You, Father God. In Jesus' name."
By praying in that manner, we offer ourselves up to God as a living sacrifice. We are presenting ourselves to Him to be used to pray His will on the earth into being.
But, don't think that you can conjure up travailing prayer in your flesh. You can't. It's Holy Spirit who does the groaning; so if He's not groaning–but you start groaning–it's just your flesh. Nothing more.
Travailing prayer is only effective if Holy Spirit does it, so don't waste your energy unless HE is sitting on you to travail. Okay?
Related: On Keening From the Crucible
Beloved, no matter what situation you are facing, you can intercede with power.
You can move God with your prayer of faith. You can get results; you can move heaven and shake the earth.
So go ahead. Offer yourself to God as an intercessor.
Present yourself to Him as a living sacrifice; holy, acceptable to Him, which is your reasonable service. Ask Him to use you to pray His will into manifestation on the earth. Ask Him to pray through you and for you.
And as you use these seven methods, you will see results.
Is the Lord using this article to speak to you about how you can pray more effectively and with more power? If so, please leave a comment below! I'd love to hear how He is shaping YOUR prayer life!