Blessed Is He Who Is Not Offended Because Of Me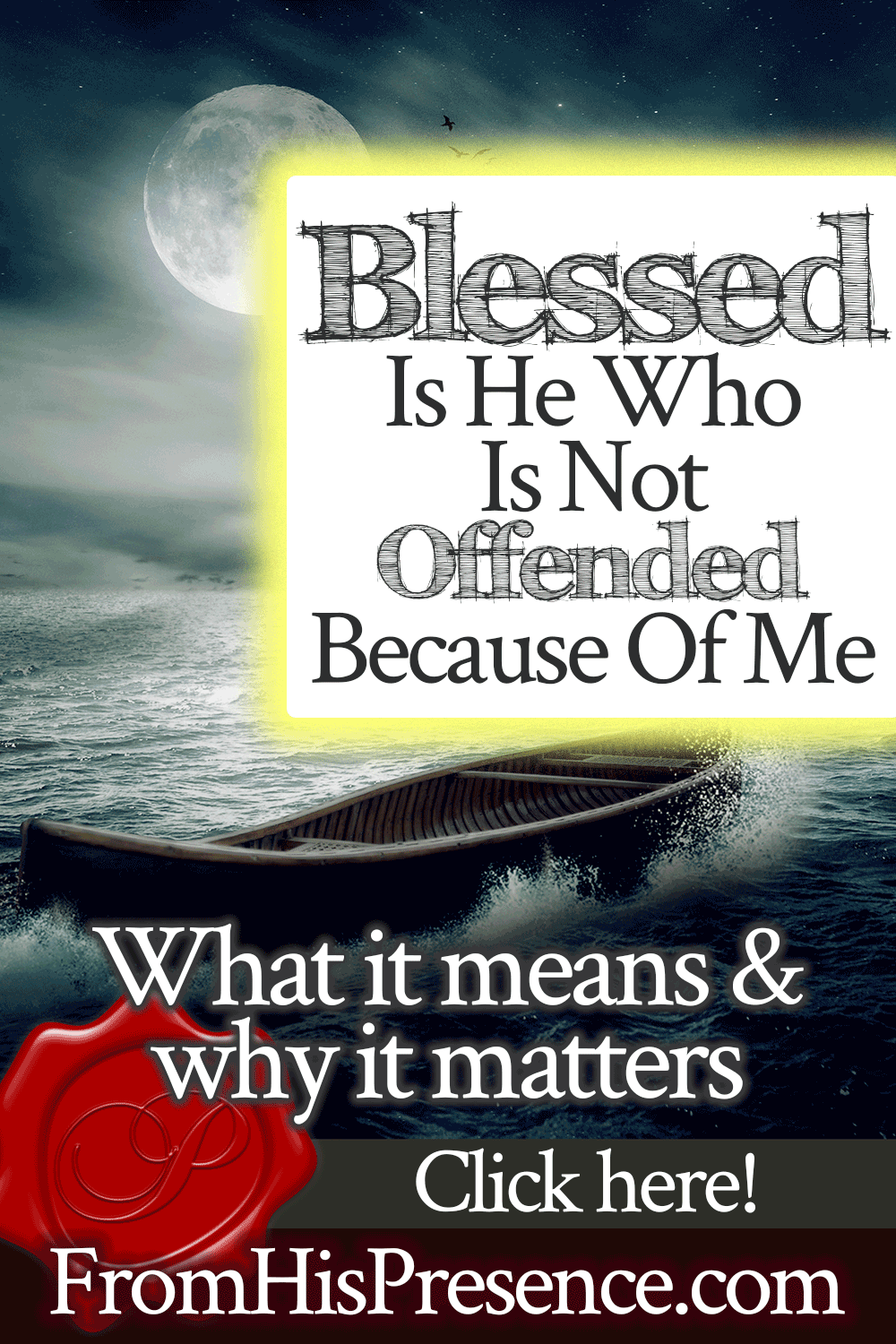 Are you in a great trial today? If you are suffering right now, this word the Lord showed me in my own suffering is going to encourage you. And it will help you understand why Jesus said, "Blessed is he who is not offended because of Me"!
I woke up last night before midnight, in great agony of spirit regarding a trial in my life right now.
All kinds of questions for God were circulating in my heart. I even detected a good bit of anger toward God in my heart as well. I knew I had to pray through it in order to get any more sleep at all, so I got up, grabbed my Bible, and began to pray.
As I prayed, I was extremely honest with the Lord. (He knows it all anyway; why bother trying to cover things up?) My prayer went something like this:
"God, I'm angry at You. Why are You putting me through this?
My situation doesn't line up with Your promises–and yet I am obeying You in every way I know to obey You. I wish I could bargain with You and say that I won't serve You unless You do XYZ, because I hear that works. You do that for other people. I hear stories about how You answer those prayers and honor those requests.
But I can't even do that, Lord, because I know You exist. I WILL serve You even if You don't do what I want You to do. I know You and You are worthy of my service and love even if I don't ever get anything I ask for from You. I can't do anything other than serve You. You are worthy.
But I'm angry at You, God.
I feel like I love You less right now for putting me through this–and loving You less means, Biblically speaking, that I hate You. God, I'm sorry. Please forgive me. Please change my heart. I don't want to feel this way. But I can't handle this trial and I'm mad that You would treat me this way when I have devoted Myself to serving You."
If you've never prayed that way or felt that way, you might not understand. But I'm being open and real with you right now so that, hopefully, my suffering that becomes a testimony blesses you.
Because here's what the Lord said back to me:
He led me first to Psalm 22–the psalm of the cross. This psalm describes the emotional agony and turmoil that Jesus went through on the cross. The beginning words of this passage resonated with me so much:
"My God, My God, why have You forsaken Me? Why are You so far from helping Me, and from the words of My groaning?
O My God, I cry in the daytime, but You do not hear; and in the night season, and am not silent.
But You are holy, enthroned in the praises of Israel" (Psalm 22:1-3 NKJV).
These verses described exactly how I felt. I was feeling like God had abandoned me.
Of course, I know that He hasn't, but I felt like He had! And we still have to deal with the feelings. We still have to make the effort to take every thought captive to the obedience of Christ, so we can't act like those feelings don't exist. I felt like He was not helping me or hearing me.
But even with those feelings filling my soul, my spirit still shouted out, "But You are holy, enthroned in the praises of Israel."
Why? Because I know God, and I know who He is, and I know His holiness and His majesty and His worth and His supremacy–and I know that our feelings contain no truth but God's Word is true and abides forever.
Then I asked the Lord for a sign that He hears me, just to comfort me.
I told Him that I know He hears me, but I need to hear from Him directly that He hears me. I needed a sign, a word of comfort. And a few verses down in Psalm 22, I read this:
"For He has not despised nor abhorred the affliction of the afflicted;
Nor has He hidden His face from Him;
But when He cried to Him, He heard" (Psalm 22:24 NKJV).
And two verses later, this:
"The poor shall eat and be satisfied;
Those who seek Him will praise the Lord.
Let your heart live forever!" (Psalm 22:26 NKJV).
And then, Holy Spirit told me to read from 1 Peter 4 about the fiery trial that besets us:
"Beloved, do not think it strange concerning the fiery trial which is to try you, as though some strange thing happened to you; but rejoice to the extent that you partake of Christ's sufferings, that when His glory is revealed, you may also be glad with exceeding joy.
If you are reproached for the name of Christ, blessed are you, for the Spirit of glory and of God rests upon you. On their part He is blasphemed, but on your part He is glorified. 
But let none of you suffer as a murderer, a thief, an evildoer, or as a busybody in other people's matters. Yet if anyone suffers as a Christian, let him not be ashamed, but let him glorify God in this matter" (1 Peter 4:12-16 NKJV).
And here is what Holy Spirit spoke to me; I pray it encourages you like it encouraged me:
The fiery trial is meant to test you. Yes, God does send trials sometimes to test us. He does this to test our faith and our character so He can determine whether or not we are ready for the next level of promotion and blessing. We are not to think it strange or weird when we suffer through trials!
We are to actually rejoice when we share the sufferings of Jesus.
If we suffer, we are promised that His glory will follow the suffering. Look up! His redemption draws nigh.
If we are obedient to Christ and still bear reproach, we are blessed! It means the Spirit of glory and of God rests upon you! Praise the Lord for that! He is re-affirming that He is with you and that His Spirit rests upon you! His glory rests upon you! You may be suffering through a fiery trial you do not understand, but you are still carrying His glory! He has not removed His glory from you!
God WILL be glorified in and through your trial. He has not abandoned you or left you without support! He still has a plan for this; you are right in the center of His will as long as you are obeying Him–despite your suffering!
Just be sure you don't suffer because of your own sin. Make sure that, if you are suffering, it's not because of anything you have done wrong. And yes, God does lead people into periods of suffering and trials. He does not lead us to sin, so suffering because of sin is never from God. But He does lead us into suffering of other kinds, in order to purge us; and, thereafter, to promote us.
Don't be ashamed of your suffering, but glorify God in it.
But then the Lord reminded me of the clincher verse:
"And when John had heard in prison about the works of Christ, he sent two of his disciples and said to Him, "Are You the Coming One, or do we look for another?"
Jesus answered and said to them, "Go and tell John the things which you hear and see: The blind see and the lame walk; the lepers are cleansed and the deaf hear; the dead are raised up and the poor have the gospel preached to them. And blessed is he who is not offended because of Me" (Matthew 11:2-6 NKJV).
Did you catch that? The Lord said:
"Blessed is he who is not offended because of Me."
What does this mean, and why is it important?
Happy Notes
"I recommend this book. Couldn't stop reading it."
That's what Beth from the UK said about our prophetic digest ebook for 2023. This ebook is called Pray, Prophesy, Pioneer 2023: Uncharted Territory, and it's instantly downloadable.
Pray, Prophesy, Pioneer 2023 contains all the prophetic words the Lord gave Jamie for 2023, as well as extra freedom and deliverance resources and prayers not released anywhere else.
It means that we are blessed and will be blessed if we do not get offended at God and His methods.
See, John the Baptist got discouraged in prison. John had spent his whole life preparing for his forerunner ministry for Jesus. Then, he carried out his forerunner ministry and landed himself in prison (and eventually beheaded) because of it. He did the best he could to obey God and serve him with all his heart–but he still suffered greatly.
All the while, John was watching Jesus. He was hearing news about Jesus. And Jesus just wasn't conforming to his expectations.
Maybe John was hoping, like many Jews at that time, that the Messiah would be a great military leader–but Jesus made no attempt to gather an army. Or maybe John was simply hoping that Jesus' ministry would be more public, more sensational, more glorious, or appear in more headlines than it did.
Or, most likely in my opinion, maybe John assumed that because he served God with all his heart, God would deliver him from his suffering and imprisonment.
Regardless of what John assumed, Jesus didn't do any of the things John might have expected Him to do.
Jesus healed people, and then told them to keep it silent. He raised Jairus' daughter from the dead and told her family and His disciples to hush up about it. He gathered no army and made no friends in high places.
Jesus' ministry didn't look at all like what people always presumed the Messiah's ministry would look like.
And worst of all for John, Jesus did not rescue John from prison.
John suffered, but Jesus didn't change that. Jesus did not come riding in on a white horse with a big breakthrough for John. Instead, He sent John a simple message in response to his questioning. His message–about the blind seeing, the deaf hearing, and the dead being raised again–was His way of saying to John:
"Look at the signs and don't doubt. The evidence is obvious. Don't get mad at Me for doing things differently than you wanted Me to do them. Trust Me and submit to My ways, even when they hurt your feelings because I don't do what you want me to do all the time."
"Blessed is he who is not offended because of Me."
Friend, this is what the Father spoke to me in my agony of spirit. I had confessed my anger and offense to the Lord. The Lord graciously reminded me through His Word in Psalm 22 and 1 Peter 4 that He was hearing my prayers and His Spirit and glory still rest upon me, despite my trial and suffering.
And He promised to be faithful–but He also said that I should not be offended at His methods.
"Beloved, do not think it strange concerning the fiery trial which is to try you, as though some strange thing happened to you" (1 Peter 4:12 NKJV).
Friend, the same words apply to you today.
You might be suffering, and I'm sorry if you are. My heart goes out to you. I know it's difficult to suffer when appearances say we should not have to endure these things. But the fact is that sometimes God allows us to suffer through no fault of our own in order to try us.
The fiery trial is to try you.
Testing and trying is part of the Refiner's fire. It is how the Lord purifies us and removes the dross from the silver of our lives. The trial you are going through is a chance for God to show His glory. And indeed, His Spirit and His glory still rest upon you.
So take heart today. Do not be offended at Jesus' methods.
His ways are perfect, and they are past finding out. Do not be conformed to this world, getting over into all the self-pity and anger like I did. If you are already angry at God, confess your anger to Him and repent of it.
As the song says, God is our good, good Father who is perfect in all of His ways. But, that doesn't mean we will like all of His ways. Sometimes we will suffer. When we suffer, sometimes it will be through no fault of our own. Sometimes, even when all of God's promises say that He will bring us forth from the suffering, we can't see any way out.
But even in those times, beloved, God is faithful.
He is still faithful. Even when you echo Jesus' words on the cross–"My God, my God, why have You forsaken me?!!!"–His answer to you is still, "I will never leave you nor forsake you."
Even when we don't understand why we are being allowed to suffer, Jesus is still the fourth Man standing in the fire with us. He is with you to keep you, and blessed are they who are not offended because of Him and His ways.
Does this word speak to your heart today? If so, please leave a comment below and share your thoughts.