Lord, Teach Me to Pray Again!
Has your prayer life become dry and monotonous? Have you lost that deep connection with the Lord that you used to sense during your prayer time?
If so, it's time to say, "Lord, teach me to pray … again!"
The Lord is always willing to teach us how to pray if we are willing to ask Him to do so.
Even if you have already learned how to pray, there are new levels of prayer available to you. You can always go deeper with the Lord in the face-to-face encounter that is prayer–if you want to!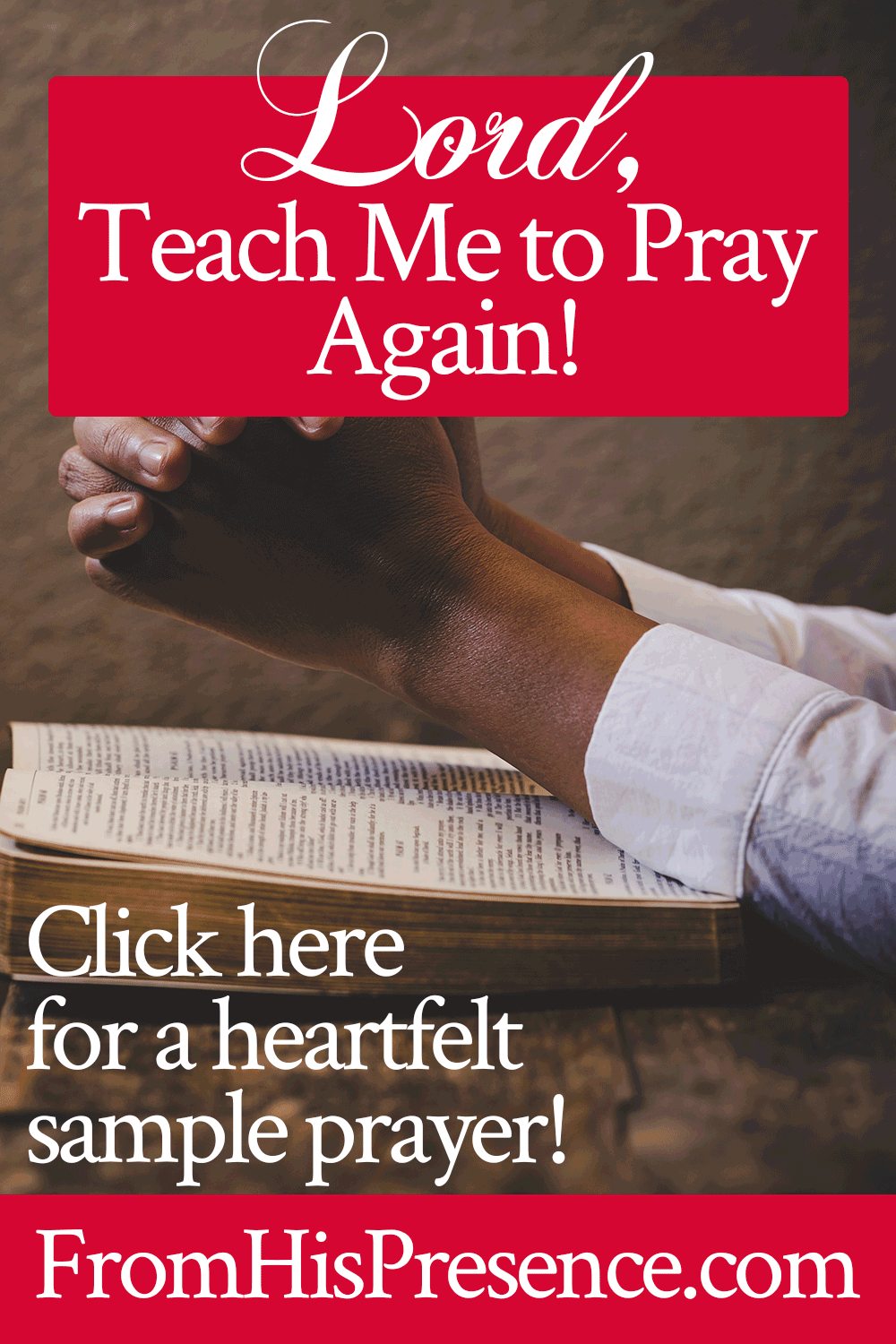 In Luke 11:1-4, the disciples asked Jesus to teach them how to pray. Can you imagine what led to that request? For example:
Can you imagine how awestruck they must have felt, hearing Jesus pray every day?
Can you imagine how hungry you would be if you heard Jesus pouring His heart out to the Father all night long?
Can you imagine how much you would long to have that kind of relationship with the Father yourself after seeing Jesus connect with Father deeply like that?
I sure can. I'll bet you can too, and the disciples certainly could. That's why Luke 11:1-4 says:
"Now it came to pass, as He was praying in a certain place, when He ceased, that one of His disciples said to Him, 'Lord, teach us to pray, as John also taught his disciples.'

So He said to them, 'When you pray, say:

Our Father in heaven,
Hallowed be Your name.
Your kingdom come.
Your will be done
On earth as it is in heaven.

Give us day by day our daily bread.
And forgive us our sins,
For we also forgive everyone who is indebted to us.
And do not lead us into temptation,
But deliver us from the evil one'" (Luke 11:1-4).
Jesus taught His disciples to pray as soon as they asked Him to do so. And He's still doing the same today.
Are you ready today to ask the Lord to teach you to pray–or to teach you to pray again?
If so, pray this simple prayer with me:
"Dear Heavenly Father,
I come to You in Jesus' name.
Father, I love You so much. My whole life is Yours. The Kingdom is Yours and You are so awesome. Thank You for loving me; for adopting me as Your child; and for saving my soul.
I praise You, Father. Thank You for bowing low and stooping down to me, to love me. And thank You for listening to my prayer today.
Heavenly Father, I want to know You.
I want to know You so much more than I already do. You have already brought me so far, Lord, and I'm thankful to You for that. Thank You for every degree and every measure in which You have already helped me to know You, and in which You have already taught me how to pray!
But Father, I know there is more–and I want more. I want to be closer to You.
I long to dwell in Your manifest presence and feast at Your table at all times; the table of Your delights–the delight of Your presence. In Your presence is fullness of joy, Father; and at Your right hand are pleasures forevermore.
Father God, Lord Jesus, and precious Holy Spirit, I ask right now in Jesus' name that You would teach me to pray.
Teach me to pray more than I have ever prayed before, Father:
O Father, teach me to pray.
I need Your help, Father. Without You I can do nothing, but I can do all things through Christ who strengthens me. So Father God, in Jesus' name, I ask right now:
That You would make me a man/woman of prayer and of Your Word.
That You would help me develop a habit of daily, continual, fervent prayer.
That You would put the urge to pray in my very DNA, so that I cannot help myself but pray.
That You would convict me of the urgent necessity of prayer, so that I cannot neglect it any longer.
That You would forgive me for my prayerlessness all these years.
And Father God, in Jesus' name, I ask that You would flow through me in urgent, effectual, fervent prayer by the power and unction of Your Holy Spirit:
Teach me how to pray in new ways I have not learned before;
Teach me to connect with You more deeply than I have connected with You before;
I even ask, Father, in Jesus' name that Holy Spirit would give me a prayer language (or another prayer language) so that I may pray in my native language AND in the language of the Spirit.
Father God, I confess that I do not know how to pray as I ought, or how to offer it worthily as I ought.
But I ask that Holy Spirit would pray through me (Romans 8:26-27) with moanings and groanings that cannot be uttered; and You who search the hearts will know what the mind of the Spirit is, for He makes intercession for me according to Your perfect will.
Father, I want to connect with you deeply in prayer.
O Abba Father, when I sit down with You to pray, please help me to see You in all Your glory. Please help me to lift up my eyes to Heaven and behold You in Your power, and to behold Jesus in His resurrection. Please help me to pray only what You want me to pray–and to pray everything that You want me to pray.
Father, please help me to sink deeply into Your presence through prayer.
I want to know Your heart; I long for You and crave You! Without You, I would die! And I thank You that I don't ever have to know what it means to live without You, but Father I am desperate to connect with You more and at a deeper level!
Father, everything I am is in Your hands. All I am is Yours. Everything I long to be is Yours. My life is Yours, and I surrender it anew and afresh to You today.
O Lord, teach me to pray.
Help me to know You. Please, I ask that Jesus would reveal You to me–and that You would reveal Jesus to me through prayer. I pray that Holy Spirit would reveal Jesus to me, and that You would fill me anew and afresh with Your Spirit.
Make me a person of prayer, dear Father:
Teach my hands to war and my fingers to fight.
Help me to rise early in the morning and stay up as late as I need to for this marvelous work of prayer.
Help me to devote myself to You; to give myself wholly to You and to this work of connecting with You.
Help me to come boldly before Your throne of grace, where I may obtain mercy and find grace to help in time of need.
Thank You, Heavenly Father. I love You and I long for You. Please fill me with Yourself through Your Spirit. Let the Spirit and power of Jesus rest in me through prayer and for prayer, and let all nations see Your glory.
Thank You, Abba Father. In Jesus' name I pray, amen."
Beloved, is this also your heart's cry: "Lord, teach me to pray"?
If so, would you cry out to the Lord today for this desire of your heart? He is ready, willing, and eager to help you: first and foremost simply to connect with you and build a DEEP relationship with you personally through prayer; and secondly also to use you as an intercessor for His glory.
Prayer is simply conversation with God.
I pray today that we would all be consumed with a passion and fire for this all-consuming work of knowing our Father, knowing Jesus our Savior, and communing with His holy Spirit. I pray that we would all have a mighty hunger and diligence today to pray without ceasing, in Jesus' name!
Did you pray this prayer with me today? If so, leave a comment below!