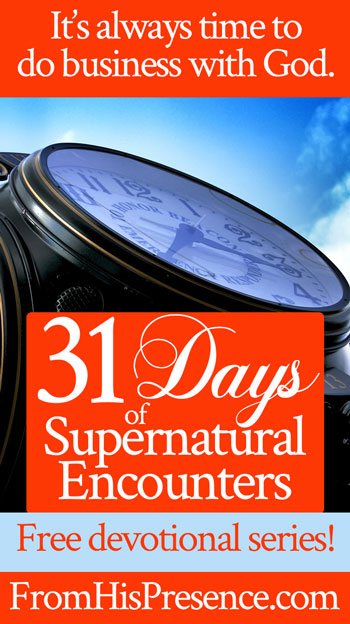 For Day 30 of our 31 days of supernatural encounters (series index here), we are doing business with God by answering a question that will transform your life forever … if you let it.
Read: Haggai 1
Know:
It was summer of 2012, and I had just graduated from seminary. I had known for years that I was called to preach God's Word, and I was so excited to have finished my seminary degree–the outer trappings of that call.
Don't worry. I had no illusions that my call was dependent on seminary.
People all over the world preach the Gospel with barely so much as a Bible, let alone a seminary degree. A degree is not necessary in order to preach or teach the Word.
But I went to seminary because the Bible says to "study to show yourself approved,"–not study to GET approved–so I studied to show the world that I was approved, and a worker who needs not be ashamed.
The problem was, when I finished, there were no open doors for me to preach.
I gave this a lot of thought. I wondered things like:
Should I wait for my ministry acquaintances to let me preach, before trying to do so?
What if no doors ever open? Would I be content if nothing ever changed?
Is there something I'm supposed to be doing to open the doors I need opened?
What kind of doors ARE open to me right now?
And after pondering these things, I realized several things that have shaped my life since that time:
God called me to preach and minister the Word. He didn't ask other people to call me. He called me Himself.
Therefore, I am accountable to Him alone for my call.
If "people" give me opportunity to do what I'm called to do, that's great.
But if they don't, that doesn't negate my call. GOD still told me to preach.
At the time, I had been reading and listening to a lot of inspiring material about the lives of people like Reinhard Bonnke, Charles Finney, John Wesley, Rees Howells, Kathryn Kuhlman, and more. And to a person, each of those mighty men and women of God knew that they answered to God for their call.
And because they knew they answered to God, they:
Preached on the street;
Played music until a crowd gathered, and then preached to the crowd;
Started their own missions in foreign countries; and more.
So I realized this:
God didn't call me to wait on other people to give me permission. God called me to preach, and preach I must if I am to obey Him.
Whoa.
That is a pretty big revelation. Here's why:
It meant I could no longer hide behind other people's support of me or lack thereof.
It meant I had to take action and initiative. Me, personally. I, I, I, I, I had to act.
It showed me clearly that I am in disobedience if I do not obey God's call, in whatever areas ARE open to me at any given moment.
So I looked again at my options. No preaching doors were open, but my pastor/seminary advisor had encouraged me to try to get a paper of mine (a huge, academic work about systematic theology) published. So I decided to look into that.
And as I researched how to get published, I learned about blogging.
I also learned about podcasting, Facebook, YouTube, and that a person can preach the Gospel around the world without being the pastor of a church.
I learned that there was, in fact, a door open to me–a door to write and teach online.
It would not have been my first choice, if you had asked me at that time. I would have preferred–at that time–to have become a pastor even at some little country church. I just wanted to preach and pastor!
BUT GOD. Papa had other plans, and the door that was opened to me was to write.
So I began writing. I Googled everything and learned everything I could about blogging. Nobody helped me. I bought books and tutorials and online courses, and I began to write and build my blog.
Related: Divine Alignment with the Right Things: Your Calling and Life Message
To reiterate: I didn't particularly want to be a writer.
I have never felt like a writer who preaches. I am a preacher who writes. It's just that writing was the only door open to me at the time, and I DID want to be faithful.
So I went through the door that was open.
Fast forward over 5 years, and I wouldn't trade it for the world.
Over time, it has become obvious that the foundation Father God built for me in ministry–using this blog–was a good one. God knew what He was doing when He hedged me in so I would start my own ministry.
For example:
As of the date I'm writing this, this blog has seen over 180,000 pageviews in this calendar month of October alone. We've seen over 1.2 million pageviews so far in this calendar year. We are preaching the Gospel all around the world, in nearly every country in the world.
This blog has actually resulted in my having open doors to preach, minister, and disciple people full-time–and sooo, so, so much more. I give God all the praise and all the glory. He has done it all.
But none of it would have happened if I hadn't decide to be faithful to obey His call, no matter what.
So the nitty-gritty, major question I would like each of us to ask ourselves today is this:
Am I obeying God's call on my life?
We are each called to something different, but we ARE called:
You might be called to be an accountant and demonstrate the light of Jesus through a successful corporate career.
You might be called to minister to children in a classroom.
You might be called to teach or preach the Word.
You might be called to become a nurse, ministering healing and encouragement to sick people day in and day out: the hands and feet of Jesus.
You might be called to carve tree stumps with a chainsaw, infusing art and beauty into people's lives and thus expanding the Kingdom. (Yes, I've actually heard stories about a guy with that call.)
Every person's call is different. But the big question is: Are you obeying that call?
Or are you waiting for someone to give you permission?
The apostle Paul wrote that we are to press on to the upward call of God in Christ Jesus (Philippians 3:13-16). It's the call of GOD, not of man; and we're to obey God by pursuing it.
That doesn't mean we walk in rebellion toward those in authority over us. I would never advocate rebellion.
But the fact of the matter is, most calls have nothing to do with submission versus rebellion. They simply have to do with whether you will be faithful to God, walking through whatever doors are open to you (even if you have to pioneer your own door) … or not.
There is never a time when you don't have an open door.
Your open door may not look like you thought it would look; mine certainly didn't. But there is always a way forward–even if that way is UP for a brief time, with you locked in a prayer closet prying open the next door in prayer.
There is always a next step before you. Always a mandate to pursue. Always some kind of opportunity to obey God.
Even if you have to be like Wesley, Bonnke, Mother Etter, and so many great heroes of faith and open those doors yourself.
Related: The Ministry of the Pioneer
So I ask you today:
Are you being obedient to God? Are you obeying whatever He has told you to do?
If not, it's time to start today.
Pray this:
"Heavenly Father, in Jesus' name, thank You for calling me. Thank You for creating me for a purpose, and that You have good plans for my life.
Father God, please help me to have Your perspective on my call.
If anything unholy has been holding me back–such as fear, discouragement, control, intimidation, fear of man, laziness, or anything else bad–please break those things off of me. Please help me to understand what I'm called to do, and that I am accountable to You for that call.
Father God, I choose to step out today to obey You.
Please show me what door is open to me, for I know that a door is always open somewhere. If I'm to open my own door, show me how. Teach me the way that I should take. Instruct me and teach me in the way I should go, and guide me with Your eye upon me.
Father, please convict me this moment so strongly that I will never again waver from following You. Your Word says that he who puts his hand to the plow and looks back is not fit for the Kingdom of God. Father, I want to be fit. I want to be a worthy vessel for Your honor; a useful tool in Your hand.
So Abba Father, please give me the revelation from this moment on that I must obey You and You alone, Lord, and help me to do whatever You ask me to do.
Thank You, Father. In Jesus' name, amen."
Listen:
Listen to this encouraging word I posted recently on YouTube, about rising up to build your calling. I believe it will inspire you!

Have you been waiting for something before you answer God's call? If so, are you willing to stop waiting and start answering? If this word challenges you today, please leave a comment below. I'd love to hear from you!
Would you help me with my work of reaching people for Jesus as a domestic missionary? I need you; we are in this together!

This blog, and all of the Kingdom work we do in this community together, are made possible through your partnerships, donations, and product purchases. If you'd like to help, please check out the partnership details and products available for sale here. And, thank you in advance for helping make this blog and everything we do together for the Kingdom possible!