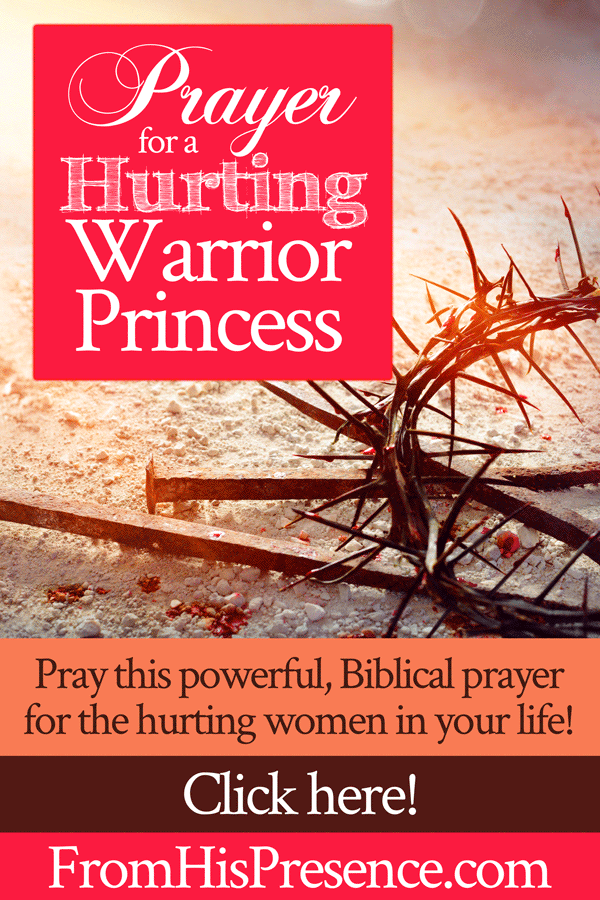 Do you know a hurting woman who needs prayer? If so, I wanted to provide you with a sample prayer you can pray today for the hurting warrior princess in your life: the woman who has been through it all and needs the Lord's help to hold it together right now–and to bring her out of her situation alive and strong.
Before you pray, remember that God has an eternal purpose for every person's life.
Related: You're Not Too Far Gone To Restore
Male or female, it doesn't matter. God created every person in His image; with His calling on their lives; and for His companionship. No matter what happens in our lives–whether we thrive or whether our circumstances take a deep, dark dive–His purpose remains the same:
He always wants to redeem us to glory.
Always.
The Bible says that all have sinned and fallen short of God's GLORY (Romans 3:23). But JESUS came to earth, lived a perfect life, died, and ROSE AGAIN so that He could redeem us to God–and unto God's glory. It is ALWAYS God's will for you to carry His glory again.
So we have to pray for those who are hurting. And when we pray:
We have to pray the glory down–because it IS the purpose of God to place glory in their lives again.
We have to pray with fire and love, believing that, even when we cannot see the way out or the way forward, GOD CAN.
We have to pray with conviction that He can and will move and move powerfully in the situation.
And we have to hold up the hands of our brothers and sisters who do not have the strength to pray–or to truly pray effectively–for themselves.
If you want to pray for a hurting brother, I wrote a prayer here for men. It's called Prayer for a Hurting Warrior Prince. But if you want to pray for a sister, I have provided a sample prayer below that you can pray specifically over a woman.
If your daughter, mother, sister, friend, or sister in Christ is hurting, please pray this Biblical prayer for a warrior princess over her today:
"Abba Father God, I come to You today in Jesus' name.
Father God, Your Word says that we do not know how to pray as we ought, or how to offer it worthily as we ought. But Your Holy Spirit makes intercession for us with moaning and groaning that cannot be uttered, and You who search the heart know what the mind of the Spirit is, for He makes intercession for the saints according to the will of God.
Lord, right now, in Jesus' name, I invite Your Spirit to make intercession through me and for me. I pray right now that You would pour out Your Spirit of grace and supplication on me. Teach me how to pray; pray through me; and use me to intercede for my sister right now according to Your holy will.
Father God, I lift up ___________ (insert name of the woman you're praying for) to You right now.
Father, I don't know where she is right now, but You do. You see her; You see her pain; You see her suffering and her sorrow. And Father God, You are the only One who can do anything about it.
So Abba Father, right now in Jesus' name I ask that You would manifest Yourself to ______ (insert name) wherever she is. Overshadow her with the manifest presence of Your Holy Spirit right now. Let her feel Your presence and affection. Let her know that You are with her; You're for her; and You are on her side.
Father, wrap Your arms of love around _____ right now in a tangible way.
She needs You to break through the turmoil and torment, Lord. She needs You to break through the anguish and worry. So Father God, wherever my sister is, I ask that You would unveil Your love in her vision in a way that she has never seen before.
Open up her heart and emotions to receive from You, and minister to her in a way that only You can. Give her peace and rest right now, in Jesus' name. Put her in a place of calm–mentally, emotionally, physically, and spiritually.
Father God, my sister is hurting. But she is Your child, Lord, and You have made her a warrior princess. She is noble and altogether lovely; and You have a plan to heal, restore, and elevate her and her circumstances. You have a plan in place to work all things out for her good.
So Father God, I ask right now that Your Kingdom would come and Your will would be done on earth, and in my sister's life, as it is in Heaven.
Give her this day her daily bread, Father. Specifically:
Give her comfort. Put Your healing hand on her heart right now and take away her pain.
Give her hope. Wrap Your healing arms around her and speak to her about her situation, showing her how You plan to redeem it.
Provide for her practical and physical needs. Let her cabinets be filled, her bills paid, and her every need supplied according to Your riches in glory in Christ Jesus.
Give her joy, even in the midst of sorrow. Give her the kind of joy that doesn't make sense; the kind that's unexplainable; the kind that puts a smile back on her face, hope back into her heart, and strength back into her resolve. Restore unto my sister the joy of her salvation, and uphold her with Your generous Holy Spirit.
Father God, the enemy is trying to put shame on my sister, but shame is not from You.
So Abba Father, I ask right now that You would go to where she is and show Yourself to her as her Glory, and as the Lifter of her head. Manifest Yourself to her as the Restorer of her place of authority.
I come against the shame the enemy is trying to put on my sister in Jesus' name.
And in the mighty and matchless name of Jesus, I BREAK the shame off her. I place on my sister Your cloak of HONOR, Lord, where that was; and I call upon You to fulfill Your promise in Psalm 91:15 that You will deliver my sister AND HONOR HER, right now.
Rebuke the enemy who roams about like a roaring lion, seeking whom he may devour.
Rebuke the devourer off my sister's peace.
Rebuke the devourer off of her reputation.
Rebuke the devourer off of her marriage and children.
Rebuke the devourer off of her prosperity.
Rebuke the devourer off of her ministry.
Rebuke the devourer off of her relationships.
Rebuke the devourer off of her ministry and effectiveness in the Kingdom.
Rebuke the devourer off of her thought life.
Rebuke the devourer off her standing in her family, in the church, and in the community.
Father, I ask that You would give my sister Your eyes to see and Your ears to hear right now.
She needs to hear from You and see things the way You see them more right now than at any other time in her life. So Abba Father, help her:
Let her think the thoughts of God.
Your Word says that she has the mind of Christ, so let her set her mind and keep it set where Christ is, seated at the right hand of God. Download into her Your very thoughts from Heaven, and let Your thoughts be the only thoughts that have any place in her being.
Let her hear Your voice, even when You are speaking in still and small ways.
I pray that You and she would both silence every other noise around her except the sound of Your voice. I thank You that Your Word says that Your sheep know Your voice and hear You, and that they will not follow another. I claim that for my sister right now: She hears You and will not follow any other voice.
Let my sister, Your warrior princess, do the deeds of God:
Give her wisdom, wisdom, and more WISDOM from on high: wisdom that is first pure, then peaceable, willing to yield (but only to righteousness), and wisdom that is full of mercy and good fruit.
Help her to walk like Jesus walked.
Help her to see what You are doing and do only that; to hear what You are saying and say only that.
Help her to forgive the people who have hurt her like Jesus forgave the ones who nailed Him to the cross–with total and complete forgiveness from her heart.
Give my sister an anointing of total trust in You right now.
Help her to choose to trust You in every way. Help her to throw herself on You believing–KNOWING that You WILL work all things out for her good, for she loves You and is called according to Your purpose.
Abba Father, I ask that You would remind my sister of the great cloud of witnesses that surround her.
I pray:
that she would remember Your faithfulness to Abraham and Sarah;
that she would remember Your faithfulness to Noah;
that she would remember Your faithfulness to Moses;
that she would remember Your faithfulness to Joseph in the pit;
that she would remember Your faithfulness to David, Samuel, Gideon, Jacob, and so many others who have held fast their confession of faith in You;
and that she would remember every time You have been faithful to her and her family in the past, and would know that You cannot deny Yourself. You will be faithful to her again, with even greater miracles to overcome and vanquish every fiery dart of the wicked one.
Father, I ask that You would remind my sister right now that Your mercy triumphs over judgment.
I pray that You would:
Show her Your mercy at work in her situation.
Show her Your mercy defending her, protecting her, and coming to her rescue.
Let her lift up her eyes to the hills and see that her help comes not from the earth, but directly from You.
Help her to know that You are PERSONALLY seeing to her rescue, for You have rent the Heavens and have shown up on the scene to help her (Psalm 18).
I pray right now that You would remind my sister that "if God is for her, who can be against her?" (Romans 8:31). Let faith rise up in her right now, in Jesus' name. Let COURAGE rise up. Let HOPE rise up again in her heart, carrying with it the dawning of light from Your very throne.
Father, throughout all the trials that have beset Your royal daughter, I pray that You would help her to walk worthy of the divine calling to which she is called.
I pray that she would have clean hands and a pure heart; that she would not lift her soul to others or swear deceitfully. I pray that she would dwell in the secret place of the Most High, and that You would keep her STABLE and FIXED under the shadow of the Almighty.
I ask that You would put up a hedge of protection around her and her family right now, in Jesus' name; and that no weapon formed against her OR her family would be able to prosper, but that every tongue that rises against them in judgement she would show to be in the wrong.
Father, walk beside my sister as her Father, Husband, and Friend who sticks closer than a brother.
Show her the answers to her prayers on every side. Let her actually see You moving on her behalf.
Speak to her in dreams and visions, and let her know the dreams are from You and know the correct interpretations thereof.
Send her surprise encouragement on every side and from every corner.
Send my sister checks in the mail, encouraging notes and cards, and signs and wonders that only You can work on her behalf.
Send her the right friends, the right counselors, the right advisors, and the right supporters–and deliver her from every wrong person, in Jesus' name.
Most of all, Father God, I pray that my sister would cling to You during this season.
Draw her closer to You than she has ever been. Let her feel Your presence and love more than she has ever felt it or You. Let her hear You more clearly than she has ever heard. Help her to hide Your Word in her heart, and let Your rhema words jump off the pages of her Bible as she reads.
Father, we call upon You and ask You to answer us and show us great and mighty things that we have not seen on my sister's behalf.
Do as only You can do. Hold her together with the glue of Your Holy Spirit and by the precious blood of Your Son Jesus.
We plead the blood of Jesus over my sister's body, mind, soul, and spirit, Lord; and we thank You that Your government AND Your peace are increasing in her and her situation right now. Your Kingdom is coming and Your will is being done right this moment.
So give my sister rest, Lord. Help her to rest in You; to cast all her cares upon You; and to be anxious for nothing–but in everything, with prayer and supplication, with thanksgiving, to make her requests known to You. And we know and believe that Your peace, which passes all understanding, will guard her heart and mind in Christ Jesus.
Thank You, Abba Father.
Thank You, Lord Jesus. Thank You, precious Holy Spirit. In Jesus' mighty and precious name we pray and thank You, for we have received what we have asked for. To You be all the glory and honor forever and ever.
Amen."
Did you pray this prayer over a warrior princess that you know–a woman who is hurting and needs the Lord to sustain her? Maybe you even prayed it over yourself! Either way, if you prayed this prayer of faith, leave a comment below and BOLDLY confess your faith to the Lord that He is hearing and answering RIGHT NOW!