Prophetic Word: There Is a Resurrection Coming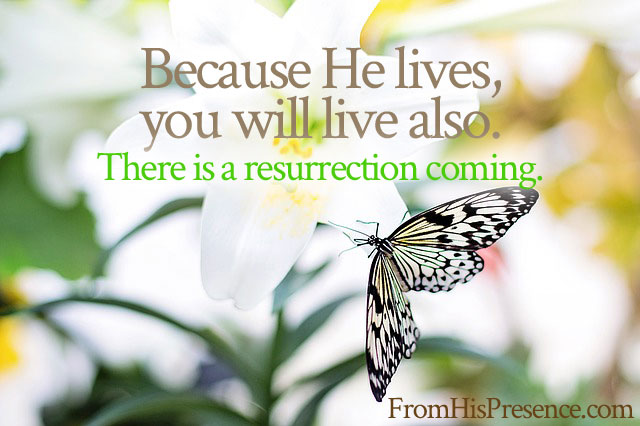 "A little while longer and the world will see Me no more, but you will see Me. Because I live, you will live also. At that day you will know that I am in My Father, and you in Me, and I in you" (John 14:19-20).
As I was studying and praying this morning, I felt like the Lord wanted me to tell you this: There is a resurrection coming.
How do I know?
Because Jesus Christ is the Resurrection and the Life. He is Resurrection Personified. And Jesus is in the Father, and we are in Him, and He is in us.
Let me say that again: JESUS IS IN YOU.
Jesus is in you.
And Jesus is the Resurrection.
That means Resurrection Personified is in you.
And if Resurrection Personified, Jesus Christ, is in you, then by default He will manifest Himself as who He is.
You have been through absolute hell. You've been through a nightmare lately.
But Father wants you to know that not only does Jesus live in you, and you in Him, but also the same Spirit that raised Jesus from the dead dwells in you. And Jesus and Holy Spirit are in agreement about the work of resurrection in your life.
And They are, right now, raising you up.
This is the Word of Jesus to you today: "Because I live, you will live also."
Let your faith grab onto that. Receive it for yourself. Grasp in faith the wonder of Resurrection Personified living in you, and how if He is Resurrection, then He must needs manifest His resurrection in YOU.
Weeping may have endured for the night, beloved, but joy is coming now. The storm is over, beloved.
Listen to this song:
"Because I live, you will live also." It's all in who Christ is. He is the Resurrection and the Life, and He is manifesting Himself as Resurrection and Life in YOU, right now.
Does this word confirm something God is telling you also? Please leave a comment below!
Related:
Is Holy Spirit speaking to you through this message? Is He challenging you to pray? If so, please leave a comment below. I'd love to hear from you!
Would you help me with my work of reaching people for Jesus as a domestic missionary? This blog, and all of my mission work in person, are made possible through your partnerships, donations, and product purchases.
If you'd like to help me, please check out the partnership details and products available for sale here. And, thank you in advance for helping make this blog and everything we do together for the Kingdom possible!