5 Keys to Peace In the Valley: Prayer, Prayer, and More Prayer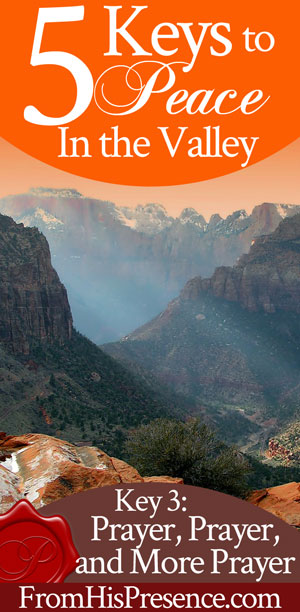 We've been talking lately about how to survive the hardest of times: how to find peace in the valley, so you can eventually get OUT of the valley. Even if we are in a storm not of our own making, we still need to cooperate with the Lord during that storm–while we're walking through that dark valley–so He can bring us out.
The first key to finding peace in the valley was worship. The second key was "giving anyway."
The third key to finding peace in the valley is prayer, prayer, and more prayer.
I can honestly say that, throughout all the dark times I've personally endured, prayer is the one thing that has kept me alive.
I don't feel like that's an exaggeration, either. Even when I was trying to fight off spirits of suicide a number of years ago, prayer kept me going; and the prayers of my friends–intercessors whom I trusted–are what finally got that thing off of me.
(I had reached the point where I could no longer handle things on my own, so I asked a couple of friends to pray over me, and they sat me down and went to war on my behalf. And those suicidal spirits stopped harassing me, and things were better after that.)
Related: 5 Prayers to Increase God's Glory On Your Prayer Life
I cling to God's precious promise in Philippians 4:6-7:
Be anxious for nothing, but in everything by prayer and supplication, with thanksgiving, let your requests be made known to God; and the peace of God, which surpasses all understanding, will guard your hearts and minds through Christ Jesus."
Prayer.
When I'm in a storm, I don't pray so I can cross this thing called "prayer" off a Good Christian List. I pray …
… because I cannot carry the burden alone. It would kill me; and often, to be perfectly honest, I feel like the burdens are so heavy that they are already killing me.
… because I'm hurting so badly and I need someone to care. But few people do … except for my Abba Father. HE cares always.
… because I desperately need comfort. And every time I have gone to the Lord in prayer, dumping my burdens on Him with prayer and supplication (requests), with thanksgiving, He has always kept His end of the bargain. He has always given me peace and comfort about the situation.
And lastly, I pray …
… because I need results.
Desperately.
Heart-rendingly.
Agonizingly.
I must have answers. Things as they are are not okay. So I go to the Lord and cry out: "Father, please help."
That's why I pray.
E. M. Bounds said, "Non-praying saints are a beggarly gang of saints who have neither the zeal nor the beauty nor the power of saints."
Prayer moves our perspective from "Big problems, little God," to "BIG God, little problems."
During every single walk I've ever taken through the valley of the shadow of death, my solitary time in prayer has sustained me and preserved me. Father has used the power of prayer every time to:
relieve my fears;
remove my anxieties;
restore my faith; and
lead me into the refreshing, comforting, intimate Presence of the Father.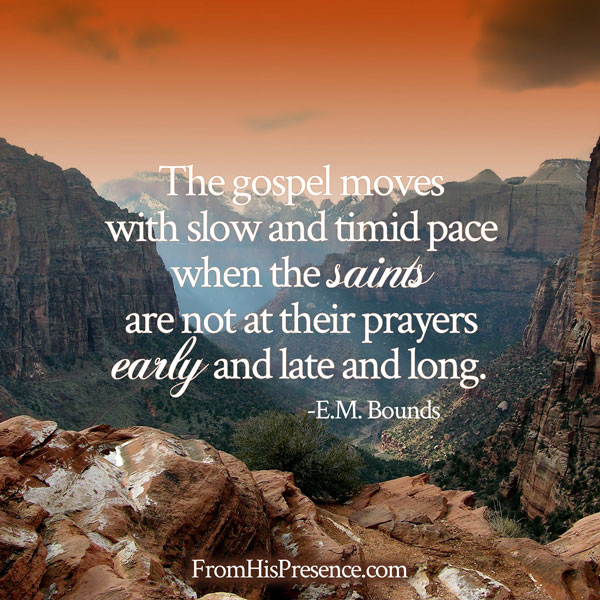 That doesn't mean that those anxieties haven't ever come back.
They've come back a lot–sometimes 10 minutes later. But, as I wrote about here in my story about struggling with anxiety, if I just went back to prayer–even 10 minutes later–Papa helped again.
Isaiah 26:3 says:
You will keep him in perfect peace, whose mind is stayed on You, because he trusts in You."
What better way could there be for us to stay our mind on Christ than to pray?
Related: 10 Prayers that Draw Me Closer To God Than Any Other Prayers
And every Christian is called to pray. Praying must not be left up to pastors or evangelists or intercessors. Prayer is the chief work of every Christian.
E.M. Bounds said, "The gospel moves with slow and timid pace when the saints are not at their prayers early and late and long."
The apostles in the early church dedicated themselves continually to prayer and to the ministry of the Word (Acts 6:4). Great men and women of God, throughout the ages, have always been men and women of prayer.
For example, Martin Luther spent three hours daily in prayer. John Welch, a great Scottish preacher, spent eight or ten hours a day in prayer. Many such illustrations could be given of men and women who spent two, four, five, and eight hours per day praying.
But you know what? These men and women got things done! They knew how to move Heaven and earth with their prayers, and they got answers!
Prayer, after all, is about getting answers from God. Getting answers is the whole purpose of prayer.
Why, oh why, did the church forget how to pray?
I read the stories of great heroes of faith—men like those listed above, as well as Charles Spurgeon, George Müller, and many modern-day prayer giants, and I am in awe. The testimonies of these lives inspire me. If their secret was prayer, I have set my face like flint to travail in prayer until I also see God move in my generation to an even greater extent than He moved in theirs.
Beloved, if you're going through a storm, it's time to pray. We must pray, and pray now.
This means it's time for me to pray, and it's time for you to pray. This message is for US, NOW. Now is indeed the time.
We must not wait for four angel appearances, three trumpet blasts, and a personal late-night appearance of the glorified Christ Himself to tell us to pray.
The way to become a prayerful church is to start praying. The way to be a man or woman of prayer is to pray.
In prayer, we draw near to God, and He will draw near to us.
In prayer we lift up our own needs to the Father. We also lift up our brothers and sisters in Christ, our leaders, and our earthly families.
In prayer we receive grace from God and revelation from the Holy Spirit.
Oh beloved, we must pray!
Prayer is not hard. It's not difficult. There's nothing more natural in the world than talking to the One who made you.
If you want to learn to pray:
Ask the Holy Spirit to teach you, and He will.
Get one of the many good books on prayer by Dutch Sheets, Andrew Murray, or my favorite, E. M. Bounds.
But above all else—pray. No amount of learning can actually substitute for the simple act of praying.
Beloved friend, when we spend time in prayer, we enter the Presence of the Lord.
The Holy Spirit brings us renewal, refreshing, peace, and a fresh inflowing of power. During my trials, I have prayed and prayed hard.
Some days, my prayers were more anointed than other days. Some days, my prayers were more faith-filled than other days. I'm still like that today–more powerful in prayer some days than others.
But you know what? It doesn't matter if we have an "off" day, because Holy Spirit helps us. If we will just keep praying!
Through prayer, God has always sustained me; and He will sustain you too.
Do you need grace? It's waiting for you before the throne of grace.
Do you need help? Help awaits you in the presence of Father.
Do you need a change of heart? Fear not, little flock; it is your Father's good pleasure to give you the Kingdom. He'll give you the heart change you need.
Do you need strength, courage, comfort, hope, or good cheer? If so:
Let us therefore come boldly to the throne of grace, that we may obtain mercy and find grace to help in time of need" (Hebrews 4:16, NKJV).
Beloved, no matter what you're going through, it's time to pray. Prayer is your key to finding peace in the valley, so you can get OUT of the valley.
You don't have to make a big production out of this thing called prayer. You don't have to do it just right according to anybody's standards. All you have to do is talk to Papa God–Abba Father–who loves you and is inclining His ear to your cry right now.
What will you say to Him? Please don't wait. It's time to begin.
Is Holy Spirit speaking to you through this message? Is He challenging you to pray? If so, please leave a comment below. I'd love to hear from you!
Would you help me with my work of reaching people for Jesus as a domestic missionary? This blog, and all of my mission work in person, are made possible through your partnerships, donations, and product purchases.
If you'd like to help me, please check out the partnership details and products available for sale here. And, thank you in advance for helping make this blog and everything we do together for the Kingdom possible!