Prophetic Word: Reject Appearances! You Are Walking In Victory!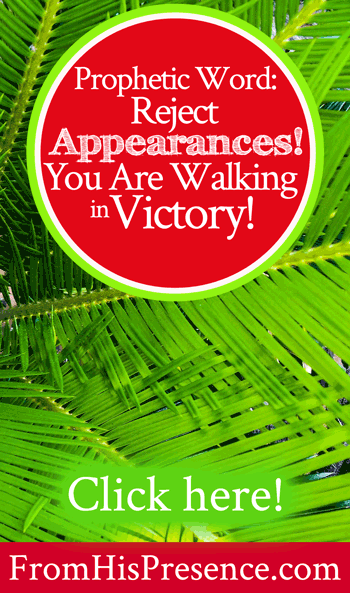 Are you are struggling with repeated attacks of the enemy right now? If so, the Lord gave me an encouraging word for you today!
I was walking in my neighborhood this morning, and I suddenly saw what looked like a large, rusty nail lying on the ground. Immediately, I thought, "That's going to get in someone's tire." So I bent down and picked it up …
… only to find out that it wasn't a rusty nail at all. It was a twig.
Oh, don't get me wrong. It looked just like a rusty nail. It had what looked like a flat nail-head on top. It was the color of rust; and it was the same size and shape as a nail. It even tapered to a sharp point at the end, and it was perfectly straight.
But it wasn't a nail at all, and it couldn't hurt anything.
I've learned that Holy Spirit is usually talking whenever I see something weird like that. So, I asked the Lord what it meant.
And the Holy Spirit spoke loudly in my spirit: "Not everything is as it seems!"
Immediately, He showed me what it meant. I had seen something that I thought could hurt me or others. It appeared to be an accident waiting to happen. For all intents and purposes, it was a nail.
But that thing that looked so dangerous turned out to have no power at all.
Then Holy Spirit told me: "Not everything that looks like it can hurt you actually can." And I was reminded of Isaiah 54:17:
No weapon formed against you shall prosper, and every tongue which rises against you in judgment you shall condemn. This is the heritage of the servants of the Lord, and their righteousness is from Me,' says the Lord."
God's Word says that NO WEAPON formed against you will prosper. He says you shall condemn every tongue that rises against you. Do you have the faith to believe it?
This is where being a spiritual warlord comes in.
When things come against you that look like they can hurt you, you have to shout the motto of the spiritual warlord: "Let God be true and every man a liar!" (Romans 3:4).
It's an exercise to do that. It takes faith. It takes determination. It takes deciding to believe and confess God's Word in faith instead of giving in to our feelings.
Related: Get my 5-day devotional called How To Become a Spiritual Warlord here if you haven't already. It's an instantly-downloadable e-book, and it will inspire you to walk in victory like never before.
But you can do it. You know how I know? Because Holy Spirit then told me:
You've walked this path before. But this time, you're in victory.
Many of you just finished going around a mountain. However, to your dismay, you now find yourself going around the same mountain again. You thought you were done with it, but now it seems like you aren't.
Do you know why that's happening? It's because last time, you were learning. This time, you are winning.
God only sends you into battle when He wants to win something.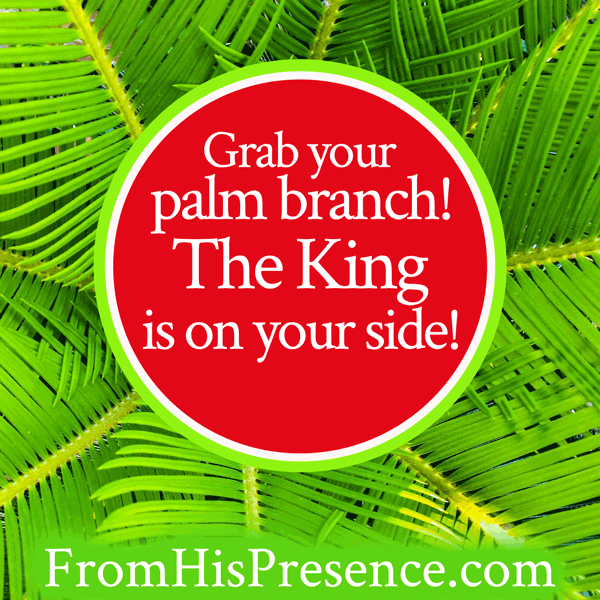 Defeat is not your portion. In Christ Jesus, only victory is your portion.
So are you going around that same old mountain one more time–or does it feel that way? Beloved, this time you're in victory. Believe it. Claim it. Keep your eyes on Jesus. Make the decisions you have to make to dwell in the secret place of the Most High every single moment of every day. That is how your victory will manifest.
You might feel like you're under attack again, but the reality is that this time you're on the offensive.
Father has pre-ordained your victory and this time, you're walking differently. Even if you don't like to admit it, you can feel the difference:
You're on the warpath of victory this day. And whether you remember or not, you've noticed your progress, too! For example:
You've noticed that some things that used to get you down NOW have you praising instead.
You now notice the tricks the devil tries to use against you. They don't work anymore; you can see right through them.
You've even caught yourself, right in the midst of the fiery furnace, actually giving thanks to God when you NEVER used to do that before!
These things are evidence of your victory.
So beloved, grab your palm branch! The King is coming. He's victorious, and He's on your side.
Our Lord Jesus Christ is sheltering you under the shadow of His wings right now. So no matter what's going on, go ahead and offer yourself a willing sacrifice to the Lord. Snuggle into Him closer than you ever have before. This thing that "looks" like a sickness is not unto death, but is rather intended that the glory of God may be revealed.
Beloved, don't rely on appearances! Not everything is as it seems. Let God be true, and every man a liar! YOU are walking in victory, for Christ has conquered the evil one!
Is Holy Spirit gripping your heart with this word as well today? If so, leave a comment below! I'd love to hear from you!
Would you help me with my work of reaching people for Jesus as a domestic missionary? This blog, and all of my mission work in person, are made possible through your partnerships, donations, and product purchases.
If you'd like to help me, please check out the partnership details and products available for sale here. And, thank you in advance for helping make this blog and everything we do together for the Kingdom possible!