Spiritual Warfare: How To Stay Safe from Demonic Retribution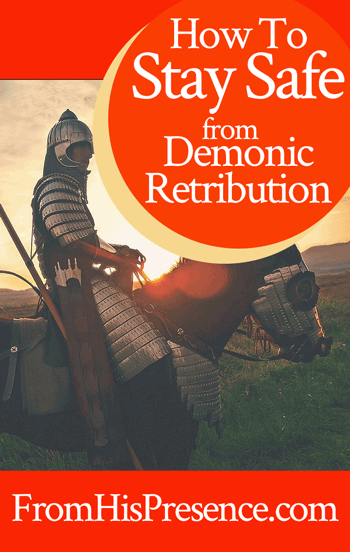 Have you ever taken a stand against evil, only to find yourself right in the middle of spiritual warfare? And then, you notice that the source of that battle is exactly the evil spirit you stood against?
I have. It's a principle of spiritual warfare: whenever you stand for righteousness, you infringe on territory the enemy thinks is his. (But it's not.) 🙂
In other words, when you stand for God, the evil spirit you kicked out in Jesus' name will often try to rise up and send a backlash against you. It's the enemy's version of retribution.
Don't worry, though. You can be completely safe from it.
Here are some examples of demonic retribution:
When you pray to break unholy connections ("soul ties") off your life, the enemy will often send the demonic news flash to the person you broke connections with. The enemy will tell that person that you're free. And they will not like the fact that you got free from their influence … so they'll usually try to re-establish that connection.
Or …
When you stand for righteousness in the political arena, taking a stand against the Jezebel principalities that are trying to dominate politics, it aggravates all the people who operate under the influence of that spirit. And often, they will attack you for it.
Or …
When you read a teaching on how to get free from the spirit of poverty, people governed by the spirit of poverty will often attack you and try to make you (or keep you) poor.
Why does this type of spiritual warfare happen?
Because you were made to storm the gates of hell. You were made to plunder hell and populate Heaven. You were made to be aggressive for the Kingdom … and the enemy doesn't like it when you fulfill your assignment.
In Matthew 16:17-19, Jesus said:
Jesus answered and said to him, 'Blessed are you, Simon Bar-Jonah, for flesh and blood has not revealed this to you, but My Father who is in heaven.

And I also say to you that you are Peter, and on this rock I will build My church, and the gates of Hades shall not prevail against it. And I will give you the keys of the kingdom of heaven, and whatever you bind on earth will be bound in heaven, and whatever you loose on earth will be loosed in heaven" (Matthew 16:17-19).
GATES are not an offensive weapon. They are a defensive weapon. Jesus was saying here that we are to ATTACK the gates of hell. We are to take all the territory for the Kingdom of God that we can.
But when we plunder the gates of hell, Satan and his minions don't like it.
So they often try to intimidate you into backing down. They try to intimidate you into thinking that you really didn't win after all. They want you to think they are in charge.
But they're not. The blood of Jesus paid the price for our victory in His name every time.
So how do we stay protected against demonic retribution when you kick the enemy to the curb?
Related: If you haven't already, BE SURE you get my 4-part MP3 teaching called Kingdom Authority 101! It will help you know in practical terms exactly HOW to wield your Kingdom authority in Christ! Also, check out my Facebook Live Q&A video about spiritual warfare, here!
1. Stay hidden in the secret place with God.
Your absolute strongest and best method of defense is to just abide in Jesus. Stay hidden in the secret place described in Psalm 91.
When you stay hidden in God, you will be immune to enemy retribution. Attacks may happen around you, but they can't harm you.
2. Have a backbone.
When you're in a war, you've got to stay grounded in truth. You've got to stay grounded in who you are, knowing Who you're serving (God), and you've got to stick with God's Word.
That means you've got to know that you know that you know what God's Word says … and stand on it, no matter what. Don't yield, even for a moment.
Be nice, yes. Be loving, yes. But STAY IN TRUTH. 🙂
3. Ask the Father to release angels to war on your behalf.
Remember that there is only one demon for every two holy angels. The enemy only took 1/3 of the angels with him when he fell from Heaven. This means that the angels with us WAY outnumber the demons with the enemy!
So what do you do? I believe it's past time for us to be praying aggressively for MAJOR increase in angelic assistance in our lives! This is the biblical pattern!
For example:
Jesus knew that angels were available for His assistance (Matthew 26:53).
God-fearing people in the Old and New Testaments had visitations from angels (e.g. Peter, Mary, and Joseph).
The early church believers believed angels were so common that they assumed one was knocking at their door one day–instead of thinking a human had knocked (Acts 12:15)!
So ask God to send angels to war on your behalf, minister to you, and carry blessings and ministry from Heaven to you!
4. Respond to the attack in the opposite spirit!
The correct way to live, in any situation, is always to maintain righteousness and holiness. Nowhere is this more important than when you're fighting a spiritual battle!
So when the enemy comes against you, he and his minions will always (of course) be walking in the evil spirit. But you can stay immune to his attacks by staying hidden in Jesus, and by obeying Him at all times!
Related: How To Win In Spiritual Warfare
This means that we don't budge from holiness, even when the enemy wants us to.
We stay in the righteous spirit whenever the enemy tries to get us to cross over into sin. Whatever the enemy wants us to do, we do the opposite. We do the thing GOD wants us to do.
For example:
When the enemy tries to get you to remain in bondage, refuse. Maintain your freedom in Christ (John 8:36).
When someone comes against you with lies and accusations, stay in truth but respond with love. Remember that a soft answer turns away wrath (Proverbs 15:1).
If you've taken steps toward getting filled with God's love, but then the enemy sends fear against you, don't succumb! Get filled with MORE of God's love, because perfect love casts out fear (1 John 4:18).
Beloved, the enemy doesn't like it when we fulfill our ministry as believers and set the captives free.
But you know what? We don't have to be susceptible to his attacks. If we remain hidden in Jesus, dwelling in that secret place of the Most High, no evil will befall us and no plague will come near our dwelling (Psalm 91).
Will you stand strong in Christ today?
Does this word speak to what's happening in your life right now? If so, please leave a comment below!
Would you help me with my work of reaching people for Jesus as a domestic missionary? I need you; we are in this together! This blog, and all of the Kingdom work we do in this community together, are made possible through your partnerships, donations, and product purchases.If you'd like to help, please check out the partnership details and products available for sale here. And, thank you in advance for helping make this blog and everything we do together for the Kingdom possible!