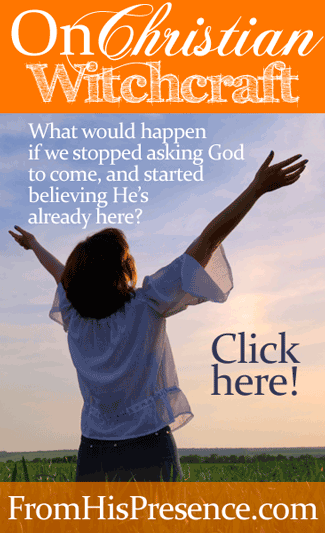 Have you ever noticed that Christians do certain things out of habit, or because the activity sounds really spiritual?
Yes? I have too. As a matter of fact, I think some forms of worship fit in this category.
Last year, when the Lord was bringing me into greater understanding about His constant presence (He is with us everywhere and all the time), I started to notice something about Christian worship:
We spend an awful lot of time trying to get God to come.
No, seriously. Pay attention next time you are in a worship service. There are a lot of songs out there that do this. I used to think most of these songs were great.
But then I started noticing the problem.
So many songs ask God to come. But yet, if we are worshipping the God of Heaven–God the Father, God the Son, and God the Holy Spirit–then He is already here.
Nevertheless, we think that if we sing three fast songs, and three slow songs–all of which ask Him to come–then at the end of those six songs, He'll magically appear. We're hoping that, somewhere before the outtro of Song #6, we'll get knocking knees and teary eyes and poof! Voila! God enters!
When we do that, we are trying to conjure God up.
I know it sounds tough, but it's true. And trying to conjure God up is Christian witchcraft.  [Read more…]