35 Confessions of Strength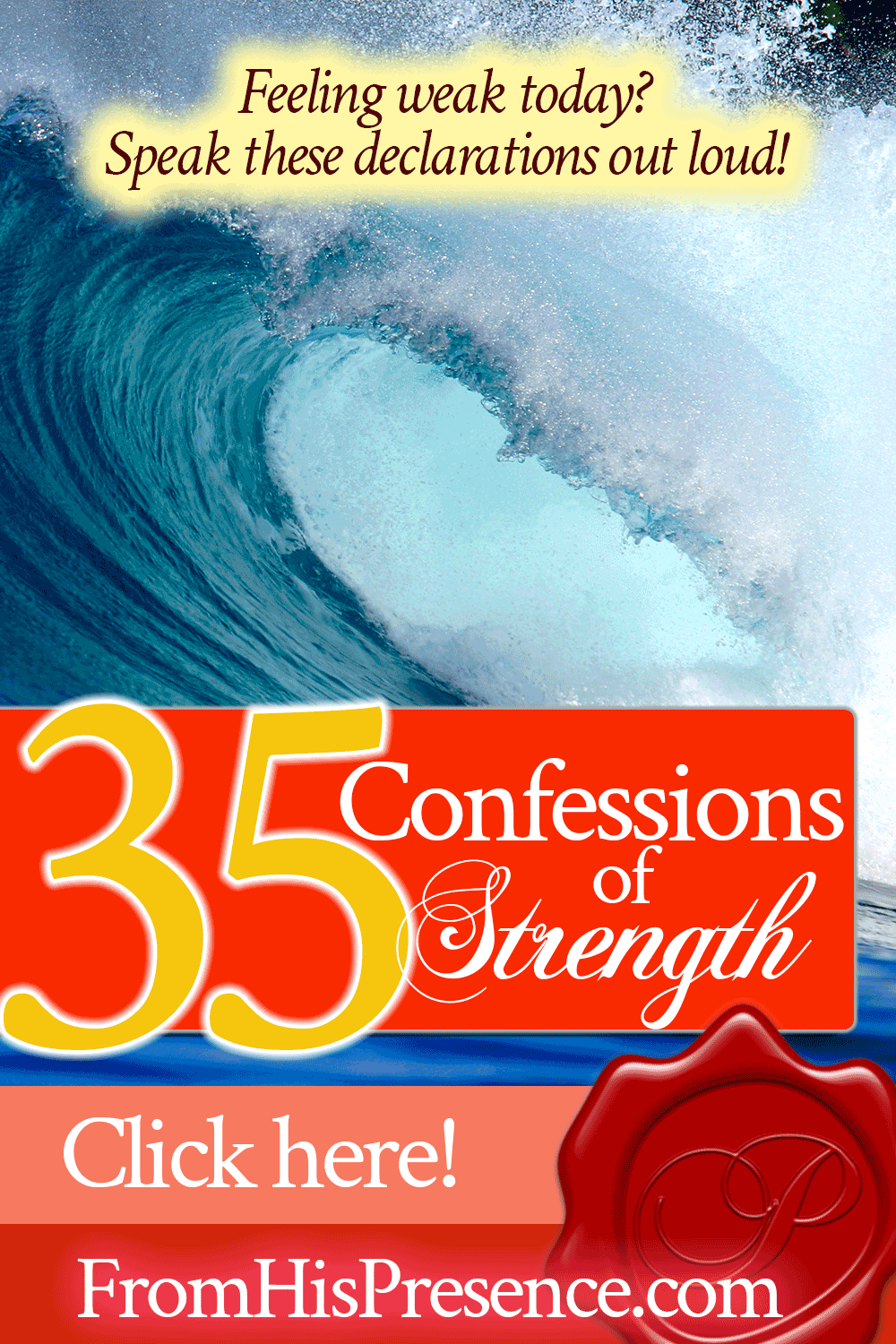 Beloved, do you feel weak today? If so, speak your faith out loud that God is in you to make you strong! To help you, I wrote these 35 confessions of strength.
(And by the way, these confessions are an excerpt from our upcoming paperback book, Speak Life Volume 3: The Harvest Is Plentiful. Be on the lookout for more about the book soon! And this is just an excerpt; the full chapter of confessions of strength in the book will have many more confessions for you, since we all need strength every day!)
If you're not sure why verbal declarations and confessions matter, here's why it's SO important, Biblically, to speak confessions of strength and faith out loud:
In the Bible, faith (in the Greek) is the word we transliterate pistis, which means:
both the deep, inner conviction of a thing
PLUS the simultaneous verbal confession of a thing.
You cannot have Biblical faith without speaking your faith out loud, and without being deeply convinced of it down in your gut. The combination of those two things equals the very definition of faith!
Everything you see was created by the spoken word.
So if you have nothing except the ability to speak, you can still create anything you want. You can be like God and speak those things that are not as if they already were (Romans 4:17)!
To help you, Jamie wrote a book of hundreds of Biblical confessions for you—especially in the area of your finances. It called Speak Life Volume 1: Chart Your Course With Your Words, and it's our most popular book ever! Get your copy today and begin speaking LIFE over those things that concern you!
I personally invest time in speaking my faith out loud every day.
I speak out various confessions about God's help, about who I am in Christ, about finances, about grace, and many other things as the day requires. God's Word is the very lifeblood of any successful life! Without it, I would keel over and die; I know it. God's Word brings LIFE.
If you're anything like me, you probably feel the need for God's strength every day.
No matter what your life looks like, you experience pressures and stressors; hard times and challenges. And we need God's strength for those things.
So, to help you get God's Word in your mouth specifically about STRENGTH, I wrote the following 35 confessions of strength for you–and for myself, too! 🙂 Please do speak them out loud as you read them, and you will feel the power and life of God roaring through your body, soul, and spirit.
Speak these 35 confessions of strength out loud over yourself:
1. I trust in the Lord, and He makes my arms, my hands, and my weapons strong by His own mighty right hand. The God of my fathers helps me, and the Almighty blesses me with blessings of Heaven above, blessings of the deep that lies beneath, and blessings of the breast and of the womb. (See Genesis 49:23-25.)
2. By strength of hand the Lord brings me out of Egypt and into His Promised Land. (See Exodus 13:3 NKJV).
3. "The Lord is my strength and song, and He has become my salvation; He is my God, and I will praise Him; my father's God, and I will exalt Him" (Exodus 15:2 NKJV).
AVAILABLE IN EBOOK OR PAPERBACK FORMAT!
Over Not Under: Financial Prosperity God's Way
Do you want God to empower you to get wealth, as He promised in Deuteronomy 8:18? Then this book is for you!
Over Not Under will help you gain deep insight about God's financial principles—and about how to activate His provision, blessing, and abundance in your life!
4. In His great mercy, God has led me forth as a person He has redeemed. He has guided me in His strength to His holy habitation. (See Exodus 15:13.)
5. My strength is not spent in vain. Everything I do prospers and brings me harvest and increase. (See Leviticus 26:20.)
6. God has strength greater than a wild ox, and His strength flows through me today. (See Numbers 23:22.)
7. The Lord sends me people to strengthen me to go over into the Promised Land and receive everything He has for me to inherit. (See Deuteronomy 3:28.)
8. I love the Lord my God with all my heart, with all my soul, and with all my strength. (See Deuteronomy 6:5.)
9. Because I love the Lord, I am like the sun when it comes out in full strength. (See Judges 5:31.)
10. The Lord gives me strength, for I am His royal child. He exalts my battle horn today, for I am His anointed. (See 1 Samuel 2:10.)
11. "And also the Strength of Israel will not lie nor relent. For He is not a man, that He should relent" (1 Samuel 15:29 NKJV).
12. I strengthen my hand in God today. I strengthen myself in the Lord. (See 1 Samuel 23:16; 1 Samuel 30:6.)
13. My hands are strengthened, and I am valiant. (See 2 Samuel 2:7.)
14. "The Lord is my rock and my fortress and my deliverer; the God of my strength, in whom I will trust; my shield and the horn of my salvation, my stronghold and my refuge; my Savior, You save me from violence. I will call upon the Lord, who is worthy to be praised; so shall I be saved from my enemies" (2 Samuel 22:2b-4 NKJV).
success tools
Wondering how to seek first the Kingdom of God?
Jesus said, "But seek first the kingdom of God and His righteousness, and all these things shall be added to you." But how does one do that?
15. "God is my Strength and power, and He makes my way perfect" (2 Samuel 22:33 NKJV.)
16. "For You have armed me with strength for the battle; You have subdued under me those who rose against me" (2 Samuel 22:40 NKJV).
17. I "seek the Lord and His strength;" I "seek His face forevermore." (See 1 Chronicles 16:11 NKJV.)
18. I ascribe to the Lord all glory and strength. (See 1 Chronicles 16:28.)
19. God gives me strength, for it is in His hand to make people great and to give strength to all–and He has chosen to give His strength to me. (See 1 Chronicles 29:12.)
20. I do not sorrow, for the joy of the Lord is my strength. (See Nehemiah 8:10.)
21. Even though I am weak in my flesh, God has ordained that His strength should flow through me and out of me. (See Psalm 8:2.)
22. "I will love You, O Lord, my strength" (Psalm 18:1 NKJV).
23. The Lord sends me help from the sanctuary and strengthens me out of Zion today. (See Psalm 20:2.)
24. The Lord saves me, for I am His anointed. He answers me "from His holy heaven with the saving strength of His right hand" (see Psalm 20:6 NKJV).
25. "The Lord is my light and my salvation; whom shall I fear? The Lord is the strength of my life; of whom shall I be afraid?" (Psalm 27:1 NKJV).
26. I wait on the Lord; I am of good courage, and the Lord strengthens my heart! (See Psalm 27:14.)
27. "The Lord is my strength and my shield; my heart trusted in Him, and I am helped; therefore my heart greatly rejoices, and with my song I will praise Him" (Psalm 28:7 NKJV).
28. The Lord gives strength to me and blesses me with peace. (See Psalm 29:11.)
29. My salvation is from the Lord; He is my strength in time of trouble. (See Psalm 37:39.)
30. I am blessed, for I consider the poor. Therefore, the Lord delivers me in time of trouble. The Lord preserves me and keeps me alive, and I will be blessed on the earth. The Lord will not deliver me to the will of my enemies. The Lord strengthens me when I am on the bed of illness; the Lord sustains me when I am on the sickbed. (See Psalm 41:1-3.)
Related article about considering the poor: The Generous Man Devises Generous Things (When God Ordains Plotting and Scheming)
31. God is my "refuge and strength, a very present help in trouble" (Psalm 46:1 NKJV).
32. God saves me by His name and vindicates me by His strength. (See Psalm 54:1.)
33. I wait for God my Strength, for He is my defense. (See Psalm 59:9.)
34. "To You, O my Strength, I will sing praises; for God is my defense, My God of mercy" (Psalm 59:17 NKJV).
35. "In God is my salvation and my glory; the rock of my strength, and my refuge, is in God" (Psalm 62:7 NKJV).
Friend, did these 35 confessions of strength encourage you today?
We all need strength and grace from God to get through every day. This world is not our home; and, if you're anything like me, you feel that keenly. Heaven is our home, and God Himself is our Dwelling and Refuge–and anything less feels cold and painful.
However, beloved, our Father in Heaven loves you with an everlasting love.
With great mercies He bears us up every day of our lives. He puts breath in our lungs and clothes on our backs and food in our bellies, and through all the pain of life He is with us to comfort us.
And one day, we will be home with Him in everlasting joy and the eternal bliss of His presence. Until then, we depend on His strength from day to day. He is the Vine; we are the branches. Without Him we can do nothing.
But, if we will follow His pattern believe His Word, and obey His commands to confess our faith verbally, His strength will give life to you. It will roar through your limbs, through your brain, through your entire body, soul, and spirit.
And His strength will be made perfect in you today.
Did these 35 confessions of strength minister to your heart? If so, leave a comment below!