How To Find a Spiritual Father, Part 1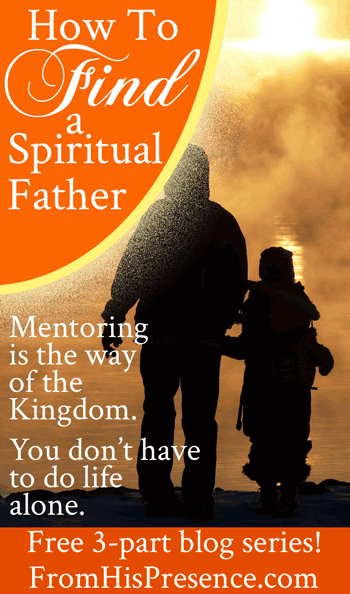 Spiritual fatherhood is one of the biggest things lacking in Christianity today. Men, women, boys, and girls of all ages are yearning for spiritual fathers and mothers. However, few people actually know how to find a spiritual father or mother. Few people have a parent-child relationship with a spiritual mentor.
I'm so passionate about this subject that I'm writing my first book (for print publication) about spiritual fatherhood and sonship. The working title is Secrets of the Father's Heart: 10 Keys That Free You From Rejection and Unleash Your God-Given Ministry. (Check out my short YouTube trailer about the book here!)
I believe the message of spiritual fatherhood and sonship is THE most helpful and life-changing message that Christians need today.
Just last week, a friend of mine told me she was discouraged because she had just realized that she has no spiritual fathers in her life. Unfortunately, that is true for most people. People need fathers. The need is desperate.
I personally longed for a spiritual mother and father for many years.
That entire story is in the book, as is the story about how I finally found them. Finding spiritual parents changed my life forever. My spiritual parents have loved me, disciplined me, taught me, prayed for me, encouraged me, and believed in me. They are irreplaceable.
Do you also long for a spiritual father?
If so, let's look at several steps you can take to find the spiritual parent(s) and mentors you desire. Here's how to find a spiritual father/mother:
1. First, become a faithful, covenant member of a local church.
Spiritual fatherhood is about covering. (And when I say "covering," I mean a person who watches your back and serves as a spiritual mentor, intercessor, advisor, and a layer of protection in the spiritual realm.) It's about finding someone who will be a covering for you; who will watch your blind side; who will teach you things you don't know.
This kind of protection can only happen within the over-arching, corporate covering of a local church.
Why? Because your father can only have authority as much as he is under authority. Your spiritual father has to be under the authority of a local church and its pastors in order to have authority to teach you.
Also, God's plan is always to manifest His glory through the local church. Ephesians 3:10 says:
to the intent that now the manifold wisdom of God might be made known by the church to the principalities and powers in the heavenly places…"
and Ephesians 3:21 says:
to Him be glory in the church by Christ Jesus to all generations, forever and ever. Amen."
God loves the local church. He planned it, He made it, He builds it. And you will only find the covering, teaching, wisdom, and encounter with God that you desire in the local church.
So find a good, powerful, Spirit-filled church, and commit to be faithful in attendance and in serving today.
Also read: Dimensions of Destiny: Divine Alignment with the Right Place
2. Determine what your spiritual callings and giftings are (even if only for your current season).
Unlike biological parents, God generally aligns spiritual fathers and sons who are gifted in the same area, or who are called to the same ministry. Thus, before you look for a spiritual father or mother, it makes sense to figure out what you're called to first.
If you don't know yet what your gifts and call are, it's ok. You can just look at what you are called to right now, and look for a spiritual father in that arena. You don't have to have your whole life figured out to find someone who can mentor you.
To help you better understand your gifts and call, ask yourself these questions:
What kinds of messages make your spirit leap inside you?
What moves you to tears? What makes you whisper?
What do the messages that impact you the most have in common?
What do you love?
What do you hate?
Also read: Dimensions of Destiny: Divine Alignment with the Right Things, Part 2: Finding Your Calling and Life Message
When you have identified a theme that is important to you, consider whether or not this may be part of your calling or spiritual gifts.
Again, you don't have to figure all of life out from now until Kingdom Come. If you think you know what your lifelong call is, great! But if not, it's no big deal. Look at your call right now. That should be far more obvious.
When I was going through the process of identifying my call in life, I asked myself these questions as well.
Here were the answers I came up with:
I love seeing broken, downcast people be lifted up in spirit, soul, and body.
I love powerful living.
I hate poor-mouthing attitudes and words.
I love to hear about what God is doing right now.
Putting all of these things together, I realized I am called to help equip and encourage people to live powerful lives. I do that by speaking the right-now word of God. God's Word heals, encourages, strengthens, and empowers. Putting all of that together equaled preaching and prophetic ministry for me.
You may have the same passion for children's ministry, evangelism, music, teaching, or feeding the poor. Whatever your passion is–even if you can only identify your passion today, and aren't sure about the rest of your life–that is where you will need to look for a spiritual father.
Those are the first two steps to finding a spiritual father or mother.
I address the next steps in the next two post in this series. In the meantime, go ahead and commit to your church. Identify your passion and call, at least for your current place in life. These two things will set you up for the next level of growth.
Is Holy Spirit speaking to you about this subject? Does this post resonate with you? Please leave a comment below if so! I'd love to hear what you think.
Read the rest of the series here: