How To Find a Spiritual Father, Part 3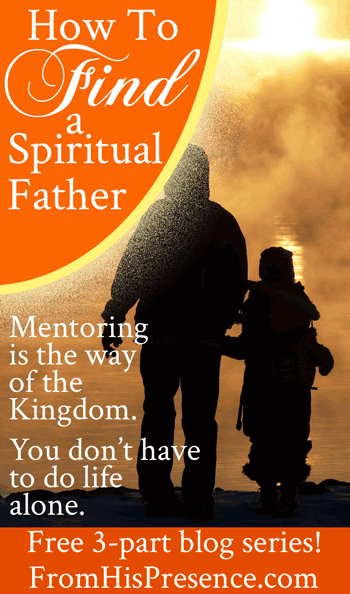 Earlier this week, I wrote the first part of my blog series about how to find a spiritual father.
You'll definitely want to read parts one and two before reading this post, if you have not already done so. Those posts contain steps 1-4 of the process for finding the spiritual parent(s)–mother or father–of which you've always dreamed.
And by the way: I use the term "father" as a gender-neutral term which simply refers to someone who will mentor you with the heart of Father God. Your mentor could be a woman or a man; a "mother" or a "father" or even someone who refers to all mentoring collectively as "spiritual fathering." Both men and women can carry the heart of Father God equally. Your mentor simply needs to be someone who will disciple you and raise you up like God does.
Steps 1-4 for how to find a spiritual father were:
Determine what your spiritual callings and giftings are (even if only for your current season).
Ask the Lord to show you some skill sets and areas of knowledge you need to develop.
Ask God to show you some people to whom you can listen and from whom you can learn.
Also read: Dimensions of Destiny: Divine Alignment with the Right People
Now for steps 5 and 6:
5. Begin to sit at the feet of the prophets.
In Bible times, Jewish young men who desired to know God would sit at the feet of the rabbis and prophets and listen to their teaching. They learned to emulate their teachers in every way. They walked, talked, prayed, ate, and studied with their teachers.
We seem to have lost that art in modern Christianity, but we have to get it back if we're to experience the power of true fatherhood and sonship.
So if you want a spiritual father or mother, sit at the feet of the prophet. What does this look like in practicality?
Find the person to whom you're most drawn–who already operates in the ministry to which you feel called–from your list of people from whom you could learn.
Then:
If they're teaching a Sunday School class or LifeGroup, start attending their LifeGroup (faithfully!) and sitting under their teaching. ("Faithfully" means "every week," by the way.)
If they're heading up a mentoring program, apply for their program.
If they're preaching, be sure you're there to hear it.
If they lead a prayer meeting, go to the prayer meeting. Faithfully.
Don't be a stalker. However, if you feel a strong desire, birthed in prayer, to be fathered by a specific individual or couple, then you need to sit at their feet.
As you sit at the feet of your potential spiritual father, continue praying for open doors of relationship according to the Father's will.
And next …
6. Ask the prophet you love the most to mentor you.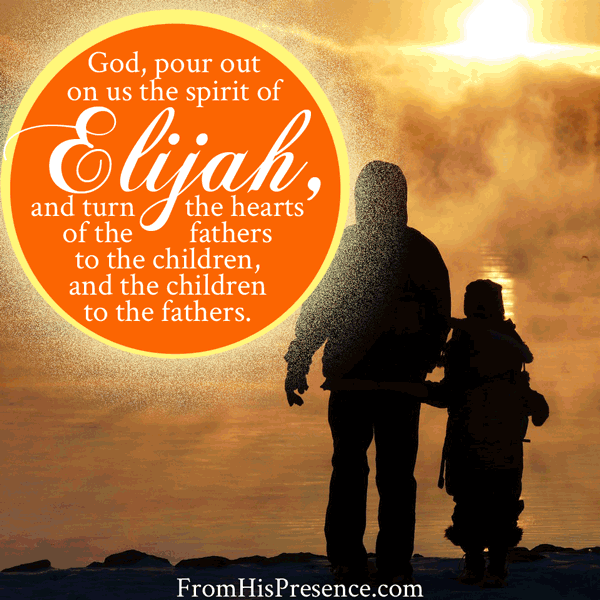 Someone can be your spiritual father even if they don't realize that's how you see them. However, it's a lot more productive if they do!
Take some time to sit under the teaching of the person or couple that you desire to mentor you–the one you love the most. Don't make this a rush decision. However, after you've been learning from this person awhile, if you feel that you would like to establish a closer, official mentoring relationship, don't be afraid to ask! You don't even have to be all gushy about it. For example, you could:
Make an appointment with the person. (Be sure to pay for their meal if you're eating with them.)
Explain how much you appreciate their ministry and teaching, and how much you've learned.
Humbly explain that you know you have a lot to learn…
… and that you really feel drawn to this person and look up to them.
Then ask them if they would be willing to mentor you!
Feel free to share what you would like that to look like. For example, you could specifically ask if maybe you could take them to lunch once a month, or meet in their office every other week. Another idea: ask them to give you reading/study assignments based on where you are in life right now, and meet with them to discuss what you're learning as you work through the assignments.
You don't have to do this. My first spiritual parents became my spiritual parents because I sat at their feet, served them, and learned from them every moment that I could. However, that relationship took ten years to develop.
So, if you need a spiritual father faster than in ten years' time, don't be afraid to find someone and ask.
You have nothing to lose and everything to gain by asking the person you want to mentor you!
Even if you do ask, however, be forewarned: this is not necessarily an overnight undertaking.
You'll want to get to know the person at least a little bit before you ask them to mentor you. You want to be careful who you allow to speak into your life and guide you. If you will persevere, however, you will find the father or mother you dream of.
So pray about it now. Ask the Lord for favor, and for the father or mother He desires for you. Keep praying on an ongoing basis, but while you are praying, ACT! Sit at the feet of the prophets. Ask the one you love the most to mentor you.
And don't be surprised when he says yes. 🙂
Finding a spiritual father (or mother) is one of the best things you will ever do for yourself. Your father will be a mentor, a teacher, a covering, and an encourager to you. So what are you waiting for?
What can you do today to find a spiritual father?
Read the rest of the "How To Find a Spiritual Father" series here: