Prophetic Word: The Anointing to Save Is Upon You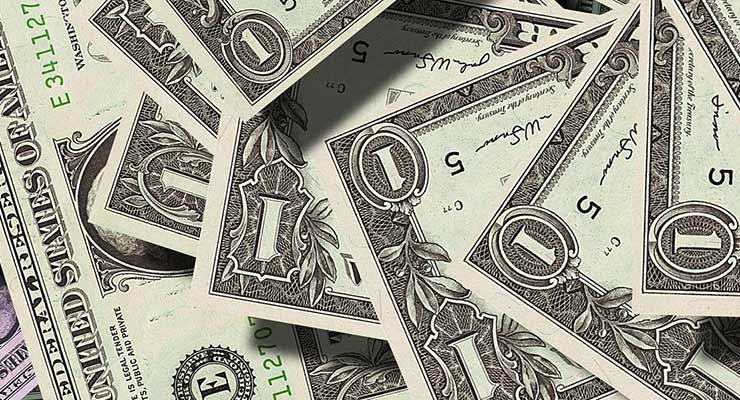 Hey beloved, the Lord showed me this morning that the anointing to save is upon you. I wanted to share a little bit today about what I see Holy Spirit doing in this area.
Here are the main things I see in the Spirit right now:
1. The Lord is speaking to people right now about old debts they are owed, or about business deals they never followed up on.
Things like royalties, accounts payable, handmade items, cooking businesses, cookbooks you feel led to make, and more have been in people's hearts for years. If you're one of those people, you have never followed up even though you felt you should. Time simply got away from you and it never seemed important.
Related: 185 Ways to Make Extra Money
The Lord wants you to know today that your idea is His pipeline of prosperity to you and He is trying to use it to bring massive money to you. Follow up immediately so you can receive what God is trying to get to you.
Of note: Don't think that other things are more important and so you shouldn't get paid.
No; the worker is worthy of his or her hire. That is one of the foremost principles we have to understand about the way God handles money. Anything else is doubt and unbelief.
Second 2 Corinthians 9 tells us that God will provide the money for EVERY GOOD THING. Step out in faith and pay yourself, believing God to do BOTH and ALL the important things AT ONCE.
2. Be creative. Look for ways to earn money every day and expect God to help you earn money outside of your job every day.
Whether you decide to sell something from your house, babysit, walk a dog, donate plasma, work extra hours on your job, or sell something through your side hustle, look for ways to earn money every day. You will be surprised at what the Lord does if you will make a goal to bring in extra money every single day.
Every day, pray about your finances too. Every day, ask the Lord to send you money both personally and to your business.
When He does, be sure you don't squander it.
Pay your tithe first, and then place it immediately into the financial goal you're working toward–whether that goal is to get current on your bills, or to save a specific amount toward your emergency fund, or paying off credit cards, or investing in your retirement account.
I say it again: Every day, expect God to bring you money.
Every day, put something down on your financial goal. DO NOT save it up and wait until the end of the month to apply the money toward your financial goal.
In other words, if your goal is (for instance) paying off credit card debt, make a payment on your credit card every day. If your goal is to pay off your mortgage, make an extra principal payment on your mortgage every day if your lender allows that (and most do).
I am telling you this by the Spirit; please hear me.
Making a payment or savings deposit EVERY DAY not only encourages you, but gets you in the habit of doing it. Everything multiplies after its own kind, INCLUDING HABITS.
Therefore, if you get in the habit of saving every day, investing every day, paying off debt every day, paying down your mortgage every day, then:
Your mortgage will soon dwindle and disappear.
Your emergency fund will soon fill up.
Your retirement accounts will soon fill up.
Your credit cards will melt away.
DON'T WAIT until the end of the month, thinking you will make a big payment at that time in one lump sum.
Do not wait; do not wait; do not wait to make your payment! Apply money to your financial goal EVERY SINGLE DAY.
Doing this gets you on a roll and keeps you on a roll, and your efforts will multiply exponentially. I believe the Lord is very serious about this. Do it every day!
3. The Lord is giving financial counsel in the night seasons while you sleep.
Do not be surprised if you wake up with a thought in your head, knowing suddenly that you are to do XYZ on your finances, investments, or savings. God is depositing counsel, especially financial wisdom, into your spirit while you sleep in this season.
Job 33:15-16 says this:
"In a dream, in a vision of the night, when deep sleep falls upon men, while slumbering on their beds, then He opens the ears of men, and seals their instruction."
Also, Psalm 16:7 says:
"I will bless the Lord who has given me counsel; my heart also instructs me in the night seasons."
Just recently, the Lord has woken me up with:
new business strategies in my head;
with the name for our upcoming TV program in my head, complete with video storyboard AND SCRIPT for the introduction sequence;
with instructions for what stocks and mutual funds to research and invest in;
with instructions about starting a specific college savings account for my child;
with financial instructions for this ministry; and more.
Do not be surprised if He does the same for you. Ask Him to instruct you in the night seasons.
Then, when you wake up feeling that you are supposed to do XYZ, TEST IT in the Word–making sure what you're feeling lines up with God's Word, the Bible. If it does, then go out and do it, get it, and see it through!
Pray this (or something similar) when you go to sleep at night:
"Father God, in Jesus' name, I dedicate my night of sleep to you. Father, please instruct me in the night seasons. Speak to me in visions, dreams, and visitations from You, Jesus, Your Holy Spirit, and Your holy angels. Help me to remember what You say when I wake up, also, and to steward it well.
Father God, please help me right now to fall asleep quickly. Help me to sleep deeply and soundly, without waking up until morning unless You need me to wake up. Protect me from anything that is not of You, and help me to hear Your counsel as I sleep.
When I awake, help me to behold You and obey You in everything You have given me to do. Thank You, Abba Father. I know You will do this, for You said You would in Job 33:15-16 and in Psalm 16:7. Thank You. In Jesus' name I pray, amen."
4. Sow, sow, sow, sow, SOW for "massive money" and "more massive money."
The Lord has had me in a whirlwind of prophetic words and sowing for "massive money," even when I didn't want to sow.
Yes, even when I didn't want to sow, the Lord has been telling me to sow all various amounts (depending on what I had available at each moment), and TWICE He's even asked me for all the cash I had in my purse–and once He asked me for a whole check I received in the mail.
Those gifts were painful. Not gonna lie.
Yes, giving those things hurt. Every time, I really wanted to keep that money. Every time, I felt like that money was an answer to my prayers, and I wanted to use it for something.
However, if you want to prosper, you have to sow where you want to go. And if you've never given God a gift that hurts, you've never entered onto real harvest territory.
I know this from personal experience AND from the Word. And every time the Lord has told me lately to sow, even though sometimes I didn't want to sow but I did anyway, God has had something different in mind–a HUGE harvest.
In just the last 2 weeks, the harvest has been fantastic for my family in insanely unexpected ways. I believe the Lord is bringing the harvest in for every person who sows faster than He ever has before.
Therefore, BE SURE, if you don't have seed in the ground, SOW and sow and sow and SOW AGAIN for "massive money" and even for "more massive money!" (Our giving links are here if you feel led to sow into this ministry.)
Related: Name Your Seed When You Sow an Offering
I shared the prophetic word and testimony about this in a video I recorded briefly yesterday, below. If you haven't seen this word, PLEASE run don't walk to watch it for your own sake:

I shared the prophetic word in detail in that video, so I won't repeat it here, except to say what the Lord told me on January 1, 2021:
THIS YEAR, if you'll think differently, you will no longer be able to use your bank's mobile deposit because the checks will be so big.
#Well #NuffSaid #WatchTheVideo 🙂
5. Finally, the anointing to save is upon you.
Focus on your savings right now. Be sure you have emergency savings. Contribute toward it every day.
Keep your savings in a separate account that you can get to easily in case of emergency. DO NOT keep your emergency savings in the same account as the rest of your money.
Beloved, those are the 5 things the Lord has shown me in the Spirit right now.
Please pray about them and activate them in your life if Holy Spirit bears witness to you. Also, be sure you have seed in the ground right now–even multiple seeds if the Lord leads you. It's crazy what God is doing right now, but it's good, and I want you to participate with Him and receive everything He has for you.
Love,
Jamie