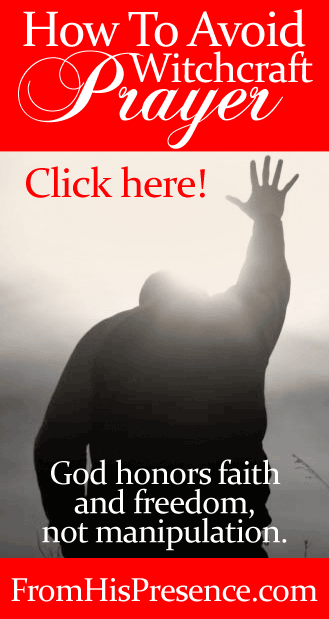 I've had people ask me lately to teach on spiritual protocol. Although the entirety of spiritual protocol is way too much for one blog post, I do want to delve into a subject today that is very, very important to anyone who wants to see God move in answer to prayer. That subject is witchcraft prayer.
Specifically: how do you avoid witchcraft prayer? And most importantly, how do you pray correctly such that your prayers actually get answered?
Related: On Christian Witchcraft
First, what is witchcraft prayer?
Witchcraft prayer is any prayer that is prayed out of a desire to manipulate another person. Prayers prayed in an attempt to manipulate may sound innocent and even spiritual. But manipulation is never from God.
Some examples of manipulative prayers would be:
"Dear God, I pray that Mr. Smith would give me that job."
"Father, I pray that the Jones family would give $1,000,000 to this cause. You know they have it to give."
"Lord, please make my husband start treating me right."
Prayers like this are commonly referred to as witchcraft prayers becauseit's like you're trying to speak incantations over a person to conjure up the result you want.
Praying like this is dangerous.
It opens doors to the enemy to operate in your life, and God can't honor a spirit of manipulation. (God honors freedom, not manipulation.) Therefore, we must avoid witchcraft prayers at all costs. [Read more…] about How To Avoid Witchcraft Prayer