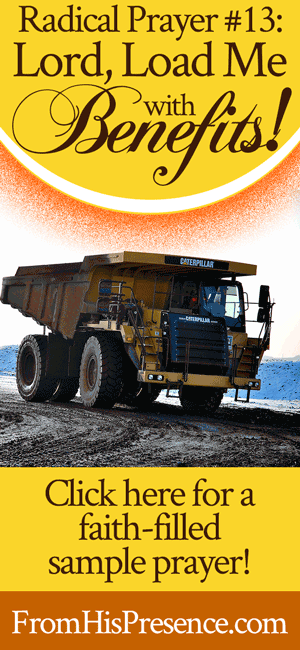 Would you like the Lord to load you up with good things–unexpected surprises, financial blessings, happy events, and more–EVERY DAY? If so, then pray this radical prayer: "Lord, load me with benefits!"
Psalm 68:19 says:
Blessed be the Lord, Who daily loads us with benefits, the God of our salvation! Selah."
I just noticed this Scripture recently. When I did, I was in awe.
Immediately upon reading this verse, I saw a mental picture in my mind's eye of a big Euclid ("uke") dump truck: the kind that is used on VERY heavy mining and earthwork projects.
Those trucks are HUGE; much bigger than a regular truck. (The driver may only be as tall as the tire!) They carry tons of material. They aren't for sissies; and when they are loaded, they are REALLY loaded.
Well, after I read Psalm 68:19, I saw a mental picture of one of those uke dump trucks.
[Read more…] about Radical Prayer #13: Lord, Load Me with Benefits!