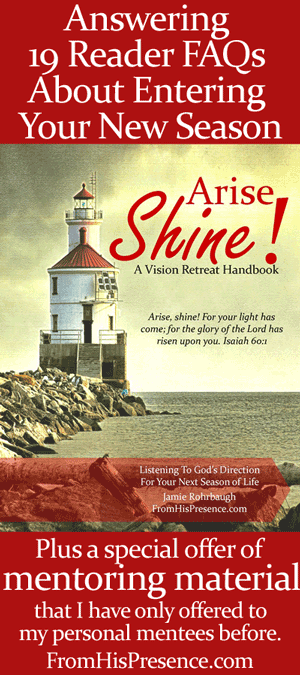 We've been talking about new seasons lately, because we're in a special time–a powerful, divine moment of new beginnings. And today, right now, can be a huge day for you.
If you want it to be.
Yup. This day marks the beginning of a whole new era in your life … or it can.
How and why? Because right now, the Lord is ready to release you into a new era of power, victory, and most importantly, intimacy with Him.
IF you get alone with God. IF you seek Him. IF you cooperate with His plan for your life and seek to obey His Word in all things.
Below, I am going to answer a ton of reader questions that you have sent me about entering your new season.
But first, I have a special resource for you that will help you if you'd like to use it. It's a tool that will help you start your new season right.
It's called "Arise, Shine: A Vision Retreat Handbook." I wrote this book for my personal mentees, and it provides you with the resources I use myself when I'm entering a new season.
"Arise, Shine" is a downloadable, printable, step-by-step guide that will help you walk through your personal vision retreat from beginning to end.
It's a workbook that includes 6 faith-building teaching sections about hearing God and developing intimacy with Him. It also includes exercises (with forms) on the following subjects:
Building a Memorial;
Soaking & Prayer;
Listening & Writing the Vision;
The Reason You Exist;
Your Mandate From Heaven;
Values & Priorities;
Defining Success for Yourself;
Your Personal Life;
Marriage & Family;
Children;
Finances;
Making Written Goals; and
Celebration.
With this resource, I also include awesome BONUS MATERIAL:
My personal tool for evaluating how I'm doing with life balance, the "Shine-O-Meter" (incorporates left brain and right brain and helps you stay on track);
My reading list form;
Personal vision forms for men and women; and
My personal weekly goal forms that I use (3 different versions for different walks of life).
All of these materials are downloadable, printable forms. (They are not available in hard copy format.) They are also formatted in the lighthouse design you see on the book cover above, to remind you of the Holy Spirit shining His light into your future. 🙂
This material will help you stay on track with the vision God gives you and keep shining all year long!
The price is $15, and trust me, it's worth more than that. It contains years' worth of mentoring and my learning about intentional living, as well as much spiritual truth. It's the best of the best of the best, because I made it for my spiritual sons and daughters. So you're getting the benefit of my pouring my life into them… for only $15.
So are you ready to map out your new season? If so, get Arise Shine today! It will be of invaluable assistance in helping you step purposefully and joyously into everything God has for your new season!
And now for your FAQs! I emailed our readers and asked you this:
If you heard Father God's voice speaking directly to you from Heaven and saying, "Beloved, I'm about to do a new thing in your life," what would be your top two questions in response?"
And I got a TON of answers from you. (Thank you for your help!)
Here are the questions you said you would ask the Lord, and my thoughts on each one:
(And no, I'm not pretending to be God. Just trying to provide any helpful thoughts I can. Some of the questions below are really just things for you to get alone with the Lord and ask Him. But for other questions, practical wisdom and guidance from the Word will be helpful.) [Read more…]