When God Pauses In the Middle of Your Breakthrough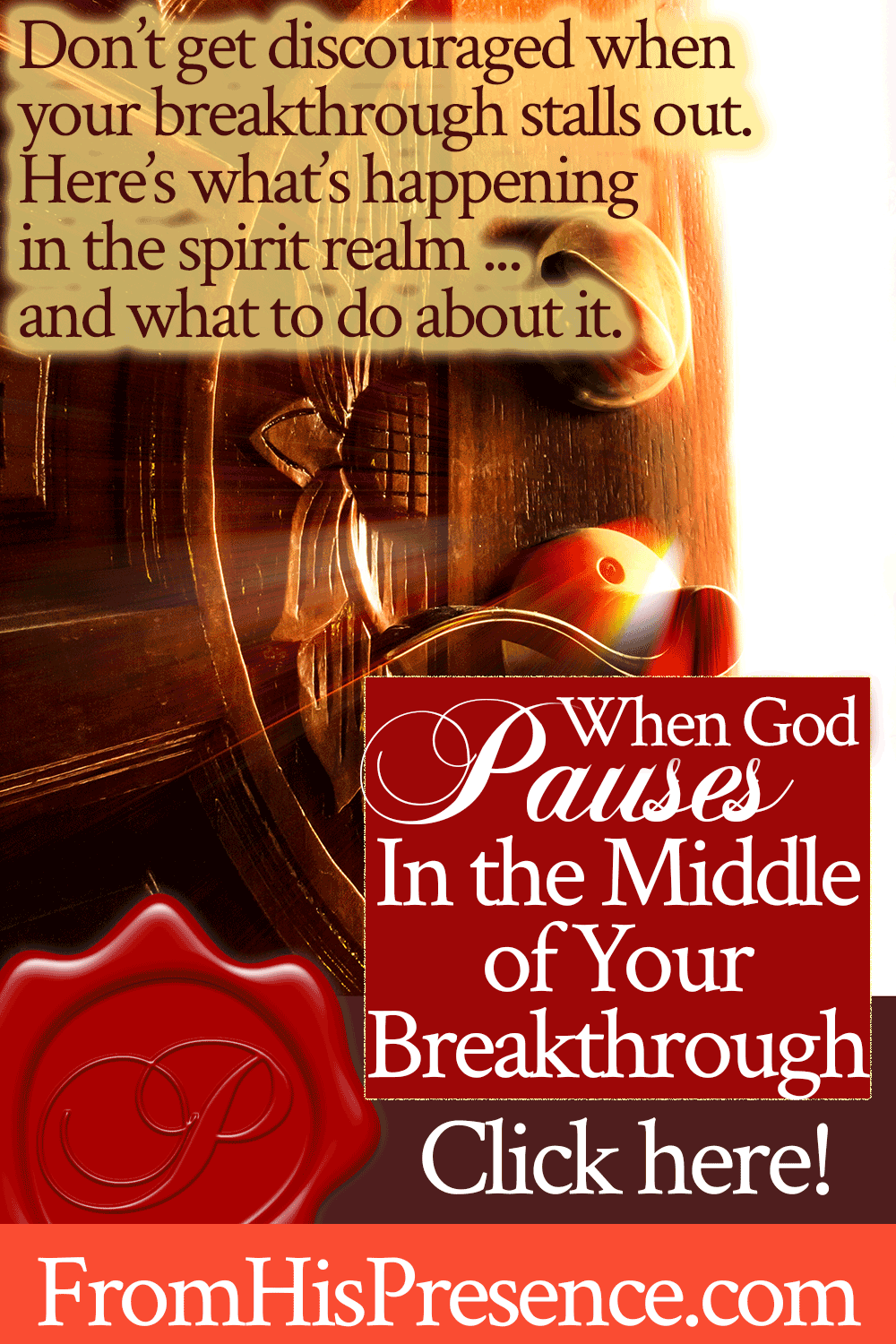 Hey beloveds, do you need a breakthrough? Has God started to bring the breakthrough you need–but you haven't seen the whole breakthrough you need yet? If so, I want to encourage you today not to stop believing when God pauses in the middle of your breakthrough. There IS a plan and a purpose for the pause; read on for more!
Beloved, you need to know this: there is a pattern to breakthrough.
There's not a hard, cold formula to breakthrough ("three fast songs, three slow songs, two hours of speaking in tongues, and a two-day fast on bread and water"). But there ARE keys to breakthrough and indicators of breakthrough. That's why we talked recently about 12 signs your breakthrough is imminent.
There is also a pattern to breakthrough–things God tends to do at the beginning, middle, and end of your miracle. The Lord talked to me about His breakthrough pattern quite a bit over the weekend, so I wanted to talk with you about it today.
Here are 3 components of God's breakthrough pattern:
1. Your breakthrough will often start after an extreme test.
God often allows you to be tested right before your breakthrough begins. Things will be cooking along, and you're standing in faith, praying, believing God for a miracle.
Then, suddenly, all hell seems to be loosed against you. You suddenly have to battle emotions, jealousy, discouragement, fatigue, hopelessness, and more–things that you don't usually battle.
If that happens to you, know that these things are a test. The enemy is trying to derail you so you'll fall into sin and miss your breakthrough. BUT, God allows you to be tempted because He knows you are able to win–and He wants you to SLAY THAT GIANT.
God knows you are strong in His strength, even when you don't feel like it.
He knows you are able to stand in Christ, even if you don't think you can.
He knows you are able to obey Him and stay in faith, stay resting, stay believing, and keep exhibiting the fruit of the Spirit–IF you choose to.
So He lets you be tested, but He is there to help you.
The things He commands you are not too hard, and He always provides a way of escape from any temptation the devil may throw at you. And if you choose to stand strong in Him and hidden in the secret place of the Most High, confessing His Word and believing Him, you will pass the test and be catapulted to your next level.
2. Your breakthrough will often begin after the darkest night.
Usually, when things feel so dark around you that you're tempted to give up hope, that's when your breakthrough is imminent. Again, hang in there and stay firm in Christ. Keep obeying Him, even if you don't see light ahead of you. Weeping endures for the night, but JOY comes in the morning.
3. God often pauses in the middle of your breakthrough.
When He does this, He's testing you. Boy oh boy, is He testing you! BUT …
He's not testing you to see if now is the time for breakthrough. Your breakthrough has already begun by the time you get to this point. It's obvious that He's giving you breakthrough.
BUT, Papa God will often pause in the middle of your breakthrough to see how much breakthrough is enough for you, and also to see if you are going to let Him be Lord even of this breakthrough.
He's testing you to see if you'll be satisfied by small, or if you'll keep believing for BIG.
If you have asked Him for specific opportunities, He might send you a smaller one first–then pause to see if that's going to satisfy you. (Hint: He wants you to NOT be satisfied until you see the FULLNESS of what you prayed for, not just the mercy drops that are His signs of land to you.)
If you've asked Him for a specific amount of money, He might send the first 30%, 40%, or 50%–and then pause. He pauses to see if you'll compromise what you need.
It's like He steps back and looks at you with a quizzical expression on His face.
Then He asks you, "Is this what you asked Me for?"
When that happens, the enemy will tempt you to say "Yes, Lord, that's enough." But you know what? Father God does NOT want you to say it's enough. Instead, HE wants you to say:
"Lord, it's a start. Thank You for that 30%. Thank You for that 50%. But Lord, it's not what I asked for, and I'm putting You to the test here. So keep it up, and bring me the rest of my breakthrough–and I'm going to sit right here and act like You are doing just that, because You ARE."
When God pauses in the middle of your breakthrough, He wants you to contend.
"Contend," not "content."
Yes, in all things you should be content. I get that, but that's not what we're talking about here. We're talking about how God delivers breakthrough. How He delivers miracles. And how He delivers miracles and breakthrough doesn't always look like you think it will look.
Big breakthroughs don't always look like a HUGE miracle slapping you in the face while you sleep.
Sometimes you get a little miracle …
… then a pause, while God sees if you really believe Him for more …
… then a bigger miracle, while God sees if you're going to push Him …
… then another pause, while God tests you to see if you really believe Him for more …
… then a bigger miracle still … and a bigger miracle … and a bigger miracle …
… Because if you pass the test, it's obvious that you DO believe God for everything you originally asked Him for. And when that becomes obvious, He'll keep dumping it on.
Make sense?
It's a pattern. It's God's way. It's the same way Jesus told the woman who begged Him to heal her daughter that healing was the children's bread. But all the while, He wanted to heal her. He just waited a minute–and needled her a bit–to see how serious her faith was.
Beloved, Papa God wants to know how serious your faith is.
He also wants to know if He will still be Lord over your breakthrough if He gives it to you. For that reason, He will often test you in the middle of your breakthrough to see if you'll still let Him reign over it. And when God pauses in the middle of your breakthrough, it's a test.
The test is real, too. For example:
He may give you half of that money you need, but then ask you to bless someone else with part of it. The test then becomes, will you believe Him to replace the part you give away–AND give you the rest of what you need? Or, secretly, do you believe that He may not give you everything you need after all–so you had better hang on to what you have?
God tests me like this all the time.
I'll be transparent with you: the tests so far have always been challenging. Not one time have I thought, "Oh hey, God's testing me. But this is NO problem."
It would be awesome if I had thought like that. It would be awesome not to struggle. But, in reality, each time the test has been a true test. I've had to smell what God was doing, hear His instructions, and then get out my faith-hammer and actively smash those lies and temptations of the enemy that say to "hold onto that money (or whatever) because God might not come through."
But every time I have made the choice to believe God and obey–and to hang on for full breakthrough, not just for mercy drops–He has come through.
With full breakthrough.
Actually, with overflowing breakthrough.
Exceeding abundant breakthrough above all I could dare to ask, hope, or think.
Every time.
Why? Because He's a good, good Father, and He is an ABUNDANT Papa who is eager to pour out on His beloved children.
That means He's eager to pour out on you.
Are you contending for breakthrough? Don't stop.
Are you contending for more breakthrough? Don't stop.
Are you being tested to see if you really believe God for what you originally asked for–or if you will be satisfied with His mercy drops, even though those drops alone don't really meet your need? Don't settle.
Are you being tested to see if Jesus will really be your Lord in all areas, even after you get your miracle? Don't give in to pride. Stay humble; stay submitted to His Lordship.
It's always worth it.
Contend. Believe. Stand on God's promises, which are clearly written in His Word.
His answer will be worth the fight.
Does this word resonate with what's happening in your life? Does it help you see the things you're going through more clearly? If so, leave a comment below. I'd love to hear from you!