10 Times to Believe God Anyway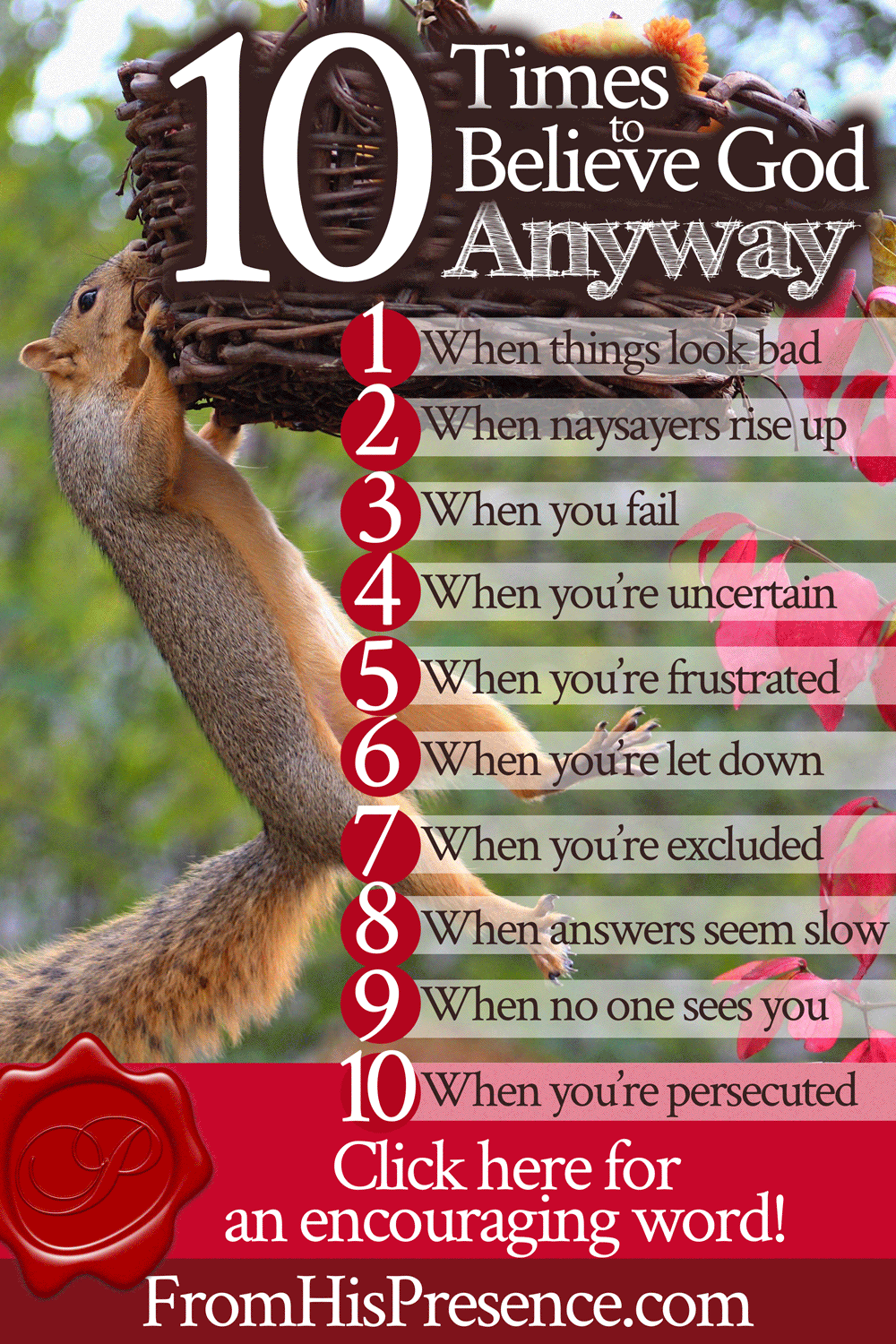 Friend, are you struggling right now to stand firm in your faith, despite what you're going through? If you need some encouragement today, here are ten times to believe God anyway–with faith-building exhortation for you, even in the hardest times.
First, beloved, no matter what you're going through, you are definitely NOT alone. We are all going through things that challenge our faith.
Nevertheless, we don't have to worry, because He who promised is faithful. Second Timothy 2:11-13 says this:
"This is a faithful saying:

For if we died with Him, we shall also live with Him. If we endure, we shall also reign with Him. If we deny Him, He also will deny us. If we are faithless, He remains faithful; He cannot deny Himself" (2 Timothy 2:11-13 NKJV).
Know this: God can't put on and take off His faithfulness like a garment; faithfulness is who He is.
He cannot deny Himself. That means He cannot be anything less nor be anything other than who He is. And who He is is "faithful." He IS Faithfulness Itself; Faithfulness Incarnate (incarnate in the case of Jesus); Faithful through and through.
Therefore, because the entirety of His DNA, His nature, and His very self is faithful, He would actually have to get off His throne, self-destruct (because no one else can harm Him, so He'd have to do the deed Himself), and cease being God … all in order to let you down.
The good news is, my friend, none of those bad things are going to happen. 🙂
God is not going to get off His throne; He is not going to self-destruct; He is not going to cease being God …
… And He is never going to let you down.
Praise Jesus! I'm encouraging myself, even as I write this! God is HOLY and FAITHFUL!
Let me also say that, even though this study guide is called "10 Times to Believe God Anyway," IN NO WAY am I saying that you shouldn't believe God all the time.
Of COURSE, yes, you should believe God all the time. 🙂 Don't just limit your belief in God to these ten occasions.
Doubt and unbelief are sin; God hates doubt and unbelief! He commands us to believe His Word all the time because He is faithful and true, and He can be depended upon.
As it says in John 14:6:
"Jesus said to him, 'I am the way, the truth, and the life. No one comes to the Father except through Me'" (John 14:6).
And as the Bible also affirms in Revelation 3:14:
"And to the angel of the church of the Laodiceans write, 'These things says the Amen, the Faithful and True Witness, the Beginning of the creation of God'" (Revelation 3:14).
However, there are some specific times in life when it's good for us to remind one another to believe God–or remind one another to believe Him anyway. 
We need one another; we need to strengthen and encourage each other in the Lord. And that, my friend, is my goal with this study guide.
Beloved, I want to encourage and exhort you today to believe God anyway by looking at ten specific occasions when you should remember that God is Faithful.
My goal is to help you see that God already has your situation covered. The Bible tells us that no temptation has overtaken you but such as is common to man; in other words, we all go through the same things!
Nevertheless, God is faithful. In every situation, He has provided a way of escape–and that "way of escape" is HIMSELF!
As it says in 1 Corinthians 10:13:
"No temptation has overtaken you except such as is common to man; but God is faithful, who will not allow you to be tempted beyond what you are able, but with the temptation will also make the way of escape, that you may be able to bear it" (1 Corinthians 10:13).
And also in Psalm 91:1-16:
"He who dwells in the secret place of the Most High shall abide under the shadow of the Almighty. I will say of the Lord, 'He is my refuge and my fortress; My God, in Him I will trust.

Surely He shall deliver you from the snare of the fowler and from the perilous pestilence. He shall cover you with His feathers, and under His wings you shall take refuge; His truth shall be your shield and buckler.

You shall not be afraid of the terror by night, nor of the arrow that flies by day, nor of the pestilence that walks in darkness, nor of the destruction that lays waste at noonday.

A thousand may fall at your side, and ten thousand at your right hand; but it shall not come near you. Only with your eyes shall you look, and see the reward of the wicked.

Because you have made the Lord, who is my refuge, even the Most High, your dwelling place, no evil shall befall you, nor shall any plague come near your dwelling;

For He shall give His angels charge over you, to keep you in all your ways. In their hands they shall bear you up, lest you dash your foot against a stone.

You shall tread upon the lion and the cobra, the young lion and the serpent you shall trample underfoot.

'Because he has set his love upon Me, therefore I will deliver him; I will set him on high, because he has known My name. He shall call upon Me, and I will answer him; I will be with him in trouble; I will deliver him and honor him.

With long life I will satisfy him, and show him My salvation'" (Psalm 91:1-16 NKJV).
Beloved, no matter what you're going through, right now is the time to believe God anyway.
Do any of the ten types of circumstances below apply to you? Read on and find out!
1. Believe God anyway when things look bad.
In John 7:24, Jesus taught us not to look at appearances. He said this:
"Do not judge according to appearance, but judge with righteous judgment" (John 17:24 NKJV).
"Righteous judgment" means to test and discern things based on God's Word. As it says in Isaiah 8:20 (one of my absolute favorite Scripture verses!):
"To the law and to the testimony! If they do not speak according to this word, it is because there is no light in them" (Isaiah 8:20 NKJV).
So even if things look really bad right now–for example:
You have a dream for your life that makes you cry, gasp, yearn, and whisper when you even think about it–but you can't afford your dream right now. Your dream just doesn't look possible.
You got a diagnosis from a doctor, and it's bad news.
Your spouse filed divorce papers, and you don't see any way God could heal this marriage–yet you want Him to.
You're fighting for custody of your children, but the enemy seems to be derailing the process on every side–and the custodial parties are not treating your babies well.
You've been hired at 35 jobs, but you can't seem to stay hired at any of them.
You seem to have more month than you have money; there isn't enough money to go around, and the bills are piling up.
Beloved, these are just a few scenarios that could be plaguing you as you read today. (Insert the circumstances of your own life in this list in your own mind as you read.)
However, no matter what your specific bad circumstance is, God's Word is still true.
He is still Faithful. You can still choose to believe God anyway.
How?
Get out your Bible and read it until you find a Scripture verse (or multiple verses) that address your situation.
When you do, pray that verse back to God!
Continually remind yourself of His promises.
Remind yourself of who He is!
Lay hands on your own head and strengthen yourself in the Lord.
"Gird up your loins," as they used to say, and RUN after God with endurance, no matter what is happening in your life right now.
Remind yourself of all the times God has already come through for you in the past! It will cheer you up.
Give effusive thanks to God, even if you haven't seen your miracle yet.
And then …
2. Believe God anyway when naysayers rise up.
Let's face it: only a few people will believe in you in life. Even fewer people will believe in your dreams.
And unfortunately, all too often, people feel the "need" to inform you about their doubt, unbelief, criticism, skepticism, and lack of agreement.
Beloved, if you have naysayer who is someone with authority or influence in your life (like your spouse, pastor, or supervisor at work), listen to what they say and take it to the Lord.
If it lines up with God's Word and wisdom, according to Isaiah 8:20, then you need to accept the feedback and regroup.
If, however, you have ungodly, unholy naysayers in your life that are trumpeting the voice of the devil (the voice of doubt and unbelief against God) …
… As evidenced by the fact that their words DO NOT line up with God's WRITTEN Word, the Bible …
Reject all those unholy naysayings, and reject them immediately.
To do this:
Speak out loud: "I reject that lie in Jesus' name."
If you already came into agreement with it, but now you realize that what they said was a lie, you need to say: "I renounce and reject those lies in Jesus' name. Father God, fill me with Your Holy Spirit and Your Word where those things were. Foul spirit of doubt and unbelief, leave me in Jesus' name. Holy Spirit, please fill me and bring to my remembrance all things that You and Jesus have said to me, and help me to chase only truth."
And then speak the Word of God over your situation! The Word of God is what brings your miracle forth!
Take Your Territory Podcast
In Episode of Take Your Territory with Jamie Rohrbaugh, Jamie taught on 3 Ways Ungodly Naysayers Manifest (and What To Do About Them). Listen to this helpful, empowering podcast by clicking the button below!
In Luke 8:51-56, Jesus had been asked to heal Jairus' daughter, who was ill.
Jesus knew He could heal her, and He knew Jairus had faith for her to be healed. However, the people around Jairus did not have matching faith. This passage says:
"When He came into the house, He permitted no one to go in except Peter, James, and John, and the father and mother of the girl. Now all wept and mourned for her; but He said, 'Do not weep; she is not dead, but sleeping.' And they ridiculed Him, knowing that she was dead.

But He put them all outside, took her by the hand and called, saying, 'Little girl, arise.' Then her spirit returned, and she arose immediately. And He commanded that she be given something to eat. And her parents were astonished, but He charged them to tell no one what had happened" (Luke 8:51-56).
Chase That Squirrel!
In the passage above (Luke 8:51-56), notice that Jairus' daughter's spirit returned when Jesus called her back from the dead. Your spirit is what goes to Heaven when you die, and the presence or absence of your living spirit is what makes your earthly body dead or alive.
Why did Jesus put all the people out of the sickroom?
Because they didn't believe! They were professional mourners whose job security relied on someone being dead! They had no faith for this little girl to be raised from the dead, and they didn't believe it when Jesus told them she was only sleeping.
So Jesus kicked the scoffers and naysayers out. He went on to work a miracle; He raised that little girl from the dead. But faith works best when surrounded by faith.
Friend, you may have naysayers in your life too. But if you do, I pray that you will earnestly evaluate whether or not you should let them be as close to you as they are.
It may be time to realign your boundaries and relationships so you can kick the scoffers out, too.
Even if you can't remove scoffers from your life completely (e.g. they're in your family), you can at least remove them from your inner circle. You can take their words of doubt and unbelief out of your ears.
Neither you nor your dreams can thrive if words of death are constantly being spoken into your ears. Get some friends who speak life, or satisfy yourself just with Jesus. But, like Jesus, kick that voice of scoffing out so you can truly live.
3. Believe God anyway when you fail.
Failure is a fact of life. Failure happens. Nobody enjoys it; few people anticipate it. (After all, if we planned to fail, we would never begin a thing in the first place.)
But when we fail, the devil will tempt us to just stop altogether–to quit. Here's an example:
Once upon a time, I hired a new employee.
We were so excited about hiring this new team member! We knew it was the Lord; they were a fantastic hire. And they started right away doing a fantastic job. We were also excited because we were going to be able to mentor this employee in the Lord. Everything was perfect.
But then one day, this new team member told me how excited they were because they were going to do XYZ. And XYZ was something that they hadn't asked me about; something that I prefer to handle myself; something that, honestly, I'm quite protective of.
But this person didn't know that; and honestly, they probably wouldn't have thought about it.
But did I stop to think about all that? Did I demonstrate good, godly leadership by curbing my tongue and talking to them about the situation the way the Lord would?
No.
Unfortunately, I let the proverbial hammer fall instead. I just looked at them as they shared their excitement about what they were going to do–and I said:
"No, you're not."
#facepalm
I know. Horrible, right? It WAS horrible. It was horrible of me. Absolutely no people skills in my response at all. And I didn't mean to be overbearing or come down hard on this person. I didn't want to hurt them for the world.
I just didn't stop to put together a godly, kind response. I totally failed as a leader:
failed to walk in love;
failed to be respectful and appreciative of this teammate's enthusiasm;
failed to demonstrate godly leadership;
failed to think before I spoke; etc.
I really felt bad about it, too. Holy Spirit immediately rebuked me. And of course, my words had really hurt that team member.
As soon as I realized what I had done, I apologized to them in person. And later, I sent them a text message to reiterate my sorrow over the way I had treated them, and to affirm them and let them know how important they are and how grateful I am for them, and for their attitude.
But man, the devil ate me up over that even after Holy Spirit was done convicting me, and even after I had done what I could to make it right.
Why? Because I had failed. Failed, failed, failed, failed, failed–and hurt someone too. So then all the nasty demon darts were coming at me left and right, trying to get me to quit and stop even trying to lead or minister. (Because the devil will tell you that one failure means you're completely disqualified.)
All I could do was repent, make things right, command the demons to leave, and pray deeply over the situation. Because unfortunately I did fail, but one failure doesn't mean that I should stop obeying God and give up His call on my life.
Neither would 1,000,000,000,000 failures mean that I should stop obeying God and cease walking in His call on my life.
And even if YOU fail 1,000,000,000,000 times, YOU should also not stop obeying God, pursuing Him, and doing your best to walk in HIS call on your life.
Because failure happens, and God knows we will sometimes fail. We are His creation, after all. He knows us inside and out.
But He is merciful.
Psalm 103:14 reminds us of how understanding God is when we fail:
"For He knows our frame; He remembers that we are dust" (Psalm 103:14 NKJV).
Beloved, your failure is not forever. When you fail, you can pick yourself up and start over.
Psalm 37:23-24 says this: that even if you've fallen, you're getting right back up … because THE LORD is the One who is upholding you with His hand:
"The steps of a good man are ordered by the Lord, and He delights in his way. Though he fall, he shall not be utterly cast down; for the Lord upholds him with His hand" (Psalm 37:23-24 NKJV).
And Proverbs 24:16 says that, even if you fail over and over again, you can still rise again and get another chance to succeed:
"For a righteous man may fall seven times and rise again, but the wicked shall fall by calamity" (Proverbs 27:16 NKJV)
So don't let failure stop you. I know it hurts. Failure can be embarrassing, hurtful, and discouraging. But when you fail, give it to God. Ask Him for His help, His grace, and His mercy–those mercies that are new every day.
And remember that weeping may endure for a night, but JOY comes in the morning.
4. Believe God anyway when you're uncertain.
Situations can be hard and confusing sometimes. However, confusion is never from the Lord. And even if you're uncertain about:
where to go;
what to do;
how to get there;
how to pay for it;
what is the proper timing;
what to do next, then next, then next;
what your future will look like; or any other thing …
God is Master over all uncertainty.
And He has promised to lead you in His paths of wisdom, showing you every step you need to take–just when you need to take it. He will do this by His Holy Spirit, and this process is called "giving you wisdom."
Wisdom is Holy Spirit applying Himself to your situation to lead you through with victory and godliness. And James 1:2-8 reassures you that God will give you the wisdom you need:
"My brethren, count it all joy when you fall into various trials, knowing that the testing of your faith produces patience. But let patience have its perfect work, that you may be perfect and complete, lacking nothing.

If any of you lacks wisdom, let him ask of God, who gives to all liberally and without reproach, and it will be given to him. 

But let him ask in faith, with no doubting, for he who doubts is like a wave of the sea driven and tossed by the wind. For let not that man suppose that he will receive anything from the Lord; he is a double-minded man, unstable in all his ways" (James 1:2-8 NKJV).
And one of my favorite Scriptures, Psalm 32:8-10, says this:
"I will instruct you and teach you in the way you should go; I will guide you with My eye.

Do not be like the horse or like the mule, which have no understanding, which must be harnessed with bit and bridle, else they will not come near you.

Many sorrows shall be to the wicked; but he who trusts in the Lord, mercy shall surround him" (Psalm 32:8-10 NKJV).
God is always faithful, and you can believe Him when He says He will lead you. Don't look at circumstances. Don't look at the uncertainty facing you. Just believe God anyway, and He will see you through with victory.
5. Believe God anyway when you're frustrated.
Are you feeling frustrated today? You can still believe God anyway.
I know it's hard. To be honest, I have found that I always have to really dig into the Word extra, and spend extra one-on-one time with God in prayer, in order to get through a frustrating season and get encouraged again. I've also found that, in general, people who are frustrated (including myself) need to get some rest, so they can get their peace back.
However, no matter what the source of frustration is, the Lord will help you and bring you peace.
Your frustration could be coming from any number of situations, such as:
Perhaps you're frustrated because you've been praying for a specific miracle a long time, and you haven't seen the thing for which you're praying manifest yet.
You could be frustrated with the way other people behave.
It's possible that you're frustrated because it's taking you a lot longer to reach your goal than you anticipated.
Or, maybe you're frustrated because you're exhausted and in need of rest. So, your fuse is short and you know nothing will feel right until you get some quiet time to clear your head.
You could even be frustrated by the cacophony of people's voices demanding your attention–demanding that you serve them–while no one seems to care that you are upset and overwhelmed yourself.
It could bother you (a lot!) that stressors and demands never end.
Maybe you even feel frustrated by people who take, take, take from you–draining you dry physically, spiritually, mentally, emotionally, or even financially–but never give anything back.
I have certainly struggled with various frustrations like this. I'm sure you also could write your own list of all the things that produce frustration in your life.
However, beloved, even though we all experience frustration–and even though we all face situations that we feel like are a dead-end street, where there is no hope for change or improvement–we can still claim this promise from the Lord:
"But may the God of all grace, who called us to His eternal glory by Christ Jesus, after you have suffered a while, perfect, establish, strengthen, and settle you" (1 Peter 5:10 NKJV).
I know it doesn't feel like it sometimes, but the truth is that there IS hope for things to get better.
There IS a light at the end of the tunnel. You do have opportunity to:
Renovate your priorities;
Lock your door so that your family members can't disturb your few solitary moments of prayer;
Change your health every day for a 1% daily improvement;
Start saying "no" to things (remember that "no" is a complete answer);
Hire a babysitter for a night of peace and quiet;
Hire a housekeeper for a one-off thorough housecleaning–or even an ongoing cleaning service;
Establish boundaries for the sake of your own peace of mind; and
Start saving for that dream car now, so you can purchase it by Christmas, New Year's, or your birthday.
Beloved, whatever is frustrating you, there IS a solution!
Over the years, I have discovered that when an answer to prayer just seems like it will never come, it's usually because the Lord has put a solution in front of us–but it's a solution we don't like, and WE have failed to take the first step.
If that's you, step out in faith this very day. Knowing that God is faithful, believe that He will order your steps as you move forward, one tentative toe at a time.
And as you go, miracles will happen. God will settle you, bring peace to your path, and bring you out of this season of frustration and upset.
6. Believe God anyway when someone lets you down.
People will let you down. Even if they don't mean to, people will still let you down. That's just a fact.
It's not that people mean to let you down. They might not ever have meant to let you down at all. But, we live in a sinful world and all of us are imperfect human beings. Not a single one of us has been conformed exactly to the image of Christ yet; we're all still on our way.
And that means that sometimes we make bad decisions that hurt other people, or that let them down.
If you have let someone down, do everything you can to make it right.
This means you should:
admit what you did (assuming, of course, that you really did something wrong);
admit that your action hurt the other person;
apologize to them;
repent to God;
ask both God's forgiveness and ask the person's forgiveness.
Then, follow whatever steps you need to take to make restitution for your error.
But if someone ELSE has let you down, there are two things to do:
Confront them if they hurt you, according to Jesus' instructions for the handling of confrontation according to Matthew 18.
After that, beloved, just continue to keep in mind that all of us are human–even you. 🙂 And just as we have to be humble enough to admit that sometimes we let other people down, we also have to be merciful enough to forgive and show compassion when someone else lets US down.
Even Jesus did this. John 2:24-25 tells us that even Jesus kept it in mind that people will let you down:
"But Jesus did not commit Himself to them, because He knew all men, and had no need that anyone should testify of man, for He knew what was in man" (John 2:24-25 NKJV).
Friend, the only person you can depend on 100% of the time is God Himself.
I'm not being mean or cynical by saying that; I'm being truthful. God is the only One who is perfect. So let's keep our eyes on Jesus, the Author and Finisher of our faith, and be merciful to the people around us, okay?
7. Believe God anyway when people exclude you.
When everybody was invited to the birthday party except for you …
When the newcomer is invited to preach, but you've been there for years and nobody even lets you share your testimony …
When all the people around you are going out to lunch together, but they never invite you …
When people at the water cooler talk and laugh, but they stop as soon as you get there …
Rejection hurts.
Rejection hurts in any form; but again, it does happen to all of us.
Let's take Jesus, for example. Jesus was rejected practically everywhere He turned. Isaiah 53:3 describes how people treated Him:
"He is despised and rejected by men, a Man of sorrows and acquainted with grief. And we hid, as it were, our faces from Him; He was despised, and we did not esteem Him" (Isaiah 53:3 NKJV).
Also, First Peter 2:4-6 in the Bible says this:
"Coming to Him as to a living stone, rejected indeed by men, but chosen by God and precious, you also, as living stones, are being built up a spiritual house, a holy priesthood,

to offer up spiritual sacrifices acceptable to God through Jesus Christ. Therefore it is also contained in the Scripture,

'Behold, I lay in Zion a chief cornerstone, elect, precious, and he who believes on Him will by no means be put to shame'" (1 Peter 2:4-6 NKJV).
Beloved, even if you're being rejected left and right …
Even if you're being excluded from everything …
Jesus knows what it feels like, and HE has not rejected you.
You are accepted in the Beloved (Jesus), according to Ephesians 1:6. And God made you to be HIS portion, not someone else's portion.
This does not mean that God is preventing you from having friends. God wants to give you friends, and He will if you pray and follow His leading to find those friends.
However, Isaiah 43:1-7 tells us that God made and created you on purpose FOR HIMSELF:
"But now, thus says the Lord, who created you, O Jacob, and He who formed you, O Israel: 'Fear not, for I have redeemed you; I have called you by your name; you are Mine.

When you pass through the waters, I will be with you; and through the rivers, they shall not overflow you. When you walk through the fire, you shall not be burned, nor shall the flame scorch you.

For I am the Lord your God, the Holy One of Israel, your Savior; I gave Egypt for your ransom, Ethiopia and Seba in your place.

Since you were precious in My sight, you have been honored, and I have loved you; therefore I will give men for you, and people for your life.

Fear not, for I am with you; I will bring your descendants from the east, and gather you from the west; I will say to the north, 'Give them up!' and to the south, 'Do not keep them back!'

Bring My sons from afar, and My daughters from the ends of the earth—everyone who is called by My name, whom I have created for My glory; I have formed him, yes, I have made him" (Isaiah 43:1-7 NKJV).
Beloved, people may exclude you and reject you, but you are GOD'S inheritance.
And He is very possessive of you. He wants you; He created you for Himself. And if you will draw near to Him, He will heal you of all the damage that sinful, unkind, inconsiderate people did to your heart when they rejected you.
Then, if you ask, He will bring you godly friends who treat you well–and who will walk in relationship with you like HE wants them to, even if they mess up sometimes in their humanness. 🙂
8. Believe God anyway, even when His answers seem slow.
God sometimes takes His sweet time to answer our prayers. That's a fact.
But you know what? His timing is perfect. And even though He sometimes takes awhile to bring us the total manifestation of His answers to our prayers, when He gives us the thing, He usually does it suddenly.
As it says in Habakkuk 2:2-4:
"Then the Lord answered me and said:

"Write the vision and make it plain on tablets, that he may run who reads it. For the vision is yet for an appointed time; but at the end it will speak, and it will not lie. Though it tarries, wait for it; because it will surely come, it will not tarry.

Behold the proud, his soul is not upright in him; but the just shall live by his faith" (Habakkuk 2:2-4 NKJV).
Slowness is a thing in the Kingdom of God.
It's often said that we are a microwave generation, but we serve a slow-cooker God … and that is true. Nevertheless, God does a perfect job at whatever He cooks up for us. And He is too good to give us the thing we have asked for when:
Either the timing is not right, such that the thing obtained now would mess other things up; or
The timing would interfere with His plan to refine our hearts and make us more like Him.
God's ultimate desire is for us to be perfected; to conform us to the image of Christ.
His ultimate desire is not for us to be comfortable all the time. Catering to our constant comfort would make us spoiled children. But, God does not raise spoiled children; He raises disciplined, loving, obedient, joy-filled children who have learned to crucify the flesh so they can walk in the Spirit.
Therefore, my friend, remember these words from Psalms when you need encouragement about the SLOW work of God:
"Wait on the Lord; be of good courage, and He shall strengthen your heart; wait, I say, on the Lord!" (Psalm 27:14 NKJV).

And

"Wait on the Lord, and keep His way, and He shall exalt you to inherit the land; when the wicked are cut off, you shall see it" (Psalm 37:34 NKJV).
God may send the answer to your prayer slowly sometimes, but believe Him anyway–and take the time to thank Him for all the rapid answers that He also sends. (He does both, you know!)
No matter what His timing is, you can trust Him. He is worthy of your faith. You will never be disappointed if you keep your faith and hope in Him!
9. Believe God anyway when no one else sees you.
One of the deepest cries of a person's heart is to be seen; to be known. And in this busy, fast-paced world, all too often people go through the day thinking and feeling like no one even noticed that they existed that day.
Beloved, if you feel unseen, take a moment to read Matthew 6:25-34 below. These words from Jesus Himself reassure you that Father God always sees you:
"'Therefore I say to you, do not worry about your life, what you will eat or what you will drink; nor about your body, what you will put on. Is not life more than food and the body more than clothing?

Look at the birds of the air, for they neither sow nor reap nor gather into barns; yet your heavenly Father feeds them. Are you not of more value than they? 

Which of you by worrying can add one cubit to his stature? So why do you worry about clothing? Consider the lilies of the field, how they grow: they neither toil nor spin; and yet I say to you that even Solomon in all his glory was not arrayed like one of these.

Now if God so clothes the grass of the field, which today is, and tomorrow is thrown into the oven, will He not much more clothe you, O you of little faith?

Therefore do not worry, saying, 'What shall we eat?' or 'What shall we drink?' or 'What shall we wear?' For after all these things the Gentiles seek. For your heavenly Father knows that you need all these things. 

But seek first the kingdom of God and His righteousness, and all these things shall be added to you. 

Therefore do not worry about tomorrow, for tomorrow will worry about its own things. Sufficient for the day is its own trouble" (Matthew 6:25-34 NKJV).
O my friend, not only does God see you, but He saw you and knew you before you were even born.
Jeremiah 1:5 says so:
"'Before I formed you in the womb I knew you; before you were born I sanctified you; I ordained you a prophet to the nations'" (Jeremiah 1:5 NKJV).
So even if you feel like no one sees you, God sees you. You are His. You belong to Him, and He is jealous over you.
God's Spirit is hovering and brooding over you right now. He has not left you an orphan; He lives inside your heart and will always be with you.
Deuteronomy 31:8 says this:
"And the Lord, He is the One who goes before you. He will be with you, He will not leave you nor forsake you; do not fear nor be dismayed" (Deuteronomy 31:8 NKJV).
O beloved, our Heavenly Father sees your every movement.
He catches all your tears in His bottle. He wrote all your days in His book before any of them existed–before you even existed on the earth! He loves you with an everlasting love, and He will never leave you nor forsake you.
Believe God, my friend. Even if you feel unseen (and I KNOW that is a hard situation; I have been there too!), Father sees you. He knows you inside and out, and His love for you is magnificent and all-consuming.
Rest in Him. Trust Him, and believe God even if you are in a place of hiddenness from the world.
10. Believe God anyway when people persecute you.
I wish for my own flesh's sake that I could say I have never been persecuted, but it would be a lie. If you're being persecuted today, I understand. More importantly, though, God understands.
Jesus was persecuted, and He warned us that we would be persecuted too. He did, however, say that there would be a reward for the persecution we endure:
"Blessed are those who are persecuted for righteousness' sake, for theirs is the kingdom of heaven. Blessed are you when they revile and persecute you, and say all kinds of evil against you falsely for My sake. 

Rejoice and be exceedingly glad, for great is your reward in heaven, for so they persecuted the prophets who were before you" (Matthew 5:10-12 NKJV).
And in Mark 10:29-30, Jesus said this:
"So Jesus answered and said, "Assuredly, I say to you, there is no one who has left house or brothers or sisters or father or mother or wife or children or lands, for My sake and the gospel's, 

who shall not receive a hundredfold now in this time—houses and brothers and sisters and mothers and children and lands, with persecutions—and in the age to come, eternal life" (Mark 10:29-30 NKJV).
Persecution happens, but you can believe God anyway–even in the face of persecution.
Jesus said that, if they persecuted Him, people will also persecute us. Nevertheless, we must forgive and look to GOD for our reward. As it says in Romans:
"Beloved, do not avenge yourselves, but rather give place to wrath; for it is written, 'Vengeance is Mine, I will repay,' says the Lord" (Romans 12:19 NKJV).
But even if you are being persecuted today, my friend, the Lord is good. He still sees you and knows everything you are going through. After all, He has been through it Himself. And He will be faithful to you no matter what.
Trust Him!
Beloved, no matter what is going on in your life, just believe God anyway.
Step out into the great unknown of untarnished, uncompromising faith in the Word of God. God is not a man, that He should lie. His Word is true. As we read in Numbers 23:19:
""God is not a man, that He should lie, nor a son of man, that He should repent. Has He said, and will He not do? Or has He spoken, and will He not make it good?" (Numbers 23:19 NKJV)
I know things can seem really hard (or BE really hard!) when God takes His sweet time to answer our prayers. I get it; I do! We all experience that! God's timing is His own, and only He knows the exact moment when He will break through with your GIANT miracle!
However, beloved, He will come through for you.
Find a Scripture verse in the Bible where He promises to do exactly what you need in your life. Then:
Believe that Scripture;
Write it down;
Memorize it;
Pray it back to Him every day.
Hey, I pray God's promises back to Him over and over even on the same day! He doesn't mind; that's what He calls faith.
No matter what you are going through, you can trust God. Stand on His Word and believe Him anyway. He will show Himself faithful to you, for His Word is good and our Father can be trusted.
Do you choose to believe God anyway today? If so, leave a comment below and confess your faith in writing!