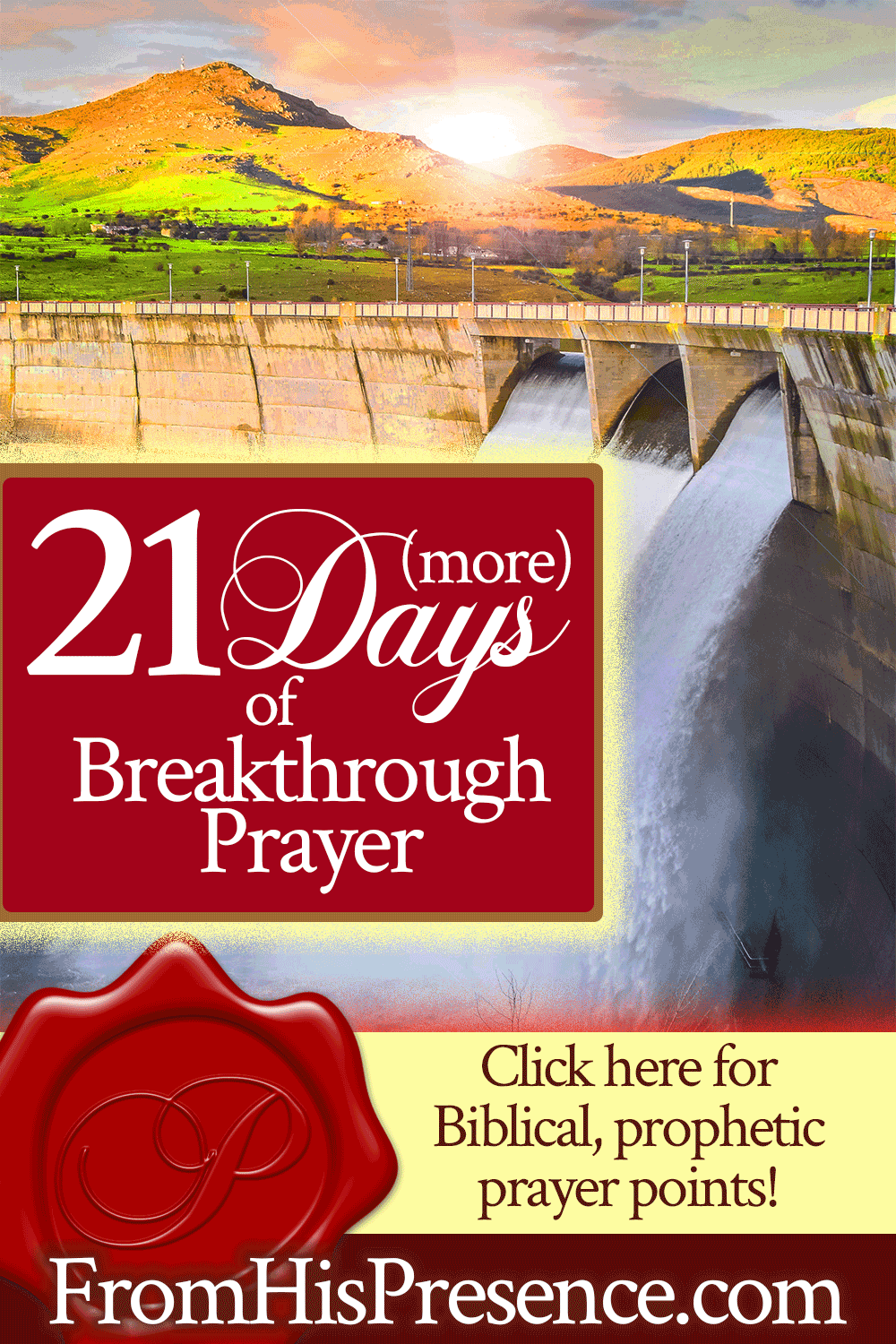 Do you need breakthrough? If so, this simple prayer series and its companion series, 21 Days of Breakthrough Prayer, are for you.
Today, we are talking about commanded victories.
Related: Click here for the Table of Contents for the entire 21 More Days of Breakthrough Prayer series.
In this simple prayer series, I will be sharing one Scripture each day. I will also add bullet-point prayer directives you can use to pray through that Scripture. I won't be writing out actual prayers, though; I feel the Lord wants you to exercise your prayer muscles by talking to Him right out of your heart!
Our Scripture verse for Day 1 of 21 More Days of Breakthrough Prayer is Psalm 44:1-5:
"We have heard with our ears, O God, our fathers have told us, the deeds You did in their days, in days of old:

You drove out the nations with Your hand, but them You planted; You afflicted the peoples, and cast them out.

For they did not gain possession of the land by their own sword, nor did their own arm save them; but it was Your right hand, Your arm, and the light of Your countenance, because You favored them.

You are my King, O God; command victories for Jacob.

Through You we will push down our enemies; through Your name we will trample those who rise up against us" (Psalm 44:1-5).
Pray along these points today:
Remind God of a few of the huge works He has done: the parting of the Red Sea, raining manna from Heaven, providing for all your needs, saving your soul from sin, etc.
Acknowledge to the Father that He drove out the nations with His hand from before the Israelites.
Acknowledge to Him that He planted the Israelites in their land, all by Himself. He didn't need any help from outside, and people who hated the Israelites didn't have to agree.
Point out to God that He, and He alone, brought the Israelites out of Egypt and took them into the Promised Land. It was His hand that did it, according to the Scripture.
Point out to the Lord in prayer that He did these things because He favored and loved the Israelites.
Point out to the Lord that He loves you too with just as much love, for "Greater love has no one than this, than to lay down one's life for his friends" (John 15:13). Jesus laid down His life for you, so He loves you just as much as He loved the Israelites.
Ask Him to use His right hand, His arm, and the light of His countenance to bring YOU into possession of your land as well.
Ask Him to bring you into possession of your land because He has favored you and saved you.
Point out to God that He is the King, the great Judge of all the earth.
Point out to Him that it is He who rules and makes war, and He wins every time He fights.
Ask Him to command victories for you today.
Then, speak out the Word of God for yourself: "I command victories into my life today in every area by the blood and name of Jesus Christ of Nazareth!"
Thank the Father for bringing you victory in every area, even if you can't see that victory in the natural realm yet.
Thank Him for causing you to trample on serpents and scorpions, and that nothing shall by any means harm you!
Thank Him for defeating every power of darkness that rises against you; that the enemy may come out against you one way, but if he does, he flees before you seven ways!
Those are the prayer points for Day 1 of 21 More Days of Breakthrough Prayer. Meditate on this Scripture and ask God to command victories to you all day today! Then, praise God for commanding victories to you and for you in Jesus' name!
Did you pray this breakthrough prayer? What are you believing God for? Leave a comment below!