7 Prayers for When Your Heart Is Shattered
Have you received devastating news? Is your heart hurting so badly that you don't know how you will go on? If so, these seven simple prayers for when your heart is shattered will help you receive comfort, healing, and even strength from the Lord. Read on for an encouraging word about each prayer!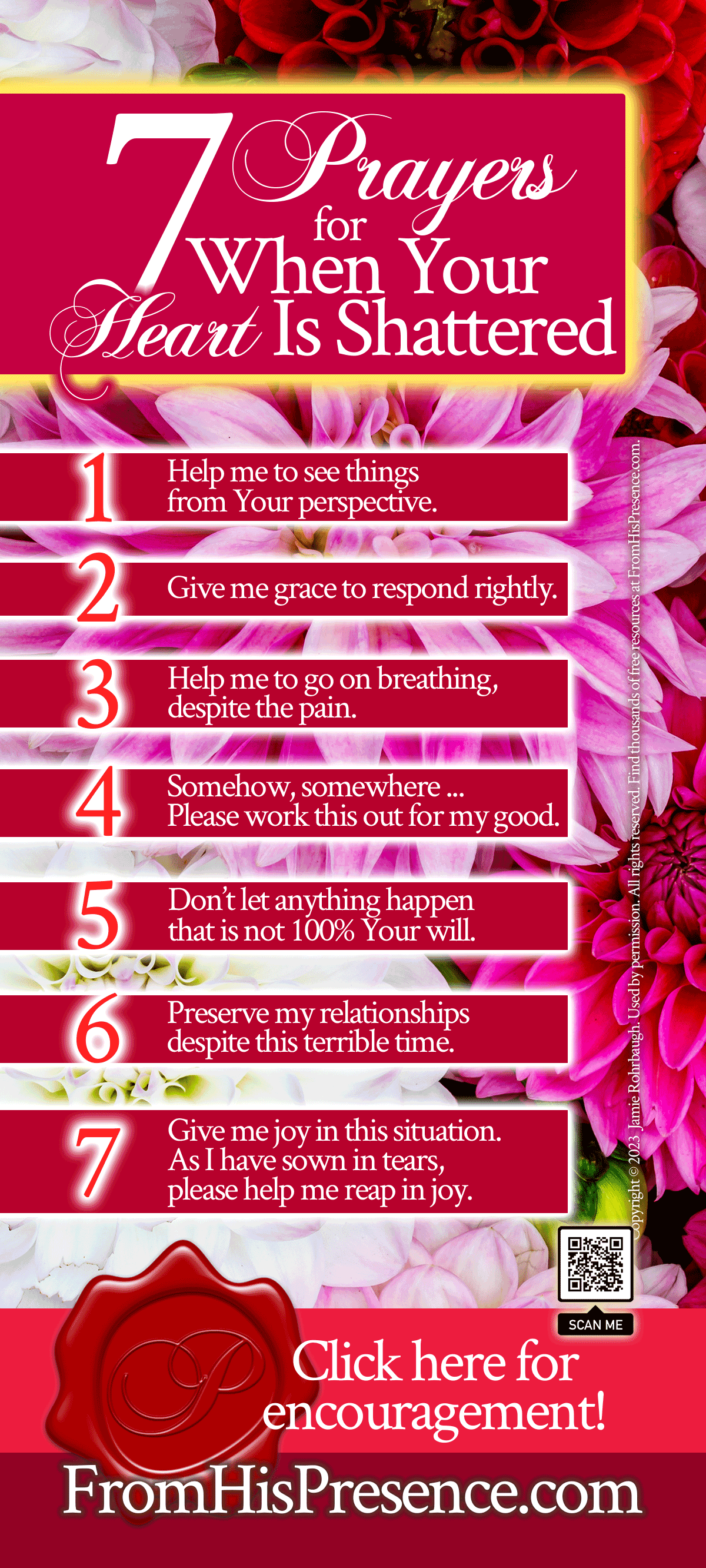 Friend, the Lord is near to you even in your darkest hour.
Psalm 34:18a says, "The Lord is near to those who have a broken heart …" And it's true. When you are hurting the worst, the Lord is so good and gracious that He will show Himself to you the most. All you have to do is ask Him to help you.
Are you ready to invite Jesus into your pain, to help you, save you from your hurt, and heal you? If so, pray these seven very simple, one-sentence prayers:
Prayer 1: "Lord, help me see things from Your perspective."
Sometimes, the things we think are bad are actually good. For example, it may hurt when a toxic relationship falls apart, but the Lord might actually be delivering you from someone who did nothing but hurt you.
In the moment, however, we don't always realize that God could be working things out for our good. Therefore, in those moments, it will help you even while you're hurting to remember the truth of Isaiah 55:
"'For My thoughts are not your thoughts, nor are your ways My ways,' says the Lord. 'For as the heavens are higher than the earth, so are My ways higher than your ways, and My thoughts than your thoughts'" (Isaiah 55:8-9 NKJV).
God doesn't think about things the same way we do.
His thoughts, however, are always better. And we can learn to think the way He does by transforming our mind in His Word.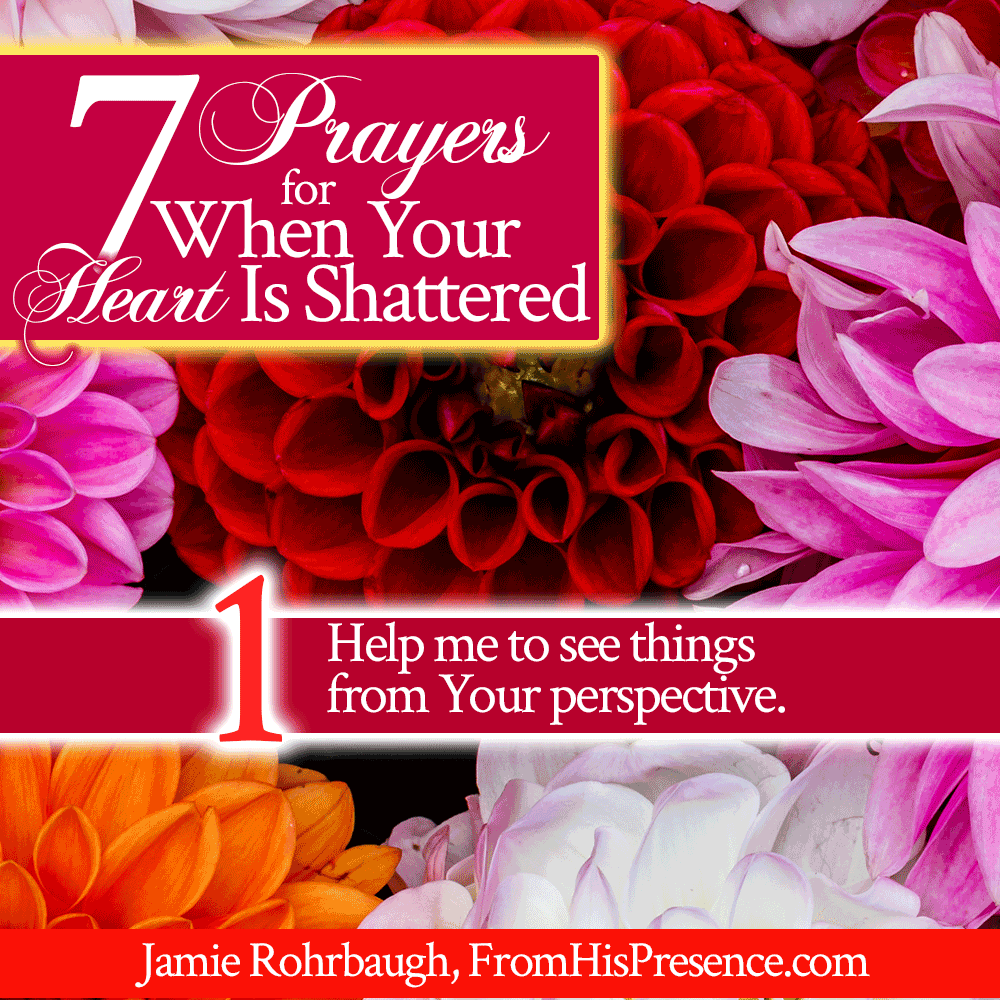 After all, if you have given your life to Jesus, you have the mind of Christ. So you can learn to think using that mind, instead of reacting to things from your flesh.
When you are hurting so badly you can barely breathe, the first thing to do is ask the Lord to help you see things from His perspective.
Then, focus your mind and emotions on Jesus. Let Him minister to you and calm you. He will show you the way He is looking at your situation, and you will see His redemptive purpose for what you are going through.
Everything you see was created by the spoken word.
So if you have nothing except the ability to speak, you can still create anything you want. You can be like God and speak those things that are not as if they already were (Romans 4:17)!
To help you, Jamie wrote a book of hundreds of Biblical confessions for you—especially in the area of your finances. It called Speak Life Volume 1: Chart Your Course With Your Words, and it's our most popular book ever! Get your copy today and begin speaking LIFE over those things that concern you!
Prayer 2: "Give me grace to respond rightly."
We are not responsible for how people act toward us. We are only responsible for responding rightly.
Note that I did not use the word "react." There's a big difference between reacting and responding. Reacting is a gut-level, often self-centered way to handle a crisis. Reacting to things often involves our doing things that we wish later we hadn't done, like:
Saying things we wish we hadn't said;
Making retaliatory decisions; or
Doing something that ends up damaging a relationship, just because we feel hurt.
Responding, on the other hand, is a thoughtful process.
Responding is not instant. When someone responds rather than reacts, they go about it thoughtfully. It takes time to figure out how to respond when something challenging happens. But responding is the better option for a Christian because:
Choosing to respond, rather than react, means we will take time to think and pray about how we should respond before we say or do anything;
Choosing to respond, rather than react, means we will generally examine the Scriptures to see how God wants us to respond; and
Choosing to respond, rather than react, gives us time to cool off and not do or say vengeful things that would harm a relationship.
Remember what the apostle James wrote:
"So then, my beloved brethren, let every man be swift to hear, slow to speak, slow to wrath; for the wrath of man does not produce the righteousness of God" (James 1:19-20 NKJV).
We must be quick to hear, but slow to speak … and even slower to get angry.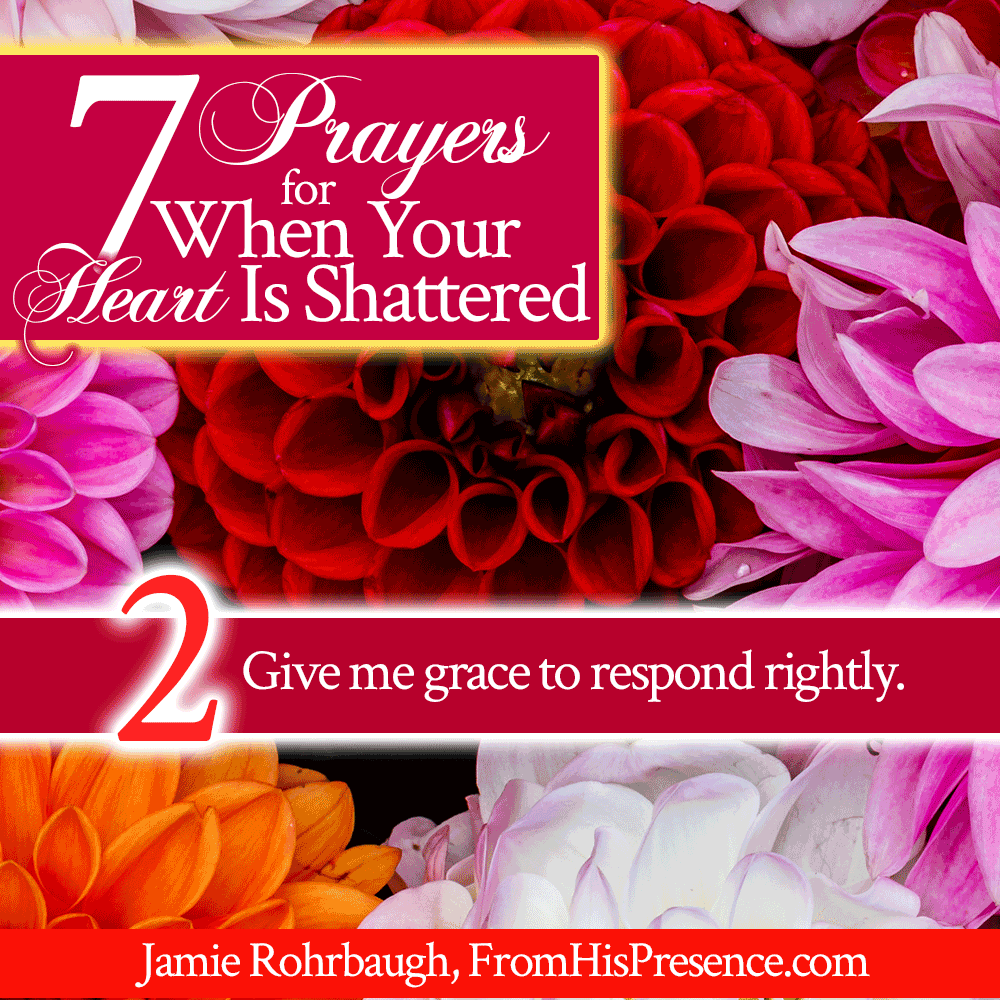 And we need God's grace to do this, especially when emotions are high. However, the good news is that His grace is always available to us! And that grace is not only freely available, but it's absolutely sufficient to help us respond rightly to every situation–even in the most painful and challenging of circumstances.
Remember what the Lord promised us in 2 Corinthians 12:9:
"And He said to me, 'My grace is sufficient for you, for My strength is made perfect in weakness.' Therefore most gladly I will rather boast in my infirmities, that the power of Christ may rest upon me" (2 Corinthians 12:9 NKJV).
If you'll ask the Father to give you His grace to respond rightly, He will.
Pray PROPEL Over Your Destiny!
Using fun prayer acronyms can help you focus your prayers to cover a subject thoroughly! Read this powerful prayer guide and believe God to PROPEL you forward into everything He has for you!
Prayer 3: "Help me to go on breathing, despite the pain."
When your heart is shattered, sometimes it feels like you don't even have the strength to take another breath by yourself. In these situations, I encourage you to throw yourself on Jesus who holds your very cells together–and ask Him to keep you alive.
Yes, I know that Jesus always keeps us alive. We cannot do anything without Jesus, for He is the only source of our strength. God's Word teaches us these things in John 15 and Philippians 4:13:
"I am the vine, you are the branches. He who abides in Me, and I in him, bears much fruit; for without Me you can do nothing" (John 15:5 NKJV).
And also:
"I can do all things through Christ who strengthens me" (Philippians 4:13 NKJV).
But it will help us to acknowledge that this truth–the truth Jesus is the only source of our strength–extends even down to the cellular level!
Colossians 1:16 tells us that Jesus literally holds all things together:
"For by Him all things were created that are in heaven and that are on earth, visible and invisible, whether thrones or dominions or principalities or powers. All things were created through Him and for Him. And He is before all things, and in Him all things consist" (Colossians 1:16-17 NKJV, emphasis mine).
And we read this again in Hebrews 1:
"God, who at various times and in various ways spoke in time past to the fathers by the prophets, has in these last days spoken to us by His Son, whom He has appointed heir of all things, through whom also He made the worlds;

who being the brightness of His glory and the express image of His person, and upholding all things by the word of His power, when He had by Himself purged our sins, sat down at the right hand of the Majesty on high,

having become so much better than the angels, as He has by inheritance obtained a more excellent name than they" (Hebrews 1:1-4 NKJV, emphasis mine).
Friend, when your heart is shattered, go ahead and throw yourself and all your weakness on Jesus.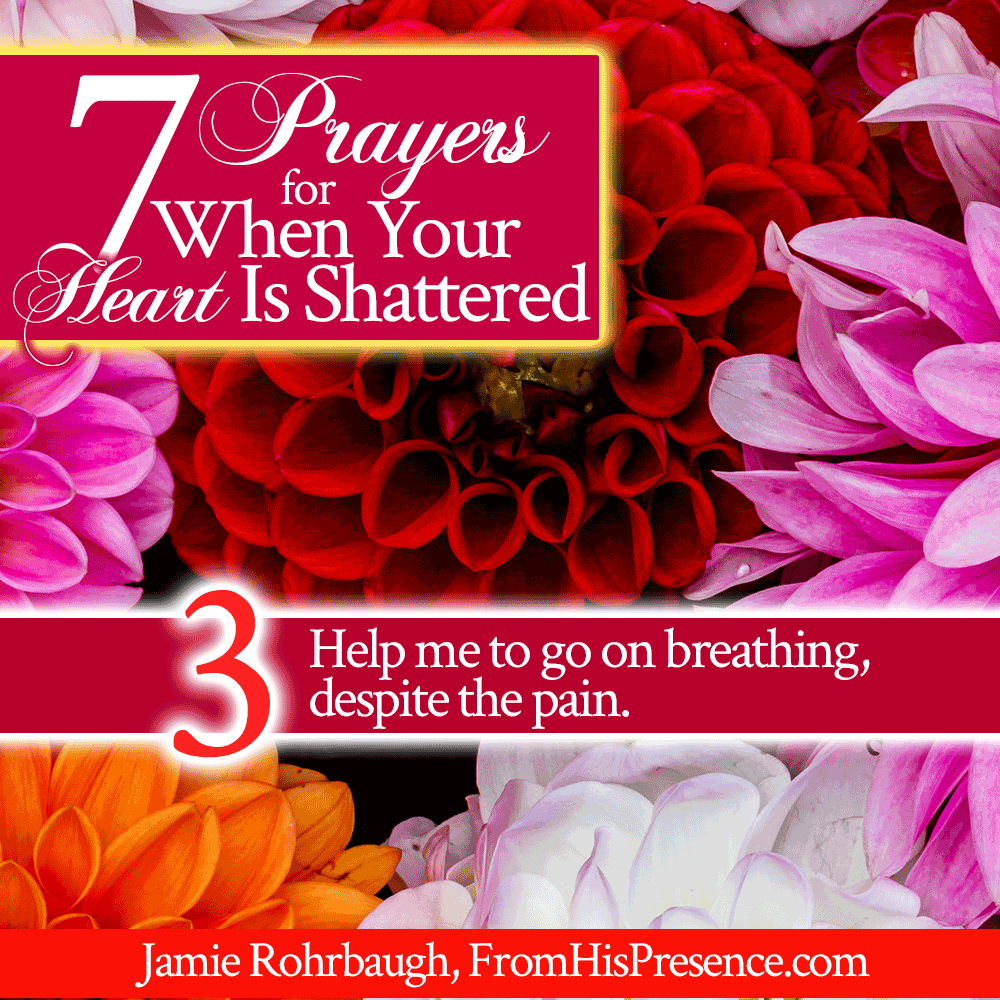 We are weak to the same degree anyway; we can never do anything without Jesus. We cannot even breathe or hold the atoms and cells of our bodies together without Jesus.
But when your heart is shattered, it will bring you comfort to admit this fact out loud to Him.
It will bring you comfort to confess to the Lord that you can't even make your lungs move in and out right now because you hurt so badly. And it will help strengthen you to go on if you consciously choose to make yourself aware that God Himself is holding you together, even in your darkest hour.
Prayer 4: "Somehow, somewhere … Lord, please work this out for my good."
When your heart is shattered, I know it feels like the thing that happened to you couldn't possibly have any redeeming features. Yet, we each have God's faithful promise to work EVERYTHING out for our good, as long as we love Him and are called according to His purpose.
Do you need boundaries?
Are you spending time people-pleasing? Worse yet, are you being used or abused?
If so, download Jamie's class entitled Boundaries: What's Good, What's Bad, What's Healthy today. You don't have to let people stomp on you anymore; Biblical boundaries will set you free.
As it says in Romans 8:28:
"And we know that all things work together for good to those who love God, to those who are the called according to His purpose" (Romans 8:28 NKJV).
Well, every person is called according to His purpose. So the only question remaining is, do you love God? If you do, then you meet the two conditions for having things worked out for your good.
Sometimes it takes time for things to work out for our good.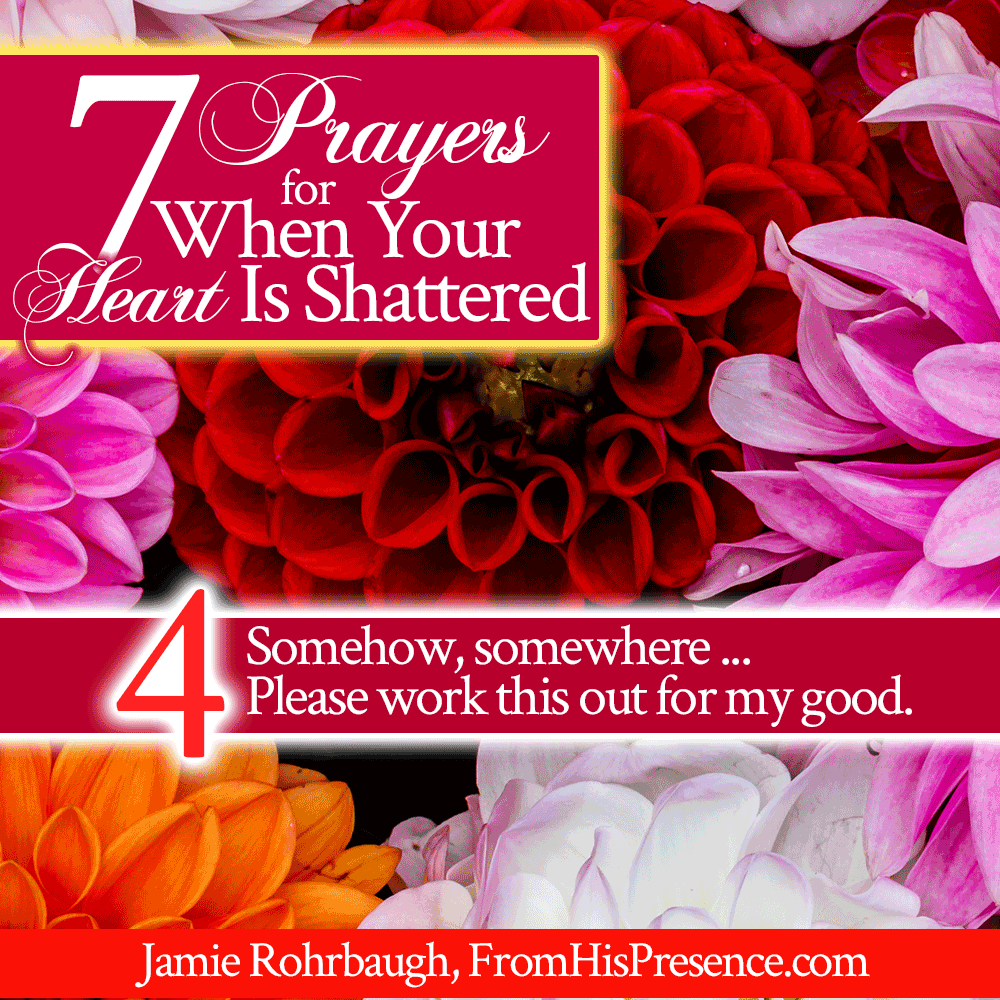 The turnaround process is not always instant. Nevertheless, in time, God makes all things beautiful. He will give you beauty for your ashes.
Look at the mantle that was (and still is) on Jesus' life:
"The Spirit of the Lord God is upon Me, because the Lord has anointed Me to preach good tidings to the poor; He has sent Me to heal the brokenhearted, to proclaim liberty to the captives, and the opening of the prison to those who are bound;

to proclaim the acceptable year of the Lord, and the day of vengeance of our God; to comfort all who mourn, to console those who mourn in Zion, to give them beauty for ashes, the oil of joy for mourning, the garment of praise for the spirit of heaviness; that they may be called trees of righteousness, the planting of the Lord, that He may be glorified" (Isaiah 61:1-3 NKJV, emphases mine).
Jesus was commanded by God to come to this earth and give us beauty for ashes.
And even though He is in Heaven now, He still lives within your heart as well if you have made Him your Lord and Savior. That means He is with you, right now, to heal and restore your life. He is working all things for your good right now; yes, even this thing that has shattered your heart.
God is going to give you beauty for ashes. Weeping may endure for a night, but JOY comes in the morning. Your troubles have a shelf life; restoration WILL happen!
Even if God's version of "working things out for your good" looks totally different than you expect it to, He WILL make all things new and better for you in His time.
Prayer 5: "Don't let anything happen that is not 100% Your will."
Friend, God is big enough to protect you from anything that is not His perfect will for your life. That doesn't mean that what you're going through is from Him. However, if it's not, He won't let it "stick."
God will protect you and keep you from things that would be bad for you. He's a good, good Father that way.
success tools
Wondering how to seek first the Kingdom of God?
Jesus said, "But seek first the kingdom of God and His righteousness, and all these things shall be added to you." But how does one do that?
Let's look at a powerful Biblical example:
In Genesis 3:22-24, we read the sad story about how Adam and Eve were cast out of the Garden of Eden. Genesis 3:22-24 tells us:
"Then the Lord God said, "Behold, the man has become like one of Us, to know good and evil. And now, lest he put out his hand and take also of the tree of life, and eat, and live forever"— therefore the Lord God sent him out of the garden of Eden to till the ground from which he was taken.

So He drove out the man; and He placed cherubim at the east of the garden of Eden, and a flaming sword which turned every way, to guard the way to the tree of life" (Genesis 3:22-24 NKJV).
Why did God send an angel with a flaming sword to guard the way?
Because if Adam and Eve had eaten of the tree of life after they fell into sin, they would have lived forever in sin and would not have been able to receive salvation through Jesus Christ. God guarded the path so that Adam and Eve could remain in His perfect will.
Of course, His best will was for them not to sin at all. But after they sinned, His next perfect will was for them to receive salvation through Jesus Christ. That's why He sent the angel with the flaming sword; it was to protect Adam and Eve from something that looked good, but which would ultimately hurt them if they had access to it.
How often does God protect us from things, but we don't give Him any credit for it?
When the breakup happens, the divorce happens, or we lose our job, we tend to think God has abandoned us. We tend to think that our pain somehow slipped His notice.
Yet, in those examples, perhaps the boyfriend was cheating. Maybe the spouse was beating you until you were black and blue. And there's a good chance that the job was in a hostile work environment. And the whole time we cry out to God in pain, God is actually trying to heal and deliver us.
Friend, just because something is familiar doesn't make it good.
Of course, familiarity doesn't make something bad either. But we need to recognize that changes happen in life. And our precious Heavenly Father is big enough, kind enough, and loving enough to protect us from everything that is not 100% His perfect, highest, and best will for our lives.
Prayer 6: "Preserve my relationships despite this terrible time."
Sometimes people hurt us, even if they don't mean to. Nevertheless, even when your heart is shattered, always ask the Lord to preserve your relationships.
We should always pray to be preserved in the unity of the Spirit and the bond of peace. As it says in Ephesians 4:
"I, therefore, the prisoner of the Lord, beseech you to walk worthy of the calling with which you were called, with all lowliness and gentleness, with longsuffering, bearing with one another in love, endeavoring to keep the unity of the Spirit in the bond of peace" (Ephesians 4:1-3 NKJV).
It is God's definite will for all of us to be one with one another in Christ.
As Jesus personally prayed for us in John 17:
"I do not pray for these alone, but also for those who will believe in Me through their word; that they all may be one, as You, Father, are in Me, and I in You; that they also may be one in Us, that the world may believe that You sent Me" (John 17:20-21 NKJV).
God wants us to dwell together in unity. We read this again in Psalm 133:
"Behold, how good and how pleasant it is for brethren to dwell together in unity! It is like the precious oil upon the head, running down on the beard, the beard of Aaron, running down on the edge of his garments. It is like the dew of Hermon, descending upon the mountains of Zion; for there the Lord commanded the blessing—life forevermore" (Psalm 133:1-3 NKJV).
Even though unity is God's perfect will, it's a fact that separations and divisions sometimes happen.
Nevertheless, we should do everything we can that is within the realm of godliness (including preserving appropriate Biblical boundaries) to preserve unity.
Note: If you tithe, you can also ask the Lord to rebuke the devourer for your sake–including the enemy that wants to devour your relationships.
If you pray this way and the relationship dissolves anyway, know that the Lord IS rebuking the devourer for your sake by delivering you from something toxic.
Want to learn more about what Jesus purchased for you with His precious blood?
In Crimson Flood: How to Plead the Crucifixion of Jesus in Legal Prayer, Jamie teaches you how to present the blood of Jesus to God as your evidence for why you should receive ALL of His manifest promises.
God answers some prayers faster, and more miraculously, than others. Learn how to pray through all aspects of Christ's passion in legal prayer, and watch God do great and mighty things on your behalf!
Prayer 7: "Give me joy in this situation. As I have sown in tears, please help me reap in joy."
When you sow your tears unto the Lord, committing even your pain to Him, He always rewards you with a harvest in due time. I know it seems like things are so dark that they will never be light again, but God will turn things around for you.
Look at these beautiful words of comfort from Psalm 126:
"Those who sow in tears shall reap in joy. He who continually goes forth weeping, bearing seed for sowing, shall doubtless come again with rejoicing, bringing his sheaves with him" (Psalm 126:5-6 NKJV).
Friend, if your heart is shattered, ask God for the harvest of joy that He has promised.
It may take time to come, but His Word is true. He will work this out for your good, and He will bring you a harvest of joy:
He'll give you double for your trouble;
He'll give you recompense for everything that was stolen;
He'll turn your trial into a ministry and a witness for Him.
Friend, if your heart is shattered right now, God is near to you.
He will help you if you will cry out to Him. He will comfort you, deliver you, and protect you from anything that's not of Him.
He will help you see the situation with fresh perspective–with His eyes, rather than through the eyes of your pain. And He will work your situation for your good, giving you beauty for ashes and the oil of joy and praise instead of mourning and heaviness.
Did these seven simple prayers for when your heart is shattered bring you comfort today? If so, leave a comment below!