Don't Dumb Down God's Word to Match Your Experience
Are you frustrated today because God's Word promises one thing, but your experience looks like a completely different thing? If so, you are not alone. I feel that way too. But I want to encourage you today: Don't dumb down God's Word to match the level of your experience.
I know it's so frustrating when you haven't seen God's promises manifest yet.
In fact, it's beyond frustrating. It's discouraging, depressing, and hellish. Every one of us has eternity in our heart, and we all have faith in God. We know His Word is true. But we don't always see it manifest.
I am experiencing this in major ways right now.
For example, I'm called to teach God's Word about personal finance and wealth and God's provision. God's Word is true, and the blessing of the Lord makes rich, and He adds no sorrow with it. Yet, our ministry has been in the hardest season financially that we have ever experienced. Additionally, my family personally has lost 70% of our net worth since January 2021 due to a horrible recession in the American economy.
You think these facts are frustrating to me? You bet they are. I've written books about personal finance and God's Kingdom wealth and provision. I've taught for days on various Scriptures about personal finance. And you know what? EVERY SINGLE ONE OF THEM IS TRUE.
But sometimes God allows hardship and trials.
AVAILABLE IN EBOOK OR PAPERBACK FORMAT!
Over Not Under: Financial Prosperity God's Way
Do you want God to empower you to get wealth, as He promised in Deuteronomy 8:18? Then this book is for you!
Over Not Under will help you gain deep insight about God's financial principles—and about how to activate His provision, blessing, and abundance in your life!
Sometimes, His abundant provision looks like "daily bread," instead of bunches of cash. And factually, even when we're in a position that He only has given us daily bread, that daily bread can be defined as great wealth compared to the majority of the world's population. If our bills are paid, that means He has given greater wealth than most of the world has.
Those situations just don't look like our ideas of wealth, so we don't like those situations … and we tend to think Father has abandoned us. But He hasn't, and He never will.
Additionally, consider God's promises about healing.
By Jesus' stripes we are healed and were already healed (see Isaiah 53 and 1 Peter 2:24). We know that Jesus' blood was an all-sufficient sacrifice. His stripes absolutely paid the price for EVERY sickness, every disease, and every affliction to be radically and completely healed.
Yet, sometimes we don't see healing manifest on this side of Heaven. Why?
The fact is that we don't usually know why a person doesn't receive their healing on this side of Heaven. It would not be appropriate or correct to say "Well, you didn't have enough faith, so that's why God didn't heal you." That is horrible! There are people with all the faith in the world, but they still haven't seen their healing manifest on this side of Heaven. Sometimes people pass on into Heaven and get their healing there.
Nevertheless, even when we don't understand …
Even when we're in a financial crunch the likes of which we've never seen before …
Even when we haven't yet seen our healing manifest in visible ways …
God's Word is still true.
And we cannot allow ourselves to dumb down our perception of God's Word in order to allow, excuse, or justify our level of experience. We cannot dumb down what God says in His Word in order to match our level of experience at all.
Our Favorite MIRACLE RESOURCES
Read More on Miracles:
Instead, we have to keep praying, keep believing, keep fasting and interceding.
We cannot afford to alter our faith to only believe in what we can see. Jesus said, "Thomas, because you have seen Me, you have believed. Blessed are those who have not seen and yet have believed" (John 20:29 NKJV).
Have you noticed that Jesus said there would be people who would not see Him, yet would believe … even though Jesus told us that He will manifest Himself to us? Oh yes. In John 14:21, He said this:
"He who has My commandments and keeps them, it is he who loves Me. And he who loves Me will be loved by My Father, and I will love him and manifest Myself to him" (John 14:21 NKJV).
So even though Jesus said He will manifest Himself to us, He acknowledged there would also be people who had not seen.
But we still have to believe Him and contend for His promises. We can't spend time or energy trying to figure out why our time hasn't come yet; why our answer hasn't manifest yet. We have to believe that the answer IS ours; the promises WILL manifest; and even the manifestation is for a later time, God's Word is still true.
As we learn about the heroes of faith in Hebrews 11:
"And all these, having obtained a good testimony through faith, did not receive the promise, God having provided something better for us, that they should not be made perfect apart from us" (Hebrews 11:39-40 NKJV).
The heroes of faith included the names of the most famous and most important people in Bible history, other than Jesus.
People like Abraham, Sarah, Isaac, Joseph, Moses, David, Samuel, and so many more each changed the world in their day. Yet, they did not receive the manifestation of the promises.
These heroes of faith SAW the promises; they knew the promises existed; and they knew the promises were FOR THEM. They stood in faith and fought the good fight.
But God saved the manifestation of some of His promises until we could all experience it together … "that they should not be made perfect apart from us."
This is a great mystery, and it's a hard one to swallow.
God Will Turn Your Haters Into Joiners
You may have been rejected, but now God wants to flaunt you to the world.
Sound good? Then 21 Kisses: The Sure Mercies of David for Your Life is for you. Download this powerful, prophetic audio MP3 set and get free from haters and rejection today!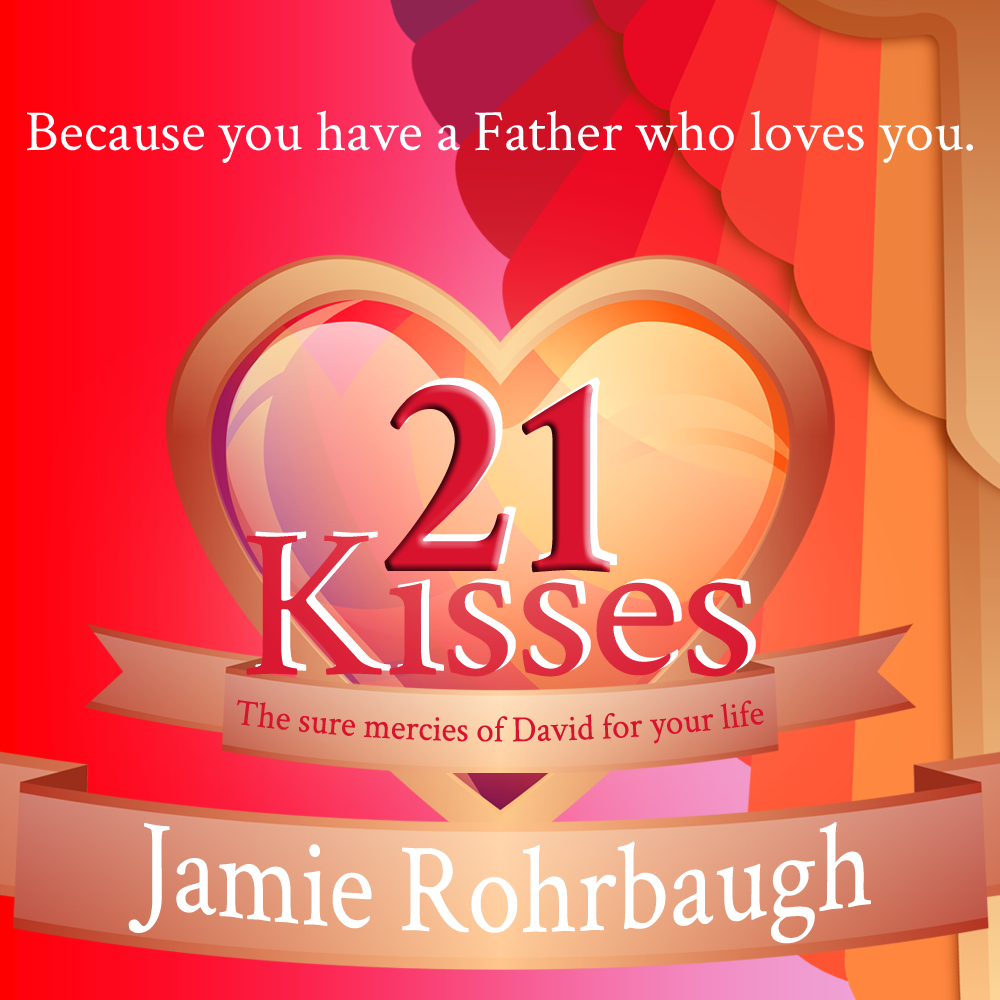 And, I assure you, I am having as hard a time with it as anybody.
I'm standing in faith, but I'm hearing the enemy making fun of me for teaching the Word of God about prosperous and abundant provision … because this ministry has been in a crunch. The enemy wants me to be embarrassed and stop teaching the Word.
Also, I need God's healing personally. Healing is my portion, just like it's your portion. Yet, I have an autoimmune medical condition that causes a lot of problems in my body. I fight with it daily. It's a real struggle.
Yet I do what I do despite those things.
I believe God to heal me. I believe Him to provide for my family and for this ministry. How can I not? His Word is true!
In every aspect, every facet, every respect … God cannot tell a lie. He is faithful, and He cannot deny Himself. God is not a man that He should lie. Let God be true and every man a liar!
So we forge on … just like you need to forge on, too.
What circumstance are you facing that doesn't look like God's promises yet? Do you also need healing? Do you also need abundant financial provision? Here's what I can tell you:
Keep believing God.
Keep studying His Word, and believing what you read.
Keep speaking God's Word out loud!
Keep fasting.
Keep praying.
Keep tithing.
Keep sowing seed offerings to the Lord.
Keep showing compassion to the poor.
Keep on taking communion as often as you can, even daily.
Beloved, you've got to just keep on keeping on.
I know it doesn't make sense. It doesn't match our expectations of God AT ALL. Yet, He has not lied to us. Do you have what you need in this moment? He is preserving you and keeping you alive, right? He is preserving us moment by moment, but it is still preservation.
And God is still true. So that's what you have to focus on.
Don't dumb down what you believe about God's Word in order to meet the level of your experience. Don't dumb down your faith in order to justify your lack or your "not yet."
Just keep your eyes on Jesus, the Author and Finisher of our faith. He will prove Himself faithful, even if His timing doesn't match our ideas about what God ought to do.
Does this word speak to your heart today? If so, leave a comment below!