God Gives You POWER to Get Wealth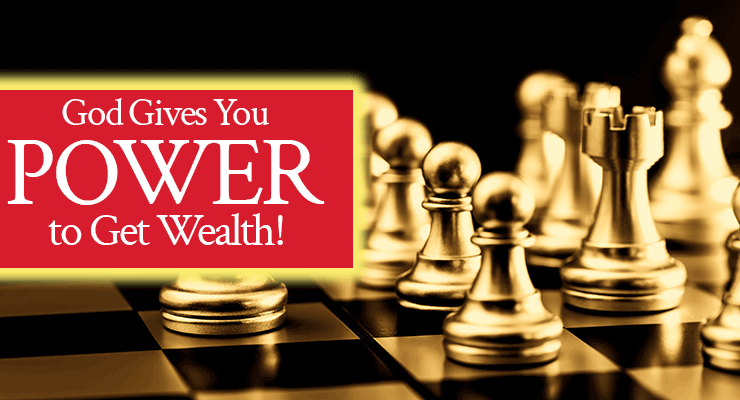 This article is an excerpt from my book Over Not Under: Financial Prosperity God's Way, available here in paperback or here in ebook format.
Do you want to get wealth? Who wouldn't? The good news is that God gives you POWER to get wealth, and He's giving you that power to get wealth RIGHT NOW!
Yep. That's what He says in His Word.
Here's the scoop about power to get wealth:
I was praying one day through my 15 prayers for financial increase, and I happened to look up the Hebrew meaning of a word in Deuteronomy 8:18 (from prayer #9). When I did, I flipped out!
Why? Because Deuteronomy 8:18 says:
"And you shall remember the Lord your God, for it is He who gives you power to get wealth, that He may establish His covenant which He swore to your fathers, as it is this day" (Deuteronomy 8:18 NKJV).
In this verse, the word "power" in Hebrew means "vigor," "force," or "capacity" (per Strong's Concordance). My favorite way to understand this verse is using that word "force," because its meaning in English shows us exactly what God communicates in other places in the Bible.
AVAILABLE IN EBOOK OR PAPERBACK FORMAT!
Over Not Under: Financial Prosperity God's Way
Do you want God to empower you to get wealth, as He promised in Deuteronomy 8:18? Then this book is for you!
Over Not Under will help you gain deep insight about God's financial principles—and about how to activate His provision, blessing, and abundance in your life!
A "force" is power that comes from one thing TO another thing.
For example:
If you're applying force to open the lid of a jar, the force is coming FROM you TO the jar, and affecting change on the jar lid.
If you're applying force to move a sofa, the force is coming FROM you TO the sofa, and YOUR force moves the sofa.
If you apply force to open the door of the refrigerator, the force moves FROM you TO the door of the refrigerator, opening that door and bringing you new possibilities (new food, drink, etc).
So, force moves from the SOURCE to the recipient. And when that force, or power, flows through the recipient, it creates change therein.
GOD is the SOURCE, and He's moving the force through YOU.
That's a lot of capital letters, but you've got to get this. This is awesome! God is the source of the power. He's the source of the force. 🙂 And in His goodness, He has sovereignly decided to move through you to affect change.
And the change He's affecting? Why, making you wealthy, of course.
Everything you see was created by the spoken word.
So if you have nothing except the ability to speak, you can still create anything you want. You can be like God and speak those things that are not as if they already were (Romans 4:17)!
To help you, Jamie wrote a book of hundreds of Biblical confessions for you—especially in the area of your finances. It called Speak Life Volume 1: Chart Your Course With Your Words, and it's our most popular book ever! Get your copy today and begin speaking LIFE over those things that concern you!
His own Word says He gives you power to get wealth. In other words, He flows through you–the power comes from Him; He gives it–and the purpose of that power is to cause YOU to get wealth.
Of course, God has other purposes for His power as well; the main one being making you like Jesus. But we're not talking about those right now; we're examining the truths from this verse–Deuteronomy 8:18–and Deuteronomy 8:18 says He gives you power TO GET WEALTH.
Yep, that's right. God Himself flows through you to kick poverty out the door of your life and bring WEALTH in.
Kind of goes along with another verse in the Bible about building and increasing, doesn't it? Like Psalm 127:1-2, which says:
"Unless the Lord builds the house, they labor in vain who build it; unless the Lord guards the city, the watchman stays awake in vain.

It is vain for you to rise up early, to sit up late, to eat the bread of sorrows; for so He gives His beloved sleep" (Psalm 127:1-2).
God has to do the work through you, but He does. And you have to work by the power of God too.
You have to cooperate with His power and LET Him flow through you. Power only works if it flows. The FLOW is what creates change in the recipient.
If your power weren't flowing through the sofa, the sofa wouldn't move. You'd just get a bruised hand from pushing.
If your power weren't flowing through the refrigerator door, the door wouldn't open … and you'd just get big biceps from pulling on that thing. (And you'd stay really hungry too.)
Our Favorite MIRACLE RESOURCES
Read More on Miracles:
God gives you POWER to get wealth.
By doing so, He confirms His covenant which He made with your spiritual ancestors, like Abraham:
A covenant that you'll bless and be a blessing.
A covenant that says that in you all the nations of the earth will be blessed.
A covenant that says He will make your name great.
And He flows through you to do it!
If you're excited about this Scripture too, pray this with me:
"Father God, in Jesus' name, thank You for this revelation that You're showing me out of Your Word today! Father, I see now that You are flowing through me RIGHT NOW, this very minute, to get wealth. You are doing this so You can confirm the covenant You made with my fathers.
So Lord, I present myself to You as a willing vessel today! Flow through me and fill me with Your power! Flow through me to bring me wealth, and help me to use it not only to bless myself, but also to bless all the nations of the earth with the Gospel message! You can do it, Lord, and I thank You that Your Word says You will.
Thank You, Father! I rejoice in Your promise today. Help me to cooperate in every way, and do whatever You want to do through me! Thank You, Lord! In Jesus' name I pray, amen."
Does this word resonate in your heart? Does it make your spirit leap with joy and excitement? If so, please leave a comment below! I love hearing from you!