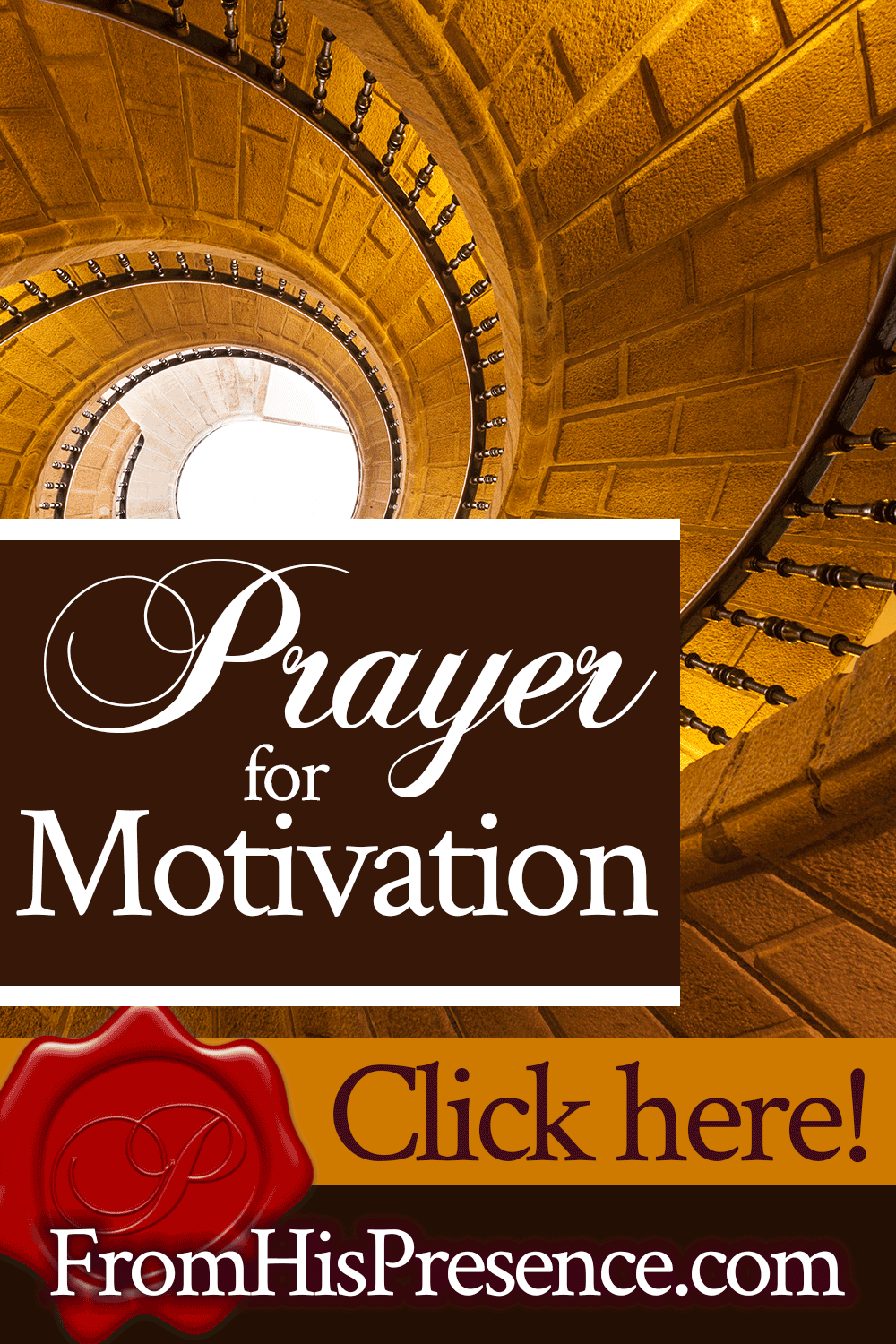 Do you feel completely unmotivated to do anything at all? If so, I want to encourage you today. Also, today's prayer for motivation will be right up your alley.
First, I want you to know that feeling unmotivated is frequently a sign that you simply need REST.
If you're already resting, but you're still not motivated to do anything, there may be deeper issues at work. But, most people I know–including myself!–who go through periods where they can't find their motivation are simply burned out.
So let me ask you today: Are you exhausted? If so, don't expect to be motivated. Your body, soul, and spirit are telling you that you need rest.
To learn more about rest, read our free article series called Rest In God, Reach Your Destiny!
Here are all the posts in the Rest in God, Reach Your Destiny series:
If that's the case, then please: cut yourself some slack and get the rest you need.
Rest for a day, a week, a month, three months. Do only what you have to do (like going to work every day; don't lose your job), and continue going to church so you'll get fed; but cut everything else out of your calendar. If you're exhausted, it's okay to say "no" to a lot of things until you get the rest you need.
Secondly, sometimes people can feel unmotivated when they're discouraged or depressed.
I identify with that too, having been through more than my fair share of both. And beloved, if you are feeling discouraged or depressed, I want you to know today that the Lord is near to you when you are brokenhearted.
(He's always near to you, but I feel that you specifically needed to hear today that He is with you and He SEES you.) He is with you to comfort you.
Please read the keys in this series here that He has taught me for What To Do With Depression. And also, be sure to cast all your cares on Him in prayer–even if you have to pray four hours a day to find the strength to get out of bed. I understand, and more importantly Father God understands; He will help you.
And if you're discouraged, the #1 most important thing you can do to find comfort and encouragement is to read your Bible deeply.
Don't try to read too fast; read it slowly and deeply instead. Aim for quality reading, not necessarily quantity reading. Read the words of Jesus, the Psalms, and the writings of the apostle Paul if you're not sure where to start. The Word of God will fill you with so much hope.
Over the years, I have learned that it's a very practical truth that man does not live by bread alone, but by every WORD that proceeds from the mouth of the Lord. As it says in Deuteronomy 8:
"So He humbled you, allowed you to hunger, and fed you with manna which you did not know nor did your fathers know, that He might make you know that man shall not live by bread alone; but man lives by every word that proceeds from the mouth of the Lord" (Deuteronomy 8:3 NKJV).
That is a very practical truth that will keep you alive. (I have felt many times that the Word of God is the ONLY thing keeping me alive.)
Thirdly, many times a lack of motivation happens because of nutritional deficiency.
If your physical body is low on vitamin D, vitamin B, omega 3s, zinc, or SO many other nutrients, it can really wreak havoc with your mind, energy, and motivation. That's not even to mention any number of other things that impact energy and motivation, such as low testosterone for men, thyroid problems for anyone, and more.
If you can't get out of your own way physically, please consider seeing your doctor.
If your regular doctor is willing to check your vitamin/nutrient levels, have them do that as well. And if they are not, please consider seeing a functional medicine doctor to get your nutrients checked. Seeing functional medicine and getting lab panels run for all my vitamin levels changed my life, even though I still have a long way to go health-wise.
If you also need good counsel and someone to talk to about a difficult situation, I also always encourage people to get in with a good, Bible-based Christian counselor. You can't counsel out everything, but having a neutral sounding board and a place to share your heart really helps when things are tough.
All that to say …
Beloved, the Lord is near to you when you're not motivated, and He's ready and willing to help you.
If you need rest, He'll help you rest. And generally, your motivation will return after your body has gotten a good bit of rest. (You'll often know that you're actually starting to catch up on your rest when a little bit of motivation does return!) If you need encouragement, He'll comfort and encourage you, strengthening you by His Word and Spirit.
All you have to do is pray and ask Him, and then obey whatever He tells you to do.
The prayer for motivation below will help you pray. But when it comes to obeying whatever He tells you to do, I have learned over the years that He often uses a "prime the pump" sort of method.
What I mean by "priming the pump" is this:
When you need motivation, Holy Spirit will often prompt you to do just one thing. For example, He might gently prompt you to:
Pick up one sock and put it in the dirty clothes hamper.
Take one bag of trash out to the curb.
Put in one load of laundry.
Hang up one piece of clothing.
Write one Facebook post when you actually want to write a book, if only you had the motivation.
Lift one weight for one rep only.
In all of these examples, tiny actions can actually "prime the pump" for bigger motivation:
Picking up one sock might inspire you to pick up three or four socks–or even to pick up all the dirty clothes you find in your bedroom.
Hanging up one piece of clothing that's laying across that treadmill might inspire you to hang up all ten shirts that are draped across your treadmill.
Taking out one bag of trash might inspire you to vacuum the whole floor.
Cooking one healthy vegetable might inspire you to cook a whole healthy meal.
Lifting a dumbbell one time might inspire you to do three sets of fifteen reps. Hey, you've already got it in your hand; why not do a set? 🙂
Writing one Facebook or Insta post makes you long for more of the joy of writing–a joy you had forgotten about, because you got so intimidated over the thought of writing a whole book.
Little wins add up to big motivation.
And even if all you do is pick up that one sock, you will feel better about yourself and life in general because you did pick up that one sock. And if you give yourself the grace, mercy, and latitude to be okay with only picking up one sock, you take the pressure off yourself–pressure that probably burned you out to begin with–and you allow joy back in.
So beloved, if you need motivation, know that the Lord is merciful.
He is right there with you to help you, but He also wants you to be merciful to yourself. That doesn't mean we can be lazy. If you have a habit of laziness or expecting everybody else to do things for you, that's a deeper problem.
But if you're just tired, burned out, discouraged, overwhelmed, and unmotivated, that is not the same as laziness. Give yourself a break and show as much mercy and grace to yourself as He does to you, while He heals your heart, body, and soul, okay?
I hope that helps encourage you today. Now, if you're ready, let's pray together for the motivation we all need.
Pray this prayer for motivation today:
"Dear Heavenly Father,
I come before You in Jesus' name. Father, thank You for Your mercies, which are new every day. Thank You for Your extreme grace toward me. Thank You for helping me in all my times of need, which have been many. And thank You for telling me that I can come boldly before Your throne of grace, where I may obtain mercy, and find grace to help in time of need.
Abba Father, I praise You today. You are my Refuge and Portion. You are my Strength. You are He who sits above the circle of the universe, and You have all the strength and power that I need. Thank You for being willing to help me. I praise You.
Lord Father, I need You to help me a lot today.
Father, I have no motivation right now. The house has gone to pot; my health is suffering; I'm tired, overwhelmed, and cranky. I need You to help me, heal me, and restore my soul.
Father, if I have no motivation because I'm burned out and need rest, then please help me rest:
Show me what changes I should make to my schedule, and help me make the changes You need me to make.
Help me to say "no" to everything You need me to say "no" to.
Help me only agree to do the things You want me to do.
Free me from people-pleasing; help me only to obey You in all things.
Help me to come unto Jesus, for I am weary. I labor and am heavy-laden. But Your Word says that You will give me rest.
Restore my ability to sleep soundly and deeply, without bad dreams, nightmares, or sleep interruptions.
Please give me REST for my body, mind, heart, emotions, soul, and spirit.
Related: Find a Prayer for Sleep here.
And if I'm not motivated because I'm discouraged or depressed, then, Father:
Please comfort me. Encourage me. Show Yourself to me as my Glory, and the Lifter of my head. (See Psalm 3.)
Show me the root of this depression and discouragement.
If the depression and discouragement are situational, please show me how to change or cut off the situation if need be, so I can be healthy again in every way.
Help me to read and devour Your Word. Feed me from Your hand with Your Word, for man does not live by bread alone–but by every WORD that proceeds from the mouth of the Lord.
Fill me with the words that Jesus speaks, and help me to fill myself with the words that Jesus speaks–for the words that You speak are Spirit, and they are life. (See John 6:63.)
Please heal and deliver me from depression and discouragement, and help me to take all the steps necessary to receive Your healing. Lead me, guide me, and disciple me on the path of healing, for healing is the children's bread and I am Your child.
Father, no matter what it takes and what changes You have to make in my life, please heal my soul.
Fill me with motivation, joy, and courage again. Help me to live and enjoy my life. Fill me with Your Holy Spirit.
If I have sinned in any way against You or against others, please convict me and help me to make it right. If I have harbored or regarded iniquity in my heart, please forgive me. Help me to truly repent and change the way I think.
Abba Father, I hold nothing back from You.
I want to live a life of joy, peace, and health. I need motivation to even begin doing that at all. I need Your healing and help. I need Your guidance and discipleship and shepherding.
But You are my Shepherd, Jesus. I submit to You.
Please lead me and guide me in all things. Help me to obey You as You do lead me. Fill me with Your grace and peace, and let Your grace be a tangible, manifest force in my life that makes hard things easy.
Your Word says that the Kingdom of God is not in word but in power, Lord. Please fill me with Your power accordingly.
Also, Your word says that Your Kingdom is not meat and drink, but righteousness, peace, and joy in Your Holy Spirit. You made me the righteousness of God in Christ when I gave my heart to Jesus. But please fill me with Your peace and joy. Let all the fruit of the Spirit be powerfully manifest, visible, released, and flowing unrestricted in my life.
Father, please fill me with Your holy motivation today.
Work in me both to will and to do Your good pleasure. Lead me and guide me. Help me to hear Your voice behind me, saying, "This is the way; walk in it," and help me obey You and never turn to the right or to the left.
Thank You, Father. Thank You for hearing and answering my prayer. I give You all the praise. In Jesus' mighty and precious name I pray, amen."
Beloved, God will give you motivation when you submit to Him, rest, and let Him heal you and lead you.
Most often, lack of motivation is a symptom; it's not the root problem itself. But either way, the Father knows exactly what your troubles are, and He will help you walk through ever single one of them in the VICTORY of Jesus Christ.
Did you pray this prayer for motivation today? Did this word encourage you? If so, leave a comment below! Also, please share this article with a friend who is struggling with the same thing! It will encourage you to encourage someone else.