3 Bible Nuggets (Encouraging Words) for Perfectionists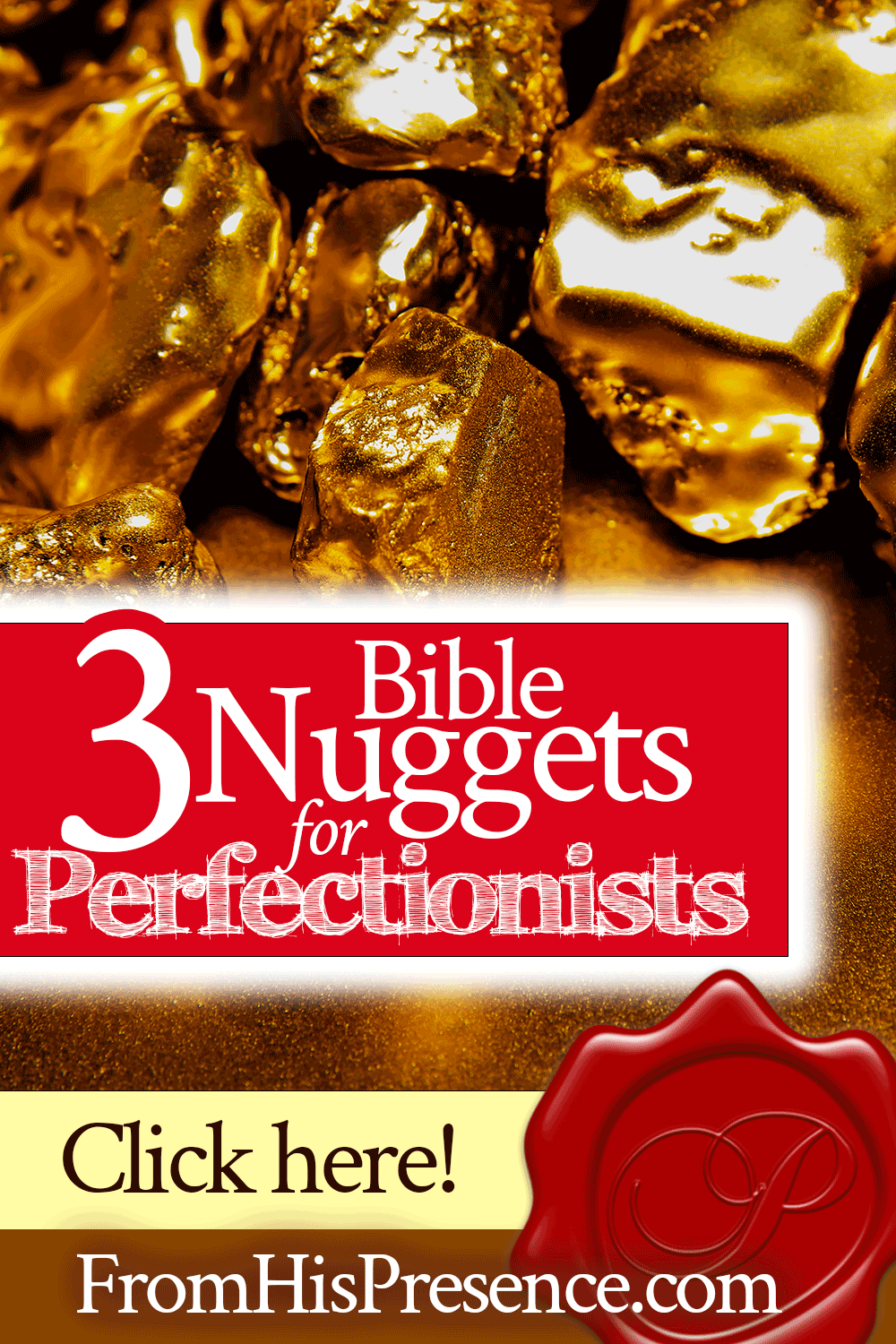 Are you a perfectionist? If so, you may find yourself wearing out under the burden of always having to have everything "just so."
But you know what? Striving and stress are not God's will for you.
And while we are supposed to daily work out our own salvation with fear and trembling, so that we transform day by day into the image of Christ who IS perfect, that transformation is not an overnight thing.
To encourage you today along your journey, I want to share three 3 Bible nuggets for perfectionists. I pray that these three nuggets will help you receive God's grace, so you won't wear yourself (or others!) out.
Nugget 1: God's Grace Is Sufficient
If you are a perfectionist, you may find yourself frustrated as you walk through life with human weaknesses and failings. Whether you are noticing your own failures today or those of the people around you, none of us is perfect.
However, there is One who is perfect at all times: Jesus Christ.
And He gives us a thing called "grace."
Second Corinthians 12:9 says this:
"And He said to me, 'My grace is sufficient for you, for My strength is made perfect in weakness.' Therefore most gladly I will rather boast in my infirmities, that the power of Christ may rest upon me" (2 Corinthians 12:9 NKJV).
And James 4:6 says:
"But He gives more grace. Therefore He says: 'God resists the proud, but gives grace to the humble'" (James 4:6 NKJV).
What is "grace"? 
Grace is God's supernatural power that helps us in our natural, ordinary, seemingly mundane lives. It is the undeserved, unmerited favor and assistance that God gives His children every day.
Everything you see was created by the spoken word.
So if you have nothing except the ability to speak, you can still create anything you want. You can be like God and speak those things that are not as if they already were (Romans 4:17)!
To help you, Jamie wrote a book of hundreds of Biblical confessions for you—especially in the area of your finances. It called Speak Life Volume 1: Chart Your Course With Your Words, and it's our most popular book ever! Get your copy today and begin speaking LIFE over those things that concern you!
According to 2 Corinthians 12:9, God's grace is sufficient for us, even when we deal with our own human weakness. His strength is made perfect in weakness.
So what are you struggling with today?
Are you frustrated, exhausted, or fed up with anything right now? Have you been striving and driving yourself into the ground, trying to be perfect and do it all—or trying to help others be perfect—and yet failing every day?
If so, it's okay to admit that you can't do things alone. We all need God's grace. It is His strength that perfects our weakness.
Therefore, take a moment right now to humbly confess to the Lord how much you need Him.
God resists the proud, but gives grace to the humble. And if you will ask Him, the only Perfect One—Jesus Christ—will make His strength perfect in your weakness today.
Nugget 2: The Lord Will Build Your House
Are you trying to build your dream life? Whether you are focusing on building your family, building your career, or even building your own business from the ground up, the building process can be exhausting for anyone. It is even more exhausting for a perfectionist.
But friend, you can find relief and rest in the greatest Builder of all—Jesus Christ.
Psalm 127:1-2 says this:
"Unless the Lord builds the house, they labor in vain who build it; unless the Lord guards the city, the watchman stays awake in vain.
It is vain for you to rise up early, to sit up late, to eat the bread of sorrows; for so He gives His beloved sleep" (Psalm 127:1-2 NKJV).
Psalm 127 tells us that the Lord is the ultimate and only Builder of your "house."
Without His help, all your labor is in vain. You can work 24 hours a day, worry yourself into an early grave, and wear yourself out with toil if you want to, but it won't make any difference. You have to let the Lord build your life.
To learn more about rest, read our free article series called Rest In God, Reach Your Destiny!
Here are all the posts in the Rest in God, Reach Your Destiny series:
"But I can't just sit back and do nothing," you say? You would be right in saying that. But here's the key for how to get things accomplished and let the Lord build your house, all at the same time:
Imitate Jesus and only do what you see the Father doing.
Jesus built the entire Church Triumphant, as well as building 12 rough and uncouth men into grace-filled apostles. He did it all by two methods:
He only said what He heard the Father saying (see John 12:49-50); and
He only did what He saw the Father doing (see John 5:19).
Remember also the words of Psalm 32:8-9:
"I will instruct you and teach you in the way you should go; I will guide you with My eye. Do not be like the horse or like the mule, which have no understanding, which must be harnessed with bit and bridle, else they will not come near you" (Psalm 32:8-9 NKJV).
Friend, our loving Heavenly Father will lead you through your life the same way He led Jesus through His.
If you will surrender to only doing what the Father does and only saying what He says, He will lead you through your day. He will speak to you moment by moment, telling you what to do and where to go.
And as He said in Psalm 32:8, He will also instruct you and teach you in the way you should go. He will guide you with His eye upon you.
Even perfectionists can rest in Jesus by following and imitating the Father.
If you've been wearing yourself out trying to be perfect and build your house, won't you come to Jesus and let Him give you rest today?
Remember: Unless the Lord builds the house, they labor in vain who build it. Rest in Jesus and rely only on Him today. He will do the building for you while you simply obey Him!
Nugget 3: No More Working for Love
Did you know that God loves you with an everlasting love? It's true. Even if you are not perfect yet, God loves you the same. And even if you mess things up sometimes, His love doesn't diminish.
Read 1 John 3:1:
"Behold what manner of love the Father has bestowed on us, that we should be called children of God! Therefore the world does not know us, because it did not know Him" (1 John 3:1 NKJV).
In some situations, the drive for perfection is actually a quest for love.
But you know what? You don't have to perform in order to be loved. You don't have to work for love. God's love is not conditional; you don't have to be perfect in order to be loved. God your Father loved you even before He saved you.
As God's Word tells us in Romans 5:8:
"But God demonstrates His own love toward us, in that while we were still sinners, Christ died for us" (Romans 5:8 NKJV).
Jesus died for you before He ever saved you. He died for you while you were still the worst of sinners.
If you're a perfectionist, I encourage you to memorize that verse and meditate on it. Why? Because if God loved you enough to sacrifice His only Son for you while you were still an ungodly, vile sinner, He certainly loves you the same even now.
Friend, you weren't perfect when God started loving you, and you may not be perfect now. But you know what? That doesn't matter. Your Abba Father still loves you. He loves you because He sovereignly chose to love you, and nothing can take His love away from you.
You don't have to strive for love. You don't have to perform anymore.
God loves you completely, no matter where you are on your journey to Christlikeness. And if you will simply abide in Jesus and rest in Him—abiding daily in His love—you will find yourself secure in your true identity as a beloved child of God.
Remember the precious words of Jesus from John 15:9:
"As the Father loved Me, I also have loved you; abide in My love" (John 15:9 NKJV).
As you rest in Him, His Spirit will transform you into the mirror of His own perfection from the inside out.
Have these three Bible nuggets for perfectionists encouraged you today? If so, leave a comment below!