7 Areas In Which You Can Stretch Your Faith RIGHT NOW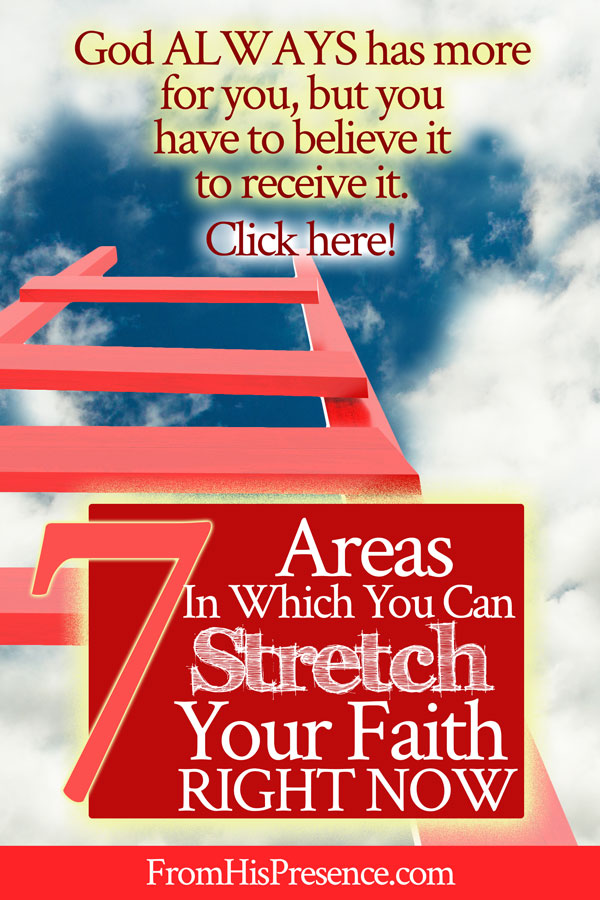 Have you found yourself stuck in one place in your life, and you're desperate to move on? Have you been wandering around and around that same old mountain long enough, and you finally feel like you're ready to cross over into the Promised Land–no matter what it takes? If so, it's time to stretch your faith today!
If you want to overcome your current situation and move past your current station in life, you're going to have to do something you've never done before.
The old adage is true: If you want something you've never had, you've got to do something you've never done. In many cases, that "something" you have to do to move forward isn't some big outward accomplishment; it's an inward change.
This has been true for me in some of my darkest moments.
In some of the worst times I've ever endured, I can clearly remember that the Lord broke through those times when–and only when–I made the inward decision to believe Him differently, to pray differently, and to think differently. Every time I decided to meet His challenge in those areas–stretching my faith to follow Him more fully–He has instantly and immediately broken through my gloom and darkness in order to rescue me.
Sometimes that "rescuing" was an inward, emotional rescue in which Holy Spirit brought me comfort, peace, calm, and reassurance. In those moments, He took away my tears, worry, and debilitating fear and replaced those things with His perfect peace and love. And in those times, He followed the inward breakthrough by an outward breakthrough in my physical circumstances pretty quickly.
Sometimes, however, the inward breakthrough and the outward breakthrough happened at the same time!
Either way, the Lord knows best. And if we choose to follow Him when He asks us to stretch our faith, we will always see inward results and outward results both, in whichever order He chooses. 🙂
Here are 7 areas in which I believe the Lord is inviting you to stretch your faith right now:
(In other words, these are areas in which I believe the Lord wants to bring you breakthrough, but He needs you to come up to His level of thinking in these areas before breakthrough can occur.)
1. Stretch your faith in the area of what you receive from the Lord.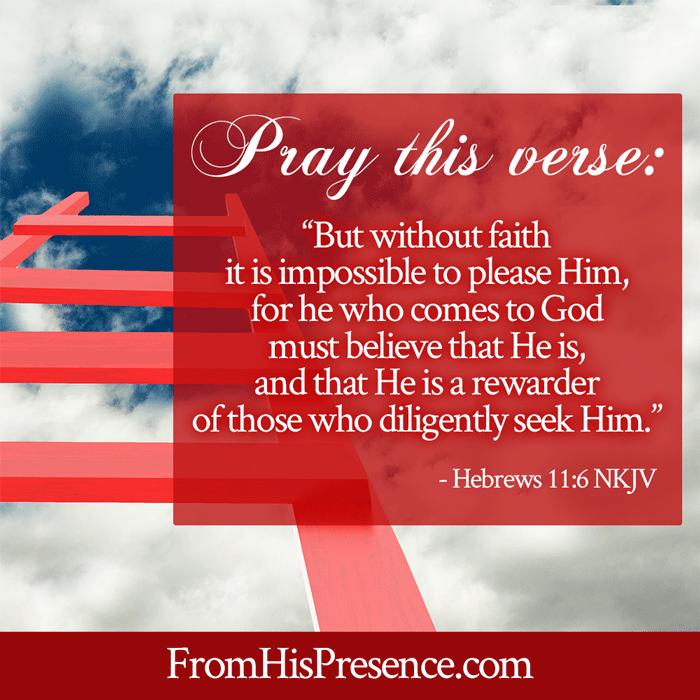 Everything we receive from the Lord is by grace and by promise. We receive from the Lord only because He loved us and Jesus died for us. The sacrifice of Jesus provides grace for our lives.
But in addition to that, we receive things not only by grace but also, after grace, by promise. All of Heaven–everything God is and everything He has–is available to us by grace because Jesus died for us. But after we enter into grace, Father God has given us exceedingly great and precious promises by His Word.
What's the caveat to receiving everything God has promised you? There are two:
You have to obey the conditions and prerequisites God places on His promises; and
You have to have faith that you will receive whatever God promised if you comply with said conditions.
The Lord showed me that many of you are living far below your station in the Kingdom. You are settling for crumbs from the table, instead of believing God to sit at His feasting table so you can enjoy everything He is, has, and does.
Remember what Jesus said in Luke 12:32:
"Do not fear, little flock, for it is your Father's good pleasure to give you the kingdom."
Our Abba Father is the Giver of good and perfect gifts. He loves to give to you! You are His beloved child; He loves to wrap His arms around you, dote on you, and dump every good gift He's got RIGHT ON YOUR HEAD!
But He can't move in your life like that unless you will let Him. And "letting Him" requires faith and obedience.
How are you doing on your faith quotient today? How about your obedience quotient? Are you believing God to do everything He has promised in His Word for you? And, are you obeying the conditions He has attached to His promises, so you can receive more from Him?
Selah.
2. Stretch your faith in the area of what doors are open to you.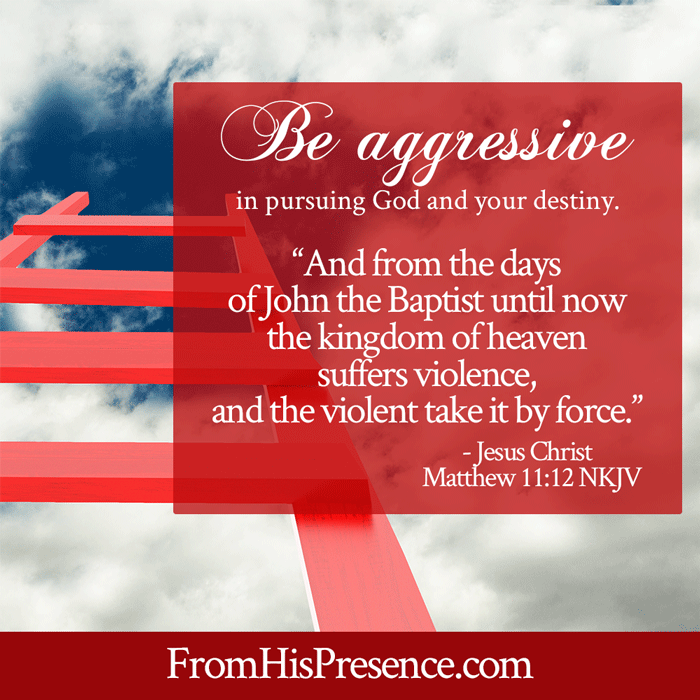 Just recently, I have asked the Lord for a couple of "stretchy" things in the area of open doors. And you know what? Within days, He opened the doors to me that I had asked Him for.
When Papa did this for me, I was stunned. I shouldn't have been, but I was. I was surprised because it was so easy. I didn't have to go out and do anything special; all I did was ask the Lord to open these doors to me, and He did. So, I started kicking myself for not asking sooner! 🙂
My friend, do you need doors opened to you today?
If so, it's time to knock on them. And the "knocking" may take many forms, but the very first form of knocking is to present your petition before the Great Door Opener, who opens doors that no man can shut–and who shuts doors that no man can open.
After you present your petitions to Him, He will direct you to take additional steps. Those steps may be to simply keep praying, but He may also tell you to do some things to knock those doors down yourself! (He doesn't tend to like it when we wait for a kingmaker, but He loves it when we are aggressive and we take the Kingdom by force.)
Either way, persist in prayer, faith, and obedience, and just watch what the Lord does for you!
3. Stretch your faith in the area of what you earn from your work.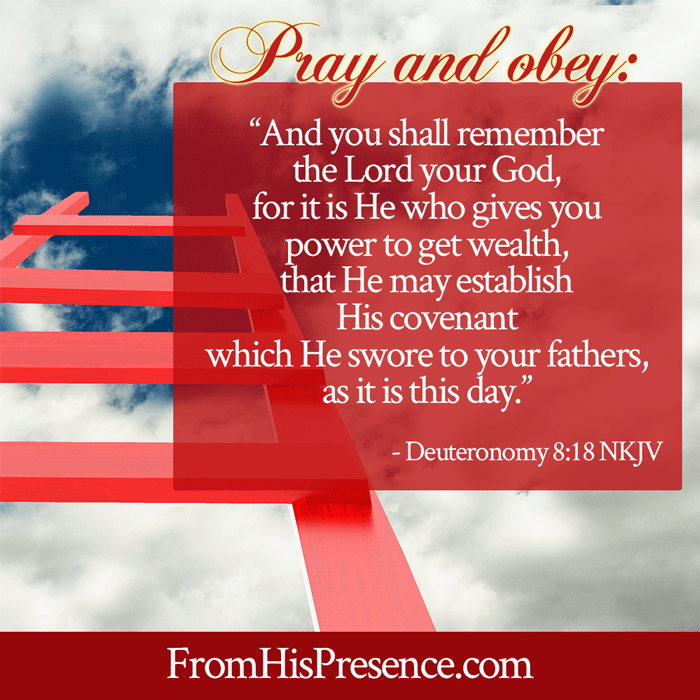 Are you happy with your current salary? Or, do you think you could earn more?
Similarly, are you happy with your current job? Or, do you think you could earn more, do better, or even be your own boss by starting a business?
I believe every person can earn more and be promoted in their own job; you just have to work hard and learn what the requirements are for promotion–then do those requirements. (And yes, I do have workplace experience that taught me that–nearly 15 years in the Fortune 500, plus lots of other experience other than that.)
HOWEVER …
I also believe the Bible specifically commands all of God's people to run their own business. (Take my video class called The Entrepreneurship Mandate if you want to know all the details about where in the Bible God commands this, so you'll have the faith to step out.)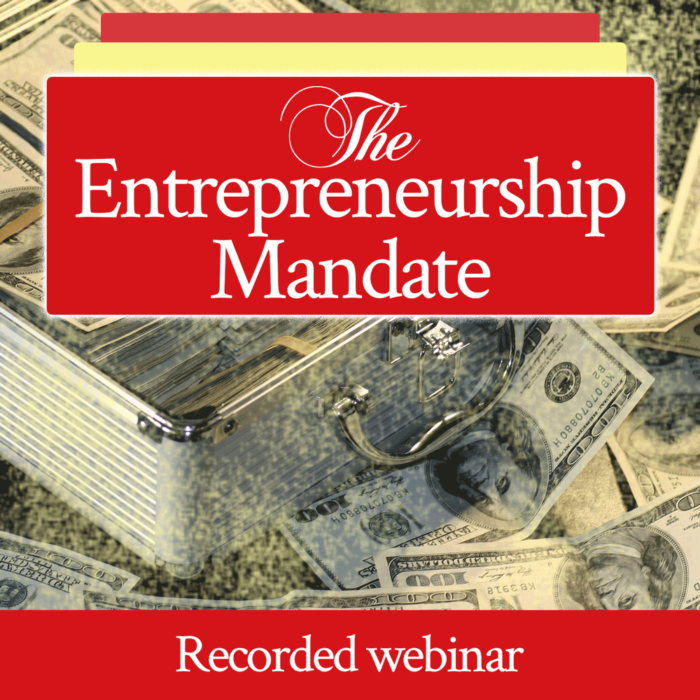 But whether you earn your income from your job, from your own side business or full-time business, or from a combination of both …
God wants your income to increase.
He absolutely does. Riches and wealth are always a blessing from the Lord in the Bible. Poverty is always a curse. That's why God identifies Himself in the Bible as the God who gives you POWER to get wealth! As it says in Deuteronomy 8:18:
"And you shall remember the Lord your God, for it is He who gives you power to get wealth, that He may establish His covenant which He swore to your fathers, as it is this day" (Deuteronomy 8:18).
Related: Read about HOW God gives you power to get wealth over here in this article on my financial blog, OverNotUnder.com.
There will come a day when money will be unnecessary.
In Heaven, we won't have any need for money. But you know what? Until we get to Heaven, we do need money … for everything. And most importantly, the Kingdom needs money because we need to finance the preaching of the Gospel. We need to care for the poor, preach the Gospel, minister to orphans and widows, and lift Jesus up around the world. All of that takes money.
So yes, God absolutely wants your income to increase. For so many reasons:
He wants you to be blessed.
He wants you to represent Him well on the earth.
He wants you to live like the King's daughter or King's son that you are–royalty in the Kingdom.
He wants you to tithe and give and prosper; and
He wants you to finance His Kingdom.
You need money for that. (Although if you're not currently tithing, and you don't have money, the not-tithing is probably the reason that you don't have money, so I encourage you to start tithing right away even if you feel like you can't afford it. Read why I say that here, in the Sixfold Blessing of the Tithe.)
So, will you stretch your faith today for promotion and increase in your job, business, and wages?
I double-dog-dare you. Write down what you'd like to earn this month from your work, and make it a higher number than you expect to earn. In fact, I challenge you to make it a higher number than you've ever earned before.
Then, pray about it; roll up your sleeves; keep that number in mind; trust God with streeeeeetched faith, and get to work! The Lord will meet you at the point of your combined faith and obedience.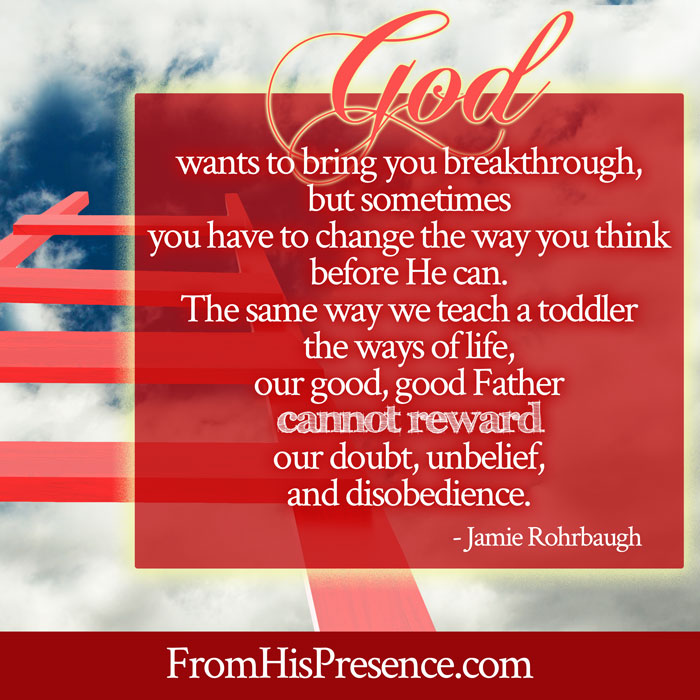 4. Stretch your faith by believing God for new, improved, and better relationships.
Have you been content to sit around at home, lonely, sad, and discouraged? Do you wish you had some friends?
Or, if you do have friends but they aren't very close friendships, wouldn't you love to have deeper, closer friends with whom you can share life?
I think the area of relationships is one area in the Kingdom where we Christians are living WAY below our calling. The Bible shows examples of friendships that are covenant friendships, but too many of us are satisfied with mere friendships of convenience. But, what would happen if you believed God and stretch your faith for Him to help you build a few "forever friendships" instead?
You can have covenant friends. They may be few and far between, but the Lord can bring them to you.
Friendships like that develop over time. So, if you're tired of being sad and lonely, you have no time to waste. Get started today!
How do you get started finding better friends than you've ever had before? Simple. To have friends, a man must show himself friendly; so get started today and go out and find someone who needs you to be their friend. As you do this, continuing to pray and stretch your faith, the Lord will bring you together with the right people and deliver you from the wrong people.
5. Stretch your faith by choosing to stay steady in faith during your most painful situations.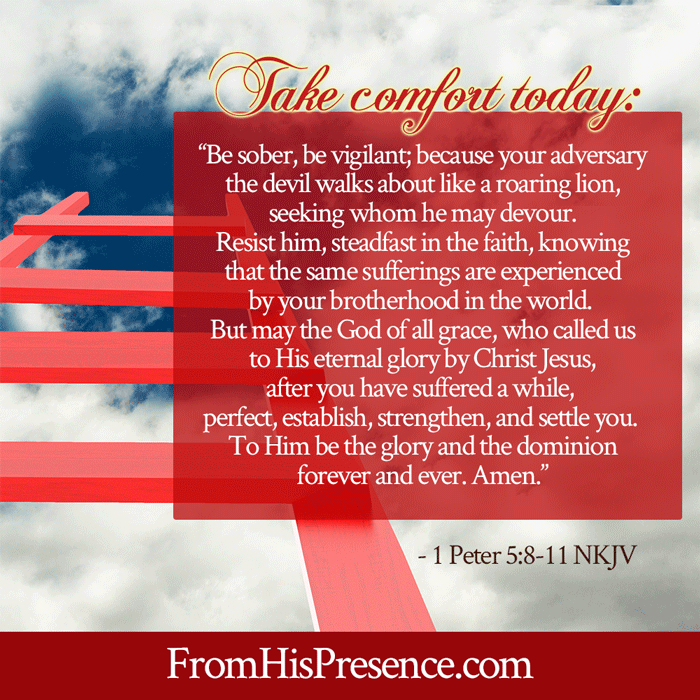 Walking in faith is a choice. Staying in faith is a choice. Choosing to believe God and His Word, even when times are hard, is a choice.
And when you're going through something awful, you always have the choice to operate in doubt and unbelief–or the choice to walk in faith.
During my hardest trials, I always received major breakthrough (first inward breakthrough, but then outward breakthrough as well) after moments when I decided to believe God, no matter what:
I actually, physically decided that I was going to stand on the Word of God.
I made the choice to believe for a positive outcome, no matter how terrible the situation appeared to be.
I chose to believe that no weapon formed against me would prosper.
I've had to CHOOSE to believe that God loves me, would provide all my needs, and would take care of me no matter what.
But you know what? Every time I have chosen to do that, those choices have changed my life in short order.
If you want to grow in God and in His blessing, you have to choose to stay steady in faith despite your pain.
The first time you choose to do this is always the hardest, but God will help you if you let Him. 🙂 He'll empower you and give you grace.
After that, you'll realize how well it worked out and the next choice will be easier. Eventually, if you keep choosing faith over doubt and unbelief every time, you will become a faith giant.
Many Christians walk in spiritual, mental, emotional, physical, and financial turmoil and poverty simply because they won't choose to stand in faith despite their circumstances.
And that's sad. Don't be one of them, okay? YOU make the choice today to S-T-R-E-T-C-H your faith and stand on God's Word, no matter what.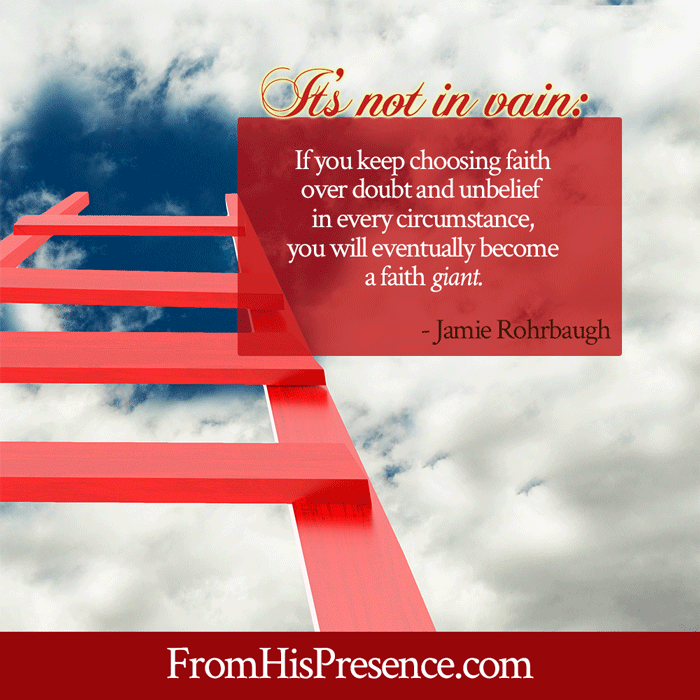 6. Stretch your faith about what you can accomplish for the Lord.
For example:
Can you write a book to the glory of God? Sure you can.
Can you score a film for the glory of God, or land a part in a Broadway musical? Sure you can.
Can you start your own independent ministry and reach millions of people around the world, all while being your own boss and earning just as good of a salary as you did in your old job? Sure you can.
Can you plant a church that becomes the next city-transforming, soul-saving, life-changing megachurch, where people come in one way and go out changed, all to the glory of God? Sure you can.
Can you become a full-time writer, speaker, and preacher? Yes.
Can you plan and host a sold-out marriage conference through your new, independent ministry? You betcha you can.
Can God prosper you enough so YOU can write a million-dollar check and pay off a church or an evangelistic crusade, all by yourself? Yes.
No matter what you want to do for the Kingdom, you can do it.
God Himself promised you that you can when He put in His Word:
"For with God nothing will be impossible" (Luke 1:37)

and

"I can do all things through Christ who strengthens me" (Philippians 4:13).
NOTHING is impossible to you. You can do ALL THINGS through Christ who strengthens you. That's the truth. But will you stretch your faith for it?
If you want to do something big for God, you have to step out and take a risk.
You have to take the risk to try. TRY to do the thing you want to do. If you fail, pick yourself up and try again. Then try again and again and again, and again–as many times as you need to. Eventually, it will work. But YOU'RE the one who determines if it will ever happen, and you make that determination with your faith.
Related: What to Do with a Holy Spirit Faith Bomb
7. Stretch your faith by resting and believing God to take care of you while you do.
The Bible specifically commands us to incorporate regular, physical rest into our week every single week–in addition to the 24/7 spiritual rest that we are to embrace in Christ. However, if you're anything like me, it takes faith to rest.
It takes faith to rest because:
You have to believe that the Lord will provide your needs while you're not working and earning money.
You have to believe that you will still be loved by people, and your friendships won't be ruined, if you aren't "performing adequately" or always around.
You have to believe that GOD Himself will still love you, even if you aren't accomplishing anything for His Kingdom one day a week.
There are probably lots of other reasons that it takes faith to rest, but those are the big three that come to mind. Regardless of your reason, it takes faith to stop what you're doing and obey God by going to sleep, taking a day off, or whatever else He tells you to do to rest.
But you have to do it. If you don't, you will burn out.
So even though it takes faith …
And even though you know it will take a miracle for God to provide for you while you cease working and rest …
And even though some people may think less of you if you don't perform adequately …
God will never let you down. He'll never stop loving you. He'll never let you go without when you obey Him. And He'll always provide for ALL your needs according to His riches in glory in Christ Jesus.
So stretch your faith today … and rest.
Maybe you could:
Take a nap.
Take a day off work.
Plan a vacation.
Go out to eat by yourself if you love doing so.
Play a round of golf.
Sew a quilt or paint a picture.
Whatever the Lord tells you to do to get some PHYSICAL REST, do it. It will stretch your faith to stop your normal routine, stop working, stop performing, and just HEAL, but again … you will be glad you did. 🙂
Do you need to stretch your faith in these seven areas?
Is the Lord talking to you about one of these areas in particular? If so, step out today and go for it. BIG faith requires big risk and taking big actions, but you will also get big results every time.
Are you going to choose to stretch your faith today in one of these areas? If so, leave a comment below! I love to hear from you!