If You're Dying of a Broken Heart, Pray This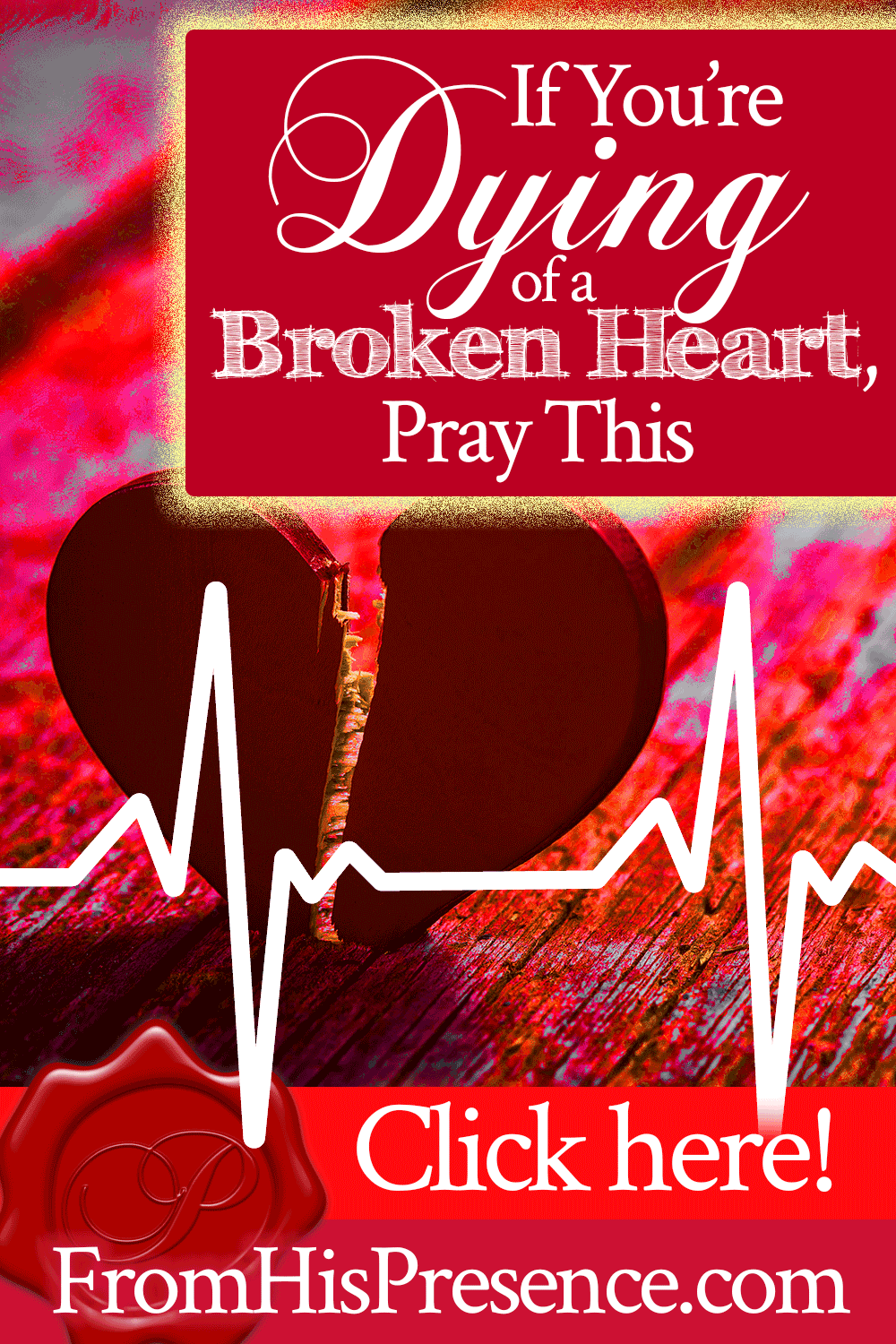 Do you feel like you are dying of a broken heart? Did you wake up this morning with the physical, literal sensation that your heart was very close to stopping as a result of the emotional, spiritual, or physical pain you are in?
I did. Not gonna lie. I woke up this morning (the day I wrote this) and felt like literal death was very near. I distinctly felt that I was dying of a broken heart.
I began to pray.
I prayed in English, and I prayed in the Spirit. I began to plead the blood of Jesus. I turned on this old hymn from YouTube because "There to my heart was the blood applied":
As I prayed, I sensed the Lord ministering to me and bringing hope. However, I know that if this happened to me, I am not the only one. Therefore, I felt led to write this prayer out for you in case you also feel like you are dying of a broken heart.
Because God is going to save your life today.
If you're dying of a broken heart, pray this with me right now:
"Dear Heavenly Father,
I come to You in Jesus' name.
Father, I love You. Thank You for hearing me pray right now. Thank You so much for Jesus, and for saving me through the blood of Your Son. Thank You that You and Jesus are alive and always will be, and You are the guiding force in my life. You are everything to me, and I couldn't live without You. Thank You. I praise You for who You are, Lord God of Heaven and earth.
Father God, You know and see all things. You see that I feel like I am physically dying of a broken heart right now.
I ask for Your help, Father. I do not have confidence in and of my own natural self that my physical heart can survive to beat another day. I do not have the strength in myself to live or to go on.
But Father God, I plead the blood of Jesus over my heart right now.
I feel like I am broken beyond repair, with no hope to live again. However, Father, YOUR WORD SAYS:
"For there is hope for a tree, if it is cut down, that it will sprout again, and that its tender shoots will not cease. Though its root may grow old in the earth, and its stump may die in the ground, yet at the scent of water it will bud and bring forth branches like a plant" (Job 14:7-9).
Lord, I do not feel any hope; but, Your Word says there is hope. I do not feel like my heart is going to make it another day, but Your Word says that Jesus has borne our griefs and carried our sorrows (Isaiah 53:4); that the chastisement for our peace was upon Him, and that with His stripes we are healed (Isaiah 53:5).
So Father God, I ask in Jesus' name today that You would keep my heart beating–and that You would extend my life.
I cannot live without You, Father. I have no strength to go on. But people need me here on earth, Lord. My family needs me. My child needs me.
You have a calling and a purpose on my life that is not finished yet. But I am literally afraid of dying of a broken heart, Father; for unless You intervene, I cannot continue to live with the pain I've been under these many years, and which I am in right now.
Please help me, Father. Please, apply Your blood to my heart, Jesus:
Save my life.
Spare my life.
Keep me from dying of a broken heart; give me new life instead.
Heal my heart.
Take away my old, broken heart and give me a new heart of flesh–Your heart.
Help me to forgive all those who have hurt me–and to forgive them with genuine, deep, total and complete forgiveness like You forgive.
Help me to walk worthy of the divine calling to which You have called me.
Help me to love, pray for, and do good to every person who has hurt me.
Father, even if I suffer, I want to walk worthy of Your calling.
Please keep me from sinning against You. Give me wisdom. Instruct me and teach me in the way I should go, and guide me with Your eye upon me (Psalm 32:8). Give me clean hands and a pure heart; help me not to lift my soul up to idols or swear deceitfully.
Father God, in Jesus' name, I plead the blood of Jesus over my mind, will, and emotions right now. I also plead the blood of Jesus over my heart.
Physically and spiritually, I pray, heal my heart. Give me strength to go on. Let rebirth come from this crucifixion. Water me with the joyous water of Your Holy Spirit. I plead the blood of Jesus, and I ask that Your total, complete, and perfect will would come forth out of this and every situation in my life.
Father, give me the courage to face the day.
Give me strength and a heart to go on. Spare my life physically and emotionally. Keep me from dying of a broken heart; heal me instead. Provide for all my needs richly, please, I pray in Jesus' name.
I am coming to You, for I am weary and heavy laden; PLEASE, Father God, Jesus, and Holy Spirit, give me rest. Help me to rest in You today. Keep me as the apple of Your eye and hide me under the shadow of Your wings.
Please help me, Father. Thank You that Your everlasting arms are underneath me right now. Please help me to sense Your presence, Your help, Your love, Your care, Your protection, Your provision, and Your watchcare over me today.
Abba, I need You for all things. I need You in all things. I cannot live without You, and I have no strength, will, or ability to live unless You sustain me.
Our Favorite prayers for hard times
Receive God's comfort as you pray!
Thank You for Your great faithfulness to me, Abba Father.
Thank You for Jesus, who ever lives to make intercession for us. Thank You that I can come boldly before Your throne of grace, where I may obtain mercy, and find grace to help in time of need. Thank You that Your eye is on the sparrow, and I am of more value to You than many sparrows.
I rebuke the spirit of death off of me and off of my life in Jesus' name.
Spirit of death and murder, GO in Jesus' name. Spirit of pain, leave in Jesus' name. Father, please fill me with Your Holy Spirit in every part of me, and especially where those things were.
I claim Your promise that with long life You will satisfy me, and show me Your salvation (Your Yeshua) (Psalm 91:16). I claim Your promise that You will supply all my needs according to Your riches in glory by Christ Jesus. Please restore unto me the joy of my salvation, and fill me with LIFE, and life abundantly.
I pray all of these things, and I thank You for sparing my life, in Jesus' name. And I give You all the glory and all the praise. Thank You for hearing and answering my prayer.
In Jesus' holy and precious name I pray, amen and amen."
Friend, did you feel like you were dying of a broken heart before you prayed this prayer?
If this prayer was for you, sit back and let God the Father, God the Holy Spirit, and Jesus minister to your heart for a few minutes. And remember that His mercies change not; great is His faithfulness (Lamentations 3:22-23). He will preserve you and keep you alive today (Psalm 41:2-3), for His Word is true.
Did this prayer help you today? If so, leave a comment below and let us know!