Prayer for the Balm of Gilead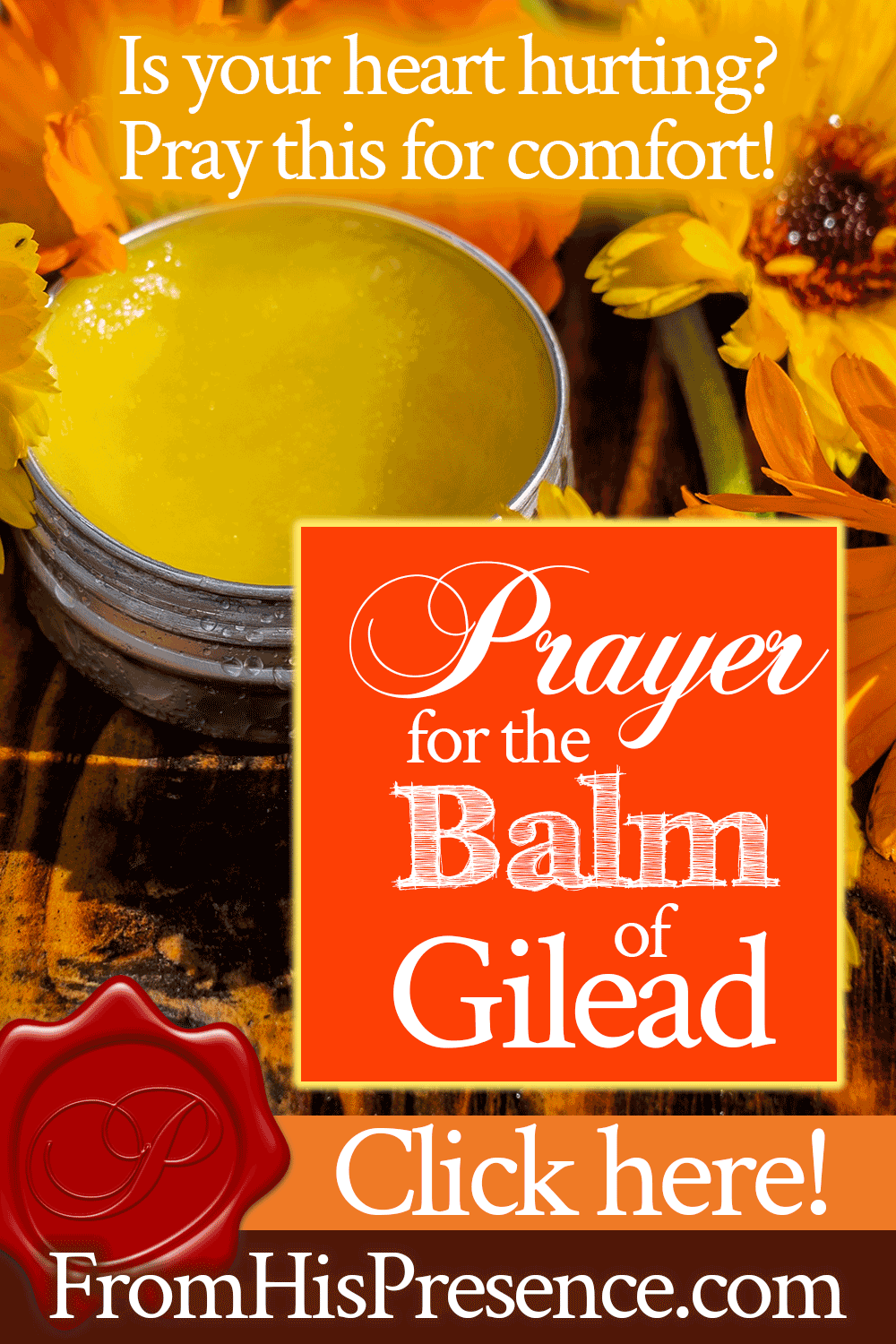 Are you hurting today? If so, Jesus is both your medicine and your Great Physician. And if you're hurting today, I urge you to pray this sample prayer and ask Him to apply Himself, the healing Balm of Gilead, to your body, soul, and spirit.
What is this thing about the "Balm of Gilead"?
Gilead was a region in the Middle East, in Israel, east of the Jordan River. A special plant or tree grew there, and it was used to make a famous healing balm that is mentioned several times in the Bible.
My favorite reference to the Balm of Gilead is found in Jeremiah 8:21-22, when the prophet mourns for his people:
"For the hurt of the daughter of my people I am hurt. I am mourning; astonishment has taken hold of me. Is there no balm in Gilead, is there no physician there? Why then is there no recovery for the health of the daughter of my people?" (Jeremiah 8:21-22 NKJV).
The Balm of Gilead is used metaphorically here to symbolize God's help and healing.
In and above this passage, the prophet mourns the sinfulness of his people–and wonders at why God has not redeemed them and healed their land. And when he mentions the Balm of Gilead, he is basically saying:
"God is the help we need. He is the One who can heal us."
Pray the prayer that we have seen God use to heal thousands of people all over the world!
Grab a pack of 20 copies of the full Sample Prayer of Forgiveness and Soul healing while supplies last!
Well, friend, no matter what you are going through today, God is the help you need also.
If you're hurting, Jesus is your Healing Balm. He is the Balm of Gilead. Even if it takes time soaking in His presence, in the Word, and in prayer, Jesus wants to touch you today and heal you everywhere it hurts.
Think about Jesus ministering to you. Isn't it comforting to imagine? Think about this:
Imagine that you are in the Hospital of the Holy Spirit–a secret place of luxury, rest, personal ministry from God, and refreshing for all those who are weary.
See Jesus taking His healing balm and applying it ever so gently to all the wounds in your soul.
See Him bandaging you up–body, soul, and spirit–and then picking you up to hold you.
But as you rest in His arms, you aren't just a bandaged, damaged thing. The wounds close up. The scars fall off. The fresh water of His Spirit pours through your spirit … and you are healed.
Healed by Jesus, the Balm of Gilead.
Are you ready for that? Do you need that kind of ministry from Jesus right now?
If so, pray this prayer for the healing Balm of Gilead:
"Dear Heavenly Father, I come to You in Jesus' name.
Abba Father, thank You that You are faithful. Your mercies are new every day; great is Your faithfulness. Thank You for giving me rest, for Your Word says 'Come unto Me, all you who are weary and heavy laden, and I will give you rest.' Thank You. I praise You for Your grace, mercy, kindness, and love toward me.
Abba Father, Lord Jesus: please apply Your healing Balm of Gilead to every part of me right now.
Review the basic keys to inner healing!
If you want to get healed and stay healed, you need to understand how inner healing and deliverance work. Take a moment to review these slides.
You are the Balm of Gilead, and You are the only One who can heal me. Please apply Your healing balm–which is Yourself–to me in body, soul, and spirit:
Soothe the hurts from how people have mistreated me.
Heal the scars and wounds from where people have accused me falsely, even without knowing me.
Take away my jaded-ness and my inability to trust. Help me to be comfortable around people again.
Restore my basic innocence–the sense that I can exist in the world, and every moment doesn't have to hurt.
Heal my body from the horrible rigors and stresses I have been going through for a long time.
Heal my spirit, for I am dry and weary and wounded.
Pluck out the arrows and darts the enemy has shot into me that have landed. Let healing come so deeply through Your touch that there will not even be a scar.
Fill me with joy unspeakable and full of glory again, I ask, in Jesus' name.
Abba Father, I ask in Jesus' name that You would rise up and fight on my behalf:
Please defend me and fight off the enemy so that I can rest.
Vindicate me, O God, for I have walked in the integrity of Your Word.
I ask that You, Jesus, and Holy Spirit would put the hordes to flight and bring me into a place of rest.
Lord Jesus, I've been so weary and battle-wounded, but I ask You to give me rest today.
Once again today, as always, I take Your yoke upon me and learn from You, for You are gentle and humble in heart, and You give me rest for my soul. Please help me to rest in You today while You keep me safe under the shadow of Your wings. Heal me, hide me, and strengthen me, I ask, in Jesus' name.
Thank You for ministering to me as the healing Balm of Gilead. Thank You for touching me and relieving the pain in my body, soul, and spirit. Please help me to slosh with Your anointing and healing today.
Lord Jesus, please cover me with Your healing Balm, and do not let any evil befall me, nor any plague come near any of my dwellings.
Help me to dwell in the secret place of the Most High. Help me to SAY and confess continually that You are my Refuge and my Fortress; my God, in whom shall I trust.
While I obey You in this, I ask that You would keep me stable and fixed under the shadow of the Almighty, whose power no foe can withstand.
Thank You, Abba Father. Thank You, precious Lord Jesus. And thank You, sweet Holy Spirit. I love You with all my heart, even when I'm too wounded to express it very well. I love You with all that is in me, and I ask You to keep me and hide me under Your wings today.
Thank You. In Jesus' holy and precious name I pray, amen and amen."
Beloved, did Jesus touch you in body, soul, and spirit as you prayed this prayer for the Balm of Gilead today? Did this word resonate with you? If so, leave a comment below!