Prayer for More Anointing
If you're serious about drawing nearer to Jesus and having God use you on earth to glorify Christ, then you need His anointing. Today, we are praying a Scriptural prayer for more anointing based on Isaiah 61.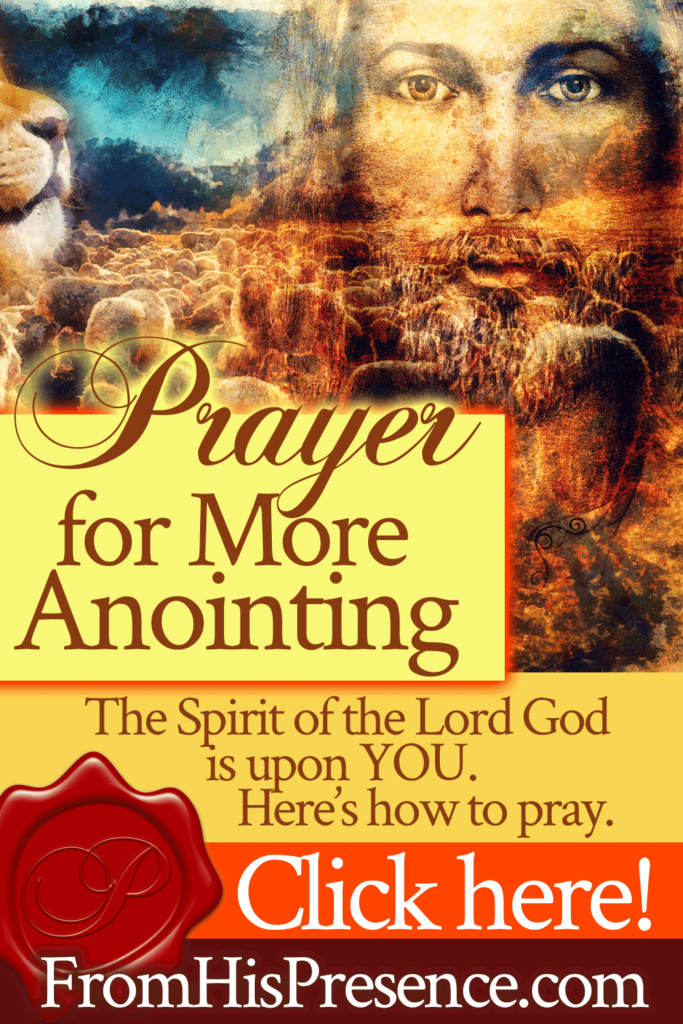 Isaiah 61:1-3 contains Jesus' description of Himself. Holy Spirit dictated this passage to Isaiah long before Jesus' birth, but the whole thing is still the words of Jesus. In fact, the first time Jesus got up to teach in the synagogue during His ministry, He read this passage about Himself!
Here's what Isaiah 61:1-3 says:
"The Spirit of the Lord God is upon Me, because the Lord has anointed Me to preach good tidings to the poor; He has sent Me to heal the brokenhearted, to proclaim liberty to the captives, and the opening of the prison to those who are bound;

To proclaim the acceptable year of the Lord, and the day of vengeance of our God; to comfort all who mourn, to console those who mourn in Zion,

To give them beauty for ashes, the oil of joy for mourning, the garment of praise for the spirit of heaviness; that they may be called trees of righteousness, the planting of the Lord, that He may be glorified" (Isaiah 61:1-3).
WOW! Did you know that the anointing does all those things?
Or, did you know what the anointing was at all? Many people don't, so don't worry if you didn't either!
What IS the anointing, anyway?
"The anointing" is Holy Spirit sitting on you to do a thing. And Jesus is the "Christ," which literally means the "Anointed One," because Holy Spirit was on Him and in Him to do everything He needed to do!
But you know what? If you have given your life to Jesus Christ, Holy Spirit lives inside you too. And if you ask Him for His anointing, He will help YOU do everything you need to do, just like He helped Jesus!
That means:
He'll help you do your job every day–with skill, favor, and power!
He'll help you be a good parent.
He'll help you be or become a good spouse!
He'll teach you how to love people–even difficult ones–and even enjoy it!
He'll help you get groceries, even if you're tired.
He'll help you become a good steward, handling money the way He wants you to, so you can receive even more financial blessings from the Lord!
He'll help you work out and exercise, even when you'd rather stay in bed.
Long story short: The anointing is when the power of Holy Spirit rests upon you to do whatever He needs you to do.
And the anointing of Holy Spirit is always available to you. Holy Spirit always lives inside you if you have given your life to Jesus. But, there are certainly levels of power and anointing. You can demonstrate a little bit of power and anointing …
… Or a lot of power and anointing.
Which one do you want? I hope you are saying that you want a LOT of God's power and anointing, for He wants you to live a powerful, anointed life! Just like Jesus, He wants you to:
… And so, so much more! And you're going to need His anointing to do it all, but He is ready and willing to give you the anointing you need!
If you're ready for more anointing, go ahead and pray this prayer for more anointing with me today!
Pray as follows:
"Dear Heavenly Father,
I come to You in Jesus' name. Abba Father, thank You for hearing me pray today. Thank You that You are alive and well, eternal, indivisible, knowing all and seeing all and creating all–but You still sent Your Son to die for me, and Your Spirit to live inside me. Thank You.
I am humbled, Father. I do not deserve Your salvation, Your grace, or Your Spirit, but I thank You for these free gifts that were made available to me by the blood of Jesus Christ.
Abba Father, I praise You for sending Your Son Jesus, the Anointed One, to earth to show us how to know You.
Thank You that we can now live in His example, talking as He talked and walking as He walked. You sent Jesus to reveal You to us, and I thank You.
Father, Jesus is the Anointed One. Holy Spirit was upon Him to do everything He needed and wanted to do–everything that was in Your heart for Him to do. And Father, I am crucified with Christ, therefore I no longer live; Jesus Christ now lives in me.
So Father, since I am alive in Christ and all the rights and privileges of Christ are mine too in Him …
I ask today in Jesus' name that You would fill me with Your anointing:
Cause me to prophesy, dream dreams, and see visions that are all from You.
Let me sense Your presence and affection at all times.
Help me to do everything You desire me to do from day to day.
Anoint me to be a good witness for You with other people–to love them well and to demonstrate Jesus to them.
Help me to do my job with Your anointing, power, skill, efficiency, and favor.
Anoint me and open doors for me to go into all the world and teach, making disciples of every nation, and baptizing them in the name of the Father, the Son, and Holy Spirit.
Anoint me to heal the sick, raise the dead, drive out demons, and cleanse the lepers.
Anoint me to speak in other tongues.
Pour out ALL the gifts of the Spirit on me, and help me to learn how to operate in each one.
Oh Father, let Your anointing be upon me because of my intimacy with You, with Jesus, and with Holy Spirit. Let me never seek it for unholy purposes.
Help me never to desire Your anointing with wrong motives, but help me to seek You and earnestly cry out to You every day from a pure heart.
Dear Father in Heaven, I need Your anointing.
Father God, I am weak and powerless without You. Please, Abba: Pour out more anointing on me! Pour out Your tangible grace, strength, and power on me! Please help me feel Your anointing and power flowing through my body, mind, and spirit man.
Abba, most of all, I desire to be closer to Jesus, the Anointed One.
Please teach me more about Your anointing, and help me to operate in it, so that I can become more like Jesus–and to know Him both in the power of His resurrection and the fellowship of His sufferings.
Thank You for hearing and answering my prayer, Abba Father. Please help me remember to continue praying for Your anointing. Thank You that You do not give Your Holy Spirit by measure. And I pray that You would do such a work in my heart that Your power and anointing are similarly able to flow in my life without measure.
I love You, Abba Father. I love You, Lord Jesus and Holy Spirit.
I am desperate for You. Thank You for touching me with Your anointing and power right now. Please give me wisdom to handle it. Thank You, Holy Father. I receive it by Your grace.
In Jesus' holy and precious name I pray, amen."
Friend, did you pray this simple prayer for more anointing today?
If so, leave a comment below with your own heartfelt cry to the Lord for more anointing! And remember to also listen to the podcast below, so you can be further encouraged on the subject of receiving God's anointing!