Prophetic Vision and Prayer for Deep Soul Rest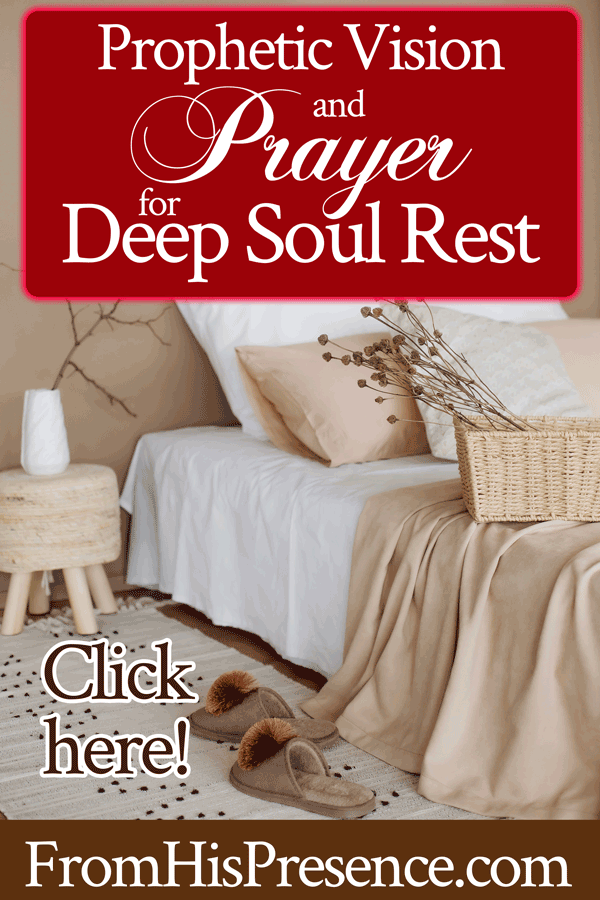 My friend, do you need deep soul rest? Have you been dealing with so much fatigue that it has been nearly crippling?
And, most frustrating of all, are you wondering where this level of fatigue is coming from–because you've already been resting, so you shouldn't be dealing with this level of fatigue?
If so, the Lord gave me a word for you today.
In a vision, I saw a bucket of rotten food.
The pieces of food at the top of the bucket were moldy and chunky, but you could still see the individual chunks. However, at the bottom of the bucket, all the nasty juices had collected and everything had rotted to the point of not even being recognizable. The whole bucket was gross, but the bottom of the bucket was the absolute worst.
And I heard the Lord say:
"You have been resting and getting your health back, but I am doing a deep work of healing right now by dealing with the rot at the bottom of the bucket.
The rotten pieces of your life consist of stress, worry, anxiety, fatigue, and a need to provide for and protect yourself. Earlier this year, I dealt with the surface level of these things in your heart. I have rooted out so many of these painful layers of stinking thinking, and you have cooperated with Me.
But now, the worst is coming out.
The worst parts consist of the layers that have been in you the longest AND the layers that hurt the most. I am showing you even now which layers these are, and they are things you have never seen before–things you have never noticed about yourself.
My beloved, I am with you to comfort you and I am with you to heal you. This is always who I am, for My Spirit is Comforter and I am Healer.
But the same way it would hurt the most if I performed a physical surgery deep in the innermost parts of your body, it also has the most impact on you physically when I perform surgery on your heart, on your thinking, and indeed on your soul.
You have been exhausted and stressed for many years, and I am soaking that exhaustion and stress out of you with the poultice of My Spirit.
I am the healing Balm of Gilead, and I am pressing on you to ever-so-gently remove the toxins that have made you sick. This is why I have asked you to rest–and indeed, I am pushing on you so hard that you cannot do anything but rest.
The problem is not yours, but Mine. You need to understand while I perform surgery on your soul and body that I will perfect all things that concern you.
So don't worry.
Ask Me to help you, but rest. Pray over what concerns you, but rest. Believe for more and greater and miracles and breakthroughs, but rest. When I am done soaking up these toxins out of your body, soul, and spirit, you will be a whole new person.
Love, your doting Abba."
Beloved, if you are dealing with a deep, wearying, bone-level fatigue right now, this word is for you.
And in order to cooperate with our Father, I believe we each ought to pray for a deep soul rest. We each need deep soul rest in order to allow Father to finish His work in our heart.
And if my understanding of what the Lord is doing in His Body is correct, then we cannot receive the physical, spiritual, emotional, and mental healing that we need without deep soul rest.
Does this word resonate with you? If so, pray this prayer for deep soul rest with me:
"Dear Heavenly Father,
I come before You in Jesus' name.
Father, thank You for hearing my prayer right now. Thank You for loving me and tuning Your ear to hear my cry. I need You now, Lord,
It's been years that I've been striving. Years of exhaustion. Years of responsibilities that wear and tear on me, without a break to truly heal. Years of not having the help, support, encouragement, or nurturing that I should have had from Day One.
Abba Father, I'm tired.
I'm tired in my bones, Lord. I'm tired in my spirit. I'm tired in my soul. I'm tired of having to protect myself because nobody else seems to want to protect me. I'm so tired, Lord.
But Father God, Your Word says "Come unto Me, all you who are weary and heavy laden, and I will give you rest." Your Word says that, when my heart is overwhelmed, You will lead me to the Rock that is higher than I–and You are that Rock who is higher. You are my safe and sure place.
Abba Father, I come to You. Please give me rest right now.
Holy Father in Heaven, as I come to You, let the weariness and fatigue drain out of my soul. Let the pent-up frustration drain out of my bones.
I cast every burden upon You, Lord, for You and You alone will sustain me; You will never allow the righteous to be moved.
Abba Father, and my precious Lord Jesus Christ of Nazareth, You and You alone have the power to heal me from this fatigue. You and You alone have the capacity to bring me rest.
So Lord, in Jesus' name:
I ask that You would bring peace to my very cells right now. Let every fiber of my being come into a place of rest and peace in my body right now, aligned perfectly with Your resurrection body, Jesus–for I am crucified with Christ, therefore I no longer live; You, Jesus, live in me.
I ask also, Father God, that You would give me peace in my emotions right now.
Fill me with Your Holy Spirit, and let Your precious Spirit rise up in Me and bear His fruit right now–fruit of "love, joy, peace, longsuffering, kindness, goodness, faithfulness, gentleness, self-control" (per Galatians 5:22-23).
I pray that You would shelter me and keep me safe from all the people who want to abuse me in this world.
So many people have attacked me, Father, and it hurts. I forgive them, Lord–even people close to me. I forgive them all. But I need to be protected, Abba Father.
Lord God, You are the only One who acts with perfect, undying love–and I need Your love. Hide me so deeply in Yourself right now that no person of the world–and no being from the realm of darkness–can access me or attack me in any way:
Put a hedge of protection of Your flaming glory all around me;
Send angels with flaming swords to watch over me; and
I ask that You would fight for me as I hold my peace in You.
Lord Father, I am so exhausted. I ask right now in Jesus' name that You would water my bones all the way down to the marrow.
Water my spirit, soul, and body with Your wellsprings of life. Apply Your healing Balm of Gilead–which is simply Yourself–to my healing, from the skin level all the way down to the deepest gut level of my innermost being.
Abba Father, I love You; and I just want to thank You today:
Thank You for understanding and knowing how I'm doing even when I don't understand how I'm doing.
Thank You for knowing exactly what I need before I ask You.
Thank You that, before I called, You have already answered this prayer.
Thank You for the deep soul rest that is seeping into my spirit, soul, and body right now by Your Spirit, for You are God Who Heals.
Thank You, Abba Father, for sending Your Word and healing all diseases that have plagued my body.
Thank You, Lord Jesus, for accepting the stripes upon Your own back that I deserved–the stripes by which I stand perfectly healed in Your presence today.
Thank You for healing me from the top of my head to the bottom of my feet, from the inside to the outside and from the outside to the inside–spirit, soul, and body.
Thank You right now for making my thoughts, my words, my cells, and my hormones line up with Your perfect resurrection life, power, and healing through the blood and stripes of Jesus Christ–who is the Same yesterday, today, and forever.
I love You, Abba Father. I couldn't live without You, and I thank You so much that I don't have to.
You are the breath that I breathe. You are the air in my lungs. You are the beat of my heart. You and only You sustain me, Lord Jesus, by the very word of Your power.
So thank You for doing this for me. Thank You for teaching me to rest, and thank You for hiding me in the secret place of Your presence. Thank You for giving me Your deep soul rest, and help me to abide in Your rest and in Your love forever.
In Jesus' mighty, holy, and precious name I pray, amen."
Beloved, did you pray this prayer with me today? Do you feel the Lord's deep soul rest seeping into your bones even now? If so, please leave a comment below! I would love to hear your testimony!