Prophetic Word: Your Thankfulness Is Opening Doors for You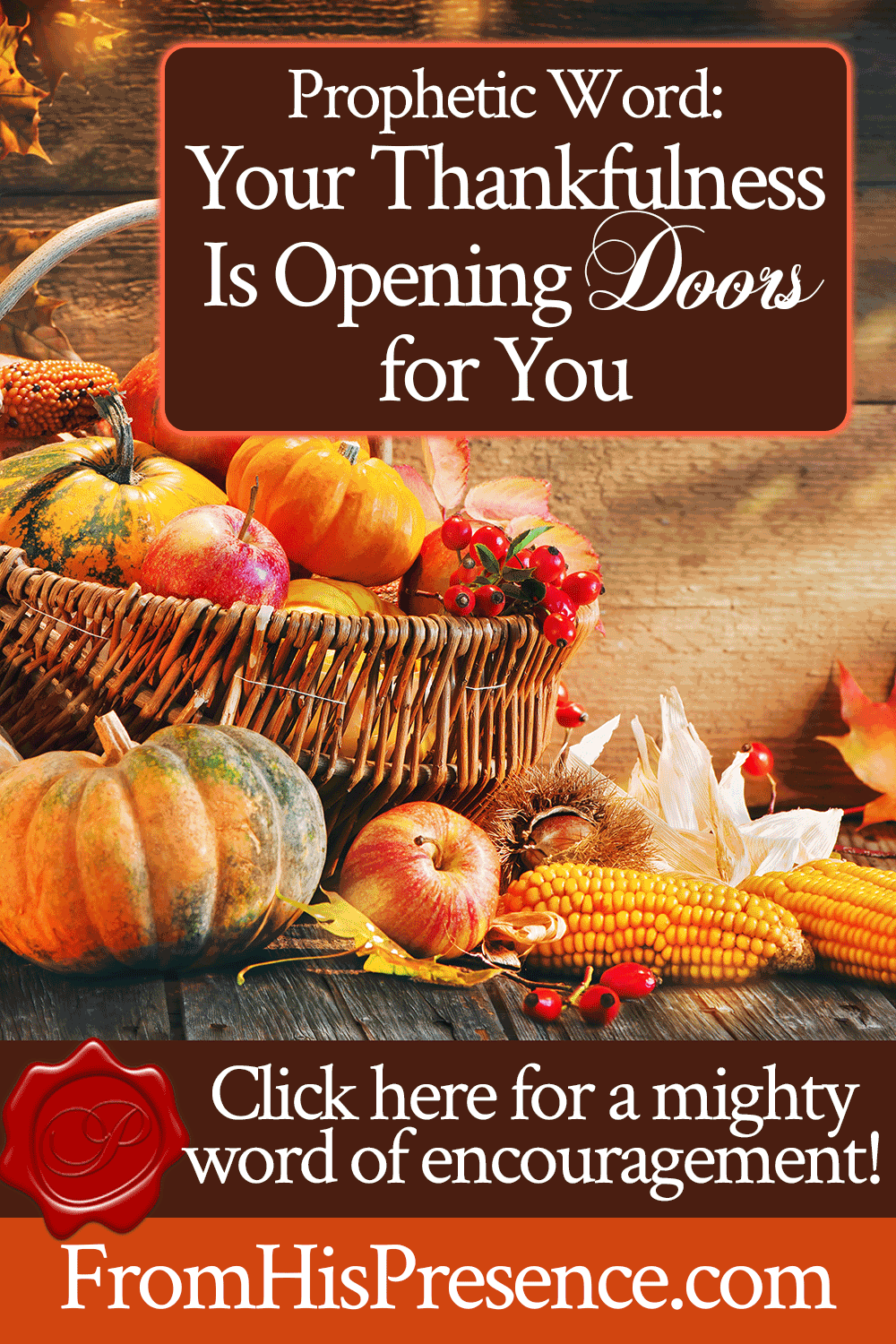 Beloved, has your heart been overflowing with thankfulness even this morning? If you have been giving thanks to the Lord, He has a marvelous word of encouragement for you today!
This morning, the Lord told me He wanted to speak to His children. He urged me to write this down for you now! I believe Father is going to touch your heart with this word!
I heard the Lord say:
"Your thankfulness is opening doors for you!"
I asked Him to elaborate on this, and He said this:
"I love your heart of thanksgiving. This very morning, you are so overwhelmed with thankfulness that you can hardly do anything but give thanks! And rightly so–for I am moving mightily on your behalf!
Your thankfulness is the grease that makes the process of breakthrough speed up for you.
Your thankfulness is helping win the battle with the enemy over your breakthrough. Your thankfulness obligates Me to do even more for you, even though You did not intend to trap Me by giving thanks; I know you are sincerely grateful!
But beloved, you need to know that your thankfulness makes me rise up in anointing and joy and power and MOVE MIGHTILY on your behalf!
Your thankfulness touches Me in the deepest part of My heart. Your thankfulness warms My heart; it moves Me and shakes Me and makes Me want to throw aside the heavens and the earth to do business on your behalf and do things for you that you can't even imagine!
Your thankfulness is initiating a long process of blessing that I have dreamed about for you from before the foundation of the world! Your thankfulness rouses Me to overcome all obstacles that have been loosed against you. Indeed, they were already under My feet, but your thankfulness helps Me to place them under YOUR feet as well!
Giving thanks is a solution that not a lot of people understand.
To him who has, more will be given; and giving thanks shows Me that you consider yourself to be in the category of "having"! Giving thanks shows Me your faith; it demonstrates your heart of honor to Me! And when you demonstrate honor to Me, I can honor you!
Call unto Me right now, and I will answer you! Indeed I will show you GREAT and MIGHTY things that you do not know! I am eager to move on your behalf; keep on going with all the thanksgivings you are offering to Me!
Your love and thankfulness is incense in My nostrils that few have ever smelled.
Ask Me to let you smell the fragrance of thanksgiving. I will let you smell it; it will change your life and you will be wrecked for giving thanks indeed!
My heart is so focused on you. You have no idea how much I dwell on you.
O My child, I love you so much. You have no idea of the depth of My love! You have seen only the surface; you have gotten to know My love a little bit, but there is so much more of My love for you to know! It is yours already; all My love is being showered on you; I desire you to know that.
I appreciate your thankfulness so much, for it shows that you are beginning to receive from Me. I desire to do so much more for you, and to help you know Me so much more than you already do.
I desire you to know Me in greater ways–and beloved, you have to learn that thankfulness is the gateway to My manifest presence! You truly ARE to enter into My gates with thanksgiving; thanksgiving is the key!
So this season, My beloved, won't you overflow with thankfulness?
Won't you focus on being thankful; on thanking Me for everything I do and everything I am to you, so you can see Me so much more?
I tell you that if you will do it and give thanks to Me like you never have before, but like you have been doing even this very morning, your life will change forever. The new river you are looking for and praying for can be found inside the gates of thanksgiving, for I have done much for you and I desire to do even more.
There is much to be thankful for, and the lifting up of your thank offering to Me is the key to receiving even more in your life.
My beloved, I love you with My everlasting love. My heart is fixed on you. I dwell in you and on you and with you, and I desire to talk to you face to face, as a man speaks with his friend. I will do that; you will see. I will visit you and manifest Myself to you.
Thank you for extending the invitation to Me, beloved, through your thanksgiving. I am here, and I am coming to move on your behalf in greater ways than you have ever seen.
Love, your Heavenly Daddy."
Beloved, is this word resonating in your heart today? If so, this word is for you! Take it to heart! Leave a comment below if you receive this word from our Heavenly Father today!