Prophetic Word: The Sweetness of My Rest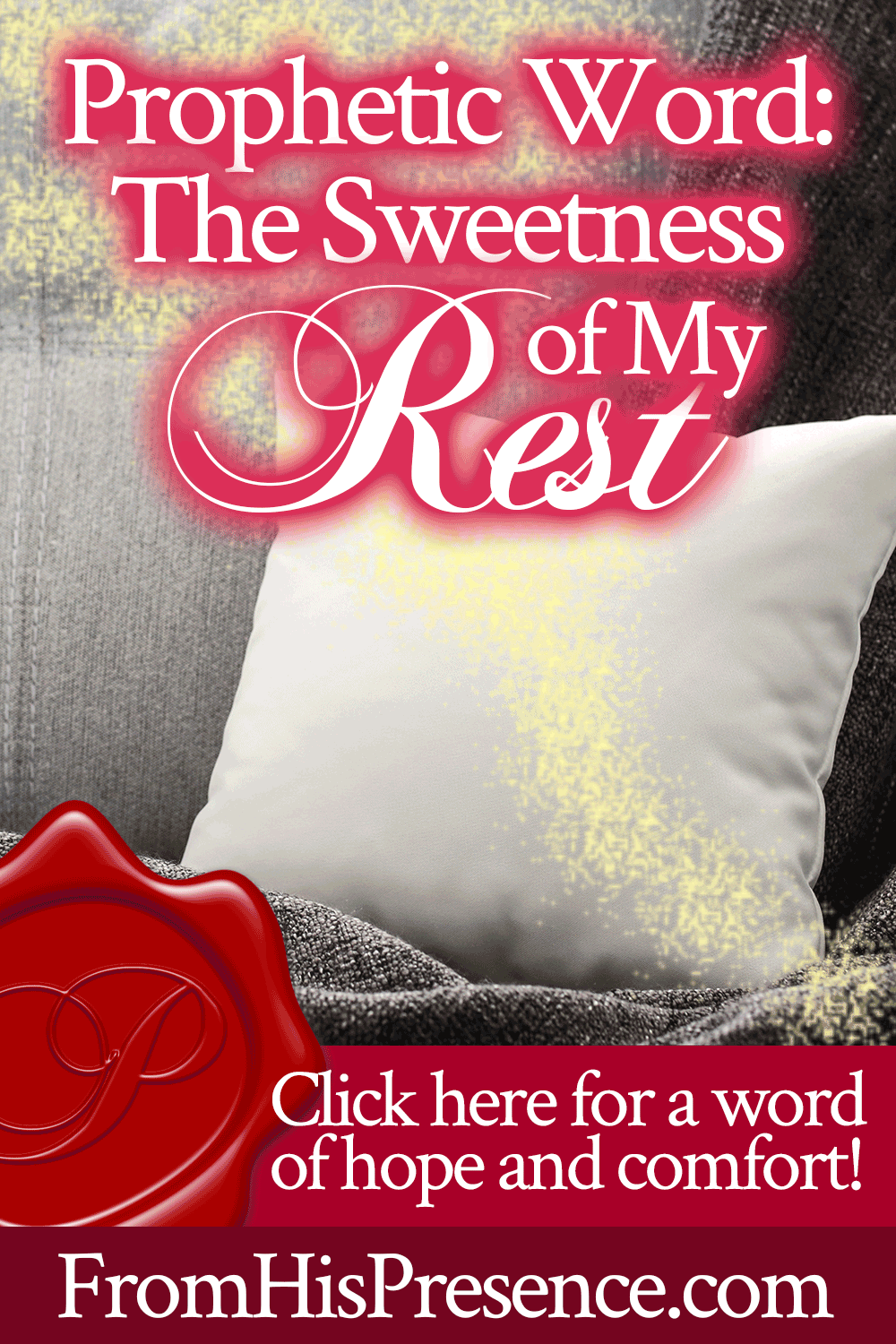 Beloved, have you been waiting on the Lord lately? If so, I heard the Lord say to you:
"You have entered the sweetness of My rest!"
He went on to say:
"You have been waiting for Me, and you have noticed that the waiting is sweet. You have noticed that the waiting is not painful like it used to be; you have been depending on Me and excited about what I am going to do, knowing that the waiting is only the precursor to My miracle.
But you know what you have not considered, My beloved? You have not considered that waiting on Me like this is actually rest!
I did, and I tell you now that what you see in your own life and spiritual growth is indeed a mighty convergence. I have brought together the river of rest and the river of waiting, and I have brought you into a perfect place of shalom peace.
In this place of shalom peace, you simply know Me.
That is all you know, and that is all you have to know. You do not know what I will do, except that I will answer. You do not know how I will answer or when I will bring breakthrough. But you do know ME, and you have been happy in that place!
Beloved, I have brought a sweetness to your resting and waiting that you have never known.
In this place, you are well able to withstand any fiery darts of the enemy. In this place, you have girded up your loins, determined to weather anything the enemy throws at you. In this place of resting in My wait, you have come to a place of total dependence on Me.
There is no longer any striving for fulfillment by others; no performing. You are simply following Me. You are discerning the movements of My Spirit as we move through you and on your behalf, and you have simply been following Me.
I am proud of you, My beloved.
I am proud of the work you have done to learn to rest in Me. I am proud of your perseverance–so proud! I am delighted in you, and I want you to know that I have not forgotten you nor one iota of what is in your heart:
Those secret dreams and desires? I see them.
Your secret yearnings and longings? I see them too.
The dreams that are in your heart for how you long to serve Me? I see all of them, and I say the "amen." To your desires I say, "Let them be!"
I also see how much you have given up for others.
I see the longings of your heart to see others prosper. I see the genuine love you have for people in need. I hear the cry of your heart to be My hands and feet on the earth.
I see it all, beloved, and I want you to know today that I am in you, with you, and for you; and that I have been longing these many years for one such as you with whom to partner!
You are My friend, for you see My heart of compassion toward the world around you.
I have long been desiring to share My burden with others, but few desire to take it up. I have long been yearning to heal, save, deliver, and provide My wealth to the earth around you. I want them to see how good I am! I want them to know My love!
So I give them tangible manifestations of who I am; I show them My goodness! But will anybody truly release My goodness on the earth? Will anyone shower My goodness upon the little children—My little children–who do not yet know Me as they ought?
O beloved, you have come into this place of waiting and resting for such a time as this.
Did I not tell you all things would converge? Do you not see how all the things I have been doing in you are one–and how I am bringing them all together to exhibit My heart on the earth?
My beloved, My Spirit pants with yearning and longing for My children to know Me! I long for them with a deep and utter longing day and night. There is no relief from My yearning; I desire you!
I am a jealous God and I will never, ever stop thinking about you; indeed, I cannot! I made you; I formed you; you are Mine and you are greatly beloved.
You have entered the sweetness of My rest so you can receive a bigger vision than you ever had–and so that you can step back, knowing that only I could ever do it!
I have brought you here. I have discipled you and shown you that, indeed, only I myself can ever do it; you are completely dependent on Me! But I desire you to be a yielded vessel, resting in Me and only doing what I do.
It is not until you get to that place of utter dependence and of no more striving that I can truly release My power through you; for if there were any strive left in you–any resistance AT ALL–your resistance would destroy you!
Do you not understand that any striving is resistance, and resistance only gets in My way?
I do not want to hurt you with the inflow of My power, so I have to temper it and slow it down until I have a yielded, fully resting vessel through which to flow. In the spirit, you may feel like a limp dishrag, but I have brought you to this place of total dependence so that I may fill you up!
Your striving was not of Me.
Few people understand this, but I give you big vision so that you may know that you cannot carry it out. Just like I gave the holy Law that people would know they could not keep it, so I show you in advance what I desire to do so that you would know you cannot do it.
But you know what? Here's the secret: I can.
I can do it, and I can do it easily. I can do everything you've ever dreamed of, for those dreams are from Me. But you cannot, and your striving and wearing out everyone around you would not get it done either.
O My beloved, My rest is for you and for all My children.
Only from this place of REST does My might flow unrestricted into you. Only in this place of total dependence are you actually able to carry the move of My Spirit. You must be utterly dependent on Me, just as a nursing child depends on its mother.
You are the branch; I am the vine. I do it all.
Remember this, and remain in the sweetness of My rest.
Love,
Your Abba Daddy."
Beloved, I have no words. Just stop and cry awhile. Lift up holy hands to the Lord and surrender to Him anew and afresh today.
Then, please leave a comment below and share what the Lord has spoken to your heart through this word.