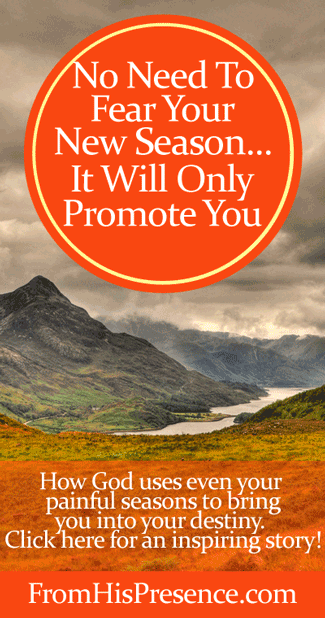 I'm going to be very open and transparent with you today and tell you about a season I went through awhile ago that hurt.
Why does it matter? Because one of the questions that you, my readers, have asked me is: "Will my new season hurt? Why does a new season scare me?"
Related: Read this week's whole New Season series:
I don't blame you for wanting to know if your new season will hurt. The thing is, though, most seasons are NOT going to hurt hurt. The Kingdom of God is in righteousness, peace, and joy, and God wants to bring us into greater measures of those things. Always.
But sometimes you have to go through a process to get to that next level of peace and joy.
Sometimes there are seasons in which He allows a stripping away of things that don't look just like Jesus. Or, there are seasons in which you're tested on things you've learned.
Or, there are times when, like Job, He may allow something difficult to happen in your life because He needs a big fat giant for you to kill so you can become king. He's ready to promote you, but sometimes there has to be a dying first.
But the truth of God's Word is this:
Even if you have to endure a painful season, God will work it out for your good and use it to promote you.
Therefore, there's no reason to fear; even the hardest things will elevate you to a new level in Christ and bring you further into your destiny. It's true, every time, because He promised.
Check out what happened to me:
As I mentioned in Heavenly Downloads For Your New Season, God told me I had entered into a new season at the end of Memorial Day weekend this year. It was right after I took a team to give free dream and tattoo interpretations at the tattoo convention. Our team had experienced a crushing victory there, encouraging so many people and seeing God love on hungry, hurting hearts.
Therefore, reasonably so, I imagined that the new season would be a season of further victories. I was very excited about that possibility.
But very quickly thereafter, something terrible happened. [Read more…]