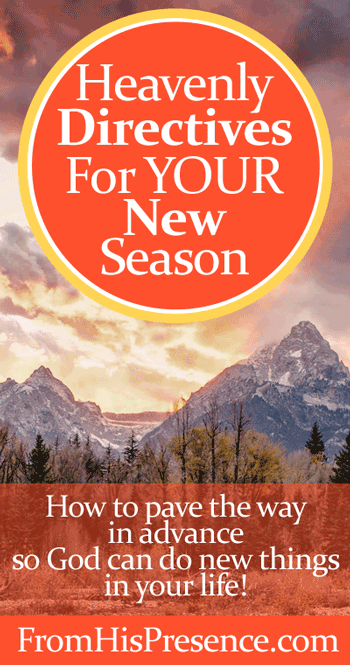 This is post #2 of a 5-post series about the shift in spiritual seasons. To recap, here's a look at what's ahead and what we've already covered:
This is one of the most impactful subjects about which I've ever written. I feel an urgency to get this information to you NOW. So I pray that God will use it to bless you mightily, and also to transform everything in your life that needs to be transformed.
Quick recap:
The spiritual season has changed, and it's changed for you too. When God changes the seasons, He does so across the entire Body of Christ. This means it's a new day, pregnant with new opportunity for YOU. You're part of this thing, and God wants to tell you all about it.
He will help you discern the times and seasons in your own life.
He will tell you what He wants to do.
And Jesus said you DO hear His voice if you are His sheep!
God started teaching me how to discern His timing and receive His downloads for new seasons years ago. And this one thing has changed everything for me:
It builds my faith when I see the things God has told me about actually happen.
It has given me favor and influence in many areas.
It has helped me focus my efforts on God's plan, so I don't get sidetracked.
It has increased my productivity a gazillionfold.
God will do the same for you as you begin to receive His downloads and directives for your new season too!
And you can have God's heavenly directives for your new season!
Whenever God has brought me into a new season, He has always given me heavenly directives. Since He's no respecter of persons, I know He wants to give you heavenly directives for your new season too.
How do you know God will show you His heavenly directives for this new season?
Because He said so in Psalm 32:8, among other places:
I will instruct you and teach you in the way you should go;I will guide you with My eye."
Praying strategically is also practical wisdom, and God promised that He'll give you abundant wisdom if you'll just believe Him for it:
If any of you lacks wisdom, let him ask of God, who gives to all liberally and without reproach, and it will be given to him.

But let him ask in faith, with no doubting, for he who doubts is like a wave of the sea driven and tossed by the wind. For let not that man suppose that he will receive anything from the Lord; he is a double-minded man, unstable in all his ways" (James 1:5-8).
So our loving, generous Father has promised to give you ALL the instruction you need in this new season!
So what's a heavenly directive?
Well, the way I'm referring to it, a heavenly directive is a specific instruction from God that unveils His strategy for your next season. When God downloads His heavenly directives into you, you can start praying and moving into His strategic plan as He opens doors–and you can start preparing those doors to open. [Read more…] about Heavenly Directives For YOUR New Season