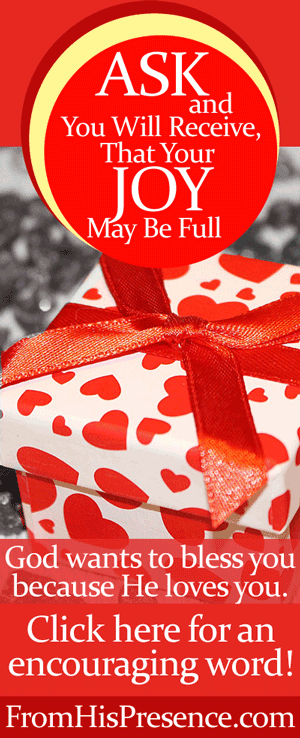 Do you really, really, really want something from God–but you feel like maybe you shouldn't ask? If so, the Lord gave me an encouraging word for you today.
Here's what He told me:
I was spending time with Daddy God this morning and just telling Him how much I love Him. All of a sudden, I saw a picture in my mind's eye of Him giving me a big bear hug and kissing my forehead. I felt Him squeeze me tight to His chest. Then I heard Him say, "What do you want?"
I was taken aback by this question. I kind of shook my head and said, "Father, I just want You."
And He said, "No, no, no. That's not what I mean. I want to give you something. I want to do something for you. What would you like Me to do?"
And suddenly I could feel His passion and the intensity of His love.
I could feel the burning love in His heart that was looking for a way to express itself. He wanted to do something for me because He loves me so much, and He just wanted to demonstrate that today. He is, after all, a Giver. He loves to give.
In total awe of our amazing Father, I asked Him for something specific that has really been on my heart lately. And He said He would give it to me. He just wanted to bring me joy today, because He loves me.
Related: A Big Hug From Daddy God For YOU!
Then He told me to share this with you, and that He wants to do the same thing for you.
[Read more…] about Ask And You Will Receive, That Your Joy May Be Full