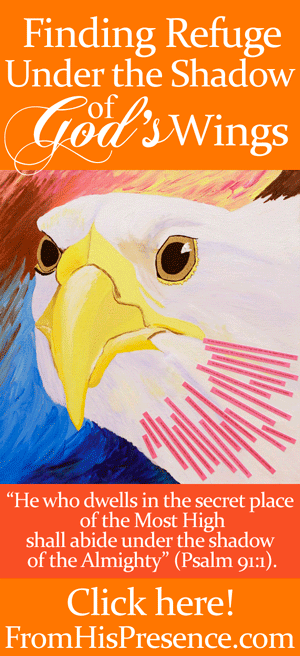 Do you feel unsafe, exposed to the world, unprotected, and in need of comfort today? If so, I have an encouraging word for you.
Some time ago, during my quiet time alone with God, the Holy Spirit gave me a mental picture (a vision) of what it looks like to be hidden under the shadow of God's wings.
This mental picture encouraged me so much. Many times, I have gone back to that picture in my mind and just meditated on it. It's beautiful, and so I wanted to share this vision with you today. I believe it will encourage you, too, as you pray and ask God to stabilize your emotions.
The vision was based on Psalm 91, verses 1, 2, and 4, which say:
He who dwells in the secret place of the Most High shall abide under the shadow of the Almighty. I will say of the Lord, 'He is my refuge and my fortress; My God, in Him I will trust'" (Psalm 91:1-2).
and:
"He shall cover you with His feathers, and under His wings you shall take refuge; His truth shall be your shield and buckler" (Psalm 91:4).
The vision was this: