Prayer: Lord, Resurrect the Spiritual Mantle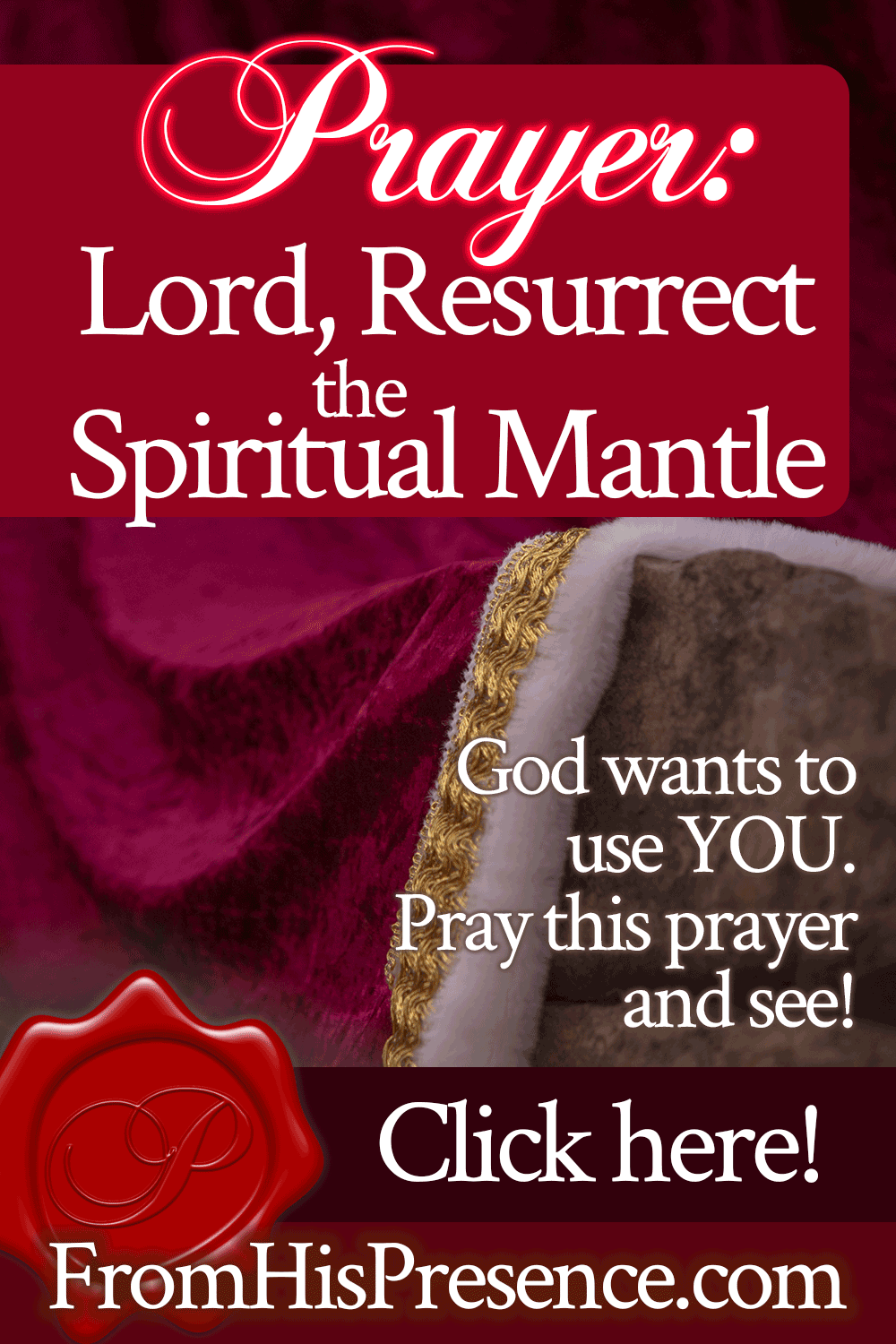 Friend, do you see Kingdom mantles around you that are not being used? Worse yet, do you even see mantles that were thrown away? If so, maybe God wants to resurrect the spiritual mantle (or mantles, plural) that you see–and maybe He wants to use you to do so.
I believe there are some spiritual mantles that have been aborted, dropped, or cast aside.
These are callings, anointings, commissions, and coverings that were let go because people's flesh and inner wounds got in the way. And in many cases, these spiritual mantles were let go without a second thought.
People believed they were doing the right thing in dropping these spiritual mantles, but they were not looking through a full Kingdom lens. Instead, they looked through the lenses of their own opinions and biases, as well as the lenses of their own hurts and wounds.
And seeing the world tinted around them, they failed to cross-examine their leanings using the Word of God plus the purifying and testing of accountability to people who were not exactly like them in the Body of Christ.
Eventually, God is going to resurrect these spiritual mantles.
The Kingdom work of God sometimes takes a circuitous route because it is handled by finite, imperfect beings–us. All of us humans are finite and imperfect in the moment, despite the fact that we are continually being transformed by God's Holy Spirit from glory to glory, faith to faith, and strength to strength.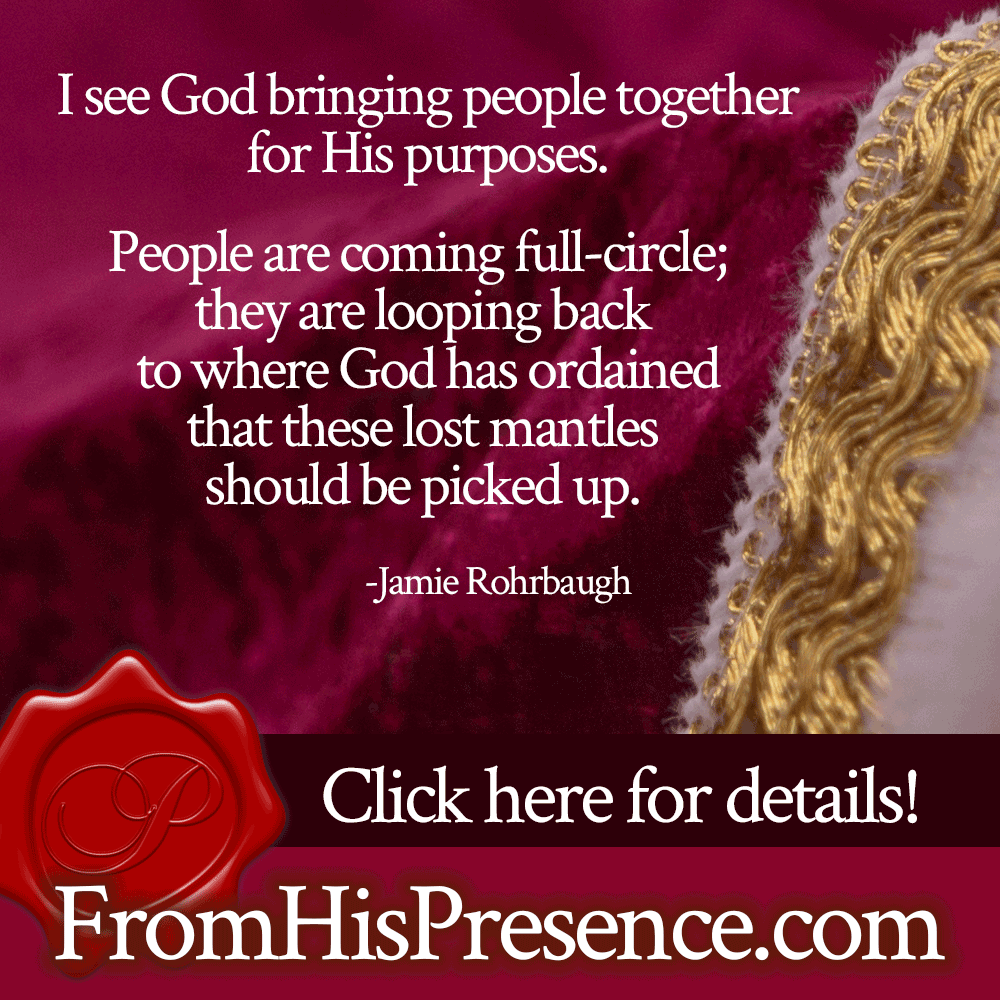 But we err sometimes.
Sometimes we stray. Sometimes we take the long way around. And sometimes we lose a mantle (whether by accident or on purpose) or cast it aside, thinking we were doing the right thing, but in reality not doing the right thing.
However, even in these things, God can redeem it.
And I believe He desires to … but He is looking for a vessel.
Related: A Great Building Anointing Is Being Released
I believe that God is bringing many people full-circle. He is bringing them full-circle to pick up mantles that were aborted, dropped, and let go by others. His work and His will are still the same; He needs those mantles functioning in His Body, the Body of Christ.
But He also needs willing vessels. And today, I felt led to ask you this:
Are you willing to receive, pick up, and/or retrieve a lost mantle for the sake of Christ?
Are you willing to ask God to resurrect the mantle in you? Are you willing to yield yourself up to Him in this way, so He can use you to re-implement what has been lost by doing a new thing in you?
Even if you have never carried this mantle before, are you willing to let Him drape it across your shoulders?
I see God bringing people together for His purposes.
People are coming full-circle; they are looping back to where God has ordained that these lost mantles should be picked up. They don't always understand the hows or ways or whens or even whys, but they have a heart after God and His purposes–and they trust Him to redeem, restore, and resurrect the mantle.
If this describes you, and you are willing to be God's vessel to release an old mantle onto the earth again, pray with me for the Lord to resurrect the mantle in you today:
"Dear Heavenly Father, I come to You in Jesus' name.
Father God, I confess right away that I don't know how to pray right now as I ought. But, Your Word says that Your Holy Spirit will intercede for me with moanings and groanings which cannot be uttered, and that You who search the hearts would know what the mind of the Spirit is, for He makes intercession for the saints according to the will of God (Romans 8:26-27).
Abba Father, in Jesus' name, I ask that Holy Spirit would intercede for me right now. Help me pray and teach me to pray, Father, and let me pray rightly with Your Holy Spirit's help, according to Your will.
Father, Your Word says to enter into Your gates with thanksgiving and into Your courts with praise.
I have a lot to thank You for, Father, so I thank You and praise You right now:
For being so good to me.
For having plans for me that I cannot imagine.
For already releasing those things that eye has not seen and ear has not heard into my life—so many times!
For all the years of growing and learning with which You have blessed me.
For being my Rock, my Source, My Strength, and my Guide.
For being unto me wisdom, and sanctification, and redemption.
Thank You for redeeming my life from the pit, Lord Jesus. Thank You for leading me and guiding me all these years. Thank You for the good plans You have for me–plans to prosper me and not to harm me; plans to give me hope and a future.
O Abba Father, I see spiritual mantles that have been dropped, let go, and discarded–and I believe You want to resurrect them.
I have no agenda but Your own, Father; and if for some reason You find that I do have an unholy agenda when You search me, then take it out of me. I desire only to do what You want me to do. I want only what You want, and I don't want to waste time or lose focus.
But Heavenly Father, I have been praying for many years that You would use me to redeem, heal, and restore.
And Father, this mantle that used to be used to heal, to restore, and to release Heaven on earth has been dropped. It has been let go and cast away. The reasons don't matter, Father; but I see that Your work in these areas has been aborted, and it breaks my heart.
Father God, in Jesus' name, I choose to yield myself up to You as a vessel You can use to resurrect the mantle that has been cast aside.
My shoulders don't feel wide enough to carry this mantle or multiple mantles, Father, but You are able to make me strong. Your grace is sufficient for me, for Your strength has been made perfect in my weakness. You are able to do through me and for me those things that are exceeding abundantly above all I could ask or think–and I ask You to do it today, Lord God.
Related: How to Put a Demand on God's Grace
Father, if You desire to use me to resurrect these spiritual mantles (plural) or to resurrect even one mantle, please do so.
I ask You for wisdom and discernment in this matter. Instruct me and teach me in the way I should go, Father God. Guide me with Your eye upon me.
Give me SO MUCH WISDOM, Lord; and fill me with Your anointing of the sons of Issachar, that I would know the times and the seasons, to know what I and the people around me ought to do–and to do it (and obey You) in absolute agreement and 100% perfect unity.
Father God, I ask You to go before me to make a way where there is no way.
You are God who parted the waters of the Red Sea. You did it again at the Jordan River, parting the waters so Your people could cross over on dry land. You are God whose ways are perfect, and I ask You to lead me in Your ways right now and forever.
Father God, send the people You need to walk with me on this. Put the people around me whom You have also called to carry this spiritual mantle with me. Establish the team, the group, the helpers, and the intercessors. Raise up financial provision for whatever this mantle entails.
Father, I do not know what to do, but my eyes are on You.
I ask You to resurrect this spiritual mantle, Father, if it is Your will to do so:
Use me as a vessel of Your healing, Your grace, Your forgiveness, Your restoration, and Your worship.
Use me as a vessel of holiness.
Use me to release Heaven on earth; to make Your Body of Christ a pure and spotless Bride unto Yourself.
Use all of us whom You have ordained and called to pick up this mantle in the same ways, also, Father.
I am Your vessel, Father. Resurrect this spiritual mantle and let me carry it forward and run with it to whatever degree You desire to do so.
Thank You, Abba Father. I give You all the praise. In Jesus' holy, mighty, and precious name I pray, amen and amen."
Friend, has the Lord been speaking to you about this already? Have you already been asking Him to resurrect the spiritual mantle or mantles that you see on the ground around you? And, are you willing to let Him resurrect those mantles through you?
If so, leave a comment below!